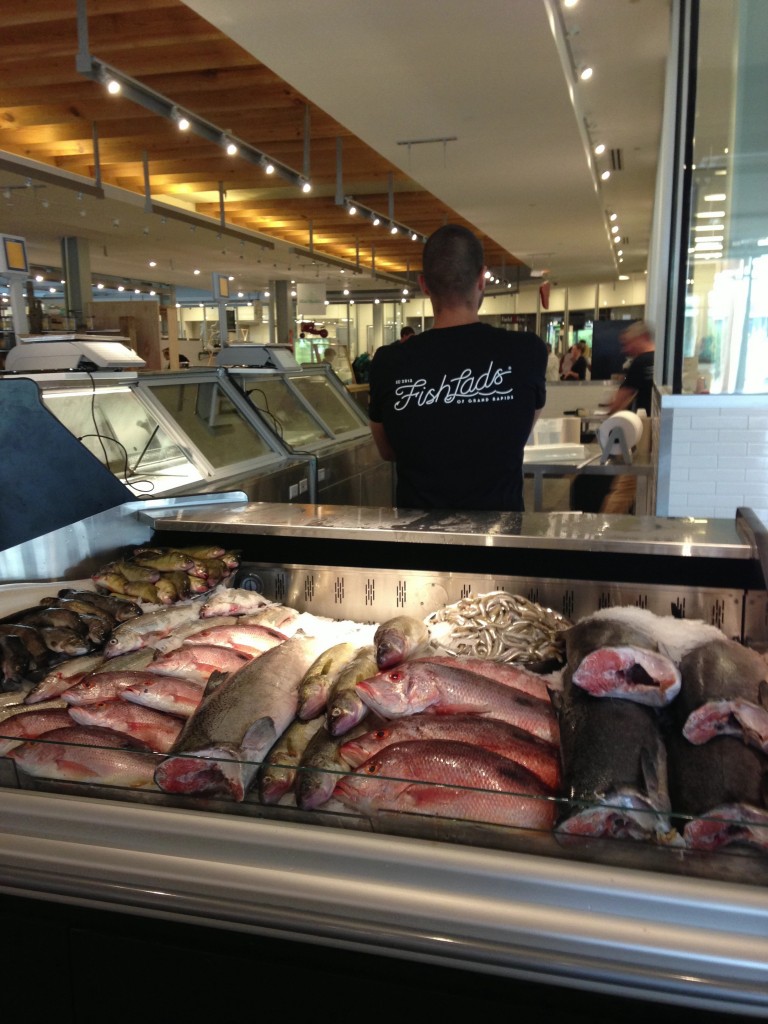 About a month ago Jeff Butzow sold his house in less than 24 hours, packed all his belongings into his Subaru, and drove to Grand Rapids. Jeff grew up in Traverse City, but spent the majority of his adult years in Seattle, Washington working at two seafood markets. After fifteen years behind seafood counters in Pike Place Market, Jeff was homeward bound to make his dreams come true, and mine.
When I moved to Grand Rapids a few years ago, it didn't take me long to start Googling "fish market grand rapids," "seafood west Michigan," "fresh fish GR" - you get the point. Let's just say, options for sourcing high-quality, ultra-fresh fish in Grand Rapids at that time were slim. But a few days ago, that all changed when Jeff and his pal, Thomas Ochoa (a fellow Pike Place veteran), began working around the clock to bring Fish Lads to the Downtown Market.
We started talking to Jeff about this opportunity several months ago. Jeff had caught wind of the Downtown Market from some folks visiting his shop in Seattle (its a long story) and for this Michigander looking for the right reason to move back to the Midwest, the pieces fell in place.
Jeff and Thomas are well aware that there is controversy surrounding Great Lakes fish and the average Grand Rapidian doesn't think to visit a fish market on a regular basis. They're going to help change that as part of the Market's group of artisans working to enhance the local food culture with their craft.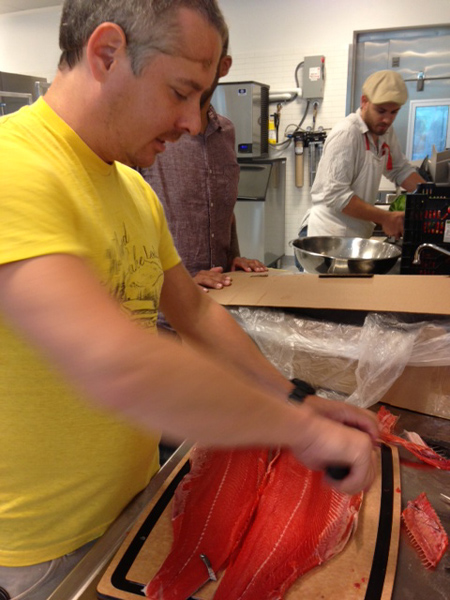 When you visit Fish Lads, bring an appetite, grab a stool, and cozy up to the counter to enjoy something off the delightful menu Jeff and Thomas put together. They've worked with my favorite local brewery to secure some brew for their fish and chips, perfected a seafood bisque recipe, and will offer all varieties of seafood steamed, in sandwiches, salads, and on the half shell. Their refrigerated cases are full of sustainable seafood options ready to go home with you and hit the grill.
The seafood alone is a dynamite addition to this City, but what is even better is that Grand Rapids a mid-sized Midwestern City has the climate that can make this happen. Like a fly fisherman on the Rogue River pulling in a trout, we cast out far and wide and reeled in some seafood experts from Seattle ready to replicate one of the best fish markets in the country right here. The reality that this can even happen is what makes West Michigan such a great place to live, work, and visit. And eat!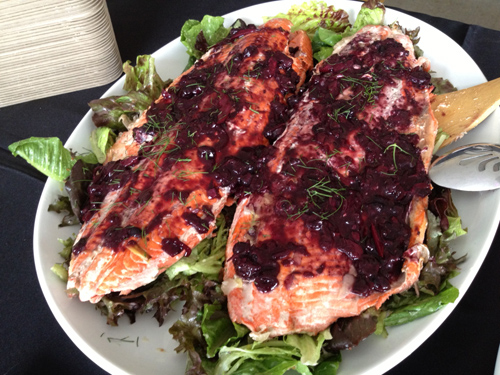 A lot is happening in Grand Rapids: Southwest just opened their gates at GRR ($310 RT flights to San Francisco, Hello!), Restaurant Week just filled up the local eateries, and we are in the early days of a full service, gorgeous, open 7 days a week, small town big city, owner operated fish market.
I've already placed my first order: 50 pounds of whole wild salmon that Jeff filleted and pined for me. I poached the fish, topped it with blueberry-tarragon relish, and served it at the Green Gala last week. Check out the recipe below and come sit with me at the Fish Lads counter: its time to eat up.