Anyone thinking about fishing in the Grand Rapids area can find more than a few reasons to wet a line. The city is surrounded by rivers, lakes and ponds, all natural settings where the sounds of singing birds fill the air, where sunshine and blue skies are certain to please, and where the lull of flowing rivers can wash the days tensions away.
No matter their fishing preference, whether summer wet-wading in shorts and sandals or boat fishing at dusk in the gloaming of the evening, area waters offer plenty to enjoy for experienced and novice anglers alike.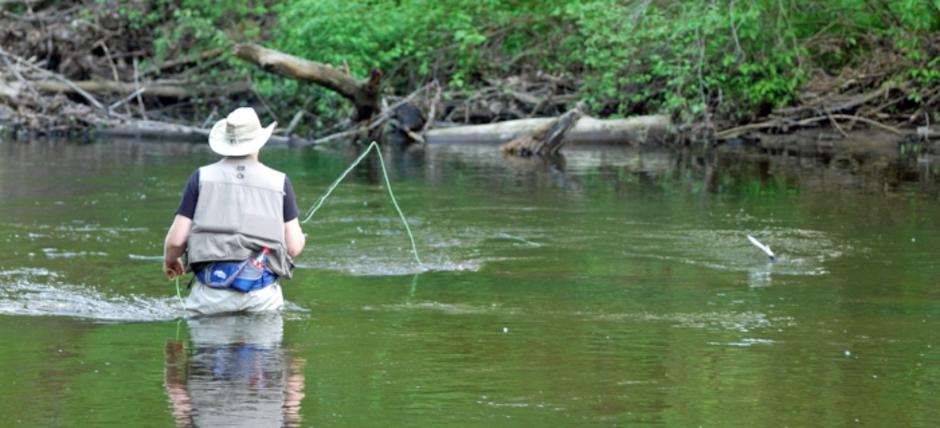 An angler fishes the Rogue River
Photo Credit: Howard Meyerson
---
With its downtown river fishery and a plethora of waters within a 30-minute drive, Grand Rapids is a year-round fishing mecca. There are brown trout in the Rogue River at Rockford, smallmouth bass in the Flat River north of Lowell, and bluegills in Reeds Lake in East Grand Rapids.
Toothy predators like northern pike and muskellunge, fish that hit like lightning and create a boatful of excitement, can be found in other nearby waters like Campau, Murray and Thornapple lakes, to name a few.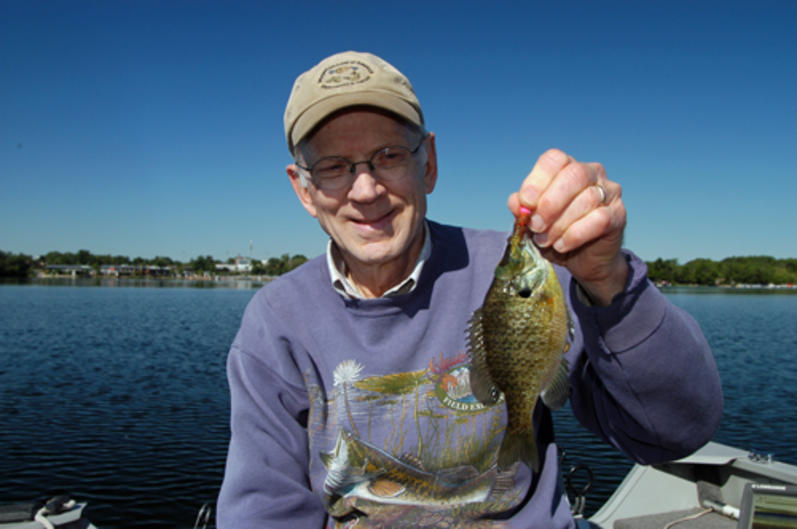 "Sometimes you get bluegill," says Chase Klinesteker, while fishing for pike on Reeds Lake in East Grand Rapids.
---
"Reeds Lake is my favorite," says Chase Klinesteker, a Grand Rapids native and retired dentist. "I've been fishing it since the mid-1970s. Its good for panfish like bluegill and crappie, or perch, but you can also catch largemouth bass and northern pike."
"I've heard there are 7-pound bass in the lake, but the largest I've caught is 6.5-pounds," Klinesteker said.
The easiest way to fish Reeds Lake is to launch a boat at the John Collins Park launch ramp in East Grand Rapids. Fishing is also allowed from shore. Canoe and kayak anglers can launch just down the street, behind the East Grand Rapids Community Center, where a quiet access is available without the congestion of boats coming and going.
"Reeds Lake can be a bit of a challenge because it is fished hard," Klinesteker said. "But I do as well there as any place. It has a diverse fish population and people are surprised when I show them a pike or bass photo and tell them the fish came from Reeds Lake."
Michigan's Master Angler list shows Kent County waters yielded 122 Master Angler entries since 2008. Reeds Lake, one of many area waters on the list, produced two 12-inch Master Angler bluegills in 2010.
The list is maintained by the Michigan Department of Natural Resources. It highlights state records and the biggest catches in two categories: Catch and Keep and Catch and Release.
The 2013 listings show that area anglers are already having a good season. They include: a 22-inch smallmouth bass caught on the Flat River by John Lepisto, of Grand Rapids; a 15-inch crappie caught in Myers Lake by Hunter Kraima, of Hopkins; and 43-inch muskellunge caught in Murray Lake by Eric Perez, of Greenville, while ice fishing in February.
I can come from home and be fishing within 15 minutes. It's a fantastic fishery and people are fishing it year-round.
For world-class salmon and steelhead fishing, anglers need go no further than downtown Grand Rapids in the fall. The annual Grand River salmon and steelhead runs bring anglers to the city from all over the state. Anglers can fish for them from boats, by wading the rapids and shallows, or from shore.
"I like to fish from the east wall along the river," said Bob Strek, an avid angler from Walker and vice president/treasurer for the Grand Rapids Steelheaders, a local chapter of the Michigan Steelhead and Salmon Fishermans Association. "The wall is good for salmon, steelhead and the occasional walleye."
Strek regularly fishes there with his 14-year-old grandson, Zachary Strek, who has been known catch some good sized steelhead.
"I can come from home and be fishing within 15 minutes," Strek said. "It's a fantastic fishery and people are fishing it year-round."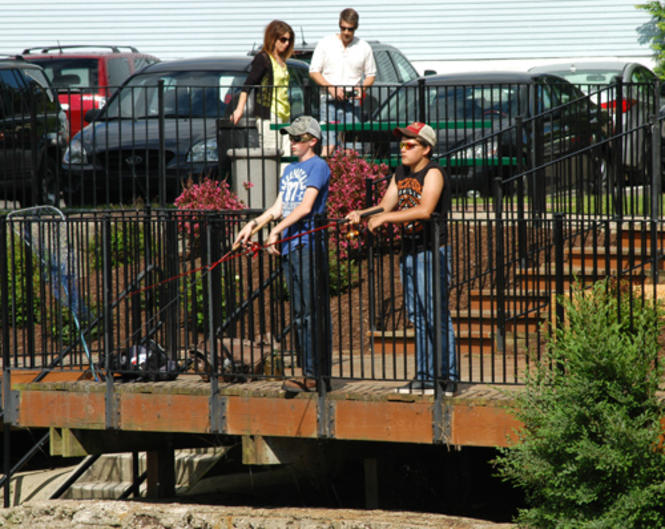 Two young anglers enjoy the fishing in Rockford just downstream from the Rockford Dam on the Rogue River.
---
The Rogue River, upstream from the dam at Rockford, is well-known trout water. It is stocked annually with brown trout and rainbow trout by the state. Good access can be found at 12-mile Rd. and Summit Rd. Once there, anglers can wade or fish from shore. A Kent County map can show many other access points along the river.
Downstream from the Rockford are salmon and steelhead water. Anglers often converge in Rockford and fish just below the dam.
Salmon fishing on the Rogue is expected to blossom over the next few years. The DNR initiated a new stocking program this year. The agency planted 25,000 young, hatchery-reared cohos in the rivers downstream waters. Those young fish will migrate out to Lake Michigan this summer and return to spawn in a few years when they are mature.
Quiet fishing opportunities also exist on a number of other Grand Rapids area waters, according to Glen Blackwood, the owner of Great Lakes Fly Fishing Co. in Rockford.
Long Lake in northern Kent County, and Spring Lake or Clear Lake in the Rogue River State Game Area, are neat opportunities for non-motorized fishing experiences, Blackwood said. Those are good for people with canoes and kayaks. They are very remote feeling and are just a half-hour from Grand Rapids.
Outdoors writer and photographer Howard Meyerson can be found online at howardmeyerson.com.
Never miss a post!
Subscribe to the Insider Experience blog.