With more than 6,000 breweries across the United States, it is no secret taprooms are becoming a community hub. Some use breweries to sit down and relax after a day's work — many business deals have come together at Founders Brewing Co. — or to convene with close friends, but as many Grand Rapids breweries become more like family-friendly living rooms, it only makes sense they start offering games. Whether it's a group playing the increasingly popular board game Settlers of Catan, or two sets of strangers playing shuffleboard, there is fun to be had at many local breweries.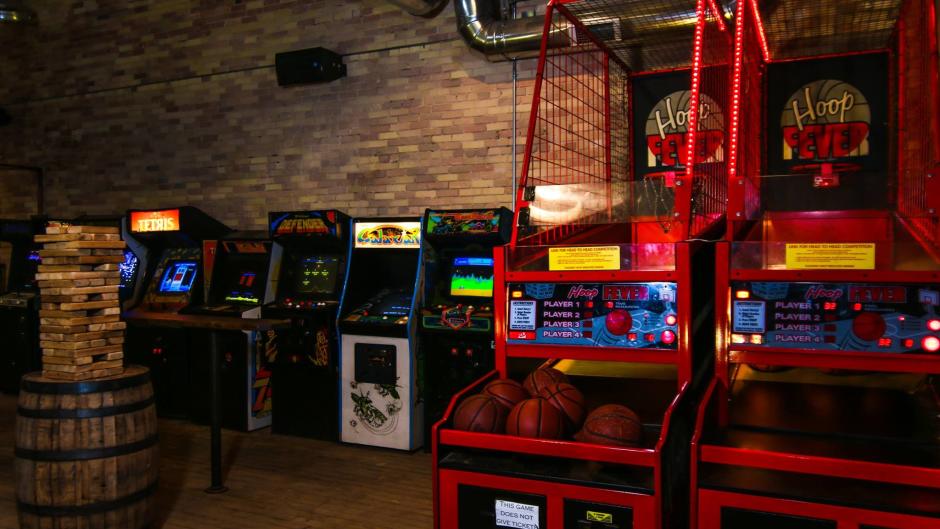 Grand Rapids Brewing Co. has a room dedicated to a variety of games.
Photo Credit: Grand Rapids Brewing Company
---
Grand Rapids Brewing Co.
Named after the most prolific brewery in the city's history prior to Founders Brewing Co. — the original GRBC brewed 250,000 barrels pre-Prohibition — GRBC has the most elaborate game room in the city. Set aside from the main taproom, a door with "Phase II Gameroom" leads into a wonderland for the kid in anyone.
With foosball, darts, shuffleboard, ping-pong and Hoop Fever, the most competitive guests can satisfy their need to win.
Meanwhile, a selection of arcade games provides a nostalgic look at the simpler times of video games, when virtual reality was a novelty.
Wallhooky is an amusingly frustrating outlet to remind guests that even simple-looking tasks can provide hours of challenge.
Perrin Brewing Co.
Perrin provides its guests with a selection of classic bar and brewery games.
Whether you have a group of two or 10, cornhole, shuffleboard, and darts provide fun entertainment, and allows customers to show their competitive side.
Wednesday trivia night provides a brain stimulating activity, while Bend & Brews offers a physical challenge on Saturdays.
Gravel Bottom Craft Brewery & Supply
As a communal gathering place in Ada, Gravel Bottom encourages patrons to get to know one another with their unique seating arrangements.
Large tables provide a great place to settle in and play a more traditional selection of board games, great for a cold winter evening.
The pub also offers trivia and bingo nights.
Gravel Bottom homebrew shop manager, Ben Darcie, can be seen at many breweries across the city leading a game of Settlers of Catan or euchre.
(Note: Gravel Bottom is in the process of moving locations. Their new location will be just next door at 452 Ada Drive)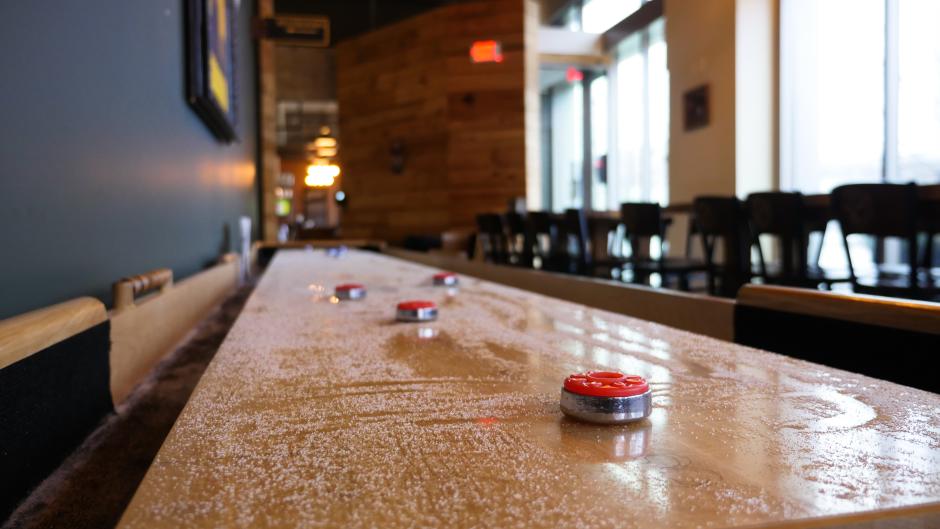 Atwater Brewery hosts a perfect setting for work and play. The space offers various seating and entertainment options to accommodate groups of all sizes.
Photo Credit: Experience Grand Rapids
---
Atwater Brewery
A great place to settle in and watch a Michigan State game, owner Mark Rieth is an alumnus and major supporter of the Green and White, the Grand Rapids taproom is also a good place to watch, or play a few games.
Shuffleboard provides a classic opportunity for friends to prove their competitiveness, and it's offset from the main bar area, so it can provide a bit of privacy for a group.
ELK Brewing Co.
In the summer, ELK provides outdoor cornhole at its Wealthy Street location and a selection of board games to choose from, including the ever-entertaining Cards against Humanity.
On Mondays, ELK shows movies and serves popcorn all day, with half-off specials.
The brewery also hosts Brew Yoga and Open Mic nights for musicians to showcase their talents.
Looking for more breweries to add to your Brewsader® Passport or for the best brew in your neighborhood? Don't forget to mark your calendars for Beer Month GR beginning February 15 and concluding March 15. Start your search at the Beer City, USA page.
Don't miss a post!
Sign-up for the Insider Experience blog