Forty Acres began with a dream and a passion. Owners, Darel Ross and Lewis Williams, along with Head Chef Trimmel Hawkins, knew they were on to something when Williams asked Chef Hawkins, "If you could cook anything you wanted to, what would you cook?"  
Hawkins response, "Soul food, it's never done proper, it's always done cafeteria style."
Williams' reply, "What if I told you that we could make that happen?"
The concept of Forty Acres was simple, they wanted something the community could thrive off of, and make it about the people. Forty Acres is authentic American soul food set in a resilient, unapologetic atmosphere that is urban and inviting.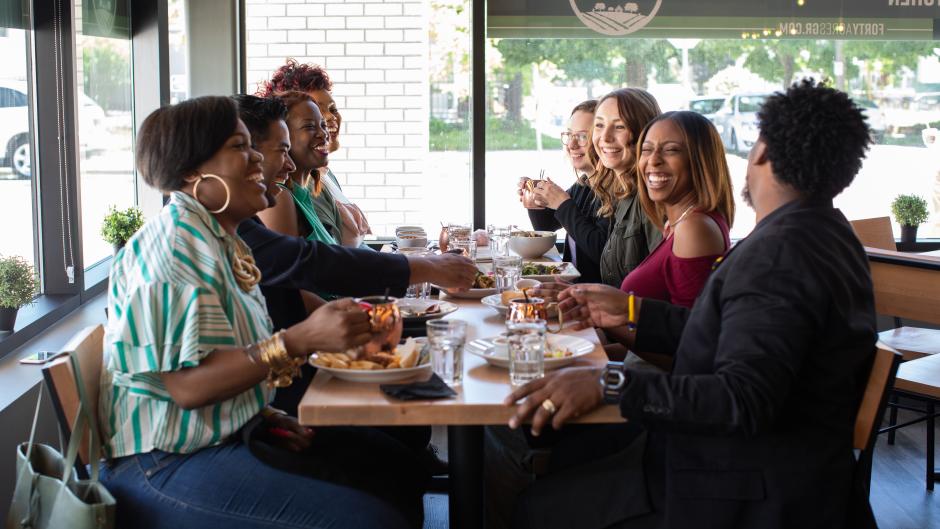 Forty Acres is known for its creative dishes, modern design, and homage to our nation's history, especially the history of African Americans.
Photo Credit: Experience Grand Rapids
---
Where Did the Name "Forty Acres" Come From?
The name "Forty Acres" pays tribute to the "forty acres and a mule" promise that was given to newly freed African Americans after the Civil War, as compensation for their unpaid labor during slavery.
Its name harkens to the struggles and successes of black people. With an emphasis on hiring local residents, 40 Acres is a space where people from all cultures can come and celebrate Black America.
The Restaurant's Ambiance
Just as the owners intended, Forty Acres ambiance is inviting and lively. Located in the heart of the Uptown neighborhood and within the Baxter area, Forty Acres is housed within a sleek modern building on a brick road in a community full of life. The restaurant is encased in an open glass layout with a slender black outline. Beautiful gentle lights hang above your head to light up the space and cast a warm glow throughout.
Forty Acres boasts a full service bar with televisions displaying classic Black American shows like Sanford and Son and Good Times. You'll also hear Classic R&B and old school music playing over the sound system to bring customers back to the 20th century.
Smooth wooden tables and booths align the perimeter of the restaurant giving an open yet comfortable atmosphere, including a luxury outdoor patio with comfortable outdoor seating and decor.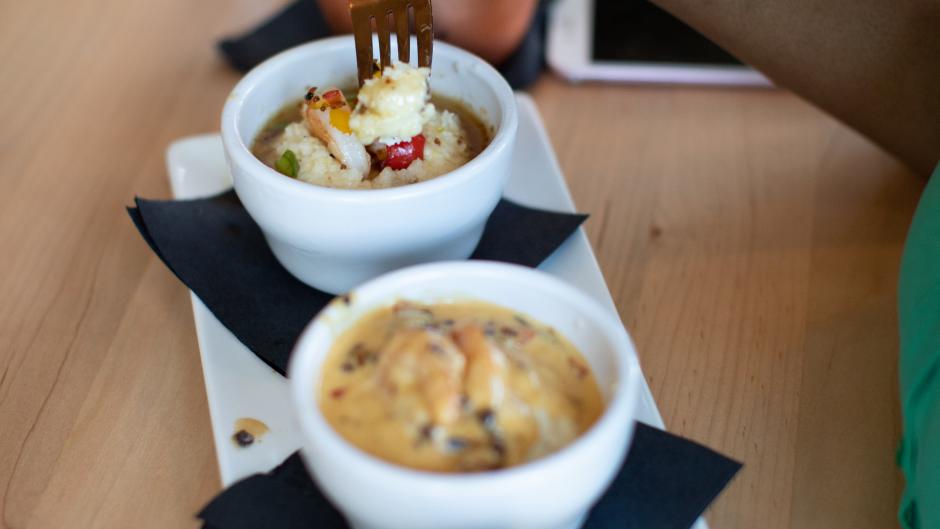 One of 40 Acres' specialties is their flight of grits.
Photo Credit: Experience Grand Rapids
---
The Menu
Forty Acres' menu is creative from top to bottom, and pays tribute to one of America's original cuisines: classic soul food that's been preserved for generations.
Forty Acres' menu includes cleverly-named offerings, but the their most popular menu items include the Vegan Mac and Cheese and House Black Eyed-Peas. Focused on inclusivity, Forty Acres offers plenty of options for dietary restrictions.
Not to mention the flight of grits that resonates with anyone from the south. This meal comes with three versions of grits! However, Chef Hawkins' favorite dish to make is the homemade gumbo, because it means something different to every person.
Forty Acres offers a full lunch menu, dinner menu, carry-out menu, and catering menu, all of which, include family-friendly offerings. 
Visit Forty Acres between 11 AM to 10 PM Tuesday through Thursday, 11 AM to Midnight on Friday and Saturday, and 11 AM to 8 PM on Sunday. Forty Acres is closed on Monday.
For more Uptown restaurants, check out this story on newly-opened and expanded restaurants.
Don't ever miss a post!
Sign-up for the Insider Experience Blog