There are many different "scenes" in Grand Rapids — performing arts, craft beer and spirits, food, comedy, and even comic books.
With the rising popularity of blockbuster superhero films and local comic book-centric events like Free Comic Book Day and Grand Rapids Comic-Con - which attracts more than 30,000 people every fall - Grand Rapids is a great place to indulge in your love for comics.
Take a look at these four Grand Rapids comic book stores to see what they have to offer and how they strive to make the all comic book fanatics feel welcome.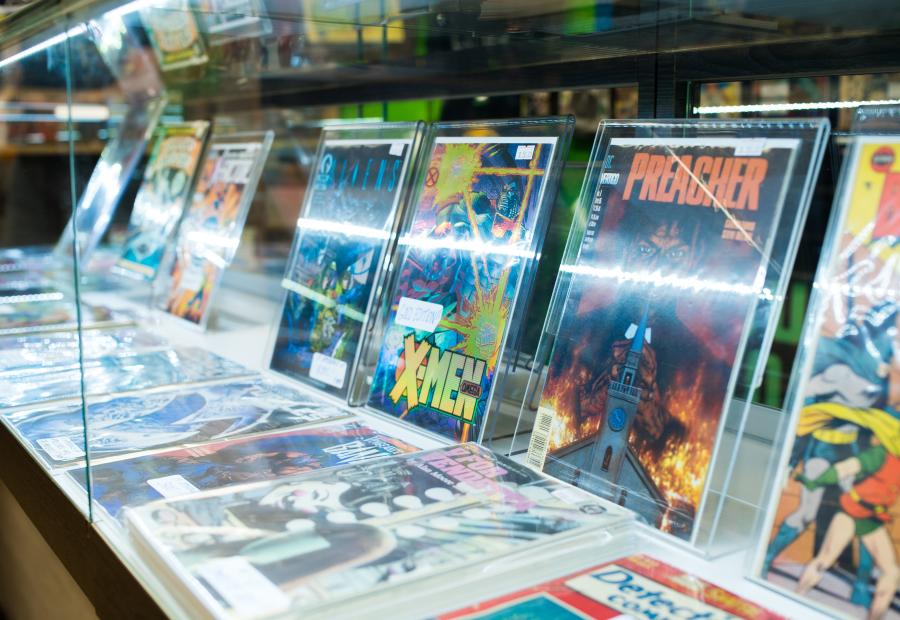 Comic books on the shelf at The Collectors Resource
Photo by Experience Grand Rapids
The Collectors Resource
The origin story of comic book store, The Collectors Resource, began many years ago at a woodworking facility where co-owners Rob Myers and Tony Pucilowski once worked together.
"We talked a little about comics, and one day Rob came to me with an idea to make frames to hang comic books on walls, and here we are today," says Pucilowski. "We have been producing a full line of frames and selling them online and at conventions for more than nine years and that business is what made it possible to open our comic book shop."
As the name of the store appropriately suggests, The Collectors Resource has everything a comic book collector could want or need, including new and classic comic books, and collecting supplies, such as protective bags, boards, and boxes.
Myers and Pucilowski strive for The Collectors Resource to have a relaxed atmosphere that encourages customers to visit for not only comic books, but also for comradery.
"Creating this type of atmosphere was always a must for both of us and we wanted to recreate the nostalgic feeling of the old-time comic book shops we all remember as kids," says Pucilowski.
In addition to having a friendly environment, negotiable prices are another perk of The Collectors Resource.
"We want to be known as a place where people can come and get that book they have been looking for at a price they feel good about," says Pucilowski. "If we buy collections and get books or toys at a good price, we do our best to pass that along to our customers."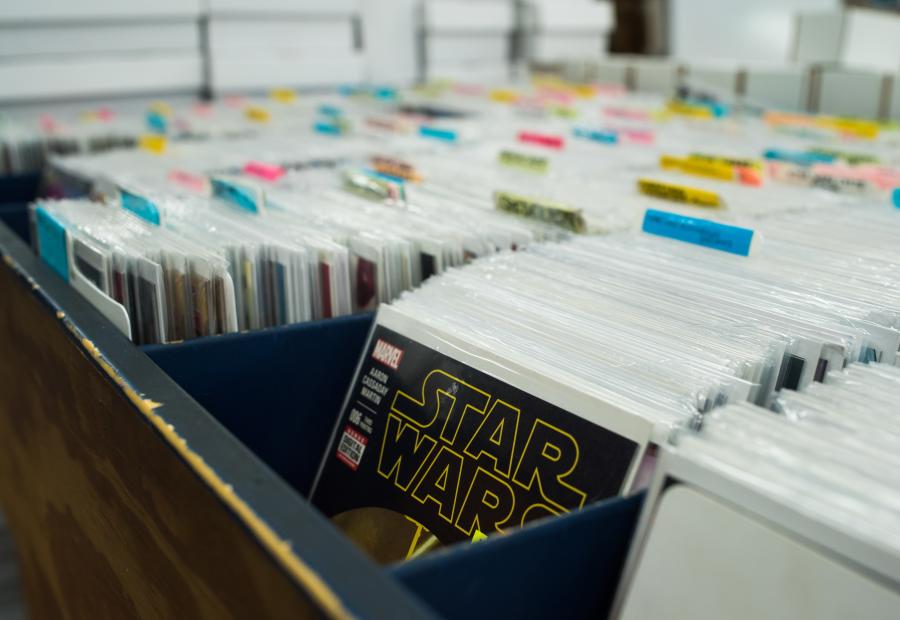 Assorted comic books at Goldmine Comics and Cards
Photo by Experience Grand Rapids
Goldmine Comics and Cards
Owning comic book stores has been a family affair for John Kula, owner of Goldmine Comics and Cards.
Kula's father owned a comic book store in North Dakota for nearly 30 years. After moving to Grand Rapids, he decided to follow in his father's footsteps by opening Goldmine Comics and Cards in 1992.
Goldmine Comics and Cards primarily sells new comic books, comic book-based products, science fiction toys, and various vintage items. The store also carries a wide selection of comic books designed for children.
Kula says that the store's most popular items include its selection of about 500 sets of dice that can be used for various games. The store also hosts fan-favorite Magic the Gathering tournaments every Friday night at 6:30 PM. Pre-registration is not required, but participants must play a $5 gaming fee.
Whether you're new to comics or if you're a seasoned reader, the knowledgeable and personable staff at Goldmine Comics and Cards is always ready to help.
"Our employees will ask questions to see what each person is into, and then we make recommendations based on what they might enjoy reading, or even what they already like to read," says Kula. "We do our best to give each person a good experience when they come in."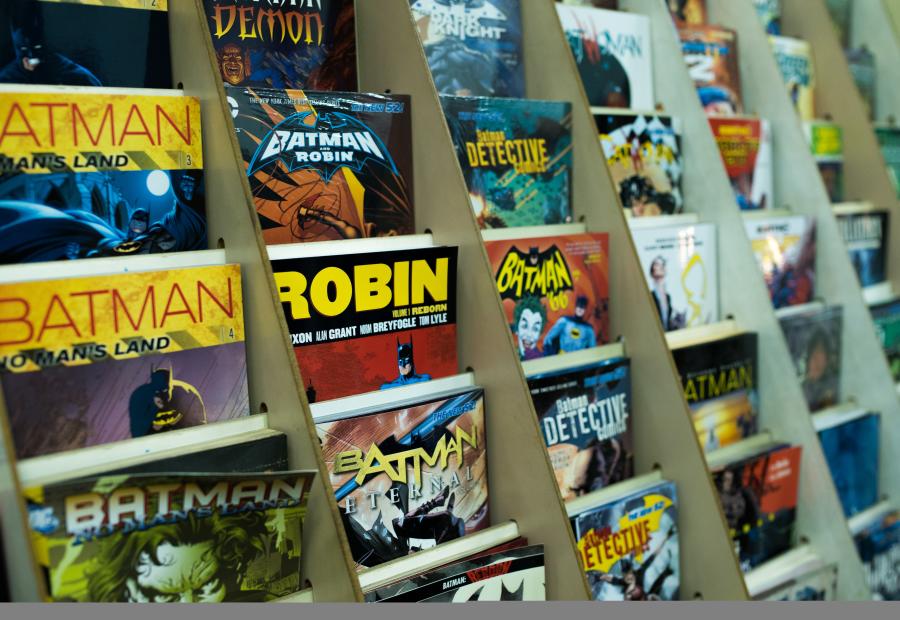 Comic books displayed at White Cap Comics
Photo by Experience Grand Rapids
The Outer Limits and White Cap Comics
Both owned by The Pressure Releases Corporation based in Lowell, the two separate stores, The Outer Limits and White Cap Comics offer very different atmospheres.
"The Outer Limits is an old-fashioned brick-and-mortar comic book shop that has been in business in Grand Rapids for nearly 30 years," says Priscilla Collins, a purchaser for both stores. "Whereas, White Cap Comics is not your typical brick-and-mortar store because we took over a 3,000-square-foot garage for the storefront."
Both stores offer a variety of new and classic comic books, collectibles, games, and a variety of children's comics, including Sonic the Hedgehog and many Disney-based titles.
Collins explained that what makes White Cap Comics unique is the more than 400 different board games and more than 50 different card games kept in stock.
White Cap Comics also offers a permanent gaming area with enough tables and chairs to seat 80 people. The ample space is primarily used when the store hosts Michigan's largest Pokémon card game league on Friday nights at 5:30 PM, and beginner Dungeons and Dragons events every Wednesday night at 6 PM. Both of which, are free to participate and don't require pre-registration. 
In fact, White Cap Comics' gaming community is so vast, a handful of customers have even met their soulmates in the store.
"We have over 300 different gaming players in our community and in the 20-plus years we've been in business, we've had more than 35 people get married after meeting at our store," says Collins.
Although The Outer Limits and White Cap Comics are two separate stores, the mission of both is the same: to give comic book readers and game players a place where they can feel a sense of community.
"In our stores, you are not just a customer; you will be treated as a valuable friend," says Collins. "Everyone needs a place to belong and for over 25 years that's what we've brought to the Grand Rapids community."
Which comic book stores do you enjoy visiting in the Grand Rapids area? Share your favorites in the comment section below and check out this previous blog post spotlighting even more Grand Rapids-based comic book shops.