Did someone say "Free jazz in the heart of downtown Grand Rapids?" GRandJazzFest did! Presented by DTE Energy Foundation, this two-day jazz spectacular returns August 15 and 16 to Rosa Parks Circle, bringing nearly 12,000 people together over two days for the love of jazz. The festival kicks off at noon Saturday, jamming until about 10 p.m,. then picks right back up on Sunday at 1 p.m until 7 p.m.
Ten diverse musical acts will hit the stage playing big band, Latin, and contemporary music along with events geared just for the kids. And be sure to attend the After Party at The B.O.B. Saturday night. On tap are food and drink specials, a chance to win a dining tour of the nine Gilmore Collection restaurants (a $400 value) and a jam session with the Mike Frost Project 2.0 band.
"New this year is a Family Guitar Tent sponsored by Godin and Cordoba guitars where attendees can learn about guitars and try them out," said Audrey Sundstrom, founder of GRandJazzFest. "GRandJazzFest performing artist Bryan Lubeck will also do demonstrations and give tips on playing guitar." Sundstrom also said Funny Faces will provide free face painting again this year with two face painting artists and longer hours.
The headline act Saturday at 8:00 p.m. brings together three internationally acclaimed musicians Paul Brown and Nate Harasim with special guest Deon Yates. under the billing "The Producers."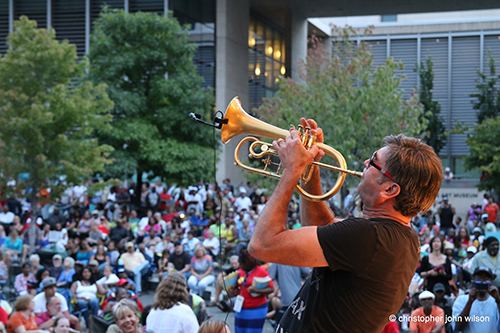 Rick Braun 2014 GRandJazzFest, Image courtesy of Christopher John Wilson
"What's better than one headliner? Three headliners!" said Sundstrom said. "This trio brings nonstop soul-shaking, house-rocking guitar, keyboard and saxophone to the Rosa Parks Circle stage." Sundstrom is also excited for the return of bass guitarist Michael Manson to the festival Sunday at four noting not many artists play bass guitar as the lead guitar. "Performers who have never been here before have remarked on how beautiful and friendly the city is," said Sundstrom.  "The performers often jump into the audience and perform up close. It's just great. This is Grand Rapids!"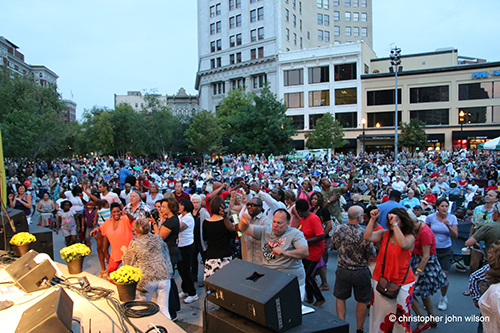 Jazz lovers at GRandJazzFest 2014, Image courtesy of Christopher John Wilson
Attendees are reminded to bring lawn chairs, mini-coolers for water and juices, and of course sunscreen to soak up the sun with the tunes. GRandJazzFest is also encouraging festival goers to ride their bikes downtown. Thanks to the Greater Grand Rapids Bicycle Coalition bike racks are available at the fest this year for people who want to pedal to the party. Walk, take the bus or take advantage of parking available near Rosa Parks Circle. Festival sponsor the Amway Grand Plaza Hotel is offering a special rate for the festival so make a weekend of it.
"We want to give a shout out to all of our generous sponsors who help to make the festival free and something for the whole community and beyond," said Sundstrom. "Everyone comes together to promote our city and region." If you want to get in on the action behind the scenes, check out all the great volunteer opportunities and get ready to have some fun!