When I travel to the west coast I envy the huge bushy rosemary plants and outdoor cafe seating that never gets put away. I visit my parents in southwest Florida and marvel at the citrus hanging heavy and ripe in winter and the beach begging me to walk it everyday. I imagine what my life would be like with moderate year-round temperatures. No icy windshield-scraping, no chapped lips and a bountiful farmers market year-round.
But then I ponder further and realize I could never live without the change of seasons, cozy cups of tea, endless pots of soup, wool scarves, coffee shop windows fogging up while it snows outside, and the renewal winter provides, like yesterday's silent cross country ski through Wilcox Park and Aquinas College that began and ended at my doorstep.
And the best news: we do have a bountiful farmers market all year long with a group of committed farmers and artisans leading the charge.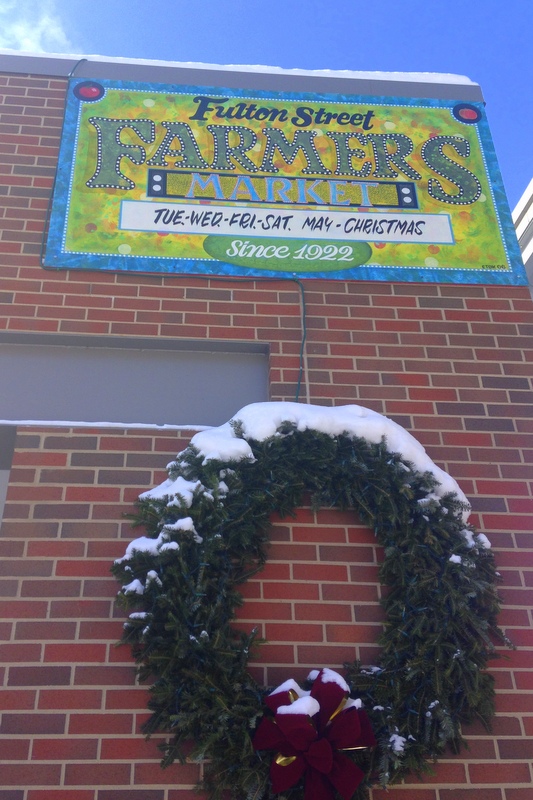 The Fulton Street Farmers Market (FSFM) is best loved in June when our patience runs out and we Midwesterners flock to the market to finally sink our teeth into a Michigan strawberry. Ah yes, that's what a strawberry tastes like. Ah yes, summer is nigh with bobbing boats on the big lake, constant festivals, long days and bare feet. Strawberries are a quintessential FSFM craze but folks, there's so much more than berries. Yes, you know that. But did you know that the Winter Market can be your stop for the majority of items on your shopping list?
The Winter Market officially begins Saturday January 4th and runs every Saturday through April from 10AM to 1PM. In May the regular Market returns, open four days a week with longer hours. The FSFM is located at 1147 East Fulton Street, just two right turns from the Fuller Exit off 196. The market has operated since 1922 and received an upgrade last year, so you'll now find a large covered shed to house dozens of vendors and an indoor building that is home to several lucky merchants and Market staff happy to answer your questions, facilitate food assistance programs or pour you coffee.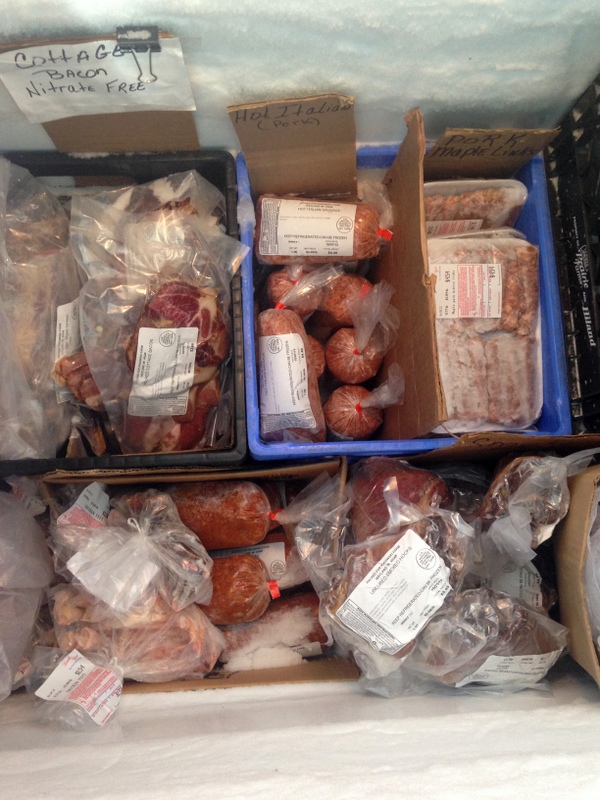 It requires some bundling up, but I highly recommend a visit to the Winter Market to stock up on fresh, local food items and be amazed at our regional farming community extending the season. What will you find? Apples, cider, greenhouse tomatoes, lettuces, bagels, eggs, meat, poultry, root vegetables, milk, cheese, kale, honey, and so much more!
Melissa Harrington, the Markets manager, said that for the Winter Market all vendors must make or grow 80% of what they sell and the other 20%, if they choose to sell something else, must come from Michigan. "Many of our farmers are embracing agricultural technologies to extend their season, meaning that there will be much more greenhouse and hydroponically grown produce on market than one would expect."
And as the engaging staff at Local First tell us, when West Michigan consumers choose a locally owned business over a non-local alternative, $73 of every $100 spent stays in the community. By contrast, only $43 of every $100 spent at a non-locally owned business remains in the community. Yet another reason to do your shopping at the Farmers Market year-round.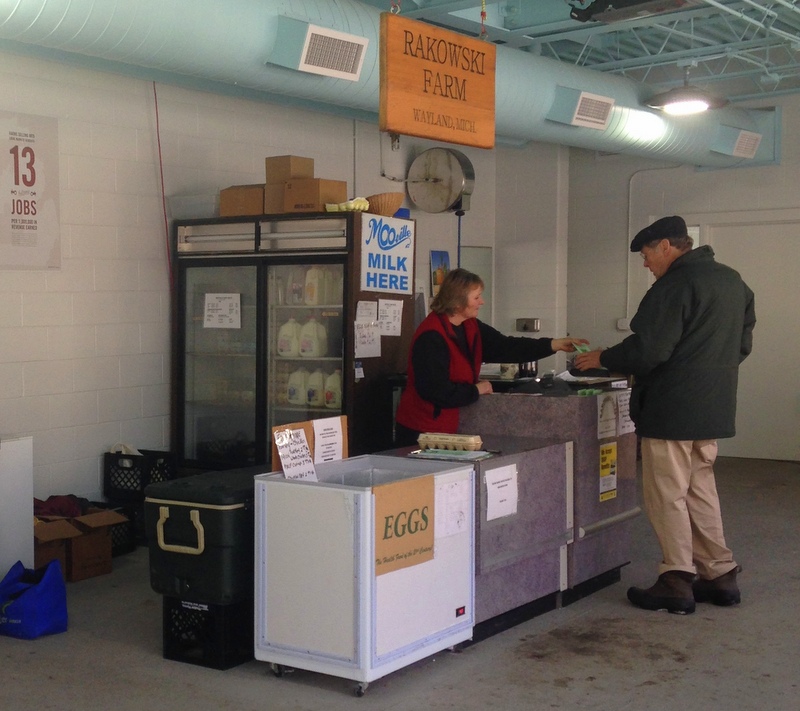 I buy the majority of my meat and dairy from Rakowski Family Farm, run by husband and wife team Pat and Ginny Rakowski. My favorites: Tennessee sausage, thick cut bacon, whole fresh chickens, jumbo brown eggs and grass-fed Delmonico steaks.
Ginny remembers nine years ago when their Winter Market began. It was a simple phone list of twelve customers who called when they needed something so Ginny would meet them at the Market with their orders. The next year, she was at market regularly once a month. And now, you'll find Rakowski Farm in the Market building four days a week until Christmas, and then every Saturday no matter what.
When I thanked Ginny for braving occasional slow weekdays, winter weather and the urge to have a Saturday off just so I could count on Rakowski always being open with my goods, she in turn thanked me and said they are so very grateful people are willing to come shop: "as I always tell my customers, its a team effort."
There's no better way to participate in the West Michigan local food movement then to strap on your boots, grab your mittens and shop local even when there's snow on the ground. You'll be part of a committed team that is increasing the quality and selection of our regions homegrown food.
Connect with the Fulton Street Farmers Market:
Phone: 616 454 4118 Email: info@fultonstreetmarket.org Web: www.fultonstreetmarket.org Facebook.com/fultonstmarket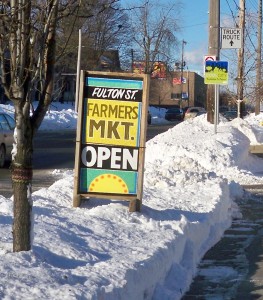 Winter Market Vendor List:
August's Kitchen ~ fine pastries and baked goods Brickyard Farms ~ handcrafted soaps, root vegetables, greens when available Crane Dance Farms ~ Animal Welfare Approved pork, meat, poultry, eggs D&L Laughlin Family Farms ~ apples, cider, greenhouse tomatoes GR Bagel ~ handmade bagels Grand Shire Farms ~ soup mixes and dried herbal blends Growing Green Family Farm ~ microgreens, lettuces Ham Family Farms ~ root vegetables, greens, kale Hickory Knoll Creamery ~ farmstead goat cheese Local Epicurean ~ handmade pastas Melody Bee Farms ~ honey, syrup, root vegetables, greens Platte Family Farm ~ apples Rakowksi Farms ~ eggs, poultry, beef, pork, lamb, maple syrup, mooville milk, cheese, ice cream, butter Real Food Farms ~ tomatoes, kale and lettuces S&S Lamb ~ eggs, poultry, beef, pork, lamb, wool products Shady Side Farms ~ dried beans Visser Farms ~ root vegetables, greens, greenhouse produce, honey Wells Orchard ~ apples, jams and jellies, cider Woodbridge Dairy Farm ~ eggs, beef, pork, duck, raw milk cow shares