Spring has finally sprung in Michigan, and green thumbs everywhere are beginning to itch. Whether you have an established garden or you are trying something new this season, here are five well-loved stops in the Grand Rapids area to guarantee your garden is at its best this season.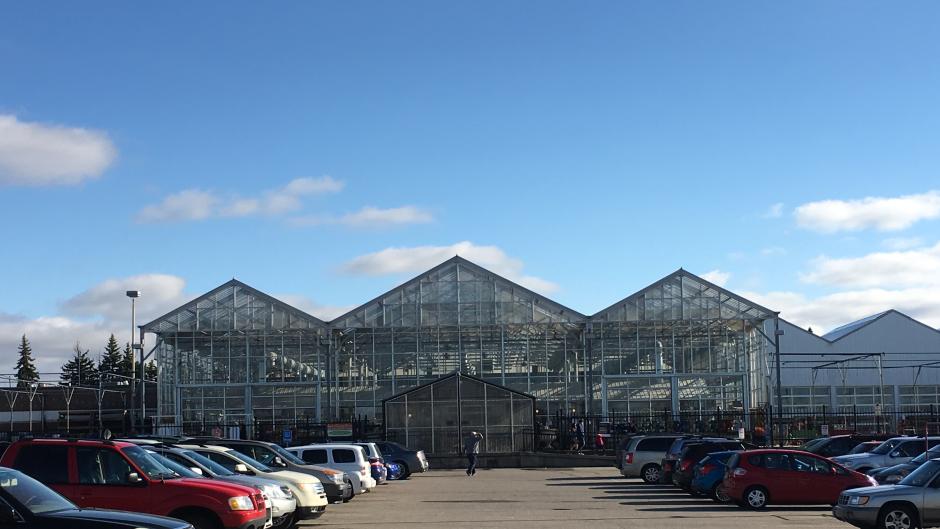 Horrocks Market: your one-stop shop!
Photo Credit: Lyndsay Israel
---
Horrocks Market
4455 Breton Rd. SE, Kentwood
Horrocks Market is a true one-stop shop. It's not only a greenhouse but also a grocery store, clothing and gift shop, and craft beer haven. You can sip a draft while you shop, or you can take a bottle of wine home and drink while you dig. The gardening and greenhouse areas include annuals, perennials, bulbs, seeds, vegetables, soils, potting tools, bird feed, and more. Horrocks also boasts a large selection of locally grown plants. If you are buying anything from the garden center as a gift (Mother's Day is always around the corner!), ask an associate to bow it or wrap it for you. Also the cut flower selection here is the most impressive in town with a wide variety for wedding, funeral, birthday, and shower arrangements. Horrocks is open year-round.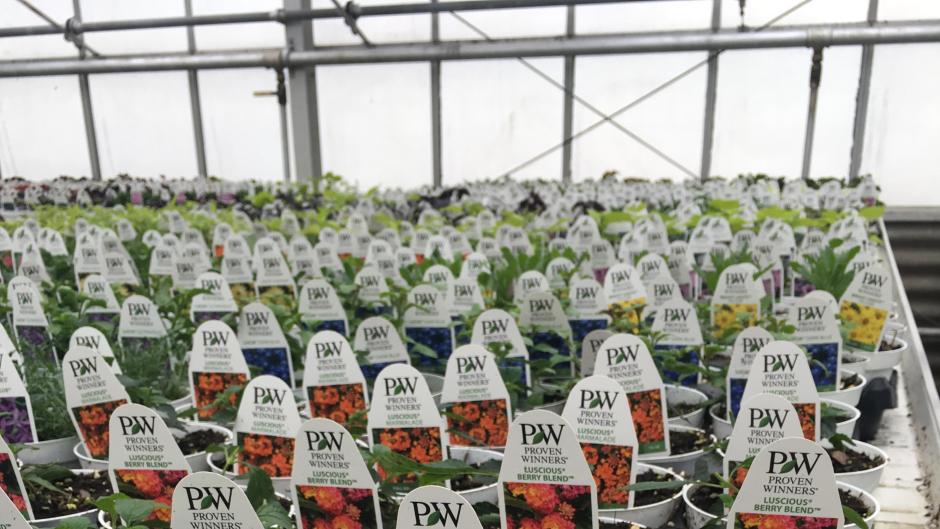 Seedlings sprouting at Romence Gardens.
Photo Credit: Lyndsay Israel
---
Romence Gardens & Greenhouses
265 Lakeside Dr. NE
Romence Gardens and Greenhouses is home to not only beautiful flowers but also amazing experiences that bring gardeners at all levels together. Romence Gardens is family-owned and operated, making it the perfect place to host events such as the wildly popular local food and drink event, Forkfest presented by Local First. When I wandered in to browse this month, I was greeted personally by the owner and was offered help and advice in every greenhouse from a knowledgeable staff. There are over six glass-covered acres at Romence Gardens, which is where a majority of the annuals, perennials, and vegetables are sprouted. If you're getting really creative this spring, check out its collection of water plants, koi fish, fairy garden accessories, and beautiful trees and shrubs. Romence Gardens is open year-round.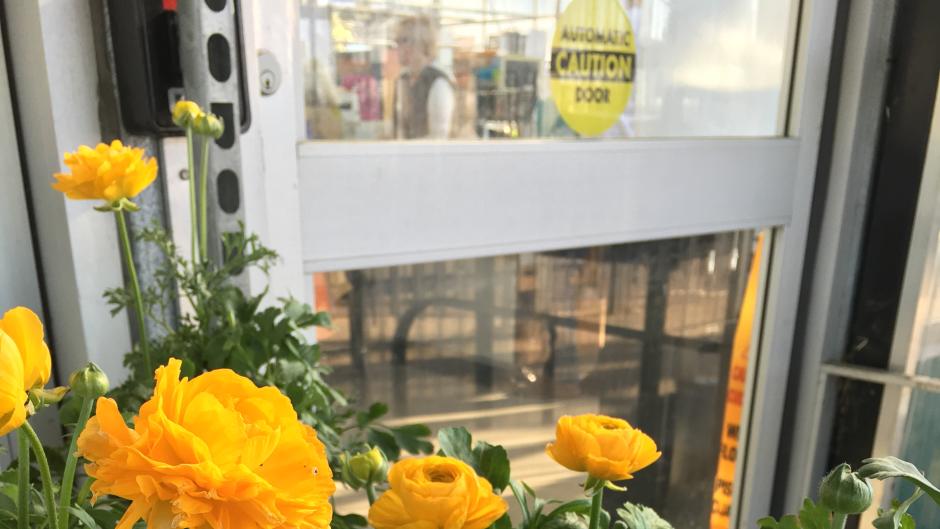 Brighten up your garden with these cheerful yellow flowers!
Photo Credit: Lyndsay Israel
---
Koetsier's
1601 Spaulding Ave. SE
Another successful family-owned greenhouse business in town is Koetsier's. While Koetsier's still has an excellent selection of garden goods, it's also a local favorite because of its unique events calendar. Check out the Bloomstudio, where guests can do drop-in planting or take potting classes. Kids are welcome to many of the classes, and it's a great way to help the whole family feel involved in the landscaping process. For a unique take on happy hour, "Sip and Shop" local beers and wines every Friday in April from 4PM – 6PM, or "Wine and Design" on Wednesday evenings in May. The staff is there to guide and recommend during these events, but you only pay for the soil and plants that you choose. Koetsier's is open year-round.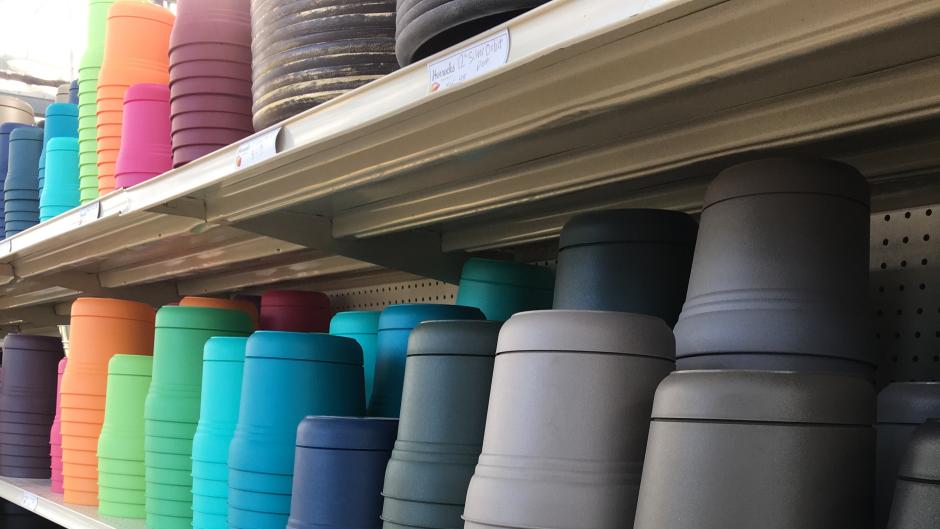 Colorful containers can be just as pretty as the flowers!
Photo Credit: Lyndsay Israel
---
Flowerland
Flowerland – Alpine
3801 Alpine Ave. NW
Comstock Park, MI
(616) 784-0542
Flowerland – Wyoming
765 28th St. SW (at intersection of Clyde Park SW)
Wyoming, MI
(616) 532-5934
Flowerland – Kentwood
4321 28th St. SE
Kentwood, MI
(616) 942-5321
In addition to having an excellent selection of annuals and perennials, Flowerland has three area locations, making it one of the most convenient greenhouse options in West Michigan. If you're just starting out, you may walk into a greenhouse and can't quite remember the name of that one plant with the cool colored flowers that blooms in the fall. The Flowerland Plant Finder tool on its website can help you devise a planting plan before you go in and fill a cart, or can at least help you explain to the staff what you're looking for. If you know you have a spot to fill in direct sunlight or pure shade, you can search for a good plant to fill that spot using the tool too. Flowerland is open year-round.
Dahlia Acres
7577 Buchanan St.
All cutting and purchasing can be done by appointment only.
Dahlia Acres in Allendale brings another unique spin on the gardening and planting process. This wouldn't be your typical greenhouse stop, where you drive away with flats of flowers to put straight into the ground. At Dahlia Acres, you can either order bulbs and tubers ahead of planting season, or you can cut your own fresh flowers starting in August! In addition to dahlias, the farm also grows sunflowers, zinnias, snapdragons, eucalyptus, gladiolas, celosia, statice, bells of Ireland, and ornamental kale. This summer, the farm is offering Bouquets and Bottles classes, where you can bring a friend and a bottle of wine and learn how to craft a beautifully cut bouquet. When you've set up an appointment to pick up cut flowers, you can do it yourself or ask the staff to have your stems pre-cut for you. Pricing varies by size of the bloom, so don't be afraid to ask up-front based on your needs. Dahlia Acres' flowers can also be found at farmers markets in Grand Haven, Spring Lake, Rockford, and Muskegon throughout the summer and fall.
Where else do you like to go to beautify your home and garden in the spring? Happy planting!
Never Miss a Post!
Subscribe to the Insider Experience blog.