Since the U.S. debut in early July of the wildly popular mobile game, Pokémon GO, people of all ages have been exploring forests, lake shores, urban metropolises and even their own home bathrooms for the chance to find a Pikachu, Bulbasaur, Charmander, Squirtle, or other rare Pokémon.
Similar to Pokémon GO, there's another family-friendly activity that has existed well before wild Pidgeys were vibrating your phone. This game is also inexpensive, provides exercise, takes players to unexplored locations, and only requires a mobile device to play.
This game is called geocaching.
Instead of hunting for digital creatures, geocaching is a real-world, outdoor game that challenges players to find tangible, hidden treasures using Global Positioning System (GPS)-enabled devices, such as a smart phone. Adventurers navigate to specific GPS coordinates and then attempt to find the geocache (container) hidden at that location.
The first geocache was hidden in 2000 by an Oregon man soon after the U.S. government discontinued "selective availability," or the practice of distorting GPS satellite signals available to civilians. Improved accuracy opened the doors to getting more precise locations, paving the way for a coordinate-based game.
An activity that began as a small collective of geocaching enthusiasts now boasts approximately 3 million active players around the world. These players are in search of the more than 2.8 million caches hidden in more than 180 countries, according to Seattle-based Groundspeak Inc., which manages the largest geocaching listing website in the world, geocaching.com.
Of those millions of caches, approximately 5,000 are waiting to be found in and around the Grand Rapids area.
The beauty of geocaching is that the only equipment needed is something most parents and kids already have, a smartphone. GPS applications are available for about $10 or less (The geocaching app by Groundspeak Inc., simply called "Geocaching," is a personal favorite). Some apps even offer free versions that show only a select number of geocaches for those looking to try the activity before making any monetary investments.
Geocaching has a very short list of "rules," which include: find a container, take an item, leave an item, sign the log book, and put the container back where you found it.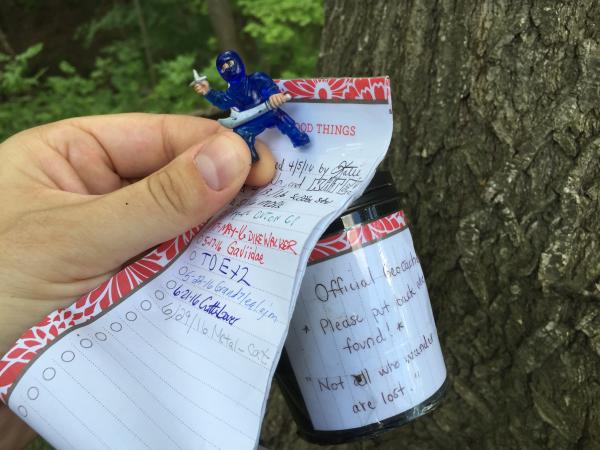 You really never know what the cache owner or visitors to the cache may have left for you to enjoy. During my first geocaching adventure, I had to choose between taking home a Captain America eraser, a small, plastic giraffe, a ninja penguin keychain, or some Mardi Gras beads. Needless to say, the ninja penguin keychain judo chopped its way into my heart.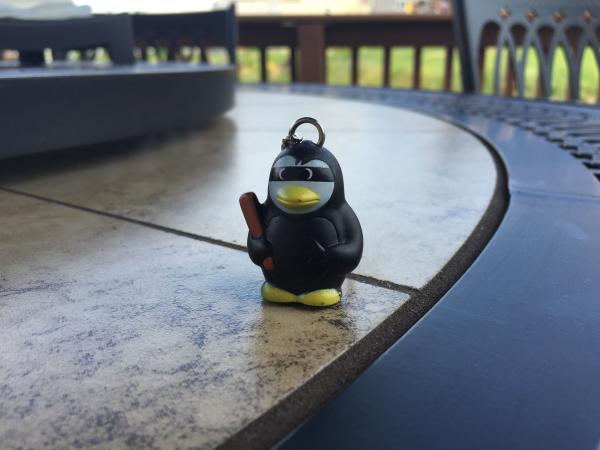 Mary Cooper, program staff for Gilda's Club Grand Rapids, has discovered some unique items among the 7,236 caches she has found over her past 11 years of geocaching.
"I have found a piece of the Mackinac Bridge, a piece of the Berlin Wall, gift cards, foreign coins, souvenirs, toys and much more," said Cooper, a resident of Ada who geocaches under the alias of "RedhedMary."
That treasure chest puts my ninja penguin to shame, but I digress. Cooper has not only participated in geocaching in every county of Michigan, but also across 34 states and 10 countries.
There are also occasions where you may not find a prize to take with you because the container is too small to hold anything other than the log book. These geocaches are referred to as "nanos," and are often as small as a fingertip. Most caches, however, are roughly the size of a small coffee can, or as large as the size of a Cheese Balls container.
Cooper said she has been geocaching for so many years because the activity takes her to locations she may not otherwise travel to.
"Geocaching introduces me to the beauty and history of an area and gives me the opportunity to exercise," Cooper said. "It also gives me mental exercise — finding the hiding places and solving the puzzles that some caches contain."
Speaking of puzzles, there are more than a dozen different types of caches. Some of the more common types include:
Traditional: This type of geocache is the most straightforward. These will be a container at any given coordinates.
Multi-Cache: These geocaches involve two or more locations, with the final location being a physical container with a logbook inside. Typically, there will be a clue at the first cache to the whereabouts of the second stage, and so on and so forth.
Puzzle Cache: This type may involve complicated puzzles that must first be solved in order to determine the correct coordinates of the cache, or to open a cache.
EarthCache: This is a special geological location people can visit to learn about a unique feature of the Earth. EarthCache pages include a set of educational notes along with coordinates. Generally, to log an EarthCache, answers must be provided to questions by observing the geological location. For more information about this type of cache, visit www.earthcache.org.
For a full list of types of caches, click here.
Now you know what geocaching is, how to play, and what kind of treasure you may discover, but where do you begin exploring around West Michigan?
Geocaches can be hidden in forests, parks, urban locations — nearly anywhere you can think of. Luckily, most caches listed on geocaching websites and mobile apps generally include difficulty and terrain ratings (1 being the easiest and 5 being the most difficult) to help players choose adventures that are right for them.
Each geocache listing also includes a description of the cache, recent logs from other geocachers (which are helpful to determine whether any given geocache is still active), and occasionally a helpful hint or two.
Cooper said some of her geocaching hot spots include Kent County parks.
"I love going to any of our county's wonderful parks, both in Grand Rapids and around the rest of the county, where there are groups of geocaches so that I can take a hike throughout the parks and really explore," Cooper said. "My current favorite park is Peace Park in Cascade Township — there are currently around 14 geocaches in the park."
Going shopping at Rivertown Mall in Grandville? More than 30 geocaches are waiting to be found within about a two-mile radius.
Moving your students into their dorms at Grand Valley State University in Allendale in August? Take a break from lifting boxes and go find the more than 20 geocaches around campus.
Planning on visiting Rockford's award-winning Farm Market on a Saturday this summer from 8 a.m.-1p.m.? Fill your bags with treasures by locating the 25 active geocaches around the city's downtown area.
No matter whether your geocaching adventures take you north, south, east or west, remember these famous words from one of the greatest fictional treasure-hunters, Captain Jack Sparrow: "Not all treasure is silver and gold, mate."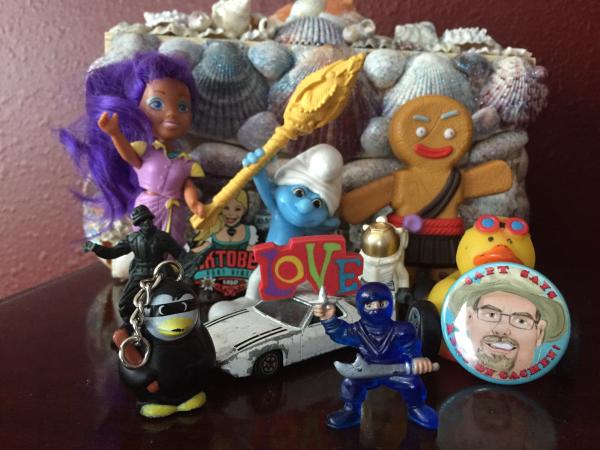 Do you have a favorite geocaching location in West Michigan? Let us know in the comments below.