Grand Rapids is full of things to do all year long, but its an especially nice place to be during the holidays, when the Amway Grand Plaza is all dressed up in its Christmas finery, the Civic Theatre is performing A Christmas Carol, the Grand Rapids Symphony is playing the Holiday Pops and the Grand Rapids Ballet is once again mesmerizing audiences with its annual production of the Nutcracker.
If you haven't caught the holiday spirit yet, you can kick it into high gear tonight by heading to downtown Ada where you'll find free hot chocolate and cider, donut holes and candy canes, and discounts you wont want to miss at their annual Tinsel, Treats and Trolley event.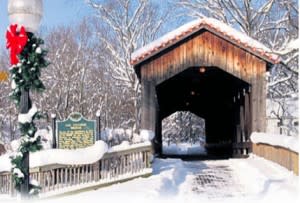 This is the fourth year for Tinsel, Treats and Trolley, and the third year my family will be joining the fun. It all begins at 5:45 p.m. with a bridge lighting ceremony at the covered bridge in Ada. Last year, we were scrambling to find a parking spot and we ran up just in time to see the lights come on. A word to the wise: get there a bit early. No matter how many times you see it, watching the bridge light up against the backdrop of the dark winter evening is breathtaking. Its simply beautiful.
Afterwards, you can walk through Ada or jump on a trolley that will take you around to six convenient stops throughout town. Your family will create new memories as you stroll through Ada exploring shops, sharing tasty treats, and feeling the joy of the season. You can even drop off a new toy at Spoonlickers, a designated Toys for Tots drop-off site.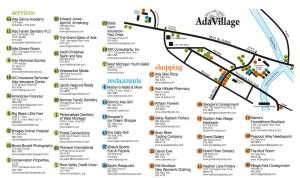 Be sure to stop by Norman Family Dentistry to see the very cool live nativity--my kids loved it last year, but our Labrador wasn't so sure!
If you enjoy live nativities, you can catch a few others in the area:
Tinsel, Treats, and Trolleys ends at 9:00 p.m., but you can return to Ada Saturday morning at 11:00 for the annual Christmas parade. You'll find free hot chocolate and cookies at the fire station and, from 11:00 1:30, you can even have a free photo taken with the jolly old guy in the red suit.