Get ready to get pink! Throughout the month of February 2016, the Grand Rapids community is joining the fight against breast cancer to help raise funds and awareness for Susan G. Komen Michigan through the 5th annual Experience Pink events, brought to you by Experience Grand Rapids and the Kent County Hospitality Association.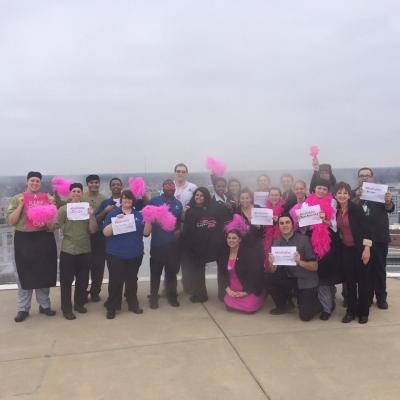 Last year's JW Marriott team on the rooftop, getting ready for Experience Pink!
The annual event has raised over $25,000 since its inception and 75% of every dollar raised stays in West Michigan says Nakia Kyler, Community Events Coordinator for Susan G. Komen Michigan. Early detection is critical and these funds help pay for services like education, breast screenings, mammograms, and breast care services for men and women in the area who are underserved.  The other 25% funds ground-breaking research to find a cure.
Experience Pink includes special hotel packages, an informative lunch & learn session, and lots of fun community events. Grab your friends and family and get ready to Experience Pink this February!
Hotel Packages
Bask in the beauty of wintertime in downtown Grand Rapids and enjoy 10% off your eco-friendly guest room at the contemporary boutique hotel, City Flats. As a special treat, you'll receive 2 pink lemon cupcakes with scrumptious cream cheese frosting made by the chef of CitySēn Lounge. City Flats also has a fitness center and free wi-fi for guests. Better yet, the hotel will make a $5 donation directly to Komen Michigan for every Experience Pink package that's booked this February. For reservations call City Flats at 616.608.1720 and ask for the Experience Pink Package.
If you prefer to stay outside of downtown, The Hampton Inn North is conveniently located about 10 minutes north, giving you easy to access restaurants, museums, and events downtown. It's about equidistant to Frederik Meijer Gardens, one of the nation's premier horticultural gardens and sculpture parks. Their Experience Pink package includes a complementary hot breakfast and a king or two queen bedroom, as well as a Welcome Pink surprise! The hotel also features an indoor heated pool, hot tub, and complementary Wi-Fi. Hampton Inn North will make a $5 donation directly to Komen Michigan for every Experience Pink package that's booked this February. For reservations call Hampton Inn North at 616.647.1000 and ask for the Experience Pink Package.
Lunch & Learn
Reflexology for Cancer Survivors (February 16, 11:30AM – 1PM)
Join us for lunch at six.one.six at the J.W. Marriott and a presentation by Dr. Dr. Werner Absenger, CEO of the Absenger Cancer Education Foundation (ACEF). Dr Absenger will discuss reflexology for cancer survivors and talk about research that suggests reflexology has potential benefits as supportive care for helping manage cancer pain and treatment-related symptoms.
This informative event, including lunch, costs $20 per person. Reserve your spot by calling the J.W. Marriott at 616.242.1448. Marriott is offering free valet parking for event attendees. When you arrive, please tell the valet you're attending the Komen lunch and learn.
Food & Drink Specials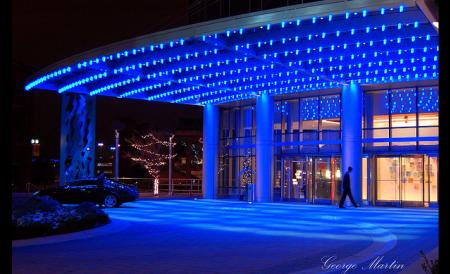 photo courtesy JW Marriott
Florentine's, The Bistro at the Courtyard by Marriott downtown, the JW Marriott's Mixology bar, The Heritage Restaurant, and Tom and Chee will all have special Experience Pink promotions.
Forentine's has a special pink drink, The Bistro is offering food and drink specials and donating 10% of proceeds to Susan G. Komen Michigan and Mixology is whipping up a Stone Fruit Elixer. The Heritage is offering a Raspberry Macaroon with vanilla creme brulee and cocoa nib ice cream (they'll donate $1 of every dessert sold) and you won't want to miss Tom and Chee's Pink Lemonade Grilled Cheese Donut! It's Strawberry Mascarpone, Candied Lemons and Mozzarella Cheese on a Glazed Donut….wow!  They're offering 1 for $5.45 or a pair for $10 during the month of February and donating 15% of sales back to Susan G. Komen Michigan.  
Community Events
Little Black Dress Party (February 19, 2016 - 9 pm to 1 am)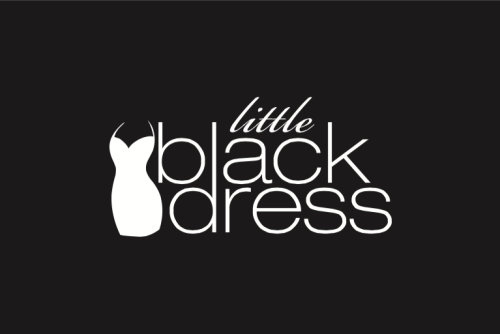 The JW Marriot is hosting its annual LBD cocktail party as part of Experience Pink 2016. The party celebrates this classic look and includes a fashion show presented by Mia's Boutique and Siegel Jewelers, in addition to a fashion contest, complete with prizes! Sport your finest LBD and dance the night away in the International Ballroom while supporting Susan G. Komen Michigan. Admission to the LBD party is free.
PINK Spa Services at the JW Marriott
Experience Pink is a great time to treat yourself to the luxury of the JW Marriott Spa! During the month of February, the JW Marriott Spa is featuring the following special PINK services in support of Susan G. KomenMichigan:
Rose Hydration Body Treatment: $165. This intensely hydrating treatment leaves your body radiant, soft and smooth. Start with an exfoliating scrub followed by a moisturizing wrap layering a rich rose serum, oil and cream.
Pink Express Mani/Pedi: $99. Renew your hands and feet with a soothing pink soak, nail care, revitalizing pink scrub, moisturizer and polish.
Breast Cancer Awareness Nail Art: $5
Call the JW Marriot Spa at 616.242.1475 to book your treatment today!
Valent-ICE 2016 (Feb. 12, 2016 – Feb. 14, 2016)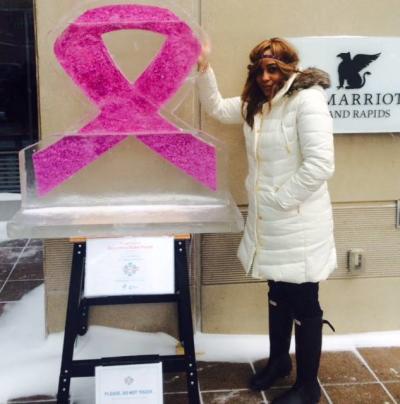 Pink ice sculpture by Ice Guru Randy Finch, on display during 2015's Valent-ICE event
Make an icy date this year for Valentine's Day: from Feb. 12 – Feb. 14 you can see 30+ ice sculptures featured throughout downtown Grand Rapids. Be sure to stop by the JW Marriott downtown to see the special Experience Pink ice sculpture and check out promotions at local businesses and restaurants during the event. End the evening with the Bubble on ICE Happy Hour at the Downtown Market's ice lounge (4-7pm) and/or the 80's on ICE-themed ice skating at Rosa Parks Circle. It will be lots of fun with free 80's trivia, a photobooth, hot chocolate and a chance to win prizes. (7-9 PM)
On Saturday, February 13 downtown will be full of more Valent-ICE fun: You watch the live carving of the Voters' Choice 3,000 lb public ice sculpture and join other activities beginning at noon, including kid-fun provided by LaughFest, Grand Rapids Children's Museum, Grand Rapids Public Museum, John Ball Zoo, The Home Depot, and Grandville Avenue Arts & Humanities. Disney's Frozen characters, and local GR mascots, will also make an appearance and there will be free hot chocolate and free ice skating at Rosa Parks Circle(12-3 PM).
Next, on Sunday, Feb. 14, visit the Downtown Market's ice lounge for ICE Cold Brewskies with a Whiskey Warmer, then head over to Rosa Parks circle with your favorite someone. A free a professional photograph will be taking photos for Valentine's Day sweethearts, families and others. Check the website for more details.
Grand Rapids DRIVE (Feb 17, 7PM).
Grand Rapids' own NBA Affiliate basketball team, the Grand Rapids DRIVE, is offering a special pink package for their home game at the DeltaPlex Arena against the Sioux Falls Skyforce on February 17th at 7:00p.m. For tickets, call Trey Conner at 616-350-4881 or email him at tconner@nbagrandrapids.com. Be sure to mention that you'd like tickets for the Experience Pink event that supports Susan G. Komen Michigan.
Grand Raggidy Roller Girls Pink Game (Feb. 20, 5PM-10PM)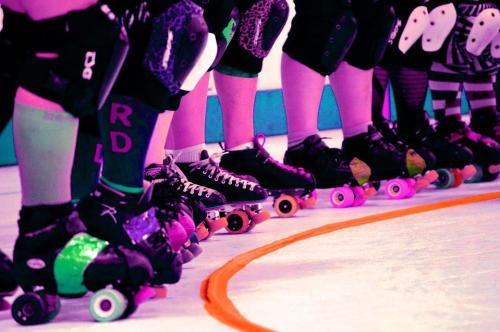 Get ready to watch an exciting pinked-out roller derby game, when the Grand Raggidy Roller Girls take on Old Capital City at Rivertown Sports for their pink-themed game. Bring your kids and splurge on hot dogs for them and craft beer for you—and enjoy a special Experience Pink surprise at halftime! Advance tickets are $12 or you can purchase tickets at the door for $15.
Have a great time and support a great cause while you Experience Pink this February! Be sure to check the website for updates and additions.