Place a well-prepared ham & cheese omelet on my plate, with a bowl of fresh fruit on the side, and some piping hot tea in my cup and my morning is so much happier. Especially when I don't have to cook it or clean it up myself. That's the beauty of eating out for breakfast, which is easy to do in Grand Rapids.
We have so many great breakfast spots that it's worth driving around town to try each of them. The less traditional breakfast eaters, those who roll their eyes at the boring omelet that brings me so much happiness, are in luck: these menus offer lots of creative breakfast fare.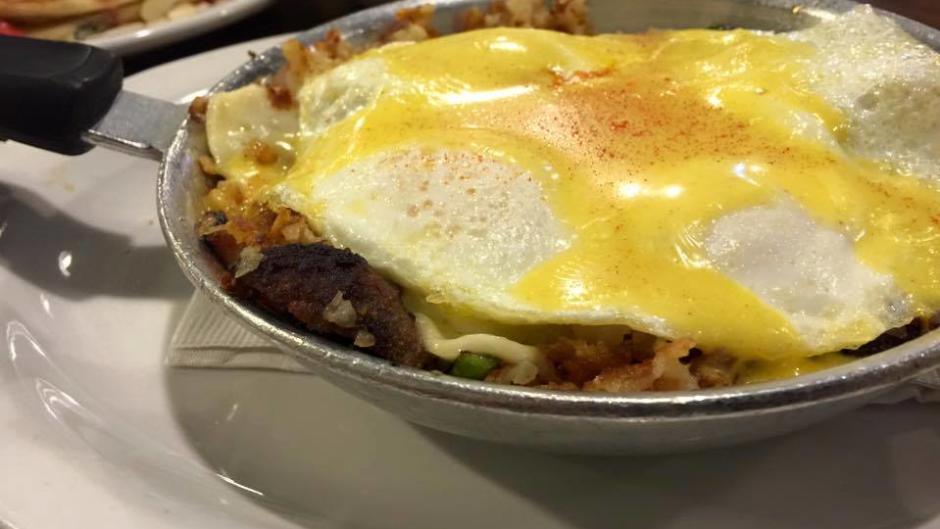 Wolfgang's breakfast
Photo Credit: Wolfgang's Restaurant
---
Wolfgang's (Eastown)
My kids love the Cinnamon French toast here so much that they're willing to endure waiting in line for a table, which almost always happens when we dine at this local favorite. Don't by shy: step away from your usual order and try the Jamaican Jerk Chicken Frittata or the Pecan Belgian Waffle. So good!
Westsider Café (Walker Ave.)
As the name indicates, this local gem is located on the west side of GR, a little north of downtown. Go for the Huevos Rancheros, with smoked pulled pork…you won't be sorry, or hungry, afterwards.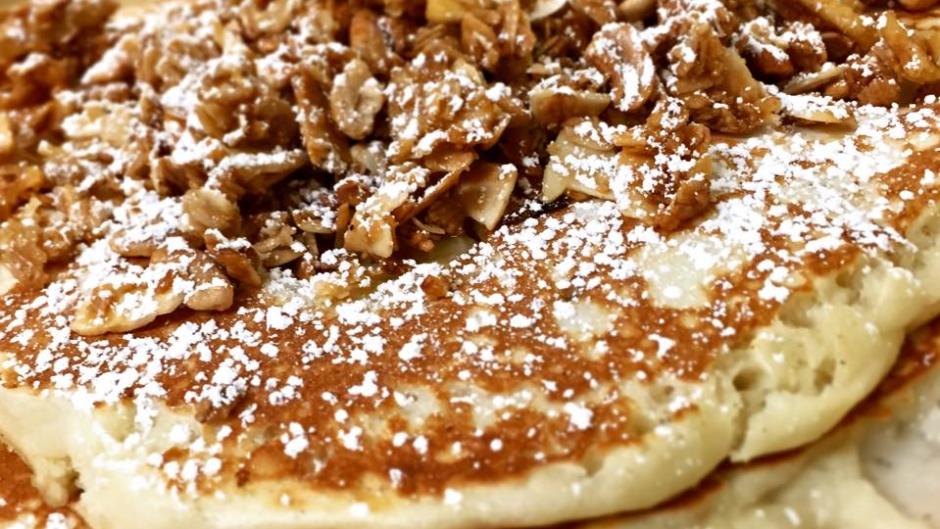 Real Food Cafe breakfast
Photo Credit: Real Food Cafe
---
Real Food Café (Southtown/Alger Heights)
Hit the ATM before you come, because Real Food Café doesn't accept plastic. But the banana waffles alone are worth the extra effort. I favor the egg scrambles (Spicy Mediterranean, yum!), but the sweet-tooths among you will love their Nutella Stuffed French Toast, topped with bananas, chocolate sauce, and…you know it…whipped cream.
Sundance Grill (2 locations: Cascade and downtown)
Sundance Grill is the perfect place to take your family – there's something for everyone.  Traditionalists can't miss with the buttermilk pancakes (my kids rarely pass them up) and cooked-just-right omelets, but when you add an "eye opener" beverage, like their Rumchata Iced Latte or Pomegranate Mimosa, you've got yourself a very lovely breakfast. If you like breakfast outside the box, try the Cilantro Jalapeno Corn Cakes with the Chorizo and Bacon Breakfast Tacos or Taos Skillet.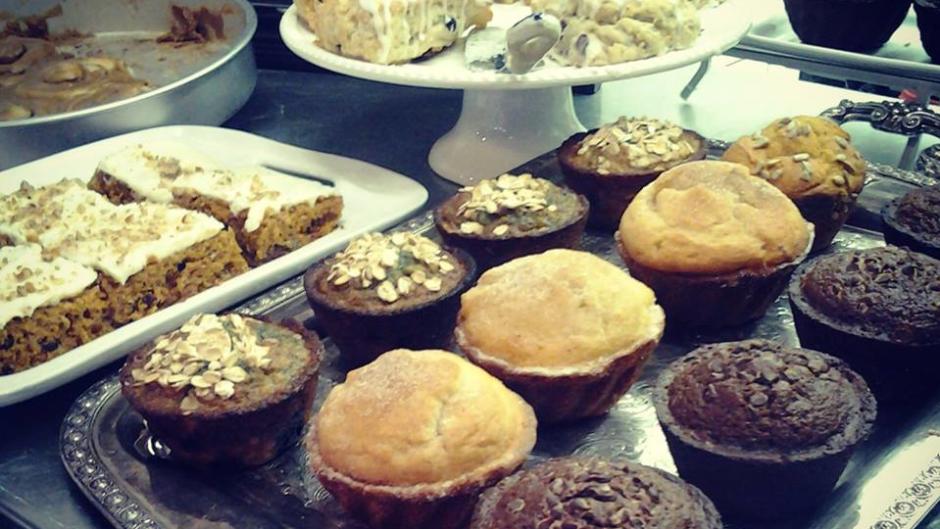 Nonna's breakfast
Photo Credit: Nonna's Cafe
---
Nonna Café (Ada)
If you feel a little bit like you're visiting Europe when you eat at this quaint little café, it's because the owners lived in Florence, Italy for 18 years before returning to GR and opening Nonna. My husband raves about their excellent coffee and everything I've eaten here has been spectacular. All of their food is made from scratch, including their tasty scones, muffins, and other sweet temptations.
Trailhead Café (Forest Hills/Cascade area)
This small, locally owned café uses gourmet ingredients throughout its menu and serves up a mean egg scramble as well as delicious coffee and a variety of teas. The Breakfast Burrito, made with Chorizo and Vermont cheddar is another solid choice. You'll find the café adjacent to the Grand Rapids Bicycle Company, near Bill and Paul's Sporthaus. (Only drawback: it's not open until 8AM.)
Manna Café (Forest Hills/Cascade)
The Smoked Salmon Eggs Benedict and the Stuffed French Toast are both delicious, but don't come with my favorite menu item: the manna bread. It's a high protein, lower carb bread made just for Manna Café by Great Harvest Bread. My girlfriend jokes that it has sticks in it (it's really good stuff, like pumpkin seeds and flaxseed), but I like it so much I buy a loaf for home. I'd be remiss if I didn't mention that Manna displays biblical verses on their wall.  However, I've never heard a hint of proselytizing from the staff.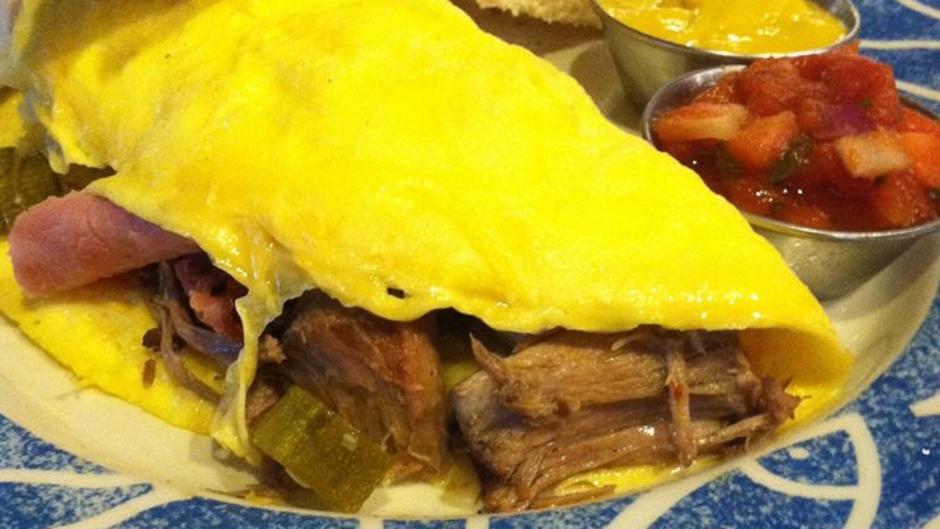 San Chez Bistro breakfast
Photo Credit: San Chez Bistro
---
San Chez Bistro (downtown)
If you only think of tapas when you think of San Chez, you don't know the whole story. Go early and try their breakfast empanadas, made with chorizo, sausage and goat cheese, which will add a little kick to your morning. They come with patatas bravas, cooked so they're crispy on the outside and tender on the inside—don't skip them. If you can't possibly eat another bite after all of that, order the Pecan Cinnamon Roll to go!
Cherie Inn (Uptown)
It's so easy to indulge yourself when you visit Cherie Inn, so go ahead, order those Almond Joy Pancakes. Yep, you read that right. This plate of deliciousness includes pancakes grilled with coconut, chocolate chips and sliced almonds. It really doesn't' get much better than that! But…if coconut isn't your thing, give the Granola-Blueberry Cakes a try. Just like it sounds, these pancakes are grilled with blueberries and homemade granola. Out of this world!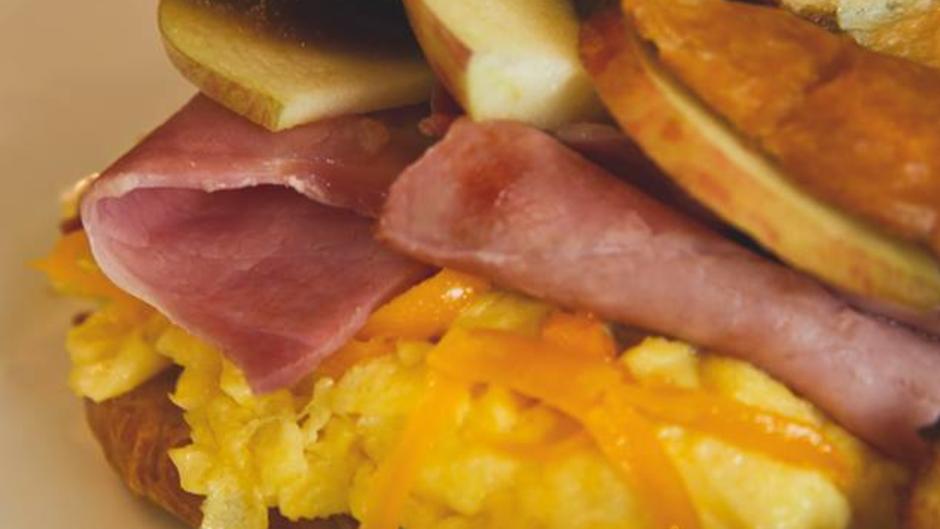 Anna's breakfast
Photo Credit: Anna's Restaurant
---
Anna's (2 locations: Plainfield & Beltline)
My friend, Jane, swears by the Sweet Potato & Brussel Sprouts Hash, which also features roasted sweet potations, onion, dried cherries, and a balsamic reduction. As usual, I crave their ham and cheese omelet, but you have a choice of cheeses and I highly recommend choosing the white cheddar—it's diced, I think, not grated and has a wonderfully sharp flavor to a traditional dish. Anna's also offers plenty of gluten- and dairy-free options.
Wealthy Street Bakery (Uptown)
Okay, it's true that you can't order an omelet here. Or over easy eggs for that matter. But set aside convention and splurge on some sugar: Wealthy Street Bakery is so worth the calories. Their massive cinnamon rolls are loaded with icing, so sticky and sweet that you absolutely must drink coffee, tea, or water with it. Fortunately, they have all of those. The Raspberry Danish, the scones, the cookies…oh my, it's so very difficult to choose just one. This month's cookie is maple walnut and I suggest you run there as soon as possible to get one before they're gone. Additional advice: eat a pastry there, buy more to go. (They have lots of gluten-free options, too.)
Don't ever miss a post!
Sign-up for the Insider Experience Blog