Local comic shops are committed to showcasing a broad and diverse offering of new releases as well as a stellar collection of locally-produced publications. Holy variety, Batman!
In addition to comics, most shops in the Grand Rapids area offer a variety of events, including tabletop board game nights, Free Comic Book Day, local artist signings, and New Comic Book Day every Wednesday, as well as special services like buy backs, appraisals, and subscriptions.
We caught up with the management of four Grand Rapids comic book stores to find out what makes their businesses unique and accessible to everyone.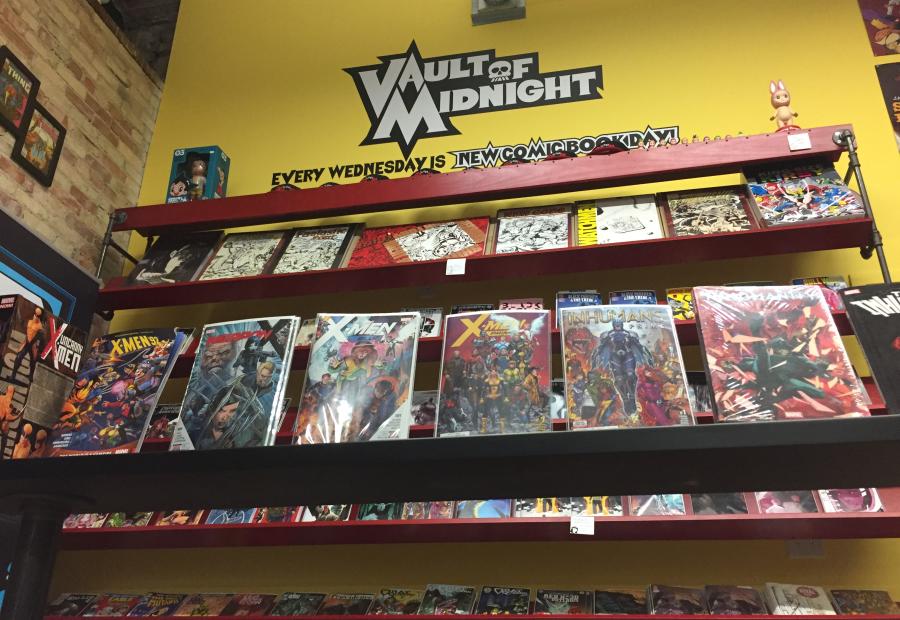 Vault of Midnight comics
Photo by Experience Grand Rapids
Vault of Midnight
The folks at Vault of Midnight have one prime directive: "We legitimately just want everybody to read a comic book," says Charley Tucker, store manager. "Even if you think that reading comics isn't something you'd be into or maybe you've been reading comics for ages, we know that we can find something new that you're going to love."
Vault of Midnight's trademark bright blue storefront, equally brightly-colored interior, and friendly staff provide a welcoming atmosphere, especially to those who have never turned the pages of a comic book. Vault visitors will also find no shortage of books written and designed by local artists.
"A lot of people get really nervous because they don't want to ask comic book shop employees about where to begin and be shut down for not having previous knowledge, but we want to talk about comic books and introduce people to new series, whether that be the most popular Spider-Man book right now or something written by a local creator," Tucker explains.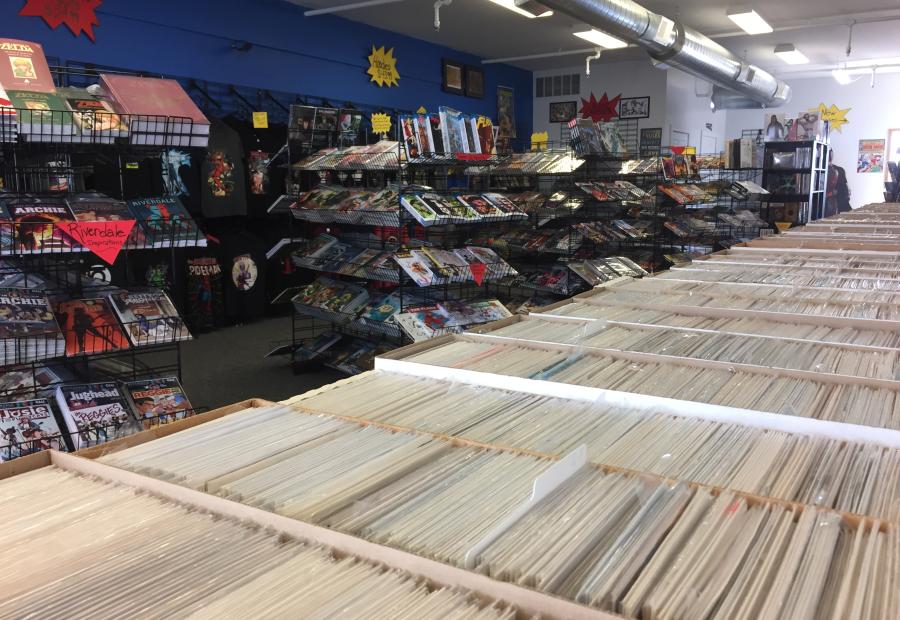 The Comic Signal
Photo by Experience Grand Rapids
The Comic Signal
Don Myers hasn't stopped reading comic books since he first flipped through the pages of Batman #254 in 1974. He fulfilled his lifelong dream of opening a comic book store when The Comic Signal opened its doors in Grand Rapids in 2016.
"I want to bring the joy of comics to anyone who walks through the door, and I want to encourage people to come back to talk more about comics in order to develop a love for the medium," Myers says.
Owned and operated by the Myers family, The Comic Signal offers all of the newest releases while carrying an eclectic variety of classics dating back to the 1940s. Uniquely, the store dedicates a sizable portion of space to a children's section that includes books spotlighting characters from Disney princesses to Marvel superheroes.
Myers' love of comic books provides a rich and enjoyable experience for those who visit The Comic Signal. For those seeking his advice on where to jump into reading comics, Myers suggests narrowing in on a specific genre, or dialing in to specific characters.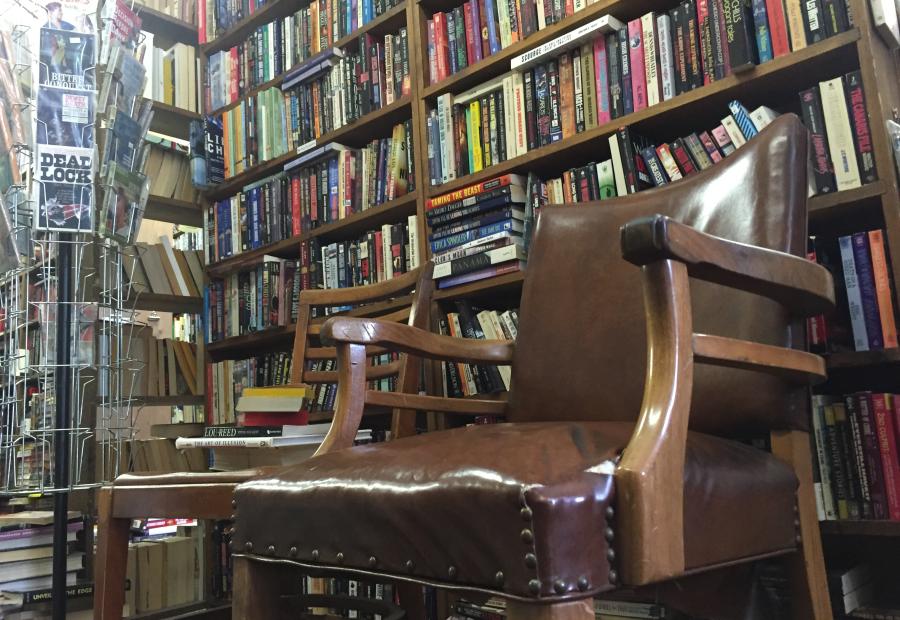 Argos Book Shop
Photo by Experience Grand Rapids
Argos Book Shop
Argos Book Shop could be considered a bookworm's paradise. The shop's uniqueness derives from not only selling new and vintage comic books, but also used books. Since 1975, Argos Book Shop has been selling antiquarian, vintage, and gently used books on its shelves in Eastown.
"Our mission is to be a good used book and comic book store where everyone can find something they like," says Jim Bleeker, store owner. "You can come in and get your new comic pulls, find a cool vintage issue sometimes for only one dollar each, or grab a vintage science paperback, cool art book, or study some theology."
As a perk, Argos offers a 10% discount on all new comic books every day of the week — a longstanding tradition of Bleeker's for more than 40 years.
Customers often proclaim their love of Argos' nostalgic environment, diverse publications, and "controlled chaos" organization. Every book lover needs to see this literary paradise.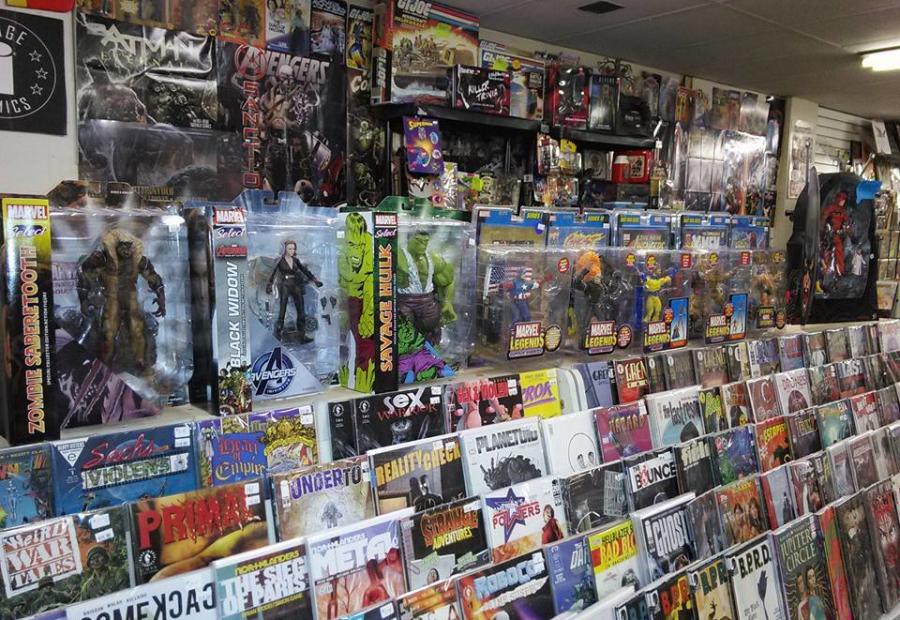 Tardy's Collectors Corner
Photo by Tardy's Collectors Corner
Tardy's Collectors Corner
Tardy's Collectors Corner has a vintage vibe, which owners Gavin and Deanna Willard claim is the kind of environment that has kept customers coming back since the store opened in 1979.
"Our shop has the feel of a comic shop right out of the 70s," says Deanna. "Several times a week we hear from someone saying that our shop reminds them of such and such shop they used to go to as a kid."
As the store's name implies, Tardy's is a one-stop-shop for collectors. The store carries vintage memorabilia and toys dating back to the 1970s, including action figures, posters, pins and patches, signed artist prints, statues, and new and classic apparel. The store also offers grab bags of 30 comics for $10 each.
If you're unable to visit Tardy's in person, Gavin and Deanna will bring the world of comics to your door step. The duo mail comics to people unable to travel to the store and deliver comic books almost every Sunday (the only day the store is closed) to a handful of people in the Holland area.
"We know everyone is living busy lives, and comics are a fun thing, but not a necessity to live, so we make it that much easier for people to be able to enjoy comic books," says Gavin.
All of the comic book stores in the Grand Rapids area serve the common purpose of spreading love for the stories, characters, and artwork found between the pages of comic books to enthusiasts of all ages. To find your newest go-to comic shop, visit the shop listings at Experience Grand Rapids.