You can't beat fall in West Michigan. This is my favorite time of year when the trees flaunt their brilliant colors and cooler temperatures prevail. It's also a popular time for locals and visitors to enjoy the Grand Rapids art scene, which blossoms all year long but is especially vibrant in the fall.
If you're in town for ArtPrize®, don't miss out on the opportunity to see other art In Grand Rapids. This year, ArtPrize runs from September 16 – October 3.
For an overview of art in Grand Rapids, I'd recommend doing some or all of the self-guided City Art Tour, which includes art displayed in galleries as well as other places around town. If you'd like a guide to exploring outdoor art in Grand Rapids, download the Outdoor Arts Inspirations tour map.
Visual Arts
Grand Rapids is home to spectacular visual arts all year long. You can find lots of suggestions for where to find it on the Grand Rapids Art, Galleries & Sculptures page. Here are a few places with special exhibits this fall. Many overlap with the timing of ArtPrize.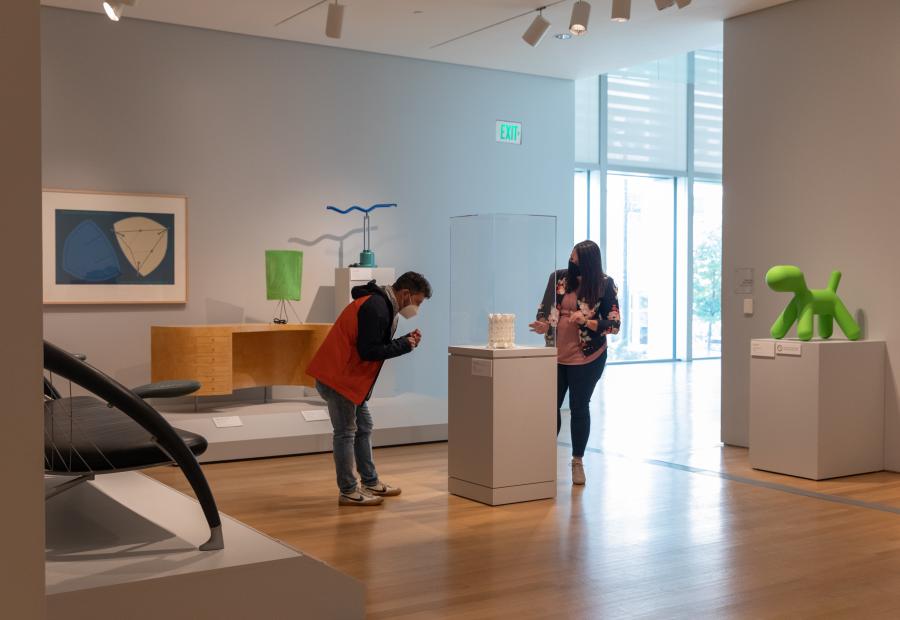 GRAM will host an ArtPrize exhibit and will have two special exhibits running this fall.
Photo by Photo: Experience Grand Rapids
Grand Rapids Art Museum
Visiting the Grand Rapids Art Museum (GRAM) always reminds me that, as a resident, while I reap the benefits of living in a mid-sized city, like comparatively reasonable traffic and cost of living, I'm fortunate to be able to enjoy "big city" type-of experiences, like exploring our world-class art museum.
This fall, the GRAM will have two special exhibits, in addition to hosting the ArtPrize exhibit, "My Dearest Friends Project," by artist Oaklee Thiele. Her exhibit underscores the marginalization, isolation, and discrimination felt by people with disabilities as a result of the COVID-19 pandemic.
The first of the other two GRAM exhibits during ArtPrize is, An Interwoven Legacy: The Black Ash Basket of Kelly Church and Cherish Parrish. The exhibit features a colorful and intricately woven black ash basket and highlights the importance of maintaining the basket-making tradition within Church and Parrish's culture. It's also meant to provide advocacy for the black ash tree's survival, which is currently threatened by an invasive insect.
The second, An Art of Changes: Jasper John Prints, 1960-2018, celebrates the work of Jasper John, considered one of the greatest living American artists. The four-section exhibition showcases six decades of artwork through a selection of 90+ works in a wide range of techniques.
The GRAM is also offering two ArtPrize exhibit related discussions and two drop-in tours in September. Check the GRAM's schedule for up-to-date information.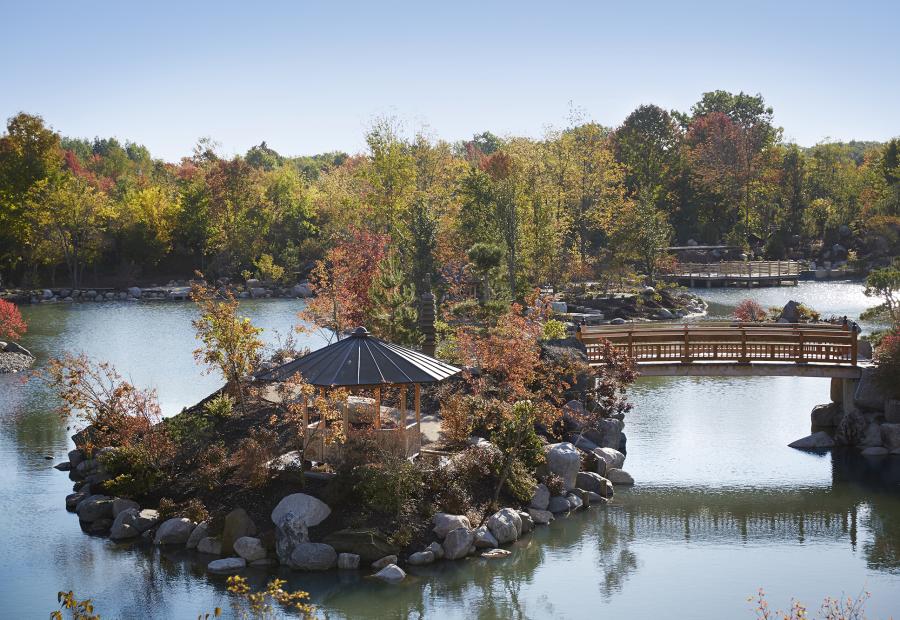 Fall is an especially colorful time to visit Frederik Meijer Gardens & Sculpture Park.
Photo by Frederik Meijer Gardens & Sculpture Park
Frederik Meijer Gardens & Sculpture Park
Featuring the most comprehensive outdoor sculpture collection in the Midwest, along with majestic indoor and outdoor gardens, Frederik Meijer Gardens & Sculpture Park is a place I visit time and time again, every year, every season. As one of the Top 30 Must-See Museums in the world, boasts more than 160 permanent sculptures and an 8-acre Japanese Garden,  in addition to its temporary exhibits
For ArtPrize 2021, Meijer Gardens will host Virginia Lee Montgomery's (VLM's) exhibit, Sword in the Sphinx, at the entrance to their new Welcome Center. Her sculpture is a surreal adaptation of a French 18th century statue often found in gardens.
The exhibit continues with four additional sculptures by VLM, Marble Ponytails, which you can find in the Courtyard Level of the new Welcome Center. They'll also be showing two short videos in the O-A-K Orientation Theater.
In addition to the ArtPrize exhibit, you can see Meijer Garden's Chrysanthemums & More exhibit, which I look forward to every year. The expansive floral display, with specialty chrysanthemums, unique autumn floral arrangements, and fall harvest vegetables, is truly a work of art!
Meijer Gardens is also offering a number of classes, open to members and non-members, throughout September and October, including Let's Get Cooking: Decorative Gourd Bowl Workshop; Art of Herbal Teas; Birding for Beginners and many more. Please visit their website for up-to-date information and to purchase tickets.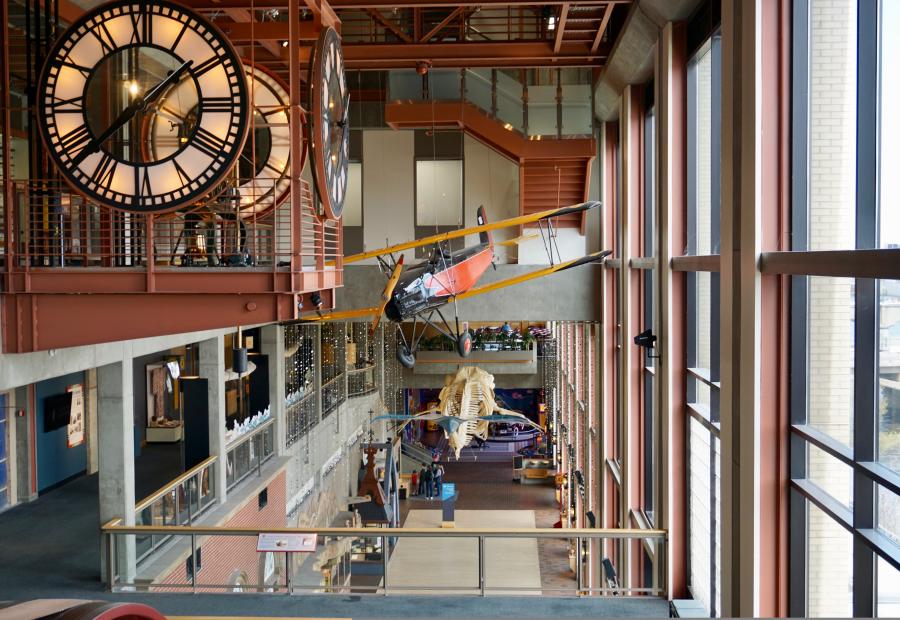 Checking out the Public Museum's regular exhibits are always as interesting as the exhibits they rotate.
Photo by Brian Craig for Experience Grand Rapids
Grand Rapids Public Museum
Founded in 1853, the Grand Rapids Public Museum is the oldest museum in Michigan. It houses more than 250,000 artifacts and specimens, and, in addition to its in-house exhibits, it hosts a variety of traveling exhibits throughout the year. Be sure to stop by and check out the Grand Fish, Grand River exhibit, which is free with general admission. It explores the relationship between Lake Sturgeon, the Great lakes region's largest and oldest fish, and our local ecosystem and history.
For this year's ArtPrize, the museum will host an outdoor exhibit featuring the work of 22 artists. The works that will be showcased will lend themselves to the museum grounds and offer educational opportunities.
You can also see two travelling exhibits during ArtPrize 2021.
The POPnology exhibit (POPnology is a combination of "pop culture" and "technology") requires an additional ticket and time slot reservation, Showcasing how science fiction has become science fact, POPnology features iconic replicas, like a DeLorean time machine.
Finally, the exhibit Bats: Masters of the Night challenges widely held perceptions about these creatures, explaining that bats are gentle and beneficial to our environment. Using lifelike models, multisensory interactive displays and environmentally lifelike settings, you'll be able to get an up-close look at these animals in their natural habitat.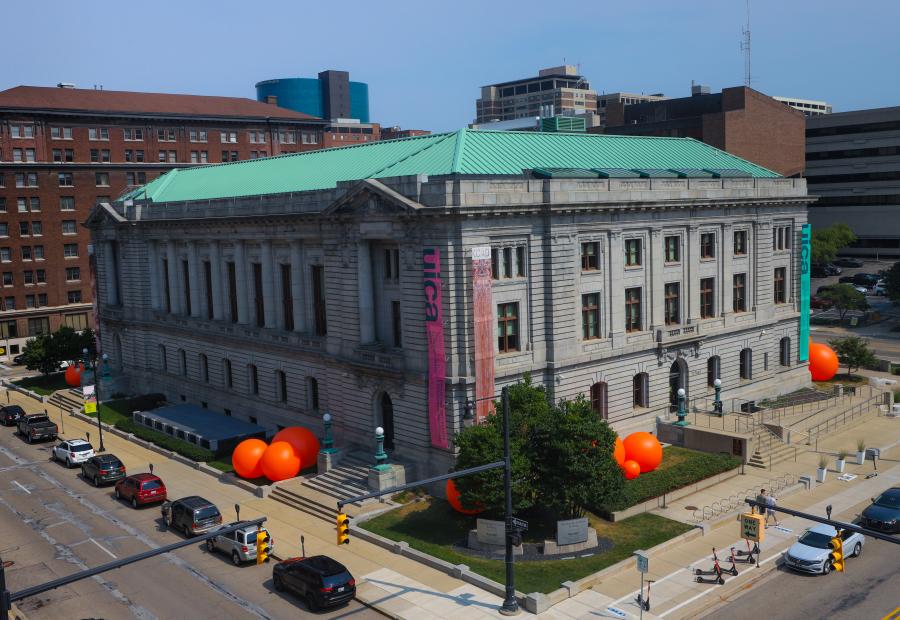 Brian Petrone's work The Art of Living Together is part of UICA's ArtPrize entries.
Photo by The Art of Living Together, Brian Petrone - ArtPrize 2021
Urban Institute for Contemporary Arts
Urban Institute for Contemporary Arts has four exhibits you can explore during ArtPrize 2021.
In his large-scale, site specific ArtPrize entry, The Art Of Living Together, artist Brian Petrone examines what spaces reveal about their inhabitants. His installation focuses on the UICA's move from their previous contemporary building to their new location, a classical Beaux-Arts-style building on the Kendall College of Art and Design campus. The installation challenges the UICA, artists, and audiences to consider how the structure can provide alternate ways for people to experience the spaces in and around it.
The Way Forward exhibit showcases three artists and asks audiences to consider how artists' critical thinking and problem-solving skills can benefit the community at large, particularly when their energies and efforts are championed and supported by institutions and organizations.
In the common spaces on the first floor of the UICA, you can see immersive environments and site-specific work, communally called Whereabouts: The Influence of Place and Space, that respond to the architecture, ornamentation, furniture and social nature of the public spaces.
Two featured during ArtPrize include Waiting Room, by Jenny Roberts, (in the lobby and living room cases) and Earth-Eater, by Emily Oliveira, (found in the Living Room).
The fourth exhibit, Other World, examines how Queer, Trans, and BIPOC people can achieve self-actualization by reframing the futures that are possible for people who often feel pushed to the fringe of humanity. It seeks to re-center the margins, telling artists' imagined stories of alternate futures and worlds created on their own terms.
LowellArts
LowellArts, dedicated to connecting artists and audiences through the visual and performing arts, has several opportunities for you to connect with other local arts during ArtPrize.
On September 25 and October 2, LowellArts is offering an air-dry clay sculpting class, Witch in a Wooden Shoe, where you can have fun learning sculpting techniques as you create a unique Halloween conversation piece – a hag in a wooden shoe.
Through October 9, 2021, you can catch their Gallery Exhibition, InBEtween & Rooted, showcasing the work of artists from Germany, the United States, and India.
Music lovers might enjoy FlyLiteGemini's alternative folk/blues rock concert on October 2, featuring guitarists Sam Rice and Joe Chamberlin. The concert takes place in the LowellArts Gallery so, if you attend, you can enjoy the InBEtween & Rooted exhibition while you're there.
You'll find a variety of music at one of my favorite annual fall events, the Fallasburg Art Festival, which runs Saturday and Sunday, September 18 & 19. With more than 100 arts and fine crafts booths, fun for kids, live music on an outdoor stage, and its picturesque park background, complete with a historic bridge and a river flowing beneath it, The Fallasburg Art Festival is a ton of fun for people of every age. (The festival is free but parking is $5/car.)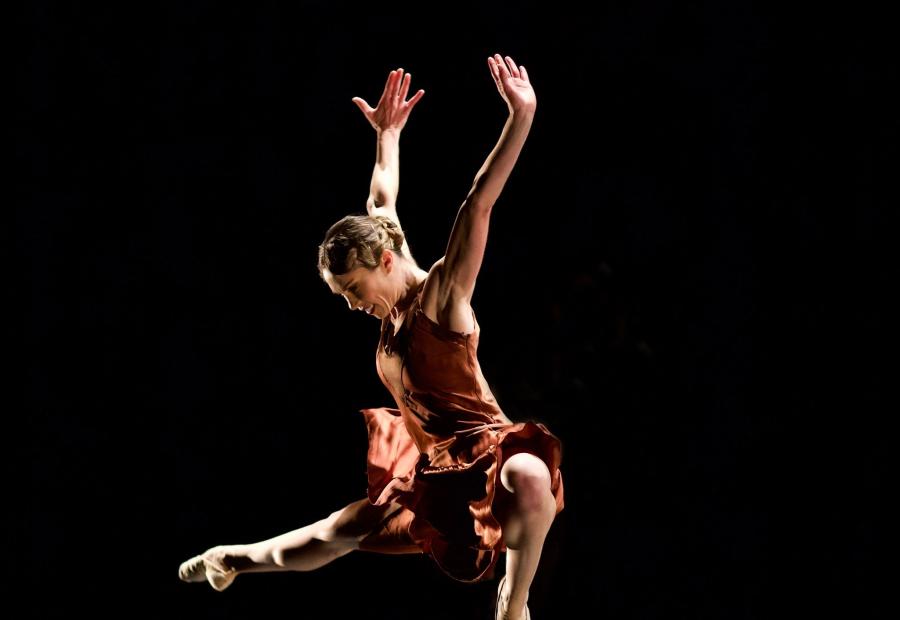 Grand Rapids Ballet marks its 50th anniversary this year.
Photo by Grand Rapids Ballet
Performing Arts and Events
In addition to the visual arts, Grand Rapids is home to vibrant community theatres, touring Broadway shows, a professional ballet and opera, a Grammy Award-nominated symphony, and much more. 
Here are a few productions happening this fall during Project 1.
Grand Rapids Ballet
As Michigan's only professional ballet company, the Grand Rapids Ballet celebrates their 50th year this season.
During the 2020-2021 season, when theaters could not open because of COVID-19 pandemic, the Grand Rapids Ballet brought its art to people through a series of outdoor, socially-distanced, limited-attendance backyard performances at homes throughout our community. I was fortunate enough to attend one and found the small "venue" and intimacy gave me an even greater appreciation for their dedication and expertise.
During ArtPrize, the ballet is partnering with local nonprofit, Dégagé Ministries, on three performances of their jointly-created work: Created by Circumstance. The dancers collaborated with Dégagé on the performance to build awareness of those experiencing homelessness in the Heartside Neighborhood.  
While you're there, you can see the ArtPrize 8 entry that remains on their edifice, a mural by Louise "Ouizi" Chen.
You can also experience their excellence for yourself just a couple of weeks after ArtPrize. From October 15 – 17, Off the Canvas, features three contemporary ballets exploring art in motion. If you'll be in town, you won't want to miss it.
Circle Theatre
Community theatre never ceases to amaze me; I always leave thoroughly impressed by the tremendous talent, right here in our midst!
Circle Theatre's production of Hair promises to be no exception, as local actors bring the 1960's counterculture to life. You can catch the barefoot, bell-bottomed, fringed glory through September 25.
Broadway Grand Rapids
For 33 years, Broadway Grand Rapids has brought the best of national touring Broadway productions to Grand Rapids.
Their 2021-2022 season begins after ArtPrize but, if you're local or returning for a visit, they open with a special performance, Mannheim Steamroller Christmas, as the musical group celebrates 35 years of holiday music and magic.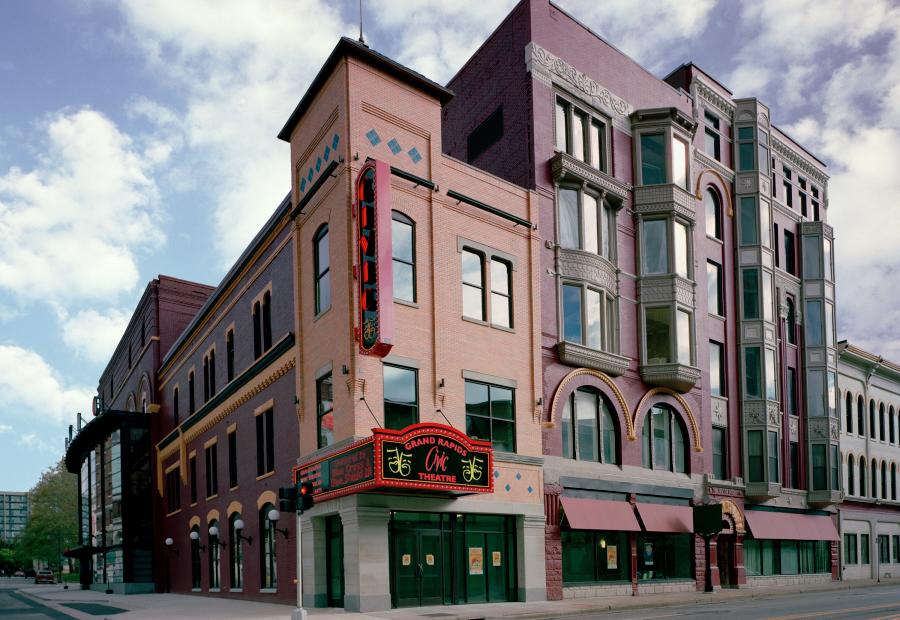 The Civic Theatre's fall performances are Once and Black, Bold & Beautiful: Onward Together.
Photo by Grand Rapids Civic Theatre
Civic Theatre
Concurrent with ArtPrize, Grand Rapids Civic Theatre presents the new musical, Once, an emotionally  uplifting tale, set in Dublin, about the power of music and love. Notably, it's the only show with music that has won an Academy Award, Grammy Award, an Olivier Award and a Tony Award.
Shortly after ArtPrize, from October 15 – 17, the Civic Theatre will present Black, Bold & Beautiful: Onward Together, a concert production featuring West Michigan Black artists celebrating African and Black music, dance, and spoken word in America.
Opera Grand Rapids
When I was a college student, I had the opportunity to study for four months in Vienna, Austria. One of the many benefits of living in that city was that it introduced me to the beauty and intrigue of opera, albeit in the very inexpensive student section.
I'm fortunate that I grew up to live in Grand Rapids, because our city has an outstanding opera of its own, Opera Grand Rapids, which is also the longest-running professional opera company in Michigan (founded in 1967).
If you want to experience its power for yourself, stick around (or come back) shortly after ArtPrize for the start of the Opera's 2021-22 season. It kicks off with an original production of Mozart's Don Giovanni, the story about the infamous murderer and callous seducer of women.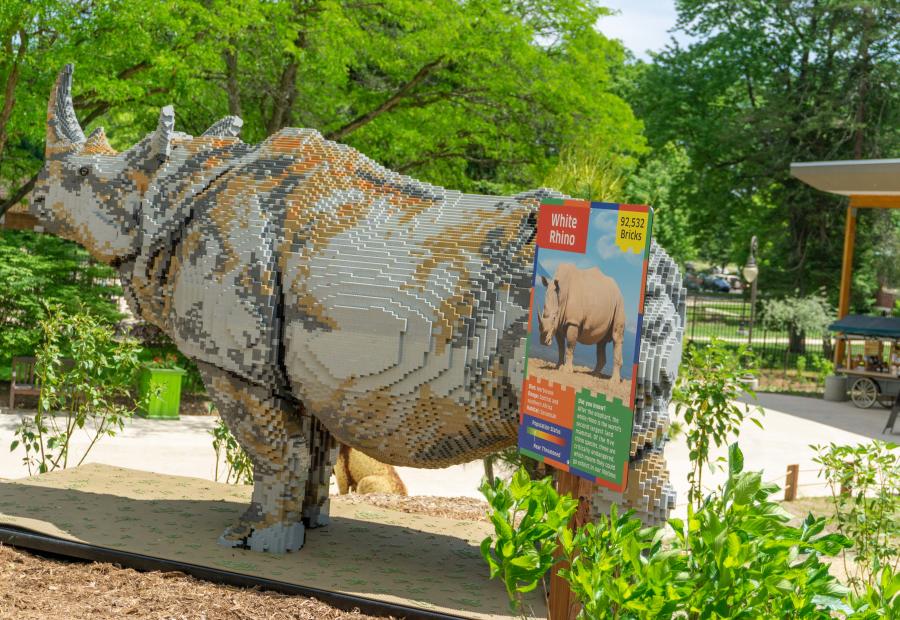 BRICKLIVE Animal Paradise exhibit on summer 2020 at John Ball Zoo In Grand Rapids, MI.
Photo by John Ball Zoo
John Ball Zoo
Get ready for art of a different kind of art at John Ball Zoo this fall! The BRICKLIVE Supersized! exhibit, made with nearly two million toy bricks, features oversized, colorful animal sculptures, like the honey badger, Bornean neon blue-legged tarantula and blue-ringed octopus. The exhibition also includes educational signage about each creature.
Also at John Ball Zoo during ArtPrize is what I think is one of the coolest zoo experiences around, IllumiZoo Wild Hues. On Wednesday – Sunday nights, the zoo landscape is illuminated with vibrant hues of light and sound. Throughout the one-mile outdoor journey, the zoo is transformed with creative imagery, music-synchronized displays, and animated motifs of moving light. If you have the time, don't miss this spectacular event.
Culture Pass GR
If you're interested in seeing several of these exhibits or productions, consider purchasing Culture Pass GR, which covers admission to cultural institutions for one price. 
The pass gives you three days of access to Grand Rapids' most popular cultural venues: Grand Rapids Art Museum, Grand Rapids Public Museum,  Urban Institute for Contemporary Arts, Grand Rapids African American Museum & Archives, and the John Ball Zoo.
Culture Pass GR also includes exclusive discounts at dozens of other venues and activities, including Broadway Grand Rapids, Civic Theatre, Circle Theatre, Opera Grand Rapids, Grand Rapids Ballet, and much more.
The passes are easy to buy and use – they're delivered instantly to your phone and can be used immediately.
Other Ideas
If none of these events fit into your schedule, there are plenty more to choose from. For more ideas, peruse the Grand Rapids Fall Activities page and check out the Experience Grand Rapids events calendar, which has complete listings of what's happening in the greater Grand Rapids area. 
If you like the great outdoors, fall is also a wonderful time to soak in Grand Rapids' outdoor beauty. I love hiking and biking at Millennium Park Trails and/or Kent Trails. Read Local's Guide to Fall Hikes in the GR Area post for more suggestions for hiking in the area. You can also take our self-guided Fall Color Tour (a similar experience can be found on the Vamonde website or app), which showcases charming covered bridges, Grand Rapids' lush forest canopy, and much more.