When Forbes magazine named Grand Rapids one the Best City to Raise a Family, they were thinking about our reasonable cost of living, fast commutes and low crime. But if they knew how many 4th of July Celebrations Grand Rapids has, they've have added community spirit to the list!
If you're looking for parades, pancake breakfasts, hot dog eating contests, and lots of fireworks, Grand Rapids is the place to be for the 4th of July. Heres a round up of some of Celebrations and fireworks-watching spots this week:
The downtown festivities kick off with a parade that starts at the corner of Lyon and Ottawa NW and ends at 101 E Fulton. After the floats go by, head over to Ah Nab Awen Park (303 Pearl St NW), where you can enjoy free live music and plenty of fun activities for the kids. At dusk (around 10:30) get ready to ooohhh and ahhhh at the firework show, sponsored this year by Amway.
If you'd like to enjoy the show but prefer to be inside, check out Grand Rapids Museums Front Row for the Fireworks--you pay admission, but the caf will be serving $5 pulled pork, pizza, and more; you can enjoy a planetarium show, carousel ride, and the museum exhibitions, and its air conditioned. (Note: you can also enjoy the festivities at the museum and watch the fireworks from their lawn.)
This parade is one of my kids' favorites. The fun starts with a bike parade at 10:00 at Cascade Christian Reformed Church (6665 Cascade Road). Then, the rest of the parade begins at 10:30 the corner of Cascade Road and Burton St. and winds around past the Cascade library (to 28th and Thornhills), where all sorts of games and activities are set up for the afternoon. We've taken our lawn chairs and joined the fun for years. To catch the fireworks, head to 7590 East Fulton and Ada Drive at dusk. (Note: The Cascade Library will also have its annual book sale from 8:30 a.m. 3:30 p.m.)
For a small-town parade with big-town fun, check out the EGR parade, which starts at 12:00 p.m. at the school office on Hall and Lake Drive. The parade heads along Lakeside and down Wealthy, and ends at Croswell. Afterwards, there are activities galore, including laser tag and 2:00 waterski show, which end at 5:00. The setting for fireworks in EGR is hard to beat. Come early, bring your picnic basket and blanket, a few toys for the kids, and relax by Reeds Lake before the show. Music starts around 8:30 (Grand Rapids Federation of Musicians) and fireworks are at dusk.
July 4th fireworks
Photo Credit: Experience Grand Rapids
---
The fun in Kentwood starts at 9:30 a.m. with the parade (starts at 52nd & Eastern, goes down Eastern, then turns onto 60th and ends at Eastport Drive.) Festivities include a pancake breakfast and evening carnival and fireworks at the City Center (4900 Breton Rd).
Rise and shine to catch the Rotary Pancake Breakfast in Grandville (from 7:30 9:30). The parade follows at 11:00 and Grandville has activities all day, ranging from a blacksmith demonstration to a bean bag tournament. Live music (the Adams Family) begins at 5:30, and fireworks are at dusk. Most activities, including the pancake breakfast and fireworks, are at the Middle School (3535 Wilson Ave); the parade runs along Wilson Avenue, beginning at 44th St. and ending at Prairie St.)
Allendale also has a pancake breakfast (7:00 10:00 a.m. at Allendale Christian School), but you might want to save some room: at 1:00, the hot dog eating contest is on! The Allendale parade is at 10:00 a.m. at GVSU, followed by lots of family fun throughout the afternoon including the hot dog eating contest and a kids bike parade at 2:00. Cap off the evening listening to music and checking out the vendors at the high school. Fireworks are at 10:00.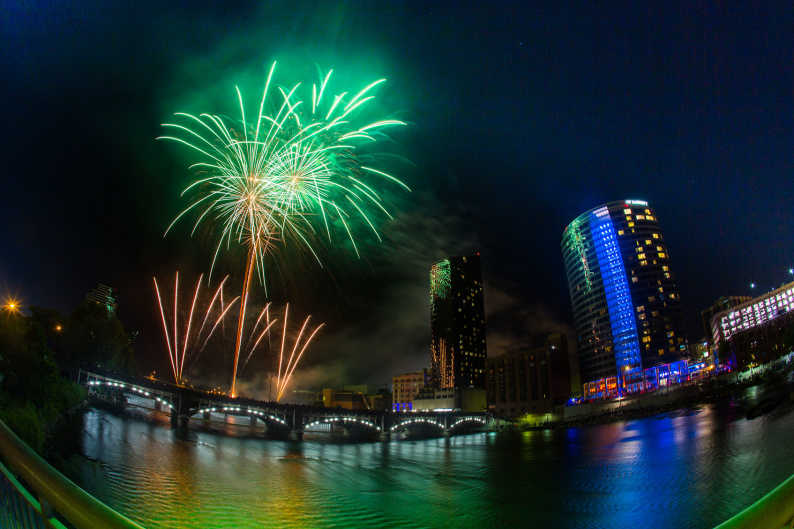 Amway Family Fireworks
Photo Credit: Experience Grand Rapids
---
Here are links to a few other local celebrations you may want to check out:
Allegan (July 3)
Caledonia (Saturday, June 30)
Fremont (July 3)
And, if you feel like fireworks at the beach, try one of these:
Holland (July 4)
Grand Haven (July 4)
Pentwater (July 3)
Happy 4th of July!
Never miss a post!
Subscribe to the Insider Experience blog.