Anglers, teachers, concerned citizens and school children all are working to improve stream conditions for trout in the Rogue River, a popular Grand Rapids area trout stream that was adopted by Trout Unlimited, the national cold water conservation organization.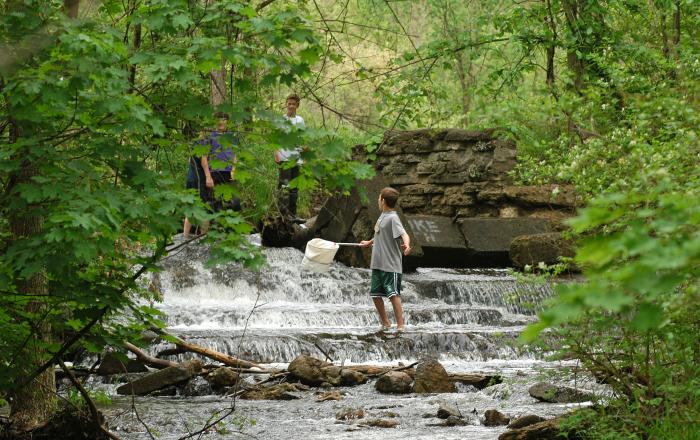 Students explore the waters at Rum Creek Dam. Photo: Howard Meyerson.
"It's amazing how much we have accomplished and how many volunteers and partners we have," says Nichol DeMol, TU's Rogue River Home River Initiative program manager. "Last week we worked with 450 students from Sparta schools on Nash Creek (a tributary of the Rogue). The creek runs through Sparta where we've done water monitoring with the kids and planted more than 2,000 native plants."
National TU, based in Arlington, VA., selected the Rogue River in 2010 as one of its conservation priorities. The stream suffers from warm, summer water temperatures and sedimentation from construction on its banks. TU's Home River Initiative seeks to bring attention to significant trout streams across the country. Other projects include the Blackfoot River and South Fork of the Snake River, both in Idaho, the Upper James River in Virginia and New York's Beaverkill River.
"The Rogue River is a tributary to the Grand River, which flows into Lake Michigan and supports a migratory steelhead fishery," TU reports on its website.  "(It) is an extremely important trout fishery resource in southern Michigan. The lower portion of the river, below the dam in Rockford, is known for its excellent steelhead runs in the late winter and early spring. The eastern tributaries, particularly Cedar, Stegman and Duke creeks support brook, brown and rainbow trout fisheries."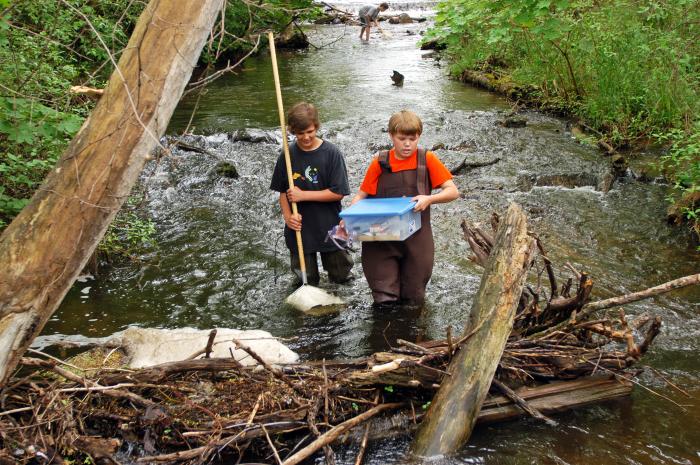 Collecting aquatic insects teaches youngsters about river health. Photo: Howard Meyerson. 
DeMol was hired to coordinate the Rogue River effort. She works with local communities to develop sound water policies and connect stream segments throughout the watershed. One example planned for this summer is the removal of Rum Creek dam in Rockford. Funding for the $50,000 project came from the City of Rockford and the U.S. Fish and Wildlife Service.
Once the dam is removed, trout will be able to migrate 7.5 miles upstream to thermal refuges where river waters are cooler, areas where brook trout and brown trout now thrive. The dam has prevented them from swimming upstream during warm summer months, a time when they need shelter from the heat. Trout require cold water to thrive.   
"There hasn't been fish passage there for a very long time," DeMol said "There was once an old mill there. We're looking at trout abundance above and below the dam - and will have pre and post removal information."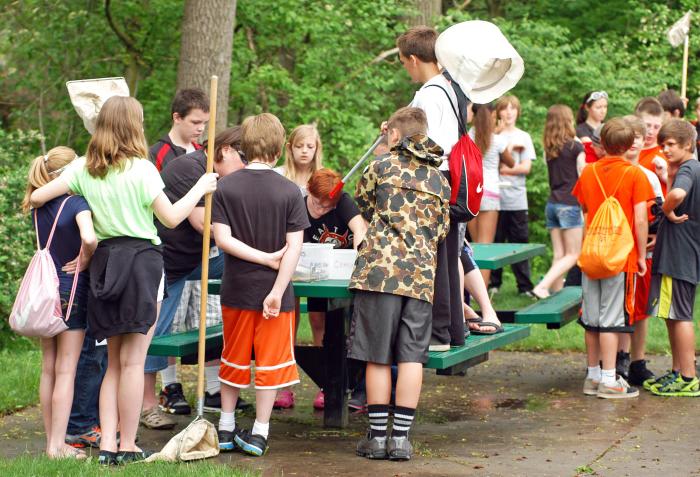 Students gather before wading Rum Creek. Photo: Howard Meyerson.
Other area Home River projects include:
A $150,000 U.S. Environmental Protection Agency Urban Waters grant that funds high school students working together to develop rain gardens along the Rogue River. The gardens help to minimize the runoff and sediment that enters the river. Students also gain experience doing environmental restorations, a skill they may choose to pursue as a career;
 A $240,000 Michigan Department of Environmental Quality wetland restoration project in Cedar Springs conducted in partnership with the Land Conservancy of West Michigan;  
Stream monitoring with schoolchildren who learn the value of cold, clean streams; and 
Constructing a native plant demonstration site in Sparta, working with middle school and high school teachers.
Local anglers, all members of the Schrems West Michigan Trout Unlimited chapter, raised $315,000 initially to hire DeMol, set up an office and establish the project. The chapter annually contributes to the effort along with other area partners like Wolverine Worldwide, Rockford Brewing Company, Cedar Springs Brewing Company, Rockford Public Schools and the City of Sparta.
"We have lots of volunteer opportunity," DeMol said. "People can find us on Facebook,the Michigan TU website and on the national TU page."