Kevin Allen turned to fatbikes four years ago. The 50-year-old real estate broker grew tired of sitting home in winter. Today he is part of a growing community of Grand Rapids cyclists who have turned to fat-tire bicycles for their winter enjoyment.
"It's a blossoming facet of biking here in GR and around the country," said Allen, president of West Michigan Mountain Biking Alliance, a group that builds area trails and promotes safe riding. "They started to be mass produced in 2007 and were considered a fad between 2008 and 2010. But in the last two years it has just exploded."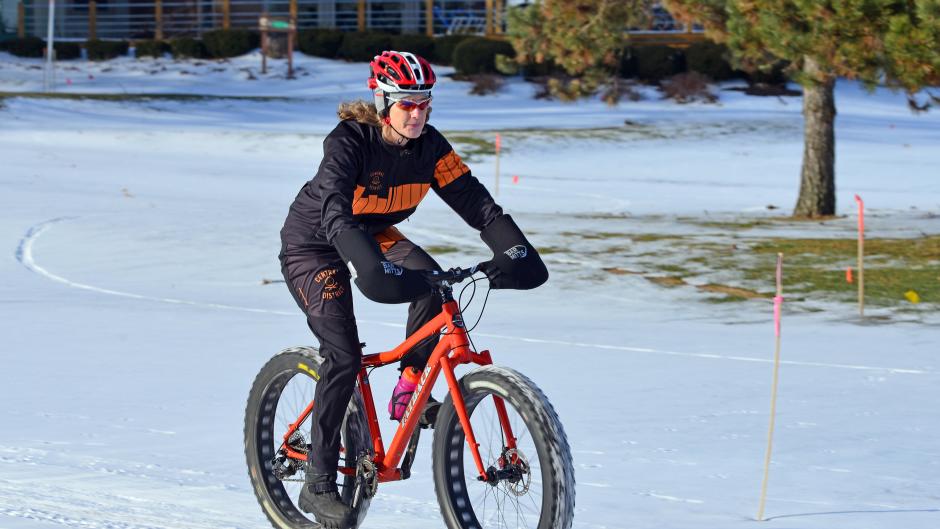 A central District Cyclery team member takes training lap at Indian Trails.
Photo Credit: Howard Meyerson
---
Approximately one-quarter of WMMBAs 585 members now ride fatbikes, Allen said. They are sold at more shops and can be rented by the day. There are now public and private trails groomed for their use.
"It's a fun bicycle to ride," Allen explains. "You feel like a 7-year-old who just got a first bike. Having one opens the door to more winter activity. Cabin fever would set in about now before I had one. I haven't had cabin fever for the last four years."
It's a fun bicycle to ride. You feel like a 7-year-old who just got a first bike.
Area cycling merchants say fatbikes have caught on and the Grand Rapids market has matured. They still sell, but used bikes are increasingly available as fatbike enthusiasts upgrade over time. Grand Rapids, they say, is a good place to ride. There are four groomed fatbike trails within 20- to 45-minutes of downtown.
"Even with a less than stellar winter [last] year, we've had good numbers show up at Indian Trails," said Central District Cyclery owner Nate Phelps, who worked with the city to create a four-mile winter fatbike trail and social center at Indian Trails Golf Course. "We had over 150 come out one day during December [2016] before we lost our snow.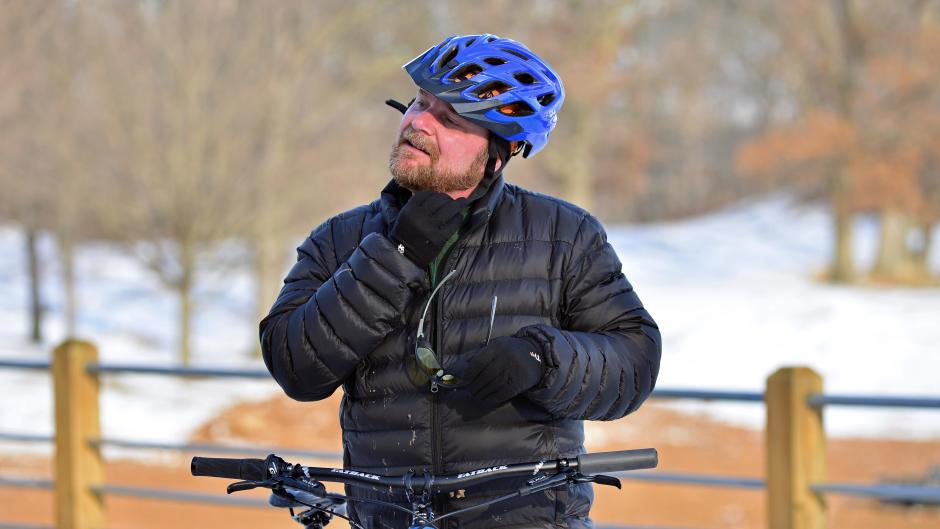 Central District Cyclery owner Nate Phelps pulls his helmet off after at ride at Indian Trails.
Photo Credit: Howard Meyerson
---
"Fatbiking was a big deal to us and we moved 24 or 25 during the winter. This year we're selling a new category called a Plus-bike. It has 3-inch-wide tires and we call it a 'half-fat.' It's a mountain bike you can ride on a groomed fat bike trail and that's what we are moving towards."
Staffers at Cannonsburg Ski Area say riders are using the groomed trail they offer. The popular ski area recently ramped up its fatbike trail program. Grooming packs the snow and provides a rideable base for cyclists. Cannonsburg newcomers can rent a fatbike for two hours or for the day. A two-hour rental costs $25. An all-day rental is $40. A $5 day pass is also required. A season pass is $30.
Phelps said Indian Trails draws a mixed crowd. Nearly 300 spectators came out to watch the USA Cycling Fat Bike Nationals held there in late January 2017 when 160 cyclists competed for the national title (the 2018 Fat Bike Nationals return to Grand Rapids February 10, this time at Cannonsburg). The trail is typically open for public riding on Wednesdays from 2PM to 9PM. 
Beer and chili are among the snacks and refreshments sold at the clubhouse where riders gather by the fireplace to warm and socialize between laps. A season pass is $30 and a daily pass is $5 if you bring your own bike. Indian Trails offers free trial-rides for those who are fat-bike curious. Renting one for the day costs $10. 
"What I see at Indian Trails is a lot of people in their 40s and 50s," Phelps said. "And a lot of times they come in with their teen or preteen and they ride as a family. We do get young racer types too. The 35- to 45-year-old crowd is the main group that comes out.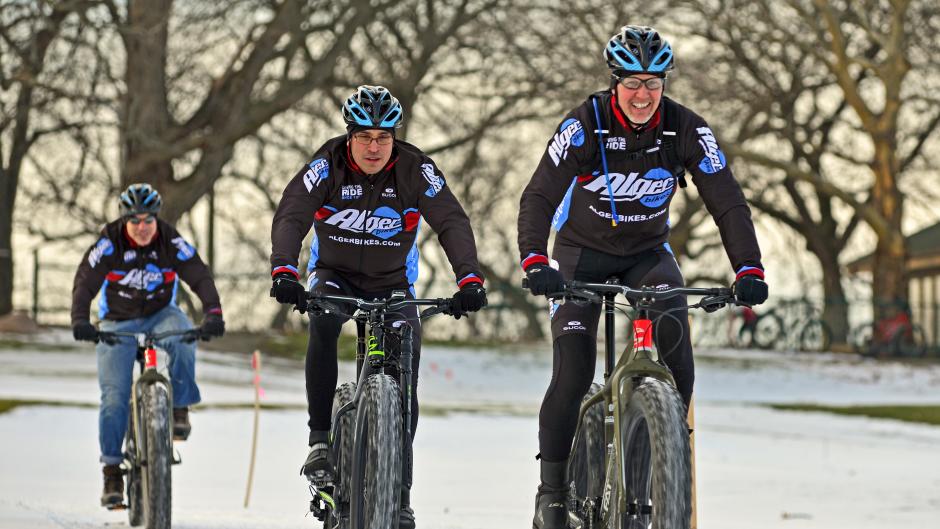 Alger Bike team members go out for a training ride at Indian Trails.
Photo Credit: Howard Meyerson
---
Two other area trails also draw good crowds. Both are maintained and groomed by WMMBA volunteers. The organization invested $8,000 to buy a groomer that would assure the trails were rideable once snows fall.
Merrell Trail in Rockford has five miles of groomed trail for intermediate and advanced riders. Yankee Springs Trail at Yankee Springs State Recreation Area offers six to seven miles of groomed trail. Both are open to the public seven days a week and riding is free.
"Ken-O-Sha Park has about four miles of trail," Allen said. "It's not groomed, but a lot of people ride it." Having these trails has put Grand Rapids on the map as a place to bring a fatbike, explore the city, and have a great time.
Get more ideas for embracing the winter months on the winter events and activities page.
Never Miss a Post!
Subscribe to the Insider Experience blog.