West Michigan has hit the map as a foodie destination. Farm to table restaurants, cooking classes, and local brews on tap abound. Talented chefs are leading the epicurean renaissance, working hard to create artisan products and memorable eats. And they're hungry, too, possessing an appetite to increase Grand Rapids culinary IQ and also to get fed. When not enjoying the perks of the restaurant biz (family meal) and working the line, where do our local chefs go to indulge?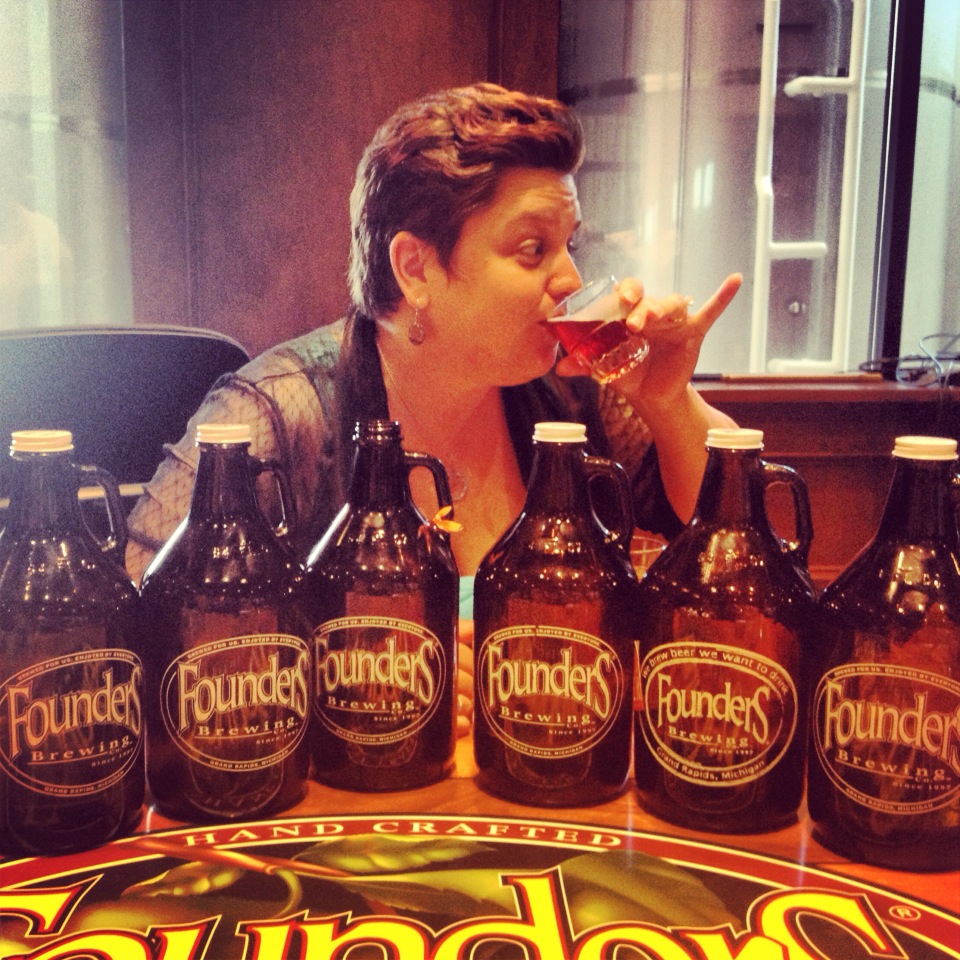 Jenna from Amore Trattoria sipping a Founders Brew. Follow Jenna on Instagram ~ @jennamoretrattoria.
Maurizio and Jenna Arcidiacono of Amore Trattoria run a busy, bustling, Italian food destination open for dinner six days a week. Their day off (Monday) is sacred and they enjoy date lunch at Founders, going out for sushi with their two little girls, or cooking Korean food at home (after shopping a local Asian market, like Lees Oriental). They visit Pho Soc Trang at least twice a week.
As a self proclaimed Hop Head Jenna loves Founders Double Trouble Imperial IPA. Maurizio is a wine aficionado so they often head over to Reserve where the GM, Peter Marantette, hooks them up with whatever is new and exciting. The restaurant they'll drive for is Mia & Grace in Muskegon; Jenna, a vegetarian, highly recommends the pimento cheese sandwich and the gorgeous local cheese plate.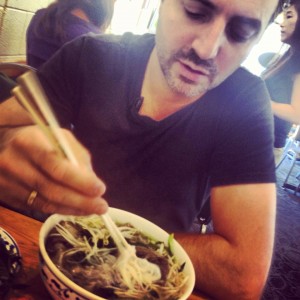 Maurizio from Amore with Pho at Pho Soc Trang
Torrence R. OHaire of The Starving Artist and Propaganda Doughnuts spends most his time throwing dinner parties for clients and crafting glorious pastries. In his spare time, he prepares elaborate meals at home in his Division Ave. culinary studio.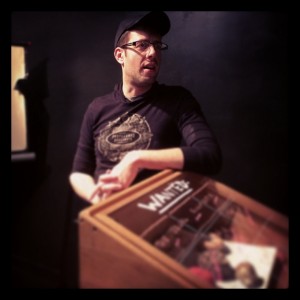 Torrence O'Haire at his bakery, Propaganda Donuts. Photo courtesy of Terry Johnston Photography ~ Instagram @phototj.
When dining out, he prefers authentic ethnic restaurants or places where he feels perfectly taken-care-of and restored. Tory recommends Wei Wei Palace for Cantonese (stuffed tofu skin, fried taro, and beef with daylilies are his standards), Golden 28 for Vietnamese duck-leg soup, and Taqueria San Jose so he can eat myself into injury on fantastic tacos.
O'Haire highly recommends Saburba in Ada, and says he goes there to spend the whole afternoon escaping from my crazy schedule with cappuccini, awesome cookies, and a great Hot Brown (turkey sandwich with mornay sauce, bacon, and homemade English muffin bread)." He frequents Harmony Brewing Co. and can down an entire Aloha Pig pizza made in their wood-fired oven. Amore is another favorite, declared as only a step below spending the evening at my mom's house.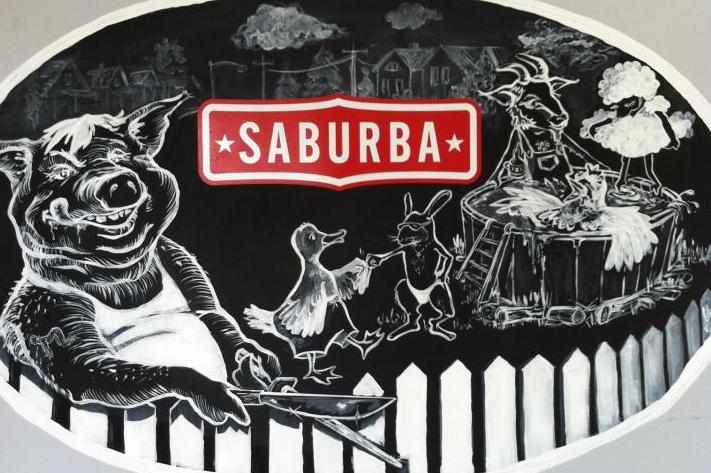 The mural at Saburba in Ada.
Jeff Butzow, owner of Fish Lads at the Downtown Market, says Founders is his go-to night out and occasional makeshift office. Some great productivity can happen with an IPA in hand. As a new resident of Grand Rapids, hes still easing into the dining scene but Grove has definitely emerged as a favorite. A couple preferred menu items are the Drettman Ranch Venison Tenderloin and S&S Lamb T-Bone, because sometimes a seafood guy needs a change of pace.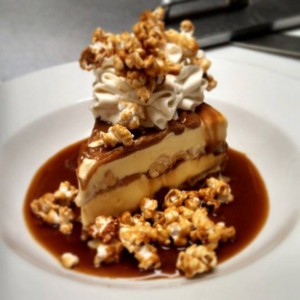 Salted Caramel Ice Cream Pie with Homemade Caramel Corn at Olive's in East Grand Rapids.
As a former food truck owner, I had many long days in the kitchen that left me with a craving for my favorite local fare. Im a huge fan of Brewery Vivant's atmosphere and Farm Hand Farmhouse Ale.
You can often find me sipping a Barrel Aged Peoples Cider at Harmony Brewing Co. with a slice of pizza in hand. I second Jenna's Mia & Grace recommendation, but as I'm most certainly not a vegetarian, I recommend the Buffalo Duck Wings and Pork Belly Reuben. Olives is my favorite neighborhood spot with the best desserts and a tasty Mushroom Crostini with herb goat cheese and flavorful Lettuce Wraps. For a celebratory occasion (like my recent one month wedding anniversary), the Chefs selection of sushi and sashimi at Maru is dynamite.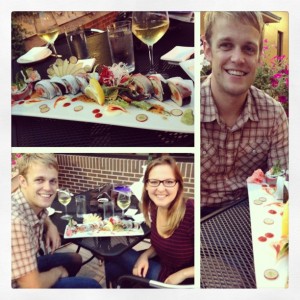 Molly & Joel Crist with Maru's chef's selection of sushi and sashimi. Follow Molly on Instagram ~ @mollycrist.
Guidebooks and published lists aren't always all-knowing but local chefs are since they're knee deep in the foodie culture. Next time you're looking for the best dining in a new - or familiar - destination, ask a chef. They'll likely lead you to the best spot, I can guarantee they did here.