People often think forests grow somewhere other than in cities, but licensed forester Margaret Studer says it's not so. Urban forests are found all around Grand Rapids - in parks, residential neighborhoods and even cemeteries. That's why Studer works with area volunteers who want to green the community by planting trees and becoming a Citizen Forester.​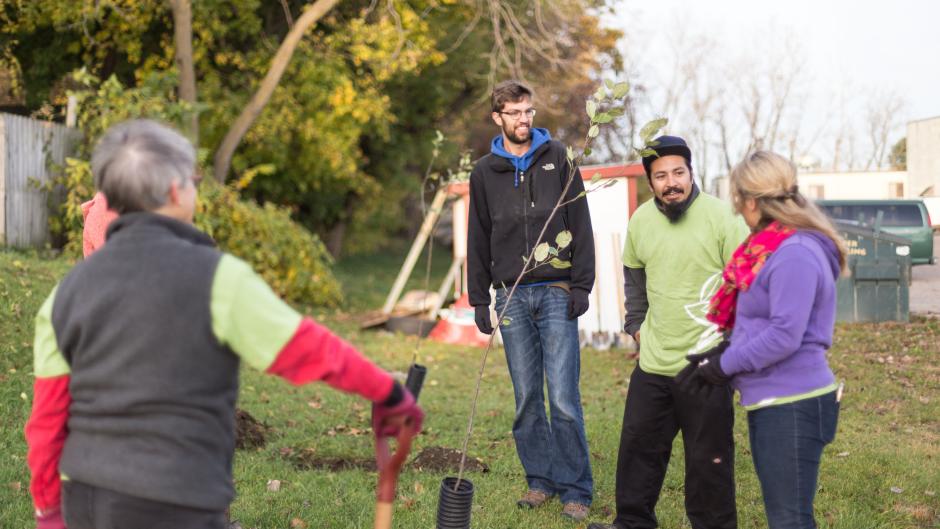 Planting trees at South End Community Outreach Ministries.
Photo Credit: Stacey Miller
---
"Our work is broader than city parks," notes Studer, director of the Urban Forest Project, a program of Friends of Grand Rapids Parks, the non-profit that works closely with the city to maintain and promote its parks. "Urban forests aren't just on public lands. We work with residents on their own bits of forest and public spaces." 
Learning to care for trees          
Citizen foresters are volunteers who learn how to care for trees which includes pruning, maintaining, and planting them correctly. After attending classes and becoming qualified, they assist city forestry staff by working in parks and local neighborhoods. The program attracts people from all walks of life. And the knowledge they gain can be put to use at home, according to Studer.
"We've graduated 47 citizen foresters in Grand Rapids so far," Studer says. "Another 75 are in training, and lots more have come out but haven't started the program. Two of our graduates are youth and we have people up into their 70's and 80's. They're a mix of concerned citizens, property owners and environmental enthusiasts who want to get involved in something outdoorsy."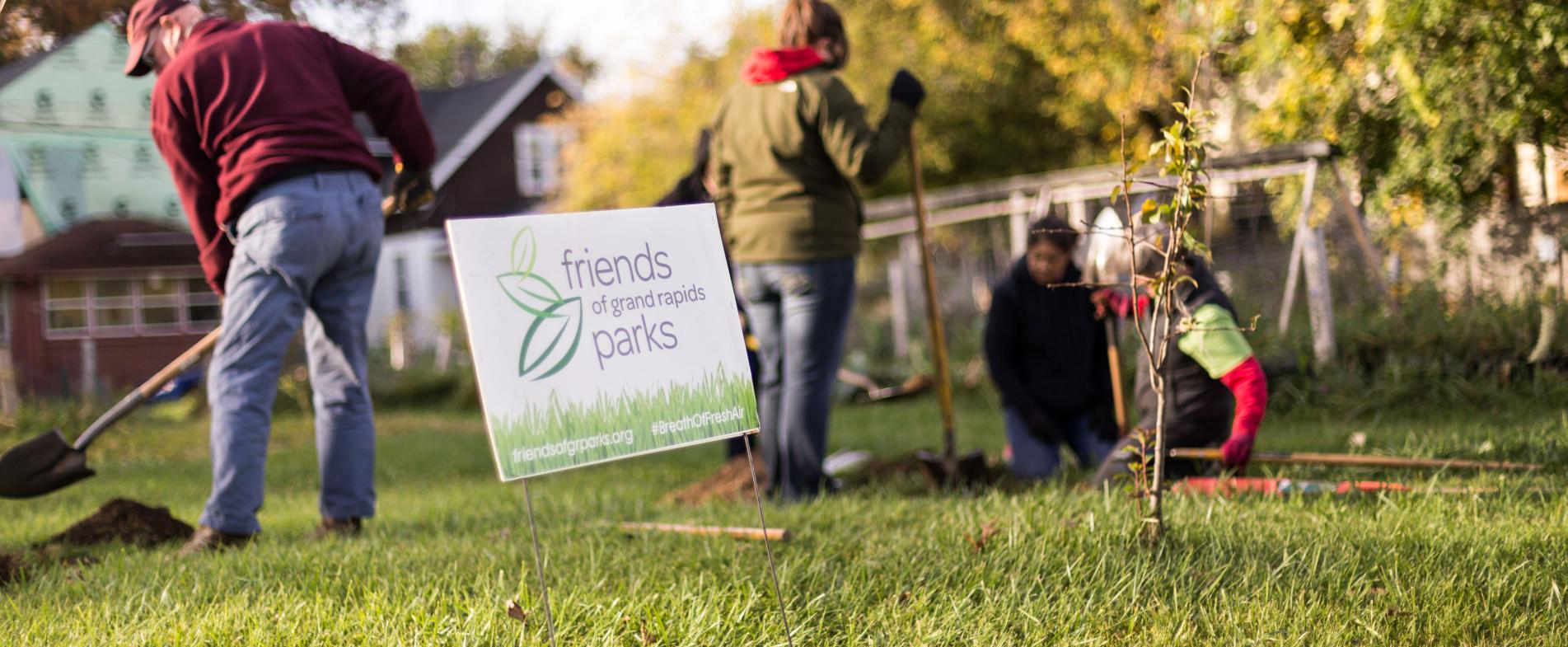 Citizen foresters learn to care for and properly plant trees.
Photo Credit: Stacey Miller
The Urban Forest Project was founded in 2011. Its Citizen Forester program began in 2013. Becoming a qualified citizen forester requires attending classes about Tree Planting, Maintenance and Pruning, Tree Identification, and The Value of Trees. Two outdoor volunteer field experiences also are required. The spring 2016 course lineup can be found online.
Tracey Flower, executive director for Friends of Grand Rapids Parks, said the program is a win-win for the city. Residents get involved and learn about trees. They help in parks and other areas, all of which save the city money and foster a sense of park ownership among residents.
"The program helps educate community leaders not just about trees, but about parks too," Flower said. "We now have volunteers who regularly come out. Last spring we did a 10 park clean-ups and had more volunteers than we knew what to do with – which is great."
A green canopy goal
Trees beautify the city, but they need care if they are to thrive. Disease and a lack of maintenance can erode the city's green canopy. Trees are a powerful force in nature, according to Studer. They improve air quality, boost property values, conserve water and soil, and create shade and cool homes. They provide natural habitats for birds and animals, among other things.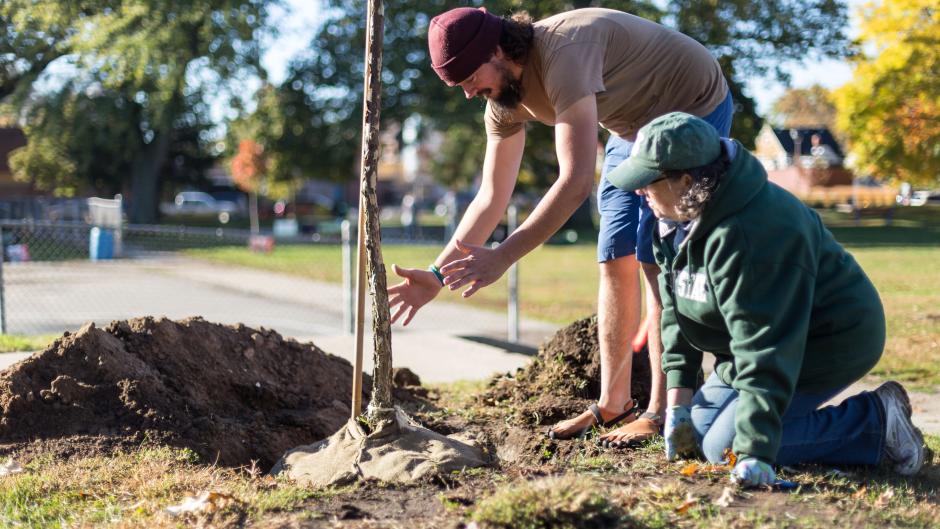 A tree planting at Congress Elementary School.
Photo Credit: Stacey Miller
---
Grand Rapids city leaders adopted a 40 percent tree canopy goal in 2011 as part of the Green Grand Rapids master planning process. A 2008 study by Grand Valley State University's Annis Water Resources Institute found 34.6 percent of the city was covered by trees. The Urban Forest Project began tree planting projects in 2012 and 1,200 large trees have been planted so far. Another 250 are scheduled to be planted in 2016. 
"So far it's been very successful," Studer said. "We get boots on the ground doing work that otherwise would cost the city a lot more. The big trees are left to the professional forest crews. Citizen foresters come out and work on the young trees. They take on jobs they can do with hand tools and extended tools. The goal  is to make sure the people of Grand Rapids realize the importance of trees and that we live among the forests."
Never miss a post!
Sign-up for the Insider Experience blog.