In 2006 Mark Hodges had an idea to create an event in Grand Rapids that would encourage attendees to embrace their inner Avenger, Jedi, Ninja Turtle, Power Ranger or Pokémon trainer.
Fast forward to 2013 and the first Grand Rapids Comic-Con took place at the Home School Building, located in Wyoming. Hodges said he and his wife, Jennifer Hodges, both co-owners of the event, only expected a few thousand people to attend. They were shocked when guests actually started lining up.
"We thought since we were literally the only kind of show like this in the Grand Rapids area we might draw 2,000 people, if we were lucky, for the entire day. 10,000 people showed up," Mark said. "It was staggering and we couldn't believe our eyes."
Grand Rapids Comic-Con is now entering its third year at the DeVos Place Convention Center and expects about 30,000 guests October 21-23.
"We've been averaging an attendance growth of about 30 percent per year and that is unusually high," Mark said. "A show that's doing really well in this field is growing at about 10 percent, so we're tripling that."
Mark said he attributes the event's growing success to its family-friendly nature. "We feel that parents have a right to be able to go to an event and enjoy it with their kids. We strive to provide an event that kids can safely attend with their parents being comfortable with what they're seeing."
Celebrities, artists and panels, oh my!
Every year, Grand Rapids Comic-Con offers a diverse variety of programming, costume contests, art showcases and vendor booths, and this year will be no exception. There is never a shortage of celebrities and artists from "geek culture" who travel from near and far to interact with fans during signings and various panel events.
Topping the guest list this year are Austin St. John, who starred as Jason Lee Scott, the original Red Ranger on "Mighty Morphin Power Rangers"; artist Jae Lee of "Batman/Superman" and "The Inhumans"; Robin Shelby, who played Slimer in "Ghostbusters 2"; Steve Cardenas, who played Rocky DeSantos, the Red Ranger, on "Mighty Morphin Power Rangers"; and Denise Crosby of "Star Trek: The Next Generation" and "The Walking Dead."
Teenage Mutant Ninja Turtle fans will be shouting "Cowabunga!" at this year's Comic-Con as another of the featured guests is Kevin Eastman, co-creator of the "heroes in a half shell." Eastman's Comic-Con appearance will be complimented by a special reunion featuring three of the four actors who portrayed the turtles in the 1990 feature film, "Teenage Mutant Ninja Turtles." Michelan Sisti (Michelangelo), Leif Tilden (Donatello) and Josh Pais (Raphael) will be signing autographs as well as posing for pictures.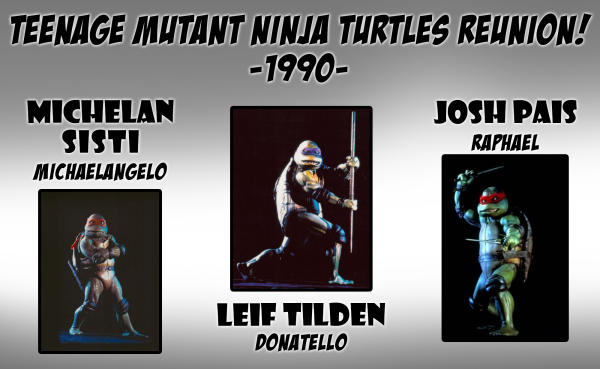 Image courtesy of Grand Rapids Comic-Con
Hodges said he anticipates many guests, specifically children and teenagers, will especially flock to meet Steve Blum, most known for his voice acting as Zeb Orellios in "Star Wars Rebels."
Explore the floor
Guest appearances and panels are just the tip of the iceberg at Grand Rapids Comic-Con. While touring the main exhibit hall, guests can enjoy getting an early start on Christmas shopping at the more than 250 vendor booths selling everything from comic books and custom artwork to action figures and TV and movie memorabilia.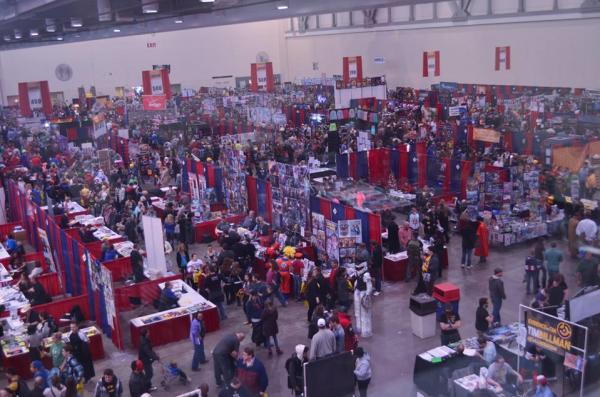 Photo by Christopher William Burgess
Speaking of TV and movie memorabilia, you'll want to check out the noteworthy vehicles on display for guest pictures. Be on the lookout for photo ops with Speed Racer's Mach 5, the motorcycle from the 2007 film "Ghost Rider" starring Nicholas Cage, and the 1964 Chevy Cobra that Robert Downey, Jr. fell on in the 2008 film "Iron Man."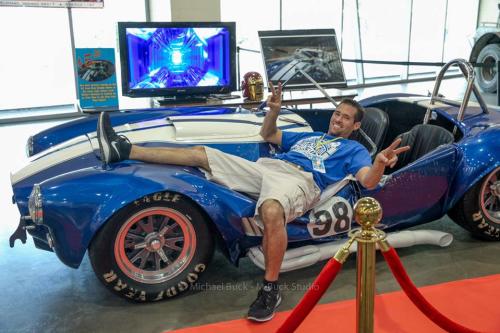 Photo by Michael Buck
In what Mark calls a "What are the odds?" scenario, a restored 1969 Mystery Machine will also be on display for pictures.
"This is as close as you're going to get to the actual Mystery Machine," Mark said. "Somehow, the owner found the van in a junk yard and, after some research, decided to convert it back into the original Mystery Machine that Hannah Barbara used to promote 'Scooby Doo, Where Are You?' Hannah Barbara cooperated and sent him the original design specs so this is a perfect restoration piece."
Not only will it be fun to snap a photo in the butt print of Robert Downey, Jr., but all of the money from the photo opportunities go to various charities supported by Grand Rapids Comic-Con.
Also new to this year's Comic-Con is the Wes Shank Museum. Wes Shank is the holder of one of the largest collections of props from 1950s and 60s science fiction movies in the country. On display will be props from "Forbidden Planet" (1956), "The Blob" (1958) and "Planet of the Apes" (1968).
Costume contests
A comic book convention would not be complete without costumes galore. Aside from the plethora of costumed guests walking the exhibit hall floor, the best of the best will be on display during the various annual costume contests.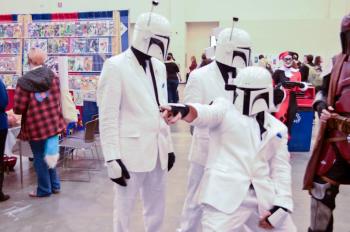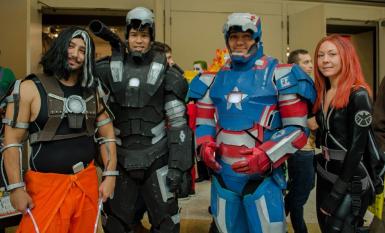 Photos by Christopher William Burgess
The Adult costume contest will take place Saturday, October 22, and the Kids Costume Parade (12 and under) will take place Sunday, October 23. There will also be a costume contest on October 23 featuring the "Best Costume-TV, Movie or Comic Book Character, Pre-1970."


Photo by Christopher William Burgess
First-Timer Survival Guide
Feeling a bit overwhelmed by everything there is to see and experience at Grand Rapids Comic-Con? There's no need to fear, the Grand Rapids Comic-Con First-Timer Survival Guide is here! Be sure to check out this helpful resource that provides tips for those who are new to the event.
At the very least, Mark recommends that first-time guests bring a camera, and a sturdy pair of shoes. "You'll be amazed how much you will walk. When you open up your closest, ask yourself, 'What shoes would I wear on a five-mile hike?' Your feet will thank you later."
Tickets
Single-day or three-day tickets can be purchased either at the DeVos Place Box Office, located at 303 Monroe Ave. NW in Grand Rapids, or through Ticketmaster. Tickets can also be purchased at any of the select comic book and gaming shops throughout West Michigan listed here.
For more information about this year's Grand Rapids Comic-Con, visit www.grcomiccon.com.