It's hard to beat a glorious fall day in Michigan.
Michigan's well-defined four seasons are among the top reasons to live in or visit the Mitten, but ask around and it can quickly become evident a lot of people favor autumn. Beautiful trees and gorgeous weather are likely reasons for this.
Likewise, as the temperature begins to drop and the trees change color, craft breweries across Grand Rapids area tap darker, bolder brews to pair well with the change in seasons. Here are some great suggestions of West Michigan breweries (and a cidery) to enjoy a fall-flavored beverage.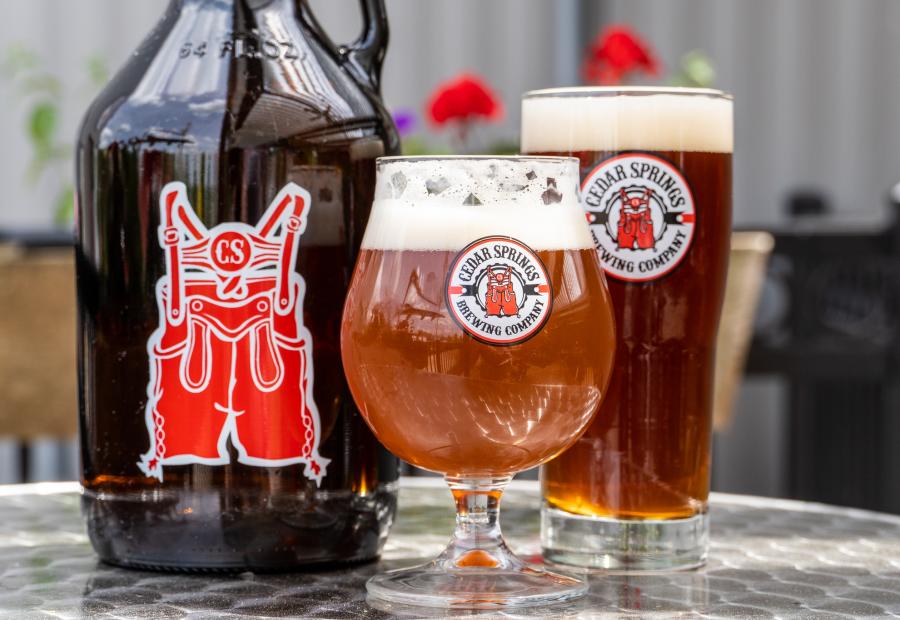 Cedar Springs Brewing is known for their German-style beer.
Photo by Experience Grand Rapids
Cedar Springs Brewing Co.
Grand Rapids is Beer City, USA, but if there's a country that's known for beer, it's Germany and that's where many of Cedar Springs Brewing Co.'s beers draw their influence. It's also in Germany where the annual celebration of Oktoberfest (which actually starts in September) takes place and helps identify fall as a beer drinking season.
Cedar Springs' Kusterer line of German-inspired beers are about as authentic as they come in the United States and are certainly tasty; try the Great American Beer Festival medal-winning Kusterer Original Weisbier or the Marzen and grab some food off the traditional Bavarian menu, like the Bratwurst Teller or Wienerschnitzel.
Mitten Brewing Co.
Fall can also be a spooky time, thanks to Halloween. At the Mitten Brewing Co., the owners are proud that their 19th century firehouse is reportedly haunted.
On display, and preserved on the bartop in the upstairs taproom, is a ghostly footprint found behind a wall during renovations. Similar footprints were found on a freshly-mopped floor by co-owner Chris Andrus, while he was alone in the building after closing, shortly after they opened in 2012.
The history of the firehouse is being meticulously preserved by the brewery, so it's unlikely whatever spirit may haunt Mitten Brewing is unfriendly.
During the summer, the Mitten Brewing is a haven for baseball fans, but the brewery's co-owners embrace Halloween and a visit to the taproom near the ghoulish holiday is guaranteed to be a festive experience.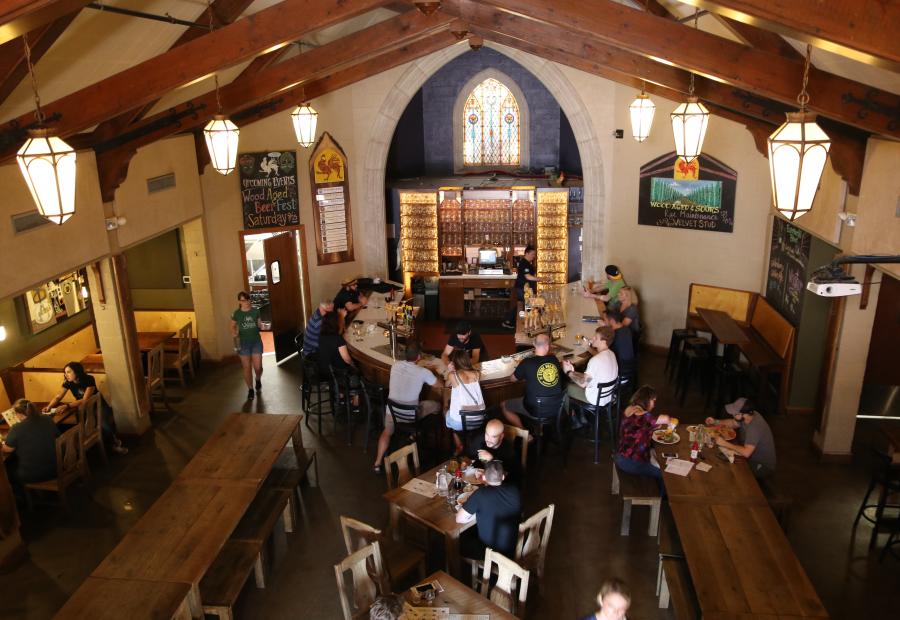 Brewery Vivant used to be a funeral chapel.
Photo by Experience Grand Rapids
Brewery Vivant
There's something quintessentially 'fall' about hanging out in the Brewery Vivant taproom. The dimly lit, yet gorgeously spacious room is set up to enjoy all year round, but it just feels right during the cooling weather.
The fall is a time when pumpkin flavor dominates consumer minds, including in beer, and Brewery Vivant serves up one of the more unique and inventive pumpkin beers in West Michigan: Pumpkin Tart. A portion of the beer is kettle-soured then blended with the rest of the pumpkin amber ale to provide a, well, tart pumpkin ale.
Get there quick, as Brewery Vivant's Pumpkin Tart flies off the shelves due to its popularity. If it's gone, grab Velvet Stud, another Brewery Vivant fall staple. The Velvet Stud is a beautifully smooth stout, half aged in oak barrels (note: not bourbon barrels) to help ease into full blown stout season, also known as winter.  
Farmhaus Cider
Few things say 'fall in Michigan' like Michigan-grown apples and fall ciders.
Being one of the largest apple producing states in the country, it makes sense that Michigan has plenty of hard apple cider producers.
Farmhaus Cider is on the same property as a 19th century farmhouse, which has been in the owner's family for generations. A rustic farmhouse experience while drinking some cider is about as an appropriate way to spend a fall Michigan day as one can get.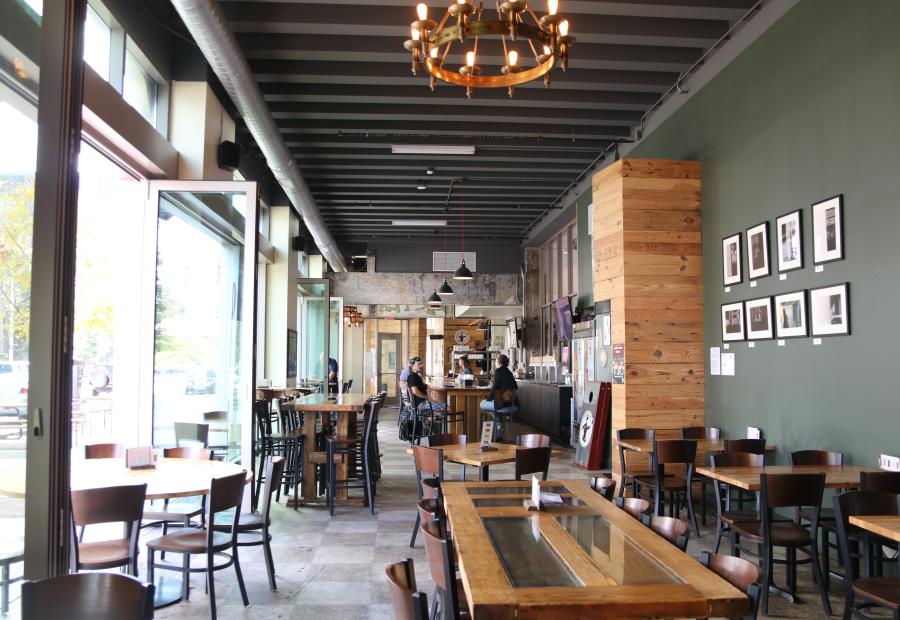 Located at the corner of Monroe and Michigan in the heart of downtown, Atwater Brewery is in a very walkable neighborhood.
Photo by Experience Grand Rapids
Atwater Brewing
Like Cedar Springs, Atwater Brewing is heavily influenced by the brewing traditions of Germany.
While its Grosse Pointe Park, Michigan, location offers a haunting experience, its Grand Rapids location relies on the beer and food to draw folks in.
Located in The Rowe, an apartment building located in a former hotel built in 1923, Atwater Brewing serves up an array of beers, including a multitude of lagers. Try the Blocktoberfest, the brewery's marzen, a bready lager.
The basic Atwater Lager, a light lager, is also perfect to pair with the Atwater Beer Brats: two brats smothered in Atwater's beer cheese, bacon, beer-braised onions, jalapeños in pretzel rolls. The beer braised onions are made using the lager, making it an ideal combination.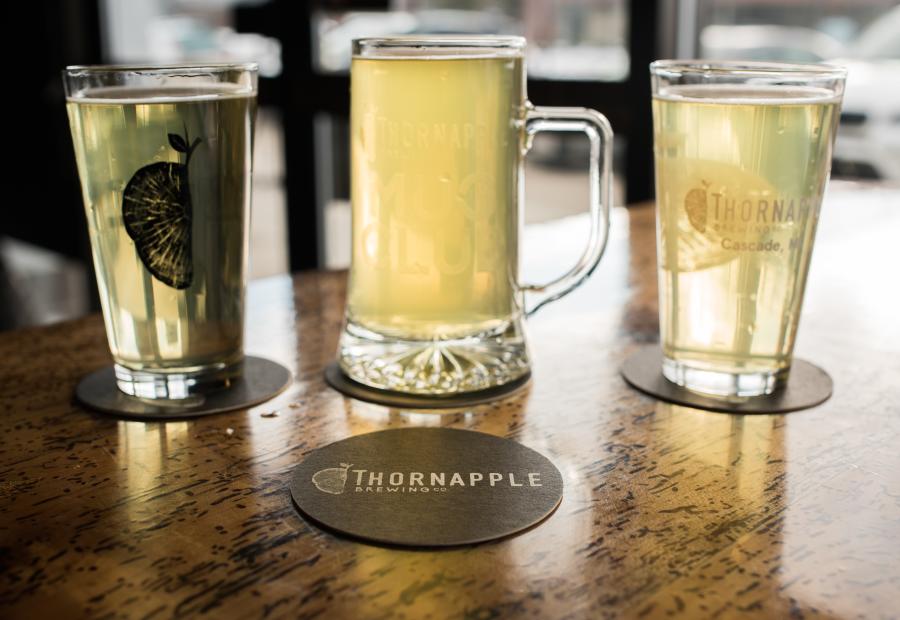 Thirsty guests will find cide and wine - in addition to beer -- on the Thornapple Brewing menu.
Photo by Experience Grand Rapids
Thornapple Brewing Co.
With a award-winning spicy chicken chili on its menu, Thornapple Brewing is a "must visit" this fall. Along with some tasty brews perfect for the season, like a salted caramel brown ale, the Thornapple Brewing also serves up cider and mead made in-house. Give the Gin Barrel Mead a try. Made with gin botanicals and aged in a gin barrel, the mead is a knockout.
With 15 craft beers, four ciders, and two meads on-tap, as well as wine and spirit options, there's something for everyone at Thornapple Brewing.
What locations are on your "must visit" list this fall? Let us know in the comments! 
Eight "stamps" in your passport and you become an official Beer City Brewsader! Get the app today!