Fall is almost here which means it's another great season to partake in some Grand Rapids 5Ks. With a strong running community in West Michigan, there's a variety of races perfect for you, your friends, and the whole family.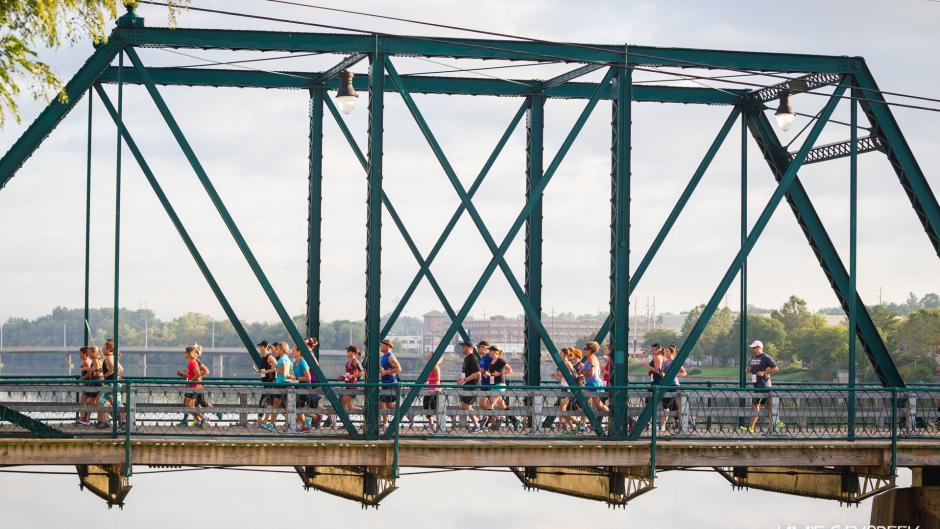 Get a great view of the Grand River during the Lake Michigan Credit Union Bridge Run.
Photo Credit: Jamie Geysbeek Photography
---
September
Lake Michigan Credit Union Bridge Run
Sunday, September 17
Rosa Parks Circle in downtown Grand Rapids serves as the start and finish for the Lake Michigan Credit Union Bridge Run. You may have guessed by the name that the run goes over several of the city's historic bridges over the Grand River. The race features a 5K walk/run or a 10-mile route. Everyone who participates gets an awesome race medal that features the iconic Blue Bridge.
Grand River Run
Saturday, September 30
Most races in the area that include the Grand River are centrally located in downtown Grand Rapids, but not the Grand River Run on September 30. This particular run takes place at beautiful Roselle Park, a 240-acre nature preserve. Runners can enjoy the natural beauty of the park and water's edge while cruising along a mostly flat, paved 5K trail. If you're feeling more adventurous, there's also an 8K that's great for both trail and road runners. There's also a 2K run/walk perfect for groups and families that want to run together.
October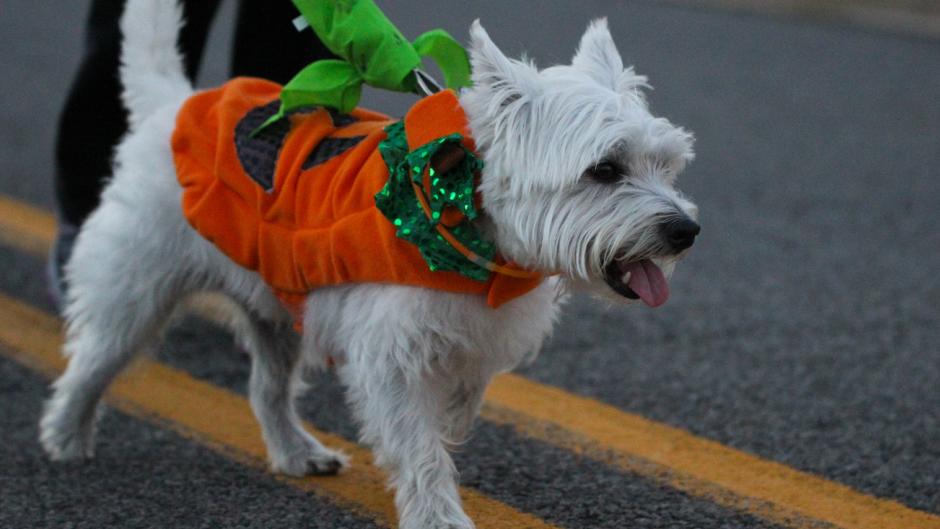 The Bark in the Dark race has gone to the dogs!
Photo Credit: Rob Meendering
---
Bark in the Dark
Saturday, October 7
Looking for a race where you can take your four-legged best friend? The Humane Society of West Michigan has the perfect race for you. Bark in the Dark is a 5K and one-mile fun run/walk that's completely dog-friendly. In fact, you're encouraged to bring your dog! In addition to the run, there are a ton of activities available like a photo booth, face painting, beer tent, and more. All proceeds from the race go to the Humane Society of West Michigan.
Zombie Dash
Saturday, October 21
If you've ever wanted to go head-to-head wth zombies, the sixth annual Zombie Dash will make this dream (or nightmare) come true. For this 5K race, runners have three "life strips" they have to protect throughout the race from zombies that roam in designated "feed zones." As if that isn't enough, there are also "scare zones" where other zombies will jump out and try to scare you. This night race is free for children 10 years old and younger who are running with an adult.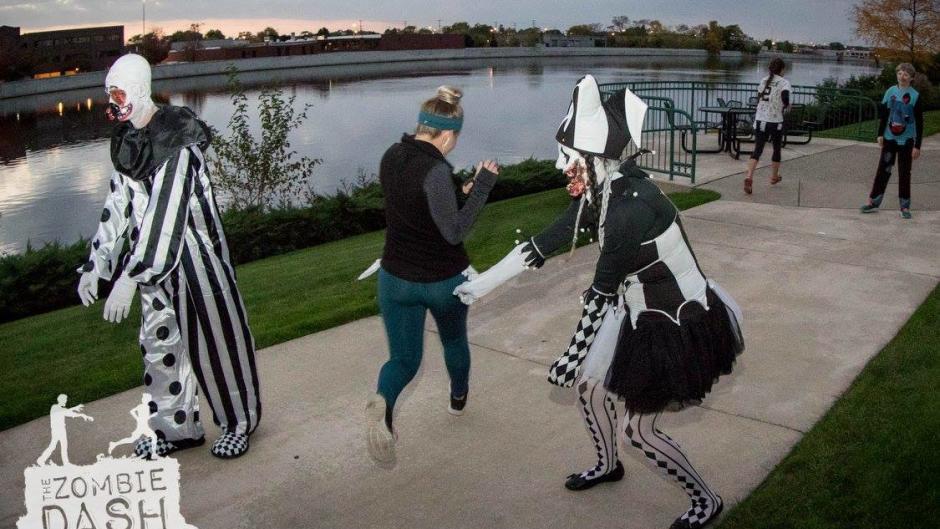 A runner tries to avoid the two zombie clowns during the Zombie Dash.
Photo Credit: On the Run Photography
---
Alger Heights Halloween 5K/10K
Saturday, October 28
The Alger Heights Halloween 5K/10K is a family favorite for many in the Grand Rapids area. The Halloween-themed run gives adults an excuse to wear a costume and children the extra opportunity to wear theirs! In fact, if you don't wear a costume to the race, YOU might look out of place. The race runs through the Alger Heights neighborhood and features a kids fun run, 5K, and 10K distance.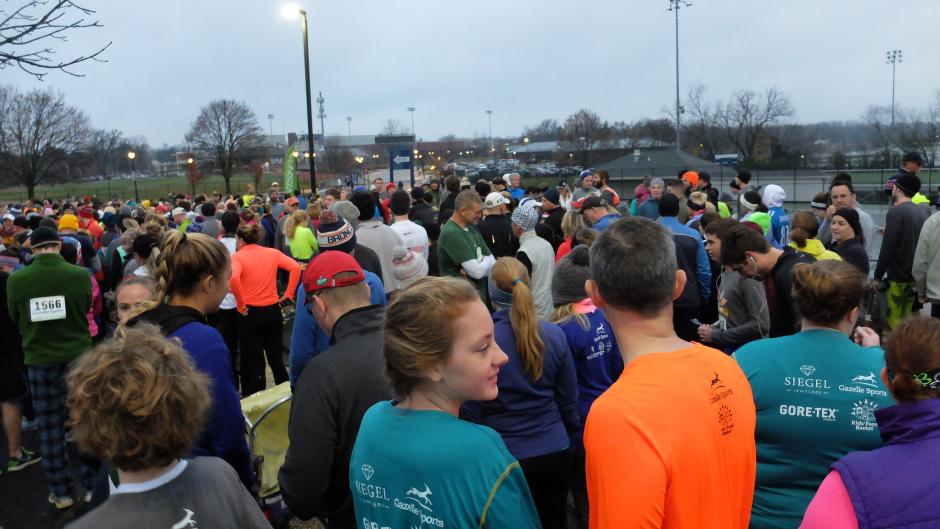 Runners getting ready for the Gobble Wobble in East Grand Rapids.
Photo Credit: Gazelle Sports
---
November
Grand Rapids Hot Cider Hustle
Saturday, November 11
Spice up your running by taking on the Grand Rapids Hot Cider Hustle. The 5K run, which winds through Millennium Park, has hot apple cider and caramel-covered apples at the finish line. If that wasn't incentive enough, everyone that signs up gets a stylish half-zip pullover and a finisher's mug. Strollers and walkers are allowed on the course.
Christmas Lite Reindeer Run
Saturday, November 18
Start Christmas early with the Christmas Lite Reindeer Run. It's a non-competitive fun walk/run that winds through the Christmas Lite Show at the Fifth Third Ballpark in Comstock Park. The Lite Show is considered the largest drive-through light display in the state. As a runner, you'll get up close and personal with all things Christmas as you go through lighted tunnels and past animated displays.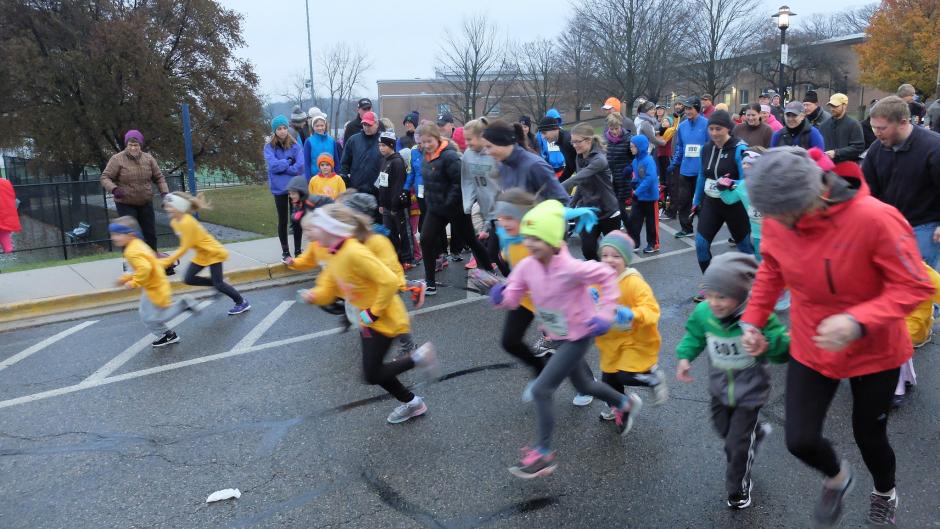 And they're off! Runners getting in a quick run before Thanksgiving dinner.
Photo Credit: Gazelle Sports
---
Bonus Thanksgiving Day Races!
Thursday, November 23
You have not one, but two opportunities to expend some calories before sitting down for a big turkey dinner this Thanksgiving!
Grand Rapids Turkey Trot
Over 3,000 runners/walkers will come together for the Grand Rapids Turkey Trot. Because this is the 25th anniversary of the 5K trot, all finishers get a commemorative medal. The race starts at Van Andel Arena in downtown Grand Rapids and features a free mini trot for children 12 and under.
Gazelle Sports Gobble Wobble
If you're feeling extra ambitious that day, there's also the 10th anniversary of the Gazelle Sports Gobble Wobble. It's a 4.3-mile run around beautiful Reed's Lake in East Grand Rapids. In addition to the longer distance, a one-mile fun run (the Widdle Wobble) is free for kids 12 and under. Gazelle Sports is hoping to raise $25,000 for Kid's Food Basket, a non-profit community organization that seeks to eliminate childhood hunger in the area.

Which of these runs are you going to participate in? Tell us about your go-to fall 5K in the comments. For a full list of 5Ks, runs, and other events, visit the Experience Grand Rapids events calendar.
Never miss a post!
Subscribe to the Insider Experience blog.