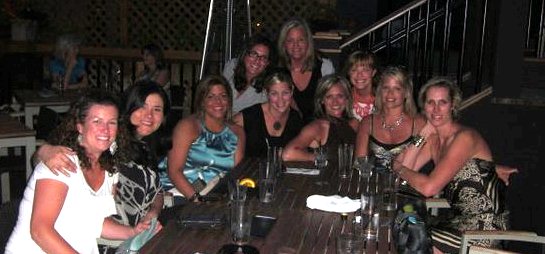 I recently took a family vacation with my kids and was reminded of a very important fact. Vacationing with your kids doesn't really feel like a vacation. Sometimes you just need to leave everyone else behind and have a good old fashioned girl's weekend away. But since I couldn't get away for a whole weekend, I settled for a girl's night out in Grand Rapids.
So I grabbed a gaggle of girls and headed downtown for a night out on the town. I hang out with these girls fairly regularly and we usually grab a nice dinner and call it a good night. I felt like we needed to kick it up a notch and where better to do that than Mega 80s at the Intersection.
Well we are foodies, so we couldn't skip dinner. We started the evening at Bistro Bella Vita since it is a close walk to The Intersection. Good food, good wine, good friends. The perfect start to the night.
Bistro Bella Vita is part of the Essence Restaurant Group, who also own Grove and The Green Well. These are three of the best restaurants in the city and all should be on your must visit list when you visit Grand Rapids. Bistro Bella Vita specializes in fresh, natural Mediterranean country cuisine made from scratch daily with as many local ingredients as possible. My kind of restaurant.
I got the Formaggi pizza which was covered in goat cheese, gorgonzola, fresh mozzarella and parmesan cheese with wild mushrooms, asparagus and freshly chopped rosemary. It tasted like spring on a plate. I intended on daintily eating a few pieces and packing the rest up for lunch the next day, but I didn't leave a single crumb.
After dinner we all headed up the block to The Intersection. I had never been to Mega 80s before but had heard for years how fun it was and it did not disappoint. The place was filled with Madonnas, Cyndi Laupers and even a Boy George or two. Of course there were many people not in costume, but I gotta admit the side ponytails made everything more fun. There was a cover band playing everything from Duran Duran to The GoGos. And dancing. Oh, was there dancing.
We all had a blast and will definitely be heading back. And if I was going to REALLY do a girl's weekend right I would have booked a few rooms at the JW Marriott and spent the morning at their amazing spa. There's always next time......