The middle of winter may be a treacherous time for cyclists, but you wouldn't know it to visit Indian Trails Golf Course. That's where fat-tire bike enthusiasts gather on Wednesdays to ride its snowy, three-mile groomed trail. The 88-year-old golfing center, at 2776 Kalamazoo Ave SE, is becoming an in-city winter bike destination.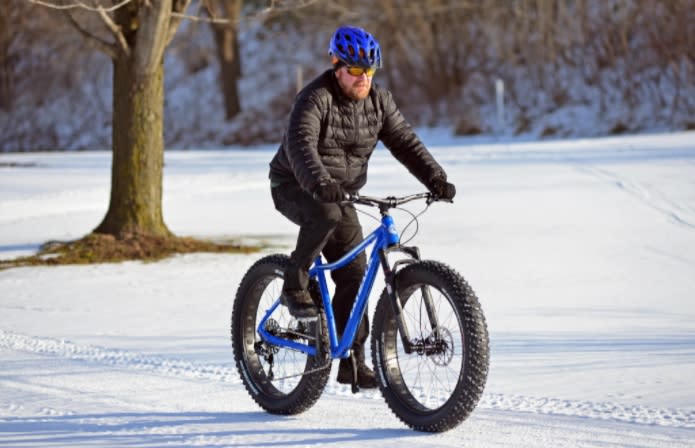 Nate Phelps rides a lap at Indian Trails to check conditions. Photo by Howard Meyerson
"The fireplace is always going, and we always have hot chili and cold beer," notes Lance Climie, the Indian Trails clubhouse manager. "We get men and women and families out here. We have heated restrooms and a comfortable environment to sit and socialize.  Many people come out every Wednesday. It's close to home. They can ride after work and have a place to change. It's not like driving an hour and a half (to a trail) and then having no facilities."
Cyclists are welcome to bring their bikes out and ride from 2 p.m. to 9 p.m. every Wednesday, according to Climie. Open-riding ends at 7 p.m. on race nights. A $5 daily trail pass, or $20 seasonal pass, is required. Saturday and Sunday races are also scheduled this winter.
Free Demo Days
Wednesdays are free demo-days, where fat-tire curious riders can try out an assortment of bikes. Two area cycling shops, Central District Cyclery and Alger Bikes, usually bring eight bike lines for people to try. No experience is required and helmets are available for those who don't have one.
Located just 15 minutes from downtown Grand Rapids, Indian Trails Golf Course will be the site for the Michigan Fat Bike State Championship on February 13, 2016. The event is part of the Meijer State Games. The course has also been selected as the site for the USA Cycling Fat Bike National Championships in 2017 and 2018. Those races are each expected to draw 300 to 500 competitors from around the country, along with spectators.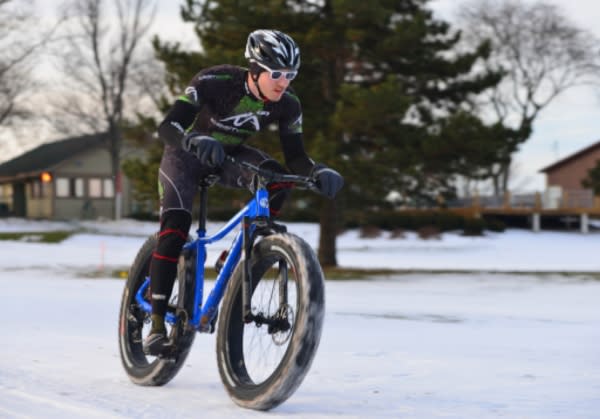 Team Apex competitor, James Gunderman, celebrates his birthday with a workout at Indian Trails Golf Course. Photo by Howard Meyerson.
"This has unfolded gradually," explains Nate Phelps, national championship race director and owner of Central District Cyclery, in downtown Grand Rapids. Phelps initiated the Indian Trails winter cycling program in 2013, starting with Saturday races for local riders. Those continued into 2014. Then he and Climie started brainstorming about how to develop the program further.
"We started demo-night (and open-riding) to see how it would go," Phelps said. "We always had 30-35 people here. They'd ride, come in and have chili and beer, then go back out and ride some more. This year we have new grooming equipment and should be able to machine groom any snow condition."
Nathan Falls, from Alger Bikes, said the golf course provides a great opportunity for people to get out on the snow and try fat-tire bikes.
"It's a much better than (trying them in) a parking lot," Falls said. "When I tell people we are doing this at a golf course, people look at me a little funny. But, it's an awesome spot with mixed terrain and everyone has been very excited about it."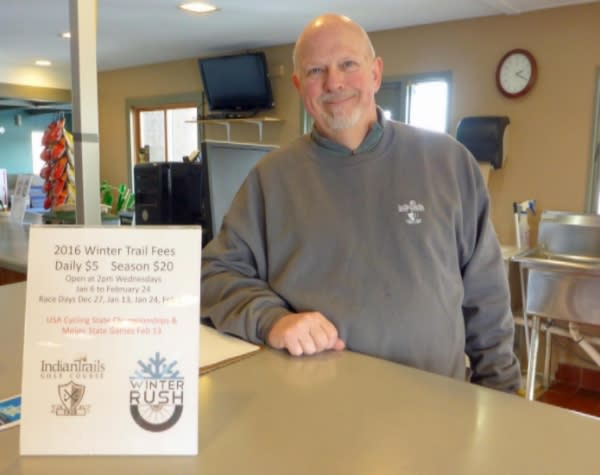 Lance Climie, Indian Trials Clubhouse manager, serves up chili and beer to riders every Wednesday. Photo by Howard Meyerson.
Groomed trails are essential, according to Phelps. Grooming packs deep snows to create a rideable path so cyclists aren't bogged down. Fat-tire bikes, he added, were developed in Alaska in the 1980's. They gained popularity in the 1990's. Their wide, soft tires and comfortable frame designs make it possible to ride and tour in wet and snowy conditions.
"You can ride all day for $5," Climie notes. "Typically we have ten to fifteen bikes to try. We post all of our winter biking events on Facebook. It's called Winter Rush.
What to Wear
 If you're thinking to try out winter biking, Phelps offers these tips:
Dress for the conditions. That means a hat, gloves and warm footwear. Lighter gloves can work. The test-bikes have pogies installed, protective sheaths mounted on handle-bar grips that help insulate rider's hands.
Dress for being active. Don't overdress. One or more trips around the trail can result in working up a sweat.
Bring your own helmet if you have one.
Other Groomed Fat-tire Trails
Merrell Trail: The  4 to 5-mile groomed bike trail in Rockford is maintained by the West Michigan Mountain Biking Alliance.  No charge to ride.
Deep Lake Trail:  Yankee Springs State Recreation Area, Barry County. The 7-mile groomed bike trail is maintained by the West Michigan Mountain Biking Alliance.  No charge to ride.
Cannonsburg Ski Area, 6800 Cannonsburg Rd. NE, Belmont. The ski area offers a groomed 5 to 6-mile loop. Trail fees are $5/day, $30 for the season. Rental bikes are available.