The Griffins kick off their 21st season (and 15th as the American Hockey League affiliate of the Detroit Red Wings) at Van Andel Arena this Friday night, October 14, at 7PM. Fans can expect an action-packed game against the Chicago Wolves, as well as lots of fun at the season opener.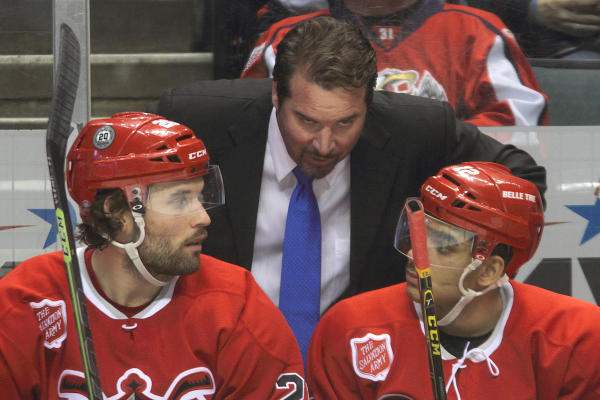 Head coach Todd Nelson with Griffins players, photo courtesy of Grand Rapids Griffins
Although last year's captain, Jeff Hoggan, and last year's leading scorer, Andy Miele, are no longer with the Griffins, the organization is optimistic about the upcoming season. "Historically, we've had some very good hockey teams here," says Tim Gortsema, Grand Rapids Griffins President, "and we expect that would continue this year. I have full confidence in our coaching staff and head coach Todd Nelson to find and develop team leaders."
As those new team leaders take the ice tomorrow, you won't want to arrive late! The Griffins will begin their season by giving away free Griffins magnet schedules to the first 2,500 fans and, prior to the puck drop, they'll do a special Opening Night presentation with a full roster introduction and lights provided by Odyssey Lighting.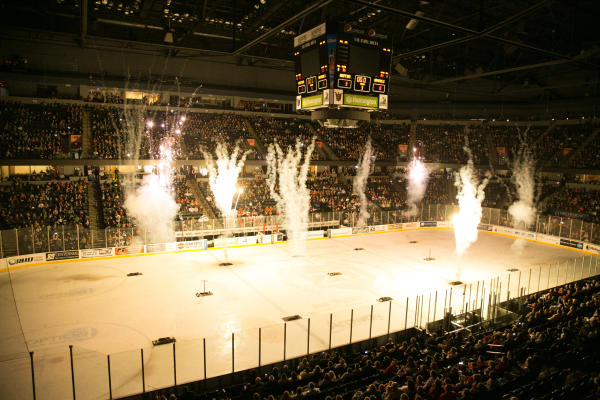 photo courtesy of Grand Rapids Griffins
Fans can look forward to new lighting capabilities this year, as Van Andel Arena made a building investment and outfitted the arena with LED lighting. "The LEDs can immediately go completely dark, we have the ability to strobe them, and rotate them around—there are a lot of fun, different things we'll be able to do from a game atmosphere standpoint," Gortsema said. "I'm excited to see how we leverage that technology."
Be sure to bring your skates because the fun continues post-game with the season's first post-game open skate. "It's a great opportunity for kids and families to get out there and skate on the exact same ice they just watched the hockey players play on," says Gortsema. "It's a great atmosphere!"
6 post-game open skate dates
Oct 14 (season opener)
Nov 25 (teddy bear toss)
Dec 31 (20th annual NYE celebration including indoor fireworks show)
Feb 4 (Tyler Bertuzzi Bobblehead giveaway)
Feb 25 (Star Wars Night)
Apr 8 (Nathan Paetsch Bobblehead giveaway)
This season, all of the Griffins games will be played on Fridays, Saturdays, and Wednesdays, each of which will feature their own game day promo.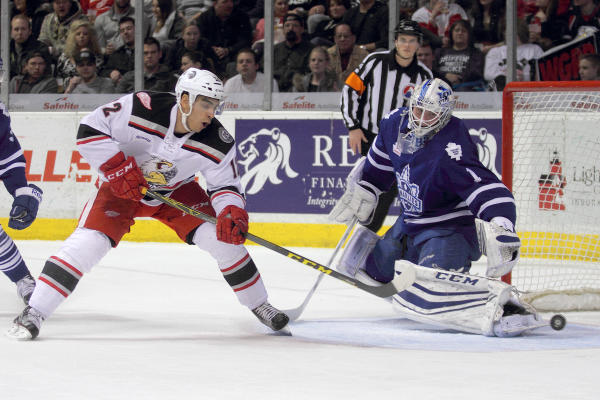 Athanasiou, photo courtesy of Grand Rapids Griffins
Every Friday, including the season opener, they offer concession stand special prices: hot dogs and beer (domestic drafts) are just $2 each from 6-8PM, while supplies last. If you prefer to avoid the lines, you can order ahead and have the beers and hot dogs delivered to you in your seats! They call this the D-Zone and you can purchase a package of four or more D-Zone tickets by calling (616) 774-4585 ext. 2 or visiting their website at griffinshockey.com/dzone.
For Saturday night games, the Griffins focus on giveaways or have a special event or guest. This year you can plan on giveaways with a team poster (Nov. 5), bobbleheads (Feb. 4 and Apr, 8), beer steins (Jan. 28), a mini-plush Griff (Feb 18), and much more. (Click here to see the full list of Griffins' Saturday game promos.) 
Wednesday games feature their Winning Wednesday promotion. If you buy a Wednesday home game ticket and the Griffins win, you can exchange that ticket for a free ticket to the next scheduled Wednesday home game. "Last year, the fans who took advantage of Winning Wednesday and bought a ticket to our first Wednesday game got a great deal," Gortsema said. "We won every single home Wednesday game except for the last one!"
If you'd consider yourself a pet lover, you won't want to miss the Griffins April 12 game vs. the Charlotte Checkers, when they're featuring the Bring Your Dog promo. You read that right…dogs and hockey! "A handful of teams in our league had done this promo before us. We took the plunge a few years ago and tons of people bring their dogs. They walk the concourse with them, we have green screens for fun photo ops, and free giveaways for the dogs, like treats and dog food. It's a really fun atmosphere. My youngest daughter loves it!" says Gortsema. And if you're worried about Fido needing a bathroom break, a doggie area is set up (and corralled) outside the arena where dogs can take care of business.
While the Griffins are all about hockey and fun, they also like to support charitable organizations. Six of their games will be special jersey games, when fans will see the players wear the new jerseys during the game, then have the opportunity to bid on them for purchase after the games. "We're able to general a sizeable amount of proceeds for area charities with these events," says Gortsema. "We enjoy doing something fun and different, having the players wear new jerseys on the ice, that's also good for the community."
Jersey Game Nights with Post-Game Jersey Auction
Nov. 11 (Red Kettle jersey)
Dec 9 (80's fauxback jersey)
Jan. 21 (fan-designed jersey)
Feb. 17 (Van Andel Institute purple jersey)
Mar. 24 (fan-designed jersey)
April 14 (Friday night jersey)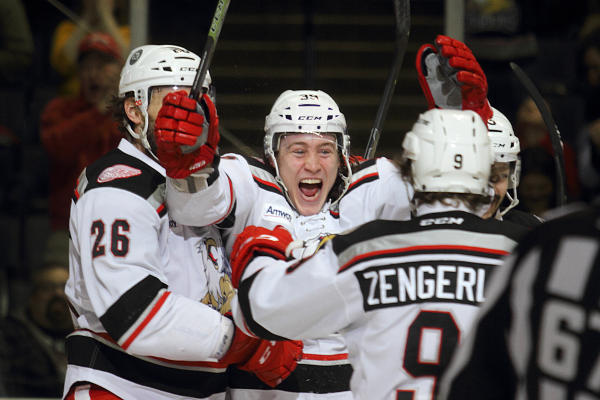 Bertuzzi, photo courtesy Grand Rapids Griffins
The Griffins' annual Griffins Annual Great Skate Winterfest is another fun, charitable event designed to raise funds for the Griffins Youth Foundation. This year, the event runs for 34 consecutive hours, from 12PM on Saturday, January 23 – 10PM on Sunday, January 24, at Rosa Parks Circle. There's a family activity tent, ice sculpting, sled dogs, and more. "As soon as our game gets done [around 10PM on Saturday] all of our players and coaches take a shift skating at Rosa Park's Circle," Gortsema explains. "It's a fun opportunity for fans to get out and skate with players. Sometimes we'll get entire youth hockey teams late at night—they can skate around and get to know professional hockey players on a little more on a personal level. It's a whole weekend of fun activities and is a huge fundraiser for our youth foundation."
It's shaping up to be a great Griffins' season! For a full list of Griffins game promotions, click here.
If you'd like to join the fun tomorrow night, the Griffins are expecting the opening game to sell out, as it has every year for the past 20 years. As of today, tickets are still available so don't delay!
Advance ticket prices are $16-$21 in the arena's upper level, and $20-$35 in the lower level. (Additional $3 per ticket on day of game.) Click here for Griffins ticket info and/or to purchase tickets.