Despite playing on Syracuse's home turf, to an away crowd of over 6,000 frenzied fans, the 2012-13 Grand Rapids Griffins showed hockey lovers how it's done. They capped a fantastic season with first-year head coach Jeff Bashill by proudly hoisting the Calder Cup, after winning the championship.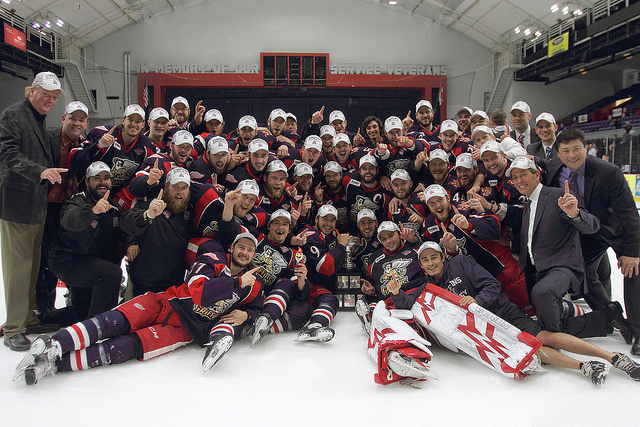 2013-14 Calder Cup champions, photo Mark Newman, courtesy of GR Griffins
In a stadium filled with cheering Syracuse Crush fans, the Griffins demonstrated skill and teamwork to defeat the Crush 5-2 and bring home the trophy. It didn't come easy.
"Championships are extremely hard things to win," says Jeff Bashill, head coach of the Grand Rapids Griffins. He says that coming to Grand Rapids, he didn't have expectations regarding the upcoming season but did have some thoughts about the types of teams that win. "I said to the guys right from the start, these are the types of teams that win: teams with character and teams with talent."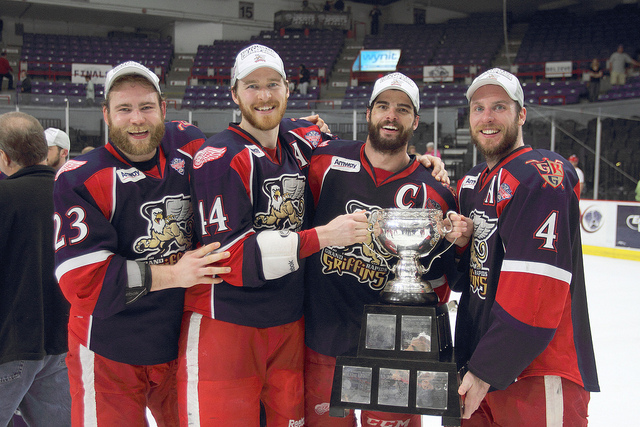 2013-14 Calder Cup champions, photo-Mark Newman, courtesy of GR Griffins
His 2013-14 team worked hard at every practice to improve as individual players and as a team. "Add strong leadership and the type of work ethic every coach loves, and you've identified the kind of culture they worked in," says Bashill.
Left wing, and team captain, Jeff Hoggan, was proud to be a part of a squad that demonstrated those characteristics. "Every day we came to the rink and worked hard," says Hoggan. "The end result speaks for itself."
Jeff Hogan, photo-Mark Newman, courtesy of GR Griffins
Hoggan credits Bashill with being able to get the most from his players. "He puts the player in a situation where his strengths will be shown," says Hoggan. He says Bashill's passion for the game, and coaching, is evident in every practice and that he's earned respect from players because he leads by example.
Excited hockey fans hope to see Bashill lead the team in another winning season. The Griffins are well-positioned to deliver.
"We have a really good crop of young talented players and guys that we believe are going to have bright futures in the NHL. They're going to be exciting players for fans to watch for us and in the future for the Red Wings," says Bashill. Hoggan adds that they have solid young defensemen and goaltending in addition to other strengths.
As they kick off the 2013-14 season, the team is focused on continual improvement and qualifying for the playoffs. "Once you get in the playoffs, you've got a chance to win the Calder Cup whether you finish the first seed or the eighth seed," says Bashill. "You want to get better throughout the course of the year."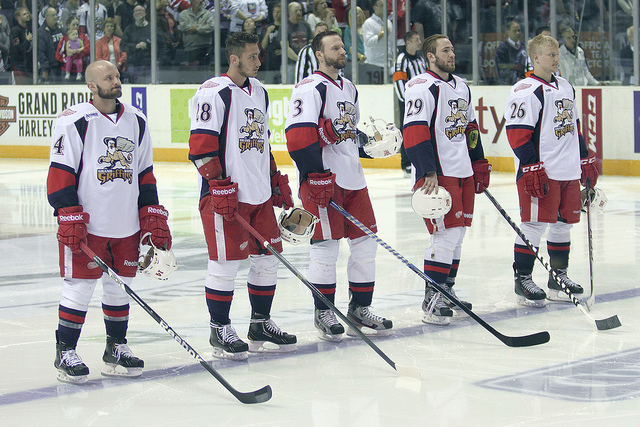 'Players during the National Anthem @ Van Andel Arena,photoMark Newman, courtesy of GR Griffins
"Playing at Van Andel is an advantage," says Hoggan. "It's electric. The fans get behind us, the national anthem plays, and from the get-go it's a good vibe."
Bashill agrees. "We play in the best city in the AHL," he says. "A huge part of our success throughout the season, the playoffs, and culminating in the finals, was the fans. It's a heck of an experience to be at Van Andel when its sold out! We hope that we continue to have that type of support and it can help lead us to lots of victories."
The first home game of the season is Friday, October 18th. Fans ready to cheer the Griffins to victory can click here to check out their season promotions, including $2 beers and $2 hot dogs from 6-8 on Fridays.