As you follow along the Grand Rapids Music Trail, you will find yourself all over the city getting an eclectic mix of sounds offered here in West Michigan. You may be walking along the bustling streets of downtown  or strolling through the growing bar and music scene on the West Side . If you find yourself wandering the Northeast Side, generally the area spreading northeast of Fulton Street, read on for some nearby live music gems.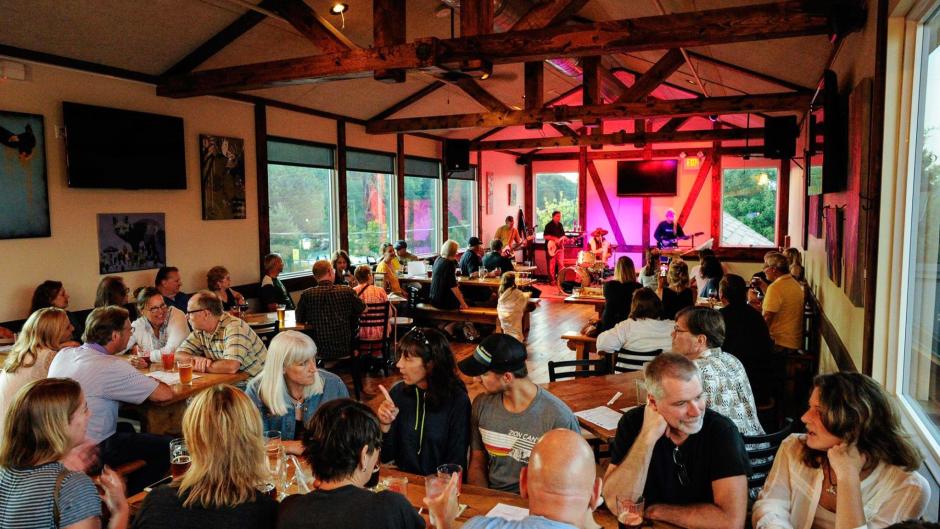 Rockford Brewing Company is a popular spot year-round for good food, great beer, and the best live music in town.
Photo Credit: Rockford Brewing Company
---
Rockford Brewing Company
While most establishments are bars featuring live music, Rockford Brewing feels more like a music venue with a bar. Go for the music, stay for the beer. All the best of the best musicians around the West Michigan area play this intimate upstairs venue. The schedule varies, but on live music nights, get there early, as it fills up!
Rogue River Tavern 
While you are in the Rockford area, head over to Rogue River Tavern. This neighborhood spot features music every Saturday night starting at 9PM all the way until 1AM! So if you started your night of live music at Rockford Brewing Company, the night doesn't have to end there. Head over to Rogue River Tavern to continue the live music party!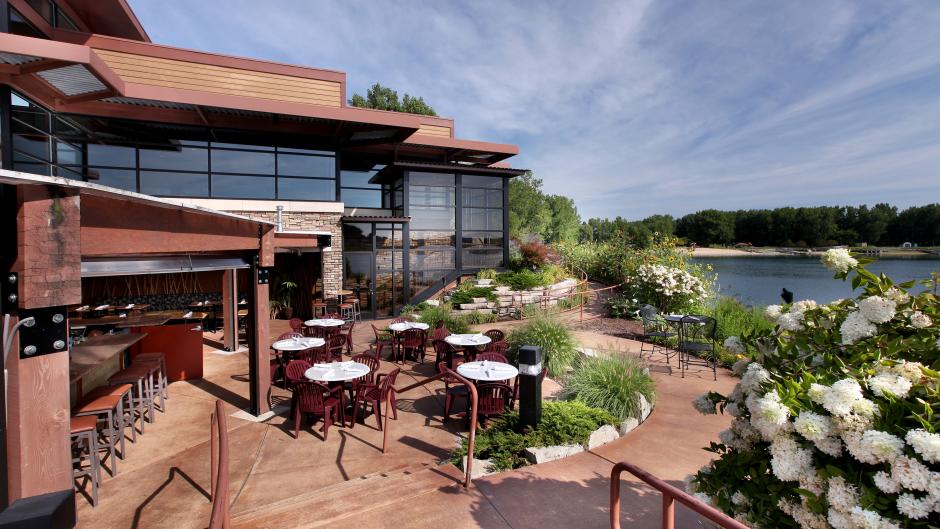 With live music indoors and a beautiful outdoor patio, Blue Water Grill has it all!
Photo Credit: The Gilmore Collection
---
Blue Water Grill
For those looking for a one-of-a-kind dining experience while they enjoy live music, head over to Blue Water Grill in Grand Rapids. Here, you'll enjoy a delicious dinner using fresh seafood and local produce, accompanied by live music at the downstairs Blu Bar on various weeknights and weekends. During warm weather months, don't miss the beautiful lakeside view on the patio. 
River Bend Bar and Grill
Looking for a cozy neighborhood spot with good drinks, good people, and great music? Look no further than the River Bend Bar and Grill. You'll find Ada locals tucking into this familiar spot for some local favorite bands on Friday and Saturday nights. No frills, just fun.
Shots on the River
Another neighborhood favorite is Shots on the River. This sports bar embraces its musical side every Friday and Saturday with live music starting at 9PM. Even better? There's no cover charge. Keep an eye out for the plentiful food and drink specials, too. If you're looking to try out a new song or get a feel for performing in front of a crowd for the first time, give Shots a shot at open mic night every Thursday at 8PM.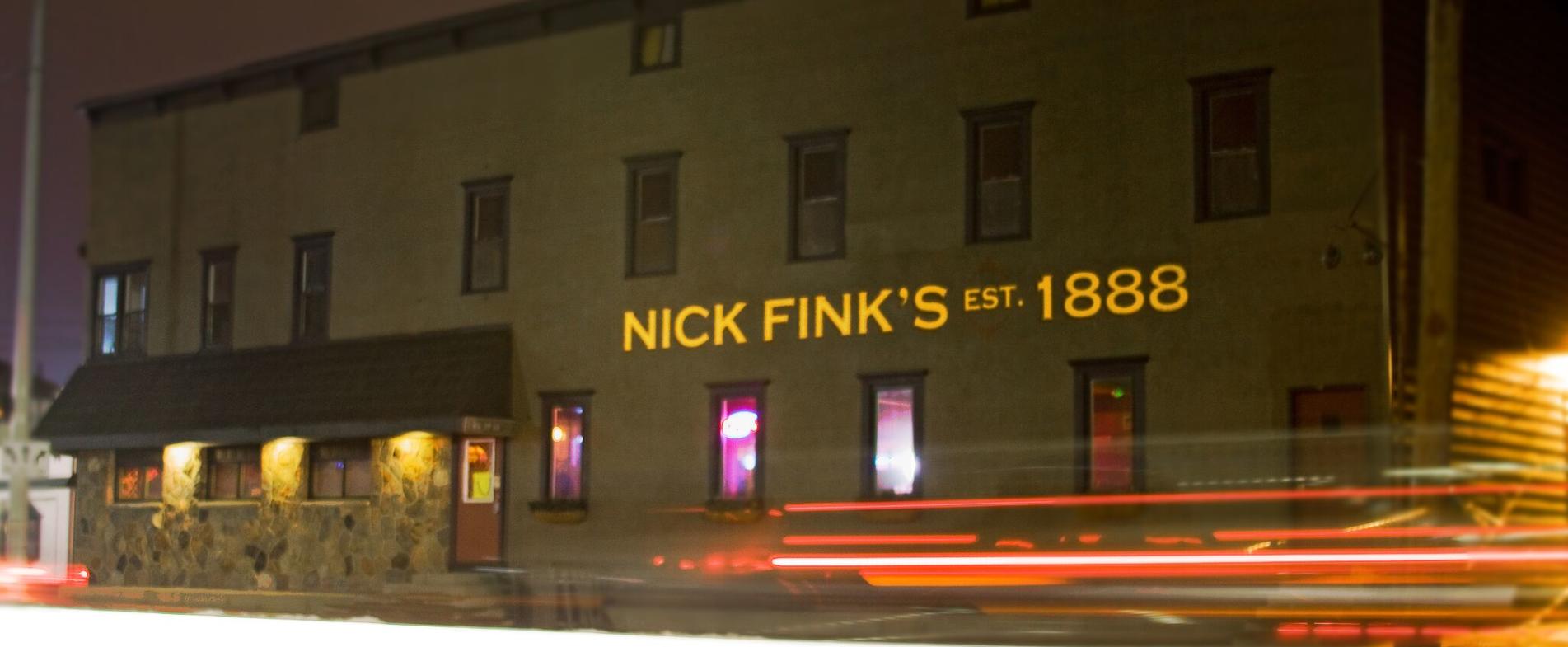 Whether you're looking for great live music or something a little more supernatural, you're sure to find it at the historical Nick Fink's.
Photo Credit: Nick Fink's
Nick Fink's
Take in some history as well as live music at Grand Rapids' oldest bar, Nick Fink's. Since its beginnings in 1888, this building has held a bar, hotel, barber shop, post office, and supposedly a brothel. Now it is the go-to spot for a lively bar scene near Fifth Third Ballpark. This place is rumored to be haunted, so whether you come for the ghosts or the live music every Saturday night, you're sure to have a good time.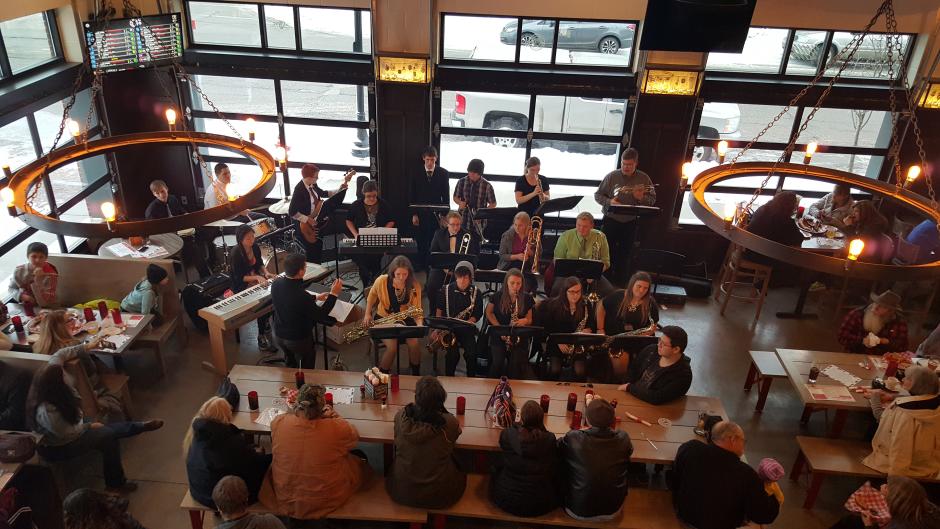 If you're looking for up-and-coming local music, it doesn't get more up-and-coming than the local high school jazz bands that often play at Cedar Springs Brewing Company tap room.
Photo Credit: Cedar Spring Brewing Company
---
Cedar Springs Brewing Company
If you're planning a Northeast Side beer tour, make a stop at Cedar Springs Brewing Company for the music as well. Beer City, USA Brewsaders® will enjoy one of the newer breweries around West Michigan focusing on traditional Bavarian styles. Brewsaders who love music will also enjoy that the brewery hosts live music every Wednesday evening and traditional music during Sunday brunch.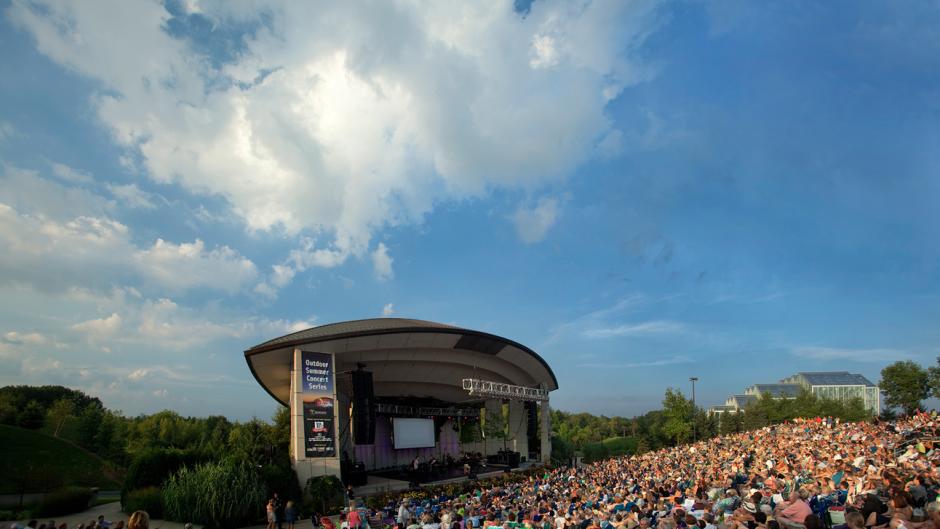 See your favorite popular artists or discover a new favorite at the Frederik Meijer Gardens and Sculpture Park Summer Concert Series.
Photo Credit: Experience Grand Rapids
---
Frederik Meijer Gardens and Sculpture Park
The legendary Frederik Meijer Gardens and Sculpture Park hosts an incredible lineup of music all summer long. Many popular artists have graced the Frederik Meijer Gardens stage, like Sheryl Crow and The Beach Boys. But the Summer Concert Series features smaller acts like New Orleans horn legend Trombone Shorty, Grammy Award-winning jazz and vocal prodigy Esperanza Spalding, reggae legend Ziggy Marley, old time folk/bluegrass group Old Crow Medicine Show, and many more. Whether the act you see is big or small, it will be a night you will remember.
Looking for more hot spots around town for live local music? Head over to the Experience Grand Rapids Live Music page for more information on the local music scene, venues in each neighborhood, and upcoming events.
Never miss a post!
Subscribe to the Insider Experience blog.