Grand Rapids has over 90 live music venues, many of which are hopping with events during our spectacularly warm summer months. To help you discover what's happening, when, and where, in Grand Rapids' clubs, arenas, and outdoor spaces, Experience Grand Rapids presents the Grand Rapids Music Trail, a map and brochure that highlights the musical scene in West Michigan.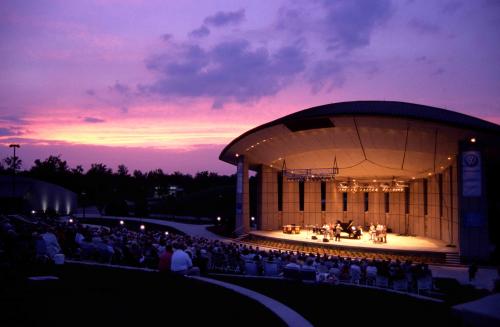 Photo Courtesy of Experience GR
While the 90+ listed venues include the big dogs, like Van Andel Arena and The Intersection in the Downtown Destination Neighborhood, every destination neighborhood has cool musical gigs: check out who's playing at Quinn and Tuite's Irish Pub in the North Quarter, Story Cafe on the West Side, and Mangiamo! in Uptown, just to name a few. Many of the venues have Facebook pages or websites with their most up-to-date live music list, dates, and times of concerts. Otherwise, call the venue directly for music event details.
In addition to including venues, the Music Trail Brochure also contains a comprehensive list of summer/seasonal events and West Michigan festivals that include live music. While some events are clearly music oriented (Festival of the Arts, GRand Jazz Festival, Cowpie Music Festival) others, like the Grand River Water Festival, and the Blandford Nature Center Harvest Festival are great reasons to gather and have the added bonus of live musical entertainment.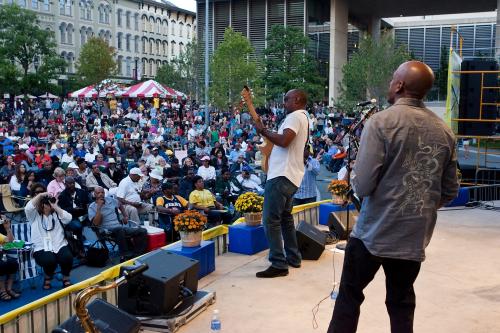 Photo Courtesy of Experience GR
In a serendipitous cross-promotion, WYCE 88.1 is now broadcasting GR Live, a live radio program hosted by Quinn Mathews. Audiences are invited to join Matthews at the B.O.B.'s House of Music and Entertainment (HOME) every Thursday at noon to see and talk to three unique acts across a variety of genres. Listeners learn about upcoming musical events and hear interviews with local music highlights. If you work in the downtown area, it would be a great lunch break and a refreshing way to enjoy a Thursday afternoon. "Music is a great addition to what Grand Rapids is already excellent at: food and beer," says Kate Herron, Community Development Director for Experience Grand Rapids. "You can always enjoy music while you enjoy both of those!"
Pick up a copy of the Grand Rapids Music Trail Map at the GoSite at the GRAM, many other local music venues, or from your own phone or computer using the downloadable and printable link. Take advantage of a harmonious summer schedule starting soon at venues all over West Michigan!