Sitting in the shade on a humid summer evening, Evan Wilson waited patiently for other riders to arrive.  The sunny parking lot was nearly empty, but Wilson, an officer with Grand Rapid's oldest bicycling club wasn't concerned. Mid-80's temperatures wouldn't keep members away.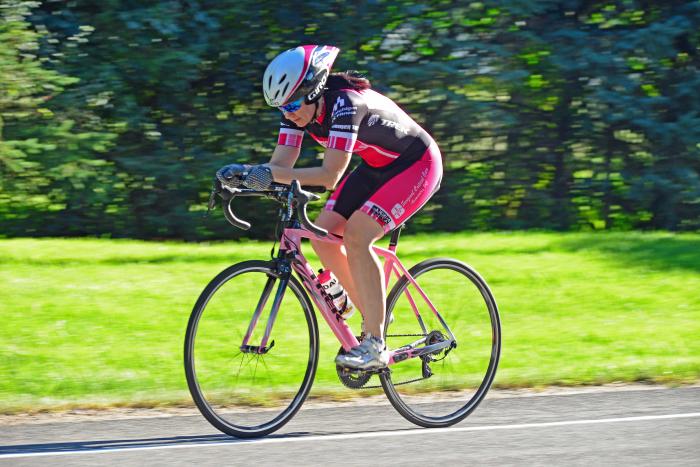 Performance cyclists enjoy Monday night time trials. Photo by Howard Meyerson
"We've had as many as 70 riders, but it's hot and I expect we'll get 30 out tonight," said Wilson, vice president for the Rapid Wheelmen, a local cycling group with about 200 members. Wilson had come to Ada's Buttrick Park for the Monday night time trial, a weekly club event where members ride 14 miles against the clock hoping to best past performances, train for triathlons, or find out how well they do.
Thirty minutes later the parking lot was nearly full. Sleek high-end bicycles, cruisers and even a recumbent were off-loaded from trucks and cars. Some of the riders milled about and socialized. Others rested or took short rides to warm their muscles. The atmosphere was friendly. There were young and old riders and those in-between, cancer survivors and families with children.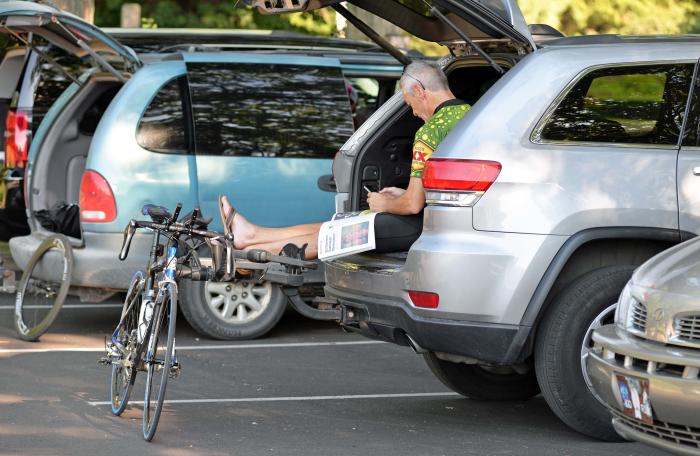 A cyclist rests before the time trials begin. Photo by Howard Meyerson.
"That guy is 70 years old and he's faster than I am," announced 60-year old Dave Durkee, pointing to a tall, slender rider. Durkee is the race team captain, the time trial coordinator and an optometrist by trade. He joined the club in 1980 seeking a group he could race with. Back then, "It was the only place in GR that you could race," Durkee said. "It was the preeminent racing club."
All walks of life
Rapid Wheelmen was formed in 1970 as a road cycling club, founded in an era long before mountain bikes became popular. The club members still road ride, according to Evan, but increasingly they have turned to other cycling pursuits like mountain or fat bikes that they ride off road.
"We have people from all walks of life," Wilson says. "We have people in their 60's and 70's who are regulars, or families who come out sometimes on a tandem or have a tag-a-long with a 5-year-kid. We have categories for juniors, men, women, single speeds and tandems. People come and do it just because it's fun."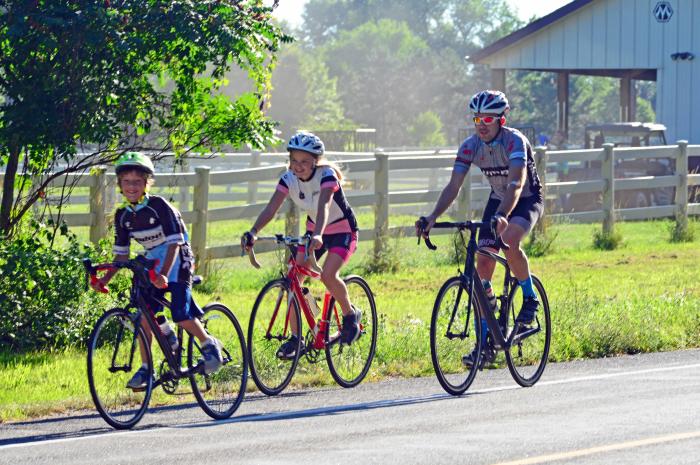 Families with children also come out for time trials and rides. Photo by Howard Meyerson.
The Rapid Wheelmen club maintains an active slate of group rides. Time trials are held every Monday from May to the end of August. The club's popular fall Colorburst is held in October. The charity event has drawn more than 800 cyclists to Kent County's colorful roads. In 2008 the event raised over $14,000 that was distributed to important organizations like Lowell High School's Students Against Destructive Decisions; the League of American Bicyclists; League of Michigan Bicyclists; the Kent County chapter of Mothers Against Drunk Driving; West Michigan Trails and Greenways Coalition; and The Motion Initiative.
Honoring their own
The Colorburst is one of several organized club rides that are open to the public. It was started in 1983 as a memorial to the late Donna Ryskamp, a Rapid Wheelmen member who was stuck by a drunk driver and killed while bicycling. Event founder and member, the late Craig Campbell, was later struck and killed by a drunk driver in 1987 while scouting that year's Colorburst route on a motorcycle. Today both members are remembered during the ride.
Club members come from all walks of life. Photo by Howard Meyerson. 
The club also hosts other large cycling events like the 145-mile Ride Around Kent County in May, The 100 Grand Bicycle Tour in June, A Summer Tour in July and The Maple Leaf in late August. More information about the club, its rides and membership can be found on its website.
"You don't have to be competitive to be a part of this club," Evan says. "We started as road cycling die-hards…and some of that has stuck with us. But cycling as a whole is such a broad audience now. We don't have mountain biking ride, but a lot of members are mountain bikers. If someone is looking for members they can go on a trail ride with, they can find them pretty quickly."