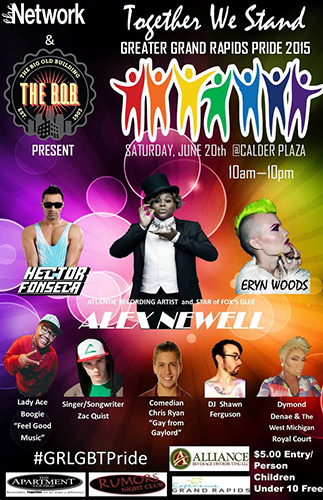 The 27th annual GR Pride, sponsored by The LGBT Network of West Michigan (The Network), is June 20 at Calder Plaza from noon to 10:00 p.m. And with activities ranging from a kids tent to headline entertainment including Alex Newell from FOX's TV show Glee, it has something for everyone.
"Pride is a celebration that visually represents the diversity and pride of the Grand Rapids LGBT community," Larry A. DeShane Jr., volunteer coordinator for Pride, said. Pride is also a fundraiser for The Network so we may continue to advocate for equality along with being a resource and safe space for our community.
The first Pride was held at Monroe Mall Amphitheater in June, 1988. The entire celebration was from 12:00-4:00 p.m. with approximately 500 people in attendance. Over the years, the event has evolved and grown to this year's expected attendance of over 10,000 people, more than 60 vendors, food vendors and a beer tent celebrating right in downtown Grand Rapids all for only a $5 entry fee.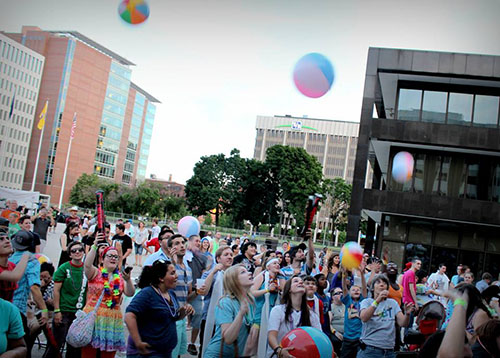 Pride 2014
Photo courtesy of Erica Tascott
"We are hosting Pride at Calder Plaza to allow visitors to be in the heart of the city and experience all Grand Rapids has to offer," Mike Hemmingsen, board president for The Network, said. "This year we also have a tween dance floor and a kids tent with arts, crafts and games from noon to 7:00 p.m. The tween dance floor will have a dedicated DJ just for them to make requests and enjoy the celebration too."
Hemmingsen said besides fundraising, a focus this year is informing the LGBT community and their allies about available resources and identify the LGBT supportive businesses. "We are proud to let the community as a whole know that we are not just in the community, but that we are a big part of it."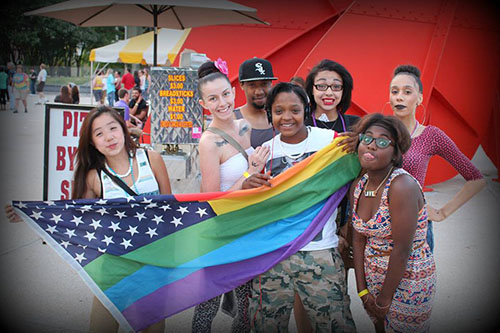 Pride 2014
Photo courtesy of Erica Tascott
The Network helps kick off Pride weekend with a White Party at the B.O.B. Friday, June 19 from 9:00 p.m.-2:00 a.m. night. Follow the official Pride 2015 Facebook page to get the latest updates on the event.
With a record number of attendees expected, additional volunteers and sponsors are welcome. Check out the volunteer opportunities and see how you can become a part of the festivities. Besides being a great cause, as DeShane said, Its one heck of a party!