New Year Resolutions are a great way to take a fresh look at what you want to accomplish. For me, this year will be about making the time to take advantage of the fun activities available right here in the Grand Rapids area! As my kids get older I realize how soon they will be out of the house. It's never too late to start new traditions, and in 2022 that's exactly what this family is going to do! Here are a few of the things on my list. Which events are you adding to your list?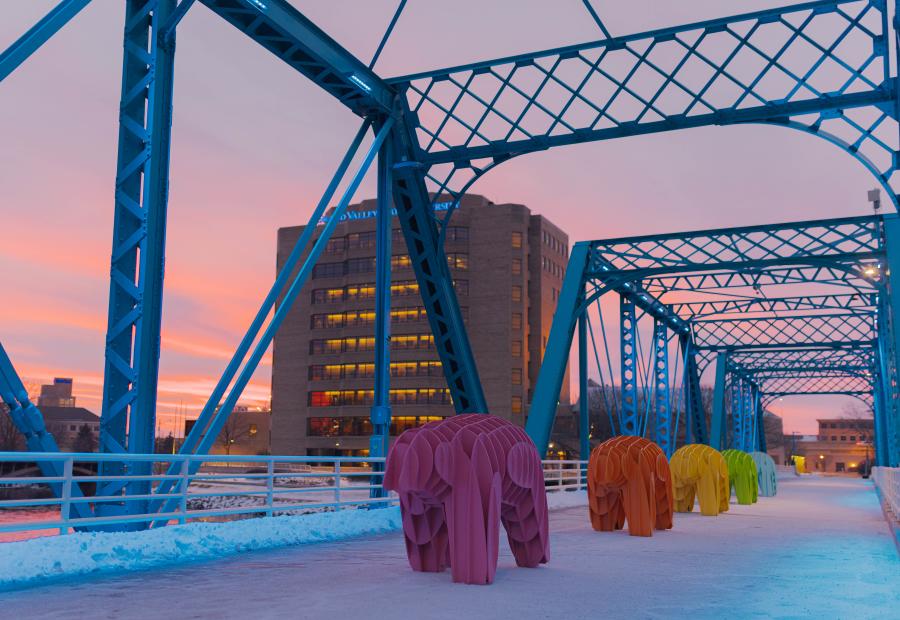 World of Winter is back, starting on January 7 and you don't want to miss it. Exhibits and events will change throughout the festival until it ends March 6. Photo of The Massimals by Scroggin Studios.
Photo by Massimals: Grand Rapids | Scroggin Studios
Winter
World of Winter
The World of Winter Festival returns January 7 – March 6 in downtown Grand Rapids. My friends and I are not missing the event this year. We'll walk around the giant art installations, take some pictures amidst the light maze, and see as many of the 50 ice sculptures during Valent-ICE as we can. What a great and safe way to enjoy the outdoors, art, and downtown Grand Rapids. 
Live Music
The Listening Room at Studio Park offers the intimacy of a small venue in the big city. I can't wait to visit again for a great night of music, food, and drinks. And for comedy lovers, this is a great spot to enjoy a night of improv and one-person shows. If you haven't been, keep an eye on their upcoming shows and make it happen.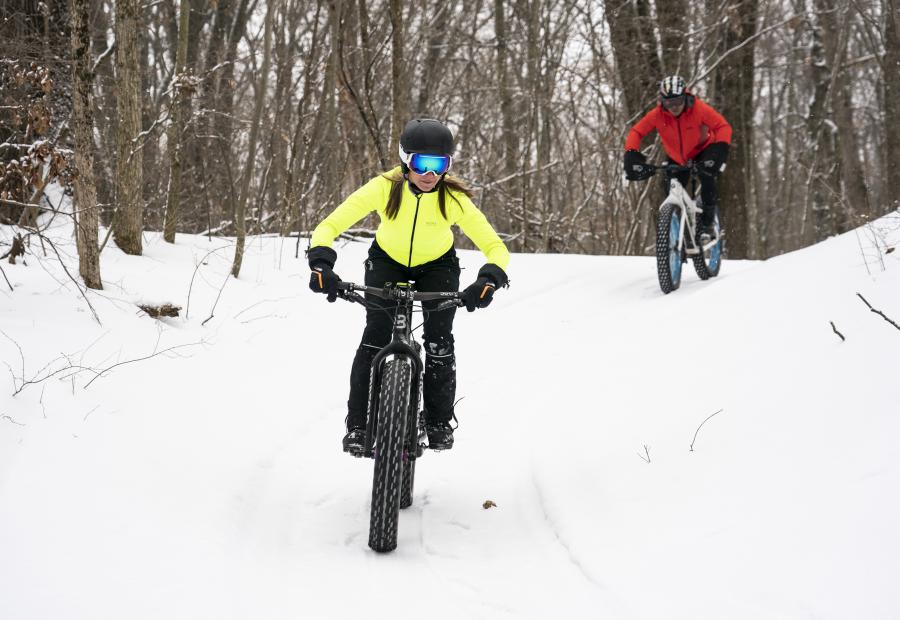 If you miss summer biking, "resolve" to give fat biking a try in the winter!
Photo by Experience Grand Rapids
Fat Tire Biking
I love riding my bike in the summer. And now, I also love riding my bike in the winter! You may have noticed fat-tire bikes around the city and wondered if they are as fun as they look. Well, they are. See for yourself and ride your fat tire bike at Cannonsburg this winter! Then you too can enjoy exploring local golf courses and trails that are bike-friendly in their off-season. 
Winter Beer Festival
The Winter Beer Festival has been on my list of "must-do" items for a couple of years now. And this February 26 I'm going to check that box. The 16th annual event takes place at LMCU Ballpark with hundreds of local beers, music, performers, ice sculptures and fire pits to warm you between toasts. There are also plenty of food vendors to help keep you going all day long.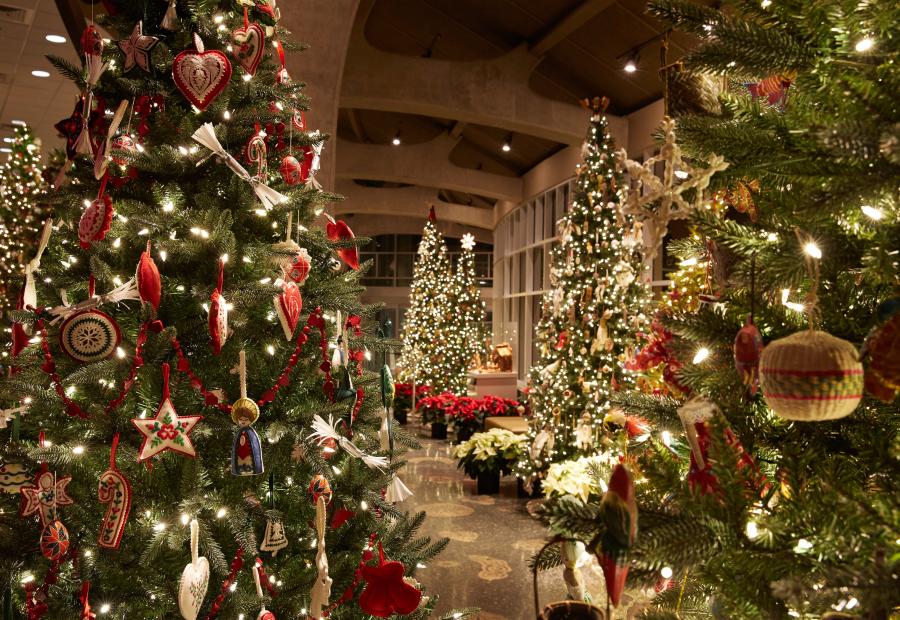 Experience cultures from around the world at Frederik Meijer Gardens from late November through early January.
Photo by Frederik Meijer Gardens & Sculpture Park
Frederik Meijer Gardens & Sculpture Park
Stop into Meijer Gardens to experience the annual University of Michigan Health-West Christmas and Holiday Traditions exhibit that runs from late November through early January. Over 45 trees and displays that represent countries from around the world get everyone in the holiday spirit. I really enjoy visiting the Gardens any time, and especially when it's cold. You'll find me warming up in the Lena Meijer Tropical Conservatory dreaming of spring break.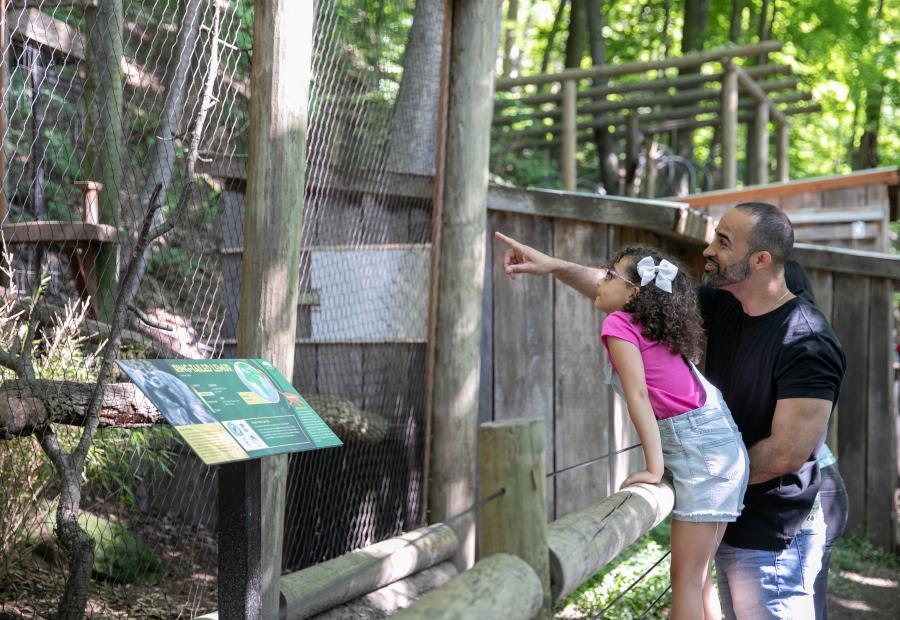 In my house, if it's springtime then it's also time for a visit to the John Ball Zoo!
Photo by Experience Grand Rapids
Spring
John Ball Zoo
Everyone loves spring, including the animals at John Ball Zoo. I love enjoying the spring air and watching all the warmer climate animals enjoy being outside again too. Watch for the zoo to open for spring the beginning of March. 
Grand Rapids Griffins
If you haven't been to a Grand Rapids Griffins game yet, this is the year to make that change. While it's always fun to watch the Griffs dominate on the ice, simply being in the stands can be a great time too. Be sure to check their promotional schedule and plan a trip that includes Princess Day or our family's personal favorite Heroes vs. Villains night. Don't forget $2 domestic drafts and $2 hot dogs from 6:00 – 8:00 p.m. during Friday home games.
Butterflies Are Blooming at Frederik Meijer Gardens & Sculpture Park 
A highlight for my family is the Meijer Gardens Butterflies Are Blooming exhibit. Being able to see so many butterflies in a tropical environment makes it seem like summer is around the corner. We love trying to see who can get a butterfly to land on them first. You can too when they return in March.
Train for Amway Riverbank Run
For over 40 years, the Amway River Bank Run has been a Grand Rapids tradition. I love running this race for the scenic course and enthusiastic spectators. While it might seem hard to believe, 15.5 miles just fly by. If you've ever considered doing this race, mark your calendar and make this your year to run.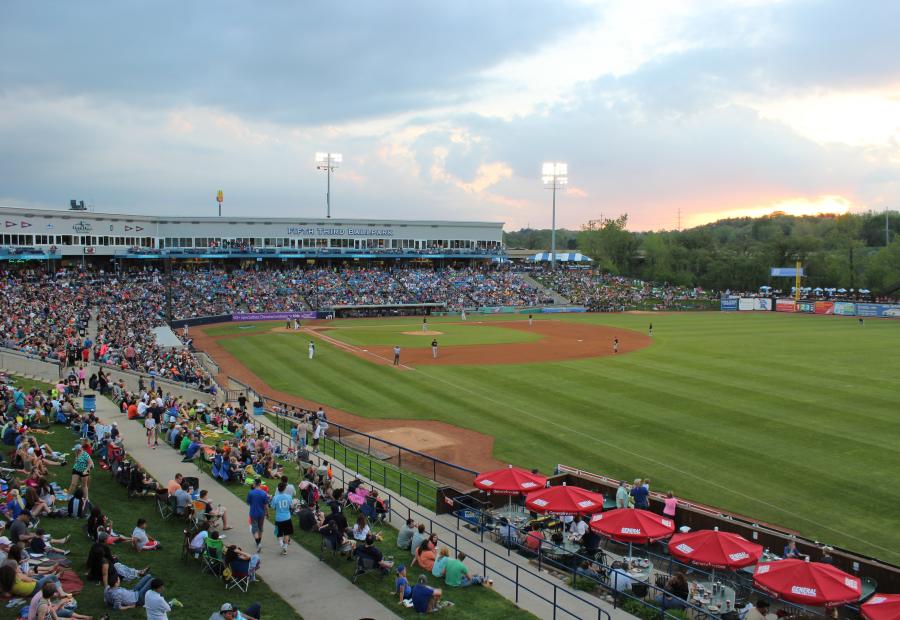 Celebrate the arrival of warmer weather with an outing to LMCU Ballpark to see the West Michigan Whitecaps.
Photo by West Michigan Whitecaps
Grand Rapids Whitecaps
As spring turns to summer, it's a great time to sit outside and enjoy a Whitecaps baseball game. Check out their promotion schedule and plan a game around whatever your family likes. Between fireworks, character nights, themed games, and more, they have all the bases covered. I'm not sure if my kids like the fireworks or all the fun food choices. Either way, they're happy and always look forward to a game!
Summer
Tree Runner Adventure Park
Another experience I'm eager to try is an afternoon of ropes course fun at TreeRunner Adventure Park. I love that they offer courses for everyone from 5-year-olds to those looking for more of a challenge. We might even venture there in the evening for some lighted climbing. You should too!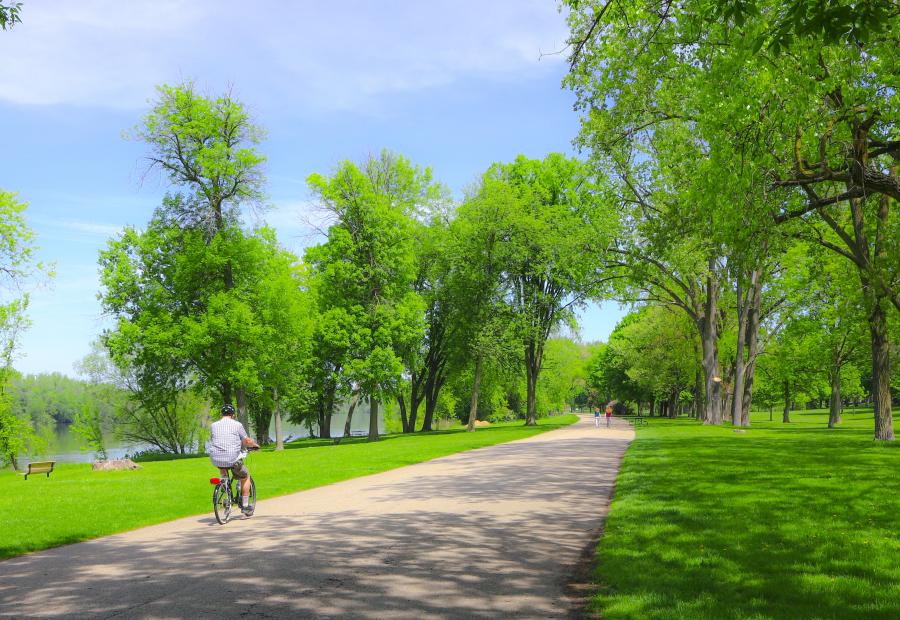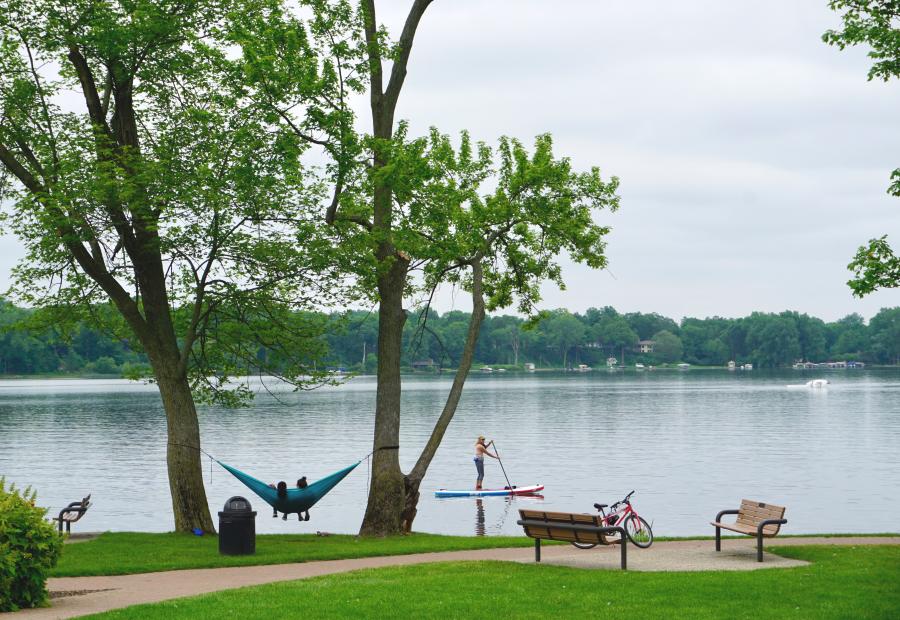 Grand Rapids area parks are a great and affordable way to enjoy a beautiful summer day.
Photo by Paul Jendrasiak for Experience Grand Rapids
Visit Local Parks
With over 120 parks in the Grand Rapids area, ticking them off a summer bucket list is fun and affordable. From swimming and biking at Millennium Park to enjoying woodsy trails, there is something for everyone. 
Cannonsburg Zip Line
The only downer about summer in our house is you can't ski. The zip line at Cannonsburg takes the sting out of no snow for us. We love flying down the zip for a scenic view under the tree canopy. Discover this ski property in a completely new light in the summer. 
Fireworks
Summer and fireworks go hand-in-hand. You can experience them at the end of a Whitecaps baseball game like my family loves to do or you head downtown for the fantastic Grand Rapids Fireworks during the Fourth of July weekend. Either way, it's always a blast.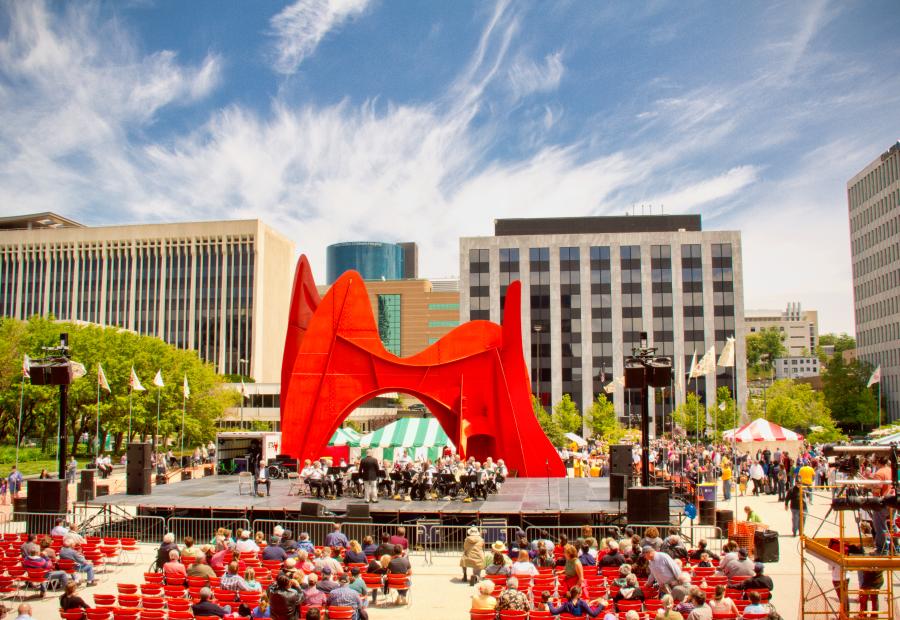 Festival of the Arts is a three-day celebration of art with performances, food trucks, games, and more.
Photo by Experience Grand Rapids
Festival of the Arts
For over 50 years the Grand Rapids Festival of the Arts has been a summer highlight for families, mine included. Kids love the activities and downtown scenery while the adults enjoy beverages and music during the summer staple that runs June 3 – 5, 2022. Save room for the phenomenal food trucks during this free, summer festival extravaganza.
Fall
5K Race
Fall is the perfect time to be outside and running or walking a 5K is a great way to do it! With so many fun races in and around Grand Rapids it's easy to decide upon one for a goal. On top of feeling great, I love gaining a new perspective of the city when I explore different paths and places. I also love the camaraderie of running with friends, new and old and rediscovering the city. Free t-shirts aren't bad either.
ArtPrize
ArtPrize, the radically open international competition, is so fun to explore with kids and/or adults. If you have early risers, take advantage and hit ArtPrize in the morning to beat some crowds. Insider tip: another bonus to an early visit is you might even meet some artists setting up for the day.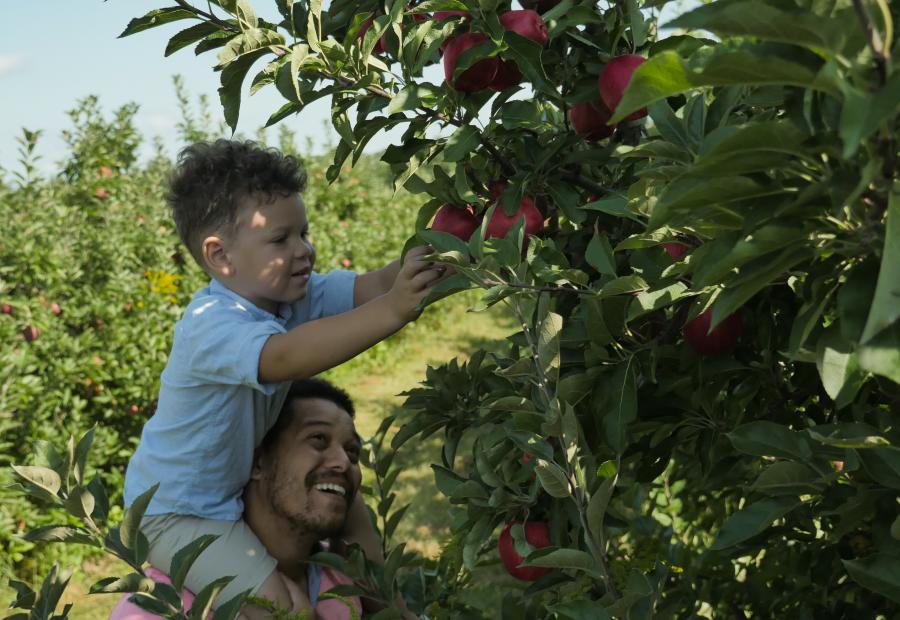 Locals and visitors alike flock to local orchards and farms to pick apples in the fall.
Photo by Experience Grand Rapids
Orchards and Farmers Markets
The Grand Rapids area is rich with a variety of fresh fruits and vegetables readily available. When the sunny and brisk fall days roll around, one of my favorite ways to spend them is grabbing some of those tasty treats for myself and my family at a local orchard. 
I love giving my kids a few dollars to grab something they've never tried before at a farmers market. And eating freshly picked apples on the way home from an orchard is the best. Enjoy the outdoors and fresh treats at one of these local locations.
Downtown Market
Restaurants, artisan food vendors, ice cream, and more await you at the Downtown Market. I'm looking forward to a no-plan Saturday to bring the kids here to experience food from around the world. Even if their favorite cuisine is always dessert based. It can still be a new experience! Walking around the market is a great way to spend some free time and make memories.
While New Year's Resolutions can seem daunting, I hope these will inspire you to try something new, get out on the town, and make this the best year yet! 
Header photo: "Hybycozo's" Installation by HYBYCOZO World of Winter, 2021