It's possible that no one in Grand Rapids knows more about vegan dining than Kolene Allen. She's a leading voice in the Grand Rapids vegan community and an all-around vegan guru. Allen is continually updating her 4,800+ Facebook fans on Vegan Grand Rapids about new finds (like Justin's peanut butter cups at Fresh Thyme).
"Vegan has a stigma with it," said Allen. "When restaurants put the word vegan next to a dish, it can turn people away."
With the addition of vegetarian and vegan options on more menus around town, Grand Rapids chefs are proving that their dishes don't need meat to make delicious and innovative meals. We sat down with Allen to get her recommendations on hidden gems across town that may not be your first thought when looking for vegan options.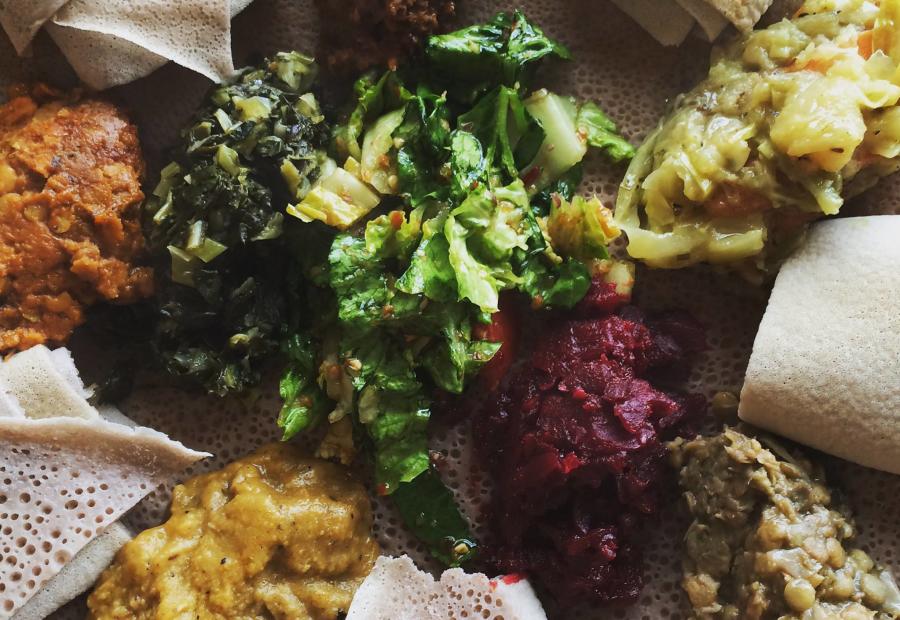 With so many great options at Little Africa Ethiopian Restaurant, you luckily don't have to choose just one!
Photo by Kolene Allen - Vegan Grand Rapids.
Little Africa Ethiopian Restaurant
Grand Rapids' only 100 percent vegan restaurant is a small cafe on Fulton Street called Little Africa Ethiopian Restaurant. If you're new to the cuisine, try the Shiro platter, made with chickpea flour sauce simmered with fresh onions, tomatoes, and minced garlic. All entrees are served with traditional injera, a spongy sourdough flatbread to soak up the tasty goodness. If you plan to go, bring cash – they don't accept credit card.
Chez Olga
One of Grand Rapids' most unique dining experiences, Chef Olga Benoit serves up Haitian Creole cuisine in one of the coolest buildings in town at Chez Olga. The menu offers four officially vegan dishes, but don't let that stop you. Allen noted that many of the non-vegan entrees can be made vegan by substituting tofu for meat, as many of the sauces are coconut milk based.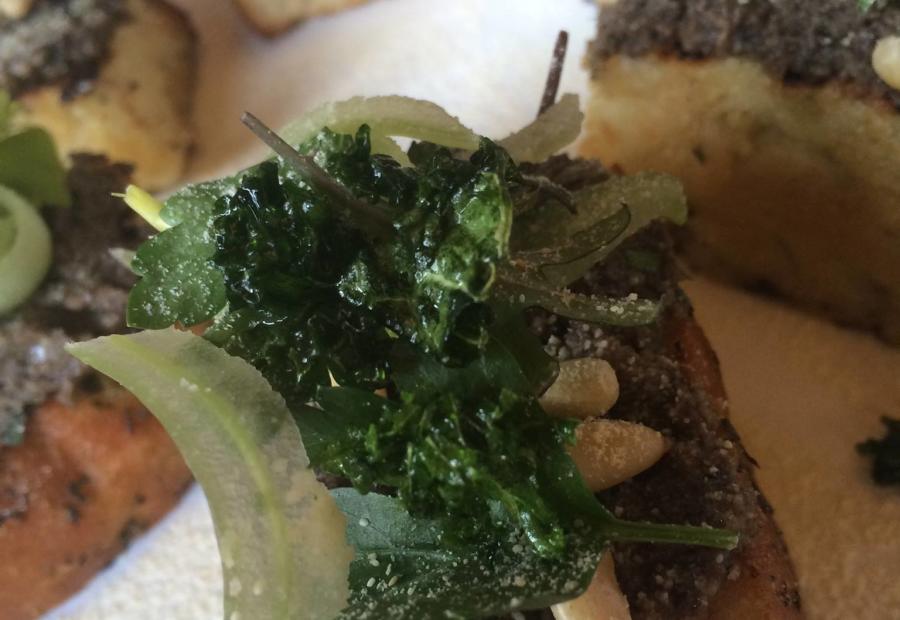 Don't forget to request a vegan menu when making your reservation at Grove.
Photo by Kolene Allen - Vegan Grand Rapids.
Grove
Grove is well-known for its fresh farm-to-table, seasonal menus. If you're looking for elevated vegan food (think date night) this is the spot. They have a separate vegan menu, which you can request when you reserve a table. Expect the usual, like salads and vegetable medleys, along with the surprising, like pickled cabbage with buffalo sauce. You can also order the Taste of Grove, a three-course option for $29.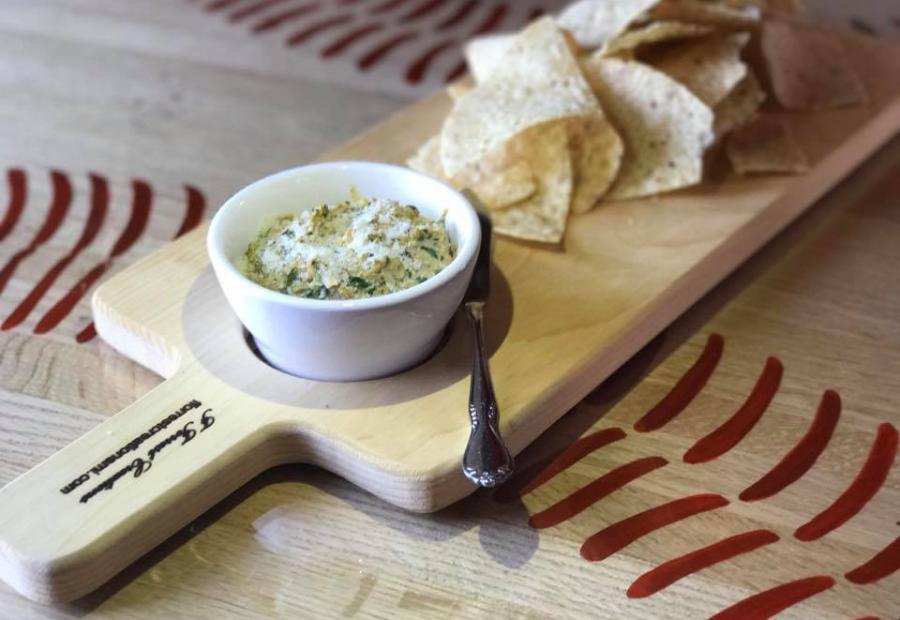 Pizza lovers rejoice! The Mitten Brewing Company is serving up pizza, appetizers, and more on its vegan menu.
Photo by Kolene Allen - Vegan Grand Rapids.
The Mitten Brewing Company
Pizza may not be the first thing you think of when you think vegan, but the Mitten Brewing Company has the market on vegan pizza in town. It's a great place to bring your carnivore friends, as you both can happily partake in pizza goodness. All pizzas on the menu can be made vegan, as they use jackfruit, soy chicken, and non-dairy cheese as substitutions. Plus, they have vegan artichoke dip (made with cashews), vegan beer cheese, and for dessert, vegan ice cream from Love's Ice Cream.
SpeakEZ Lounge
If you're looking for vegan brunch options, head to the SpeakEZ Lounge. You can substitute seasoned tofu for any of the egg dishes, and it also features jackfruit Thai-peanut sauce sliders that are even meat-eater approved. Allen recommends the One Night in Bangkok (roasted potatoes, mushrooms, cauliflower, and peas sauteed in a sweet Thai chili sauce with either scrambled tofu or seasoned jackfruit) or the vegan Chicharito burrito (a flour tortilla spread with house-made black bean hummus, filled with veggies and tofu/jackfruit, and topped with salsa).
Although these are just a few great vegan options that are off-the-beaten path, it's important to note that there are many other popular restaurants in town that are loved and heavily frequented for their animal-free dishes. Check out these restaurants and their menus for more vegan goodness: Harmony Hall, Creston Brewery, and San Chez Bistro.
Which of these have you tried? Did we miss your favorite? Let us know in the comments section!