We know that when traveling or visiting a destination, sharing photos of experiences with friends and family is a huge part of that trip. These experiences are best shared through photos or video and sometimes in the form of a selfie. People want to capture a moment in time to share, and here in Grand Rapids, we are making it easier than ever to find the most "iconic" shot to share with all of your people. 
Introducing GR Selfie Spots.
Three locations throughout downtown have been identified as a great place to take an iconic GR selfie. These locations are Calder Plaza, the Blue Bridge, and Ah-Nab-Awen Park looking east.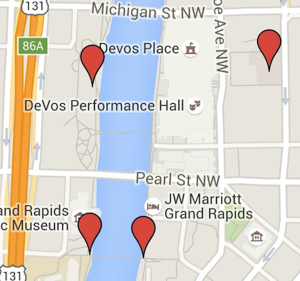 Look for the designated sticker on the ground at each of these locations to snap your perfect selfie - or - just a great photo in general. 
If you're on Snapchat, make sure to swipe for the geo-specific filter to use on your photo!
On all social channels, make sure to tag #ExperienceGR and #GRSelfieSpot so we can round up all your great photos!
Happy snapping! 
Update:
We now have a NEW Selfie Spot location at the Downtown Market!