Grand Rapids is proud to sing, "we are family" with sister city Perugia, Italy. The "Cittă Gemelle" relationship established in 1993, made Perugia the third of Grand Rapids' five sister cities.
Dwight Eisenhower founded Sister Cites International in 1956 after World War II as a way to increase bonds between people in cities around the world. Sister city relationships are cooperative relationships through which cultural, educational, business, and technical exchanges take place. When cities are looking for a sister city, they typically look for commonalities.
"When Grand Rapids initiated the Sister City program locally, their goal was to say 'welcome' to the world, come visit us, work and play with us and share in both the goodwill and economic vitality of a globally centered city and region," said Leonardo Tombelli, chair of the Perugia committee who has been involved with the program for 19 years.  
Tombelli stated the relationship between Grand Rapids and Perugia realizes many of these goals through the variety of cultural, economic and academic programs resulting from this relationship.
One of the newest cultural connections made possible through the program is the reciprocal student exchanges between Perugia's La Maggiore Music Academy and St. Cecilia Music Center.
In June of 2015, three Grand Rapids high school students traveled to Perugia for the first half of a 10-day musical exchange with La Maggiore music academy.  The Perugia Committee facilitated the exchange with the two institutions thru their education directors, including Martha Cudlipp of St. Cecelia Music Center.
The three students, accomplished professionals on piano, violin, and cello, and their parents stayed in the homes of La Maggiore music student's families. Tombelli stated this type of in-depth experience allows the students to experience the culture, customs, and hospitality of Perugia and their families.
"We are looking forward to hosting students from Perugia to Grand Rapids, their families, and the La Maggiore music director in Grand Rapids in 2016," Tombelli said.
The partnership also benefits college students in both Grand Rapids and Perugia. The Grand Valley State University-Perugia Committee Annual Scholarship is awarded to a visiting University of Perugia students enrolled through the GVSU Political Science Department. Meanwhile, the Angela Ryan/UNISTRA Scholarships, founded by the Perugia Committee and the Universită per Stranieri in Perugia, awards two scholarships annually to Grand Rapids area college students enabling students to spend one month studying the Italian language and culture. The scholarships consist of a cash award to assist with airfare and living expenses and one month of tuition at the Universită, world famous for teaching Italian language and culture.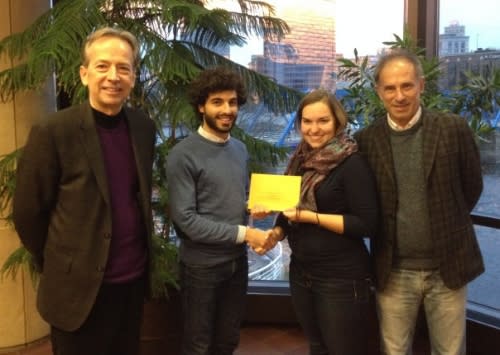 Pasquale Marzano receiving the 2014 GVSU-Perugia Committee Annual Scholarship
Photo courtesy of the Perugia Committee  
"Recipients of the scholarship have described the experience as 'life-changing'," Tombelli said. "Since its inception, it has offered over 40 students the opportunity not only to immerse themselves in Italian language, history, and daily life but also to travel in Italy and make friends with other students from around the world."
Lastly, the city of Perugia invites its Sister Cities from around the world to participate in an annual market devoted to the promotion and sale of products from their respective areas. Volunteers staff a booth at the market located in the historic center of Perugia where over 50,000 visitors from Perugia and many European cities attend. Products offered for sale include dried fruits and nuts from the Ferris Coffee and Nut Company and buttery caramel corn, a special favorite of Italian customers, from Savory Foods. Sandmann's Barbecue has established a name for itself with its barbecued pork ribs. In addition to displaying these local products, the Market offers an exceptional opportunity to interface with people from many other countries and to promote the industries of Grand Rapids and the city as a tourist destination.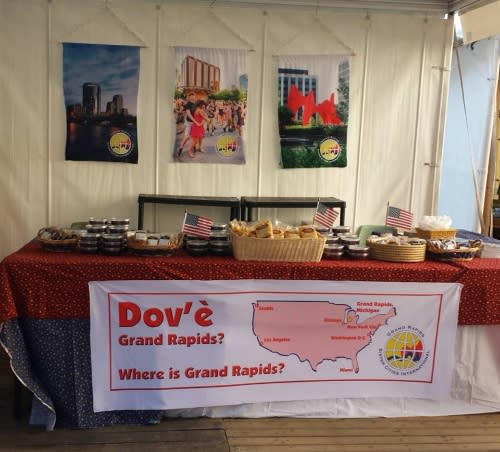 Grand Rapids booth at the Fieri Dei Morti Market
Photo courtesy of the Perugia Committee
You can get a taste for all five Sister Cities at the Frederik Meijer Gardens Railway Garden exhibition. This unique horticultural display incorporates garden design, miniature buildings made from natural materials, and model trolleys and trains. Visitors will be able to see landmarks selected by Sister City Committee Members from all five cities the Palazzo Dei Priori, from Perugia, Italy; Chomeiji Temple, from Omihachiman, Japan and more. The JW Marriott Grand Rapids also pays homage to Perugia and the other four sister cities in the hotel by displaying photographs that capture the essence of each city's culture. Commissioned by the JW, photographer Dan Watts spent weeks photographing in each city. Thousands of images later, the JW is home to a truly remarkable and insightful collection. Select photographs are on permanent display in both the public and private areas of the hotel.
This past summer, Chef Angus Campbell from the Secchia Institute of Culinary Arts at Grand Rapids Community College was able to visit Perugia to explore the wonderful flavors their city has to offer!
Contact the Perugia Sister City Committee to learn how you can take advantage of the opportunities the Sister City program offers.