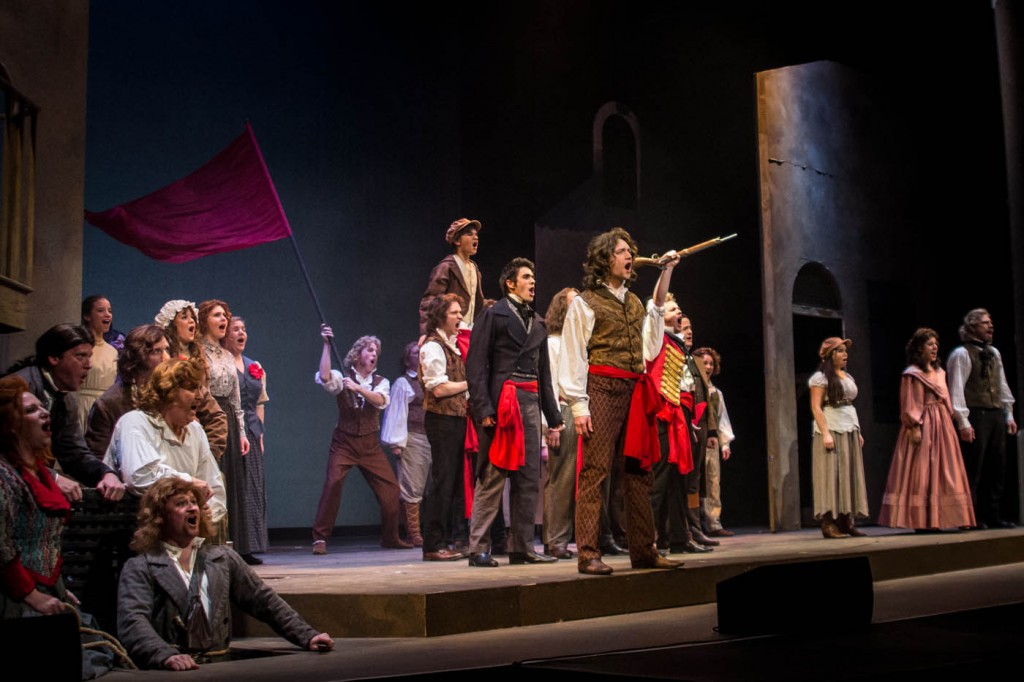 Photo courtesy Studio3Twenty
While the weather forecast might not indicate spring is on the way, luckily the Grand Rapids arts scene goes by the calendar and new shows, exhibits and experiences are popping up like tulips.
Kicking off spring theater in Grand Rapids is the new Grand Rapids Civic Theatre production of Les Misrables.
"We were the first community theater in the nation to receive the announcement that the play was available for production," said Nancy Bozek, Director of Development and Community Relations for Grand Rapids Civic Theatre. "I'm excited for the community to experience this powerful performance. All I can say is WOW!"
The show runs February 28-March 30.
A great production to introduce theater to the younger crowd is Junie B. Jones: Jingle Bells & Batman Smells based upon the popular children's book of the same name, which takes the stage April 18-27.
"10-11 year old students from our School of Theatre Arts make up the majority of the cast," Penny Notter, Associate Director for Grand Rapids Civic Theatre said. "Many of the lines are straight from the book. Whether or not you are familiar with Junie B. Jones, you wont be disappointed. I found myself laughing out loud just from the script!"
Coming to the Civic Theatre May 30-June 15 will be 9 to 5: The Musical, bringing the 80s hit movie along with songs such as 9 to 5 and Backwoods Barbie to life.
For more information on all productions visit www.grct.org
An experience the Grand Rapids community looks forward to is the annual Butterflies Are Blooming exhibit running March 1-April 30 at Frederik Meijer Gardens & Sculpture Park. An up close and personal experience with tropical butterflies along with a nice shot of heat in the Tropical Conservatory will definitely be a treat after this winter.
"Something not everyone may not know about Meijer Gardens is we're open year round," Andrea Wolschleger, Public Relations Manager, Frederik Meijer Gardens & Sculpture Park, said. "The walkways are always clear and sculptures really tend to pop with the white snowy backgrounds."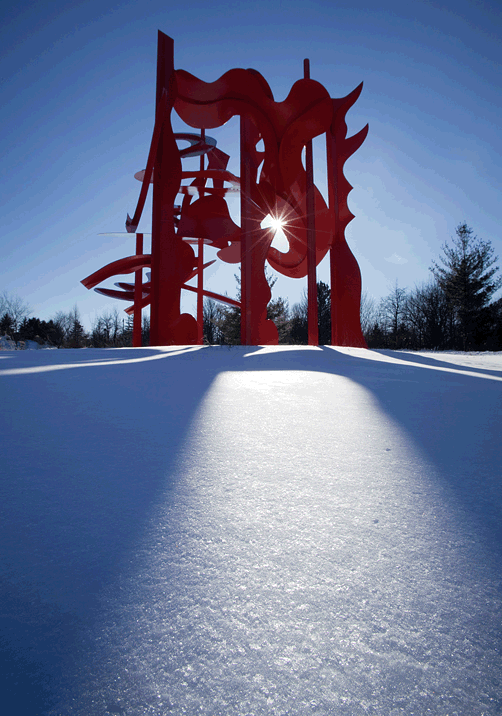 Photo by William J. Hebert.
The Spring Gardening Mini Series, held every Tuesday and Thursday March 25 through April 15, really helps you think spring. Classes include New Perennials for 2014, Lawn Problems? Solved! and Think Outside the Plot: Grow Food in Containers, to name a few. 
Information on all programs can be found at www.meijergardens.org/calendar
Another "butterfly" coming to the Grand Rapids area May 9 and 10 is the Opera Grand Rapids spring show Madama Butterfly.
"Sung in Italian, the opera includes English translations, making it easy for those new to opera as an art form to follow the story," said Sarah Mieras, Opera Grand Rapids Communication Manager. "There really isn't any reason to be afraid of opera. 'I find when I bring a new person to an opera, once they relax and allow themselves to be swept away by the music their fears melt away."
This classic opera is the inspiration for "Miss Saigon" as well as "Memoir of a Geisha" and is not to be missed.
"Spring is certainly an exciting time around the Grand Rapids Art Museum," Katie Zychowski, Communications Assistant for Grand Rapids Art Museum, said.
The Michigan Artist Series: Susan Goethel Campbell: Resisting Certainty lands at the Grand Rapids Art Museum March 6 - June 1. Campbell creates works that explore the intersection of nature and the engineered environment. Her prints, drawings and artist books have been included in numerous solo and group exhibitions throughout the United States and abroad. In Resisting Certainty, Campbell grows grass in discarded plastic containers, so the sod takes on the shape of the commercial packaging; her large floor installation of inverted sod reimagines the earths surface as if it were a patterned carpet.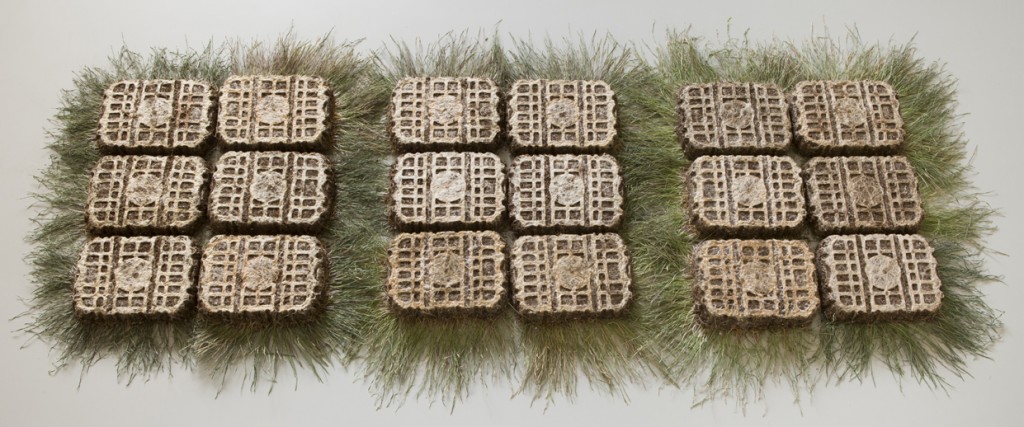 Susan Goethel Campbell
Coming May 18 - August 24 is Michigan Modern: Design That Shaped America. This exhibition celebrates Michigan's outstanding contributions to modern design, and highlights the people such as Albert Kahn, Eero Saarinen, and Minoru Yamasaki who made it happen.
The St. Cecilia Music Theater lives up to its name and welcomes jazz violinist Regina Carter March 20 and Ralston Bowles and Friends plus The Northern Skies April 3.
"We are excited to host Regina Carter as she promotes her new album Southern Comfort," Cathy Holbrook, Executive Director for St. Cecilia Music Center, said. "April 3 is the last installment of our Fresh Folk concert series. You won't want to miss this show!"
Outside downtown Grand Rapids, the Forest Hills Fine Arts Center presents The Finest of the Arts to celebrate their 10 year anniversary April 19. Over 40 musicians, dancers and singers from Forest Hills Public Schools will perform music from various bands who have headlined at the FHFAC throughout the years. Local favorite Mid-Life Crisis will also perform joined by Troll for Trout and Phil Biggs.
"We are thrilled to have our 10th Anniversary and are looking forward to a celebration that includes local talent, Mid-Life Crisis and our incredible students at FHPS," Meggan George, Manager for Forest Hills Fine Arts Center, said.
While Mother Nature may not bring us heat anytime soon, luckily our local arts scene is plenty hot with something for everyone. Check out all the events and think spring!