From enjoying an ice-cold cone with Mackinac Island Fudge ice cream to donning a sexy cocktail dress to kayaking a water trail, there's no shortage of summer events in Grand Rapids and the surrounding areas. Check out our suggestions for families, couples, beer lovers & foodies, and anyone who wants to dive in and truly experience Grand Rapids this summer.
Families

This 1,400-acre man-made park features paved nature trails, a sprawling playground, fishing, two sand volleyball courts, and a full size basketball court all without charge. For a nominal fee, you can also use their beach and splashpad or rent several types of boats (kayaks, paddleboards, canoes, row boats and paddleboards.) Fill a picnic basket with goodies and use one of the smaller open shelters (available on a first-come, first-serve basis) or reserve a larger picnic shelter for a fee.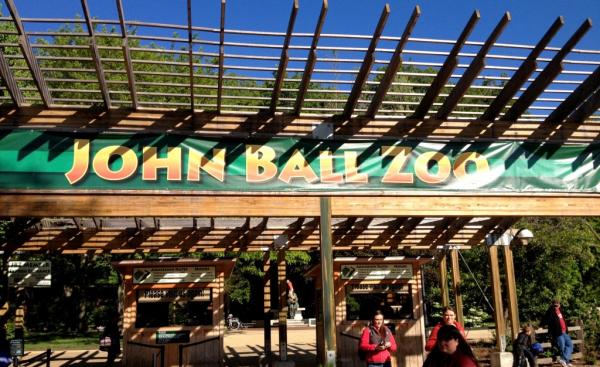 Zipline over a waterfall at the John Ball Zoo.
Summer is a great time to add a zipline ride to your John Ball Zoo visit. For $10, you can zip down over the waterfall, then take the second zipline back. While you're at the zoo, don't miss the super cool lions, tigers, and grizzly bear habitats in addition to all of the other exhibits. And for just $3 per person, be sure to take a ride on the funicular either on your way in or out of the zoo.
Savor a cone with Mackinac Island Fudge ice cream at Jersey Junction.
Grab a seat outside at this 53-year old East Grand Rapids' (EGR) ice cream parlor, opened in 1963 by the mother of Chris Van Allsburg, author and illustrator of "The Polar Express." But don't limit your EGR visit to Jersey Junction: take time to peruse the shops in Gaslight Village and stroll through Collins Park to enjoy beautiful Reeds Lake. If you didn't spoil your appetite with ice cream, enjoy a meal on the deck at Rose's restaurant (or start there and end at Jersey Junction).
If you have young kids or just want a short hike, hit the .3 mile trail at Caledonia Lakeside Park. If you want a bit more, head north and check out Long Lake Park, which features about .8 miles of scenic trails as well as a swim beach, picnic areas, playgrounds and a boat launch. For a much longer hike, visit beautiful, wooded Seidman Park. The outermost loop gives you about 4 miles of hiking but there are smaller loops and shortcuts if you change your mind! (The North Country Trail, which stretches almost 4600 miles from New York to North Dakota, runs through Lowell, MI. With 8 miles of trail, accessible from several points, it's another great local hiking option.)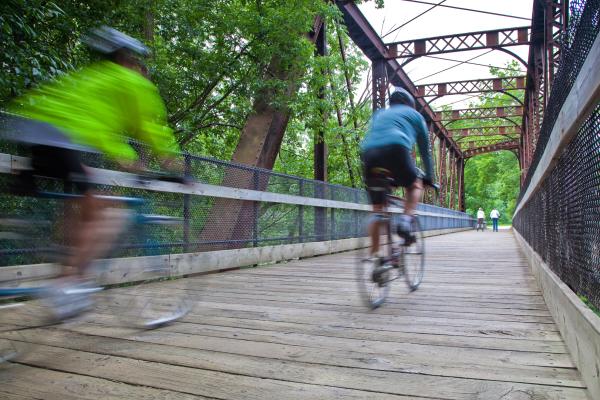 Hop on your bikes and take an easy 1/3-mile ride on the paved trail at Creekside Park. When you're ready for a little more, head on over to Johnson Park, which features a meandering multi-use trail that's about 1 ½ miles (it used to be a scenic drive but is now closed to vehicle traffic). And if you're ready to tackle a bigger ride, Millennium Park has 17 miles of interconnected trails—they also have lots of loops and intersections if you're not sure you want to go quite that long. The White Pine Trail is also a fantastic biking option.
Sports & Activity Junkies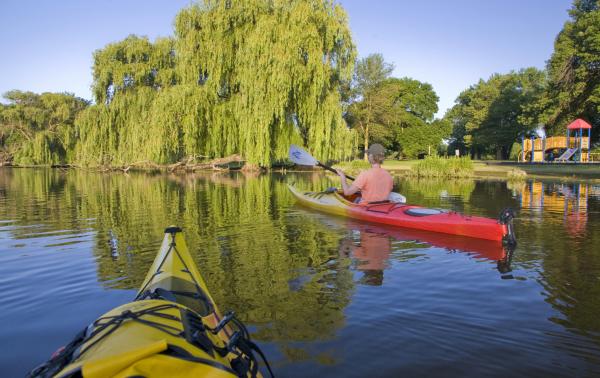 Put your paddle in at one of 18 access points, including Kent County's Johnson Park, and explore the trail's natural beauty and the many historic places of interest along the way. Nine distinct routes comprise the 41-mile water trail, which meanders slowly at about 3 miles per hour—perfect for a exploratory summer kayaking trip. Or, if you'd prefer a guided kayak or canoe experience, check out the trips offered by GRPaddling, which include experiences on 5 local rivers and 5 local lakes for both beginners and experienced paddlers. (For a totally cool experience, check out their Moonlight Paddle.)
Since 1965 golfers have birdied, bogied, and parred their way through this 18-hole public golf course designed by Bruce Mathews. With picturesque holes, fast greens, a creek on the property, and 3 sets of tees, it's a must-play course for golfers of all skill levels. If you're looking for additional greens to hit, Grand Rapids has plenty more public golf courses.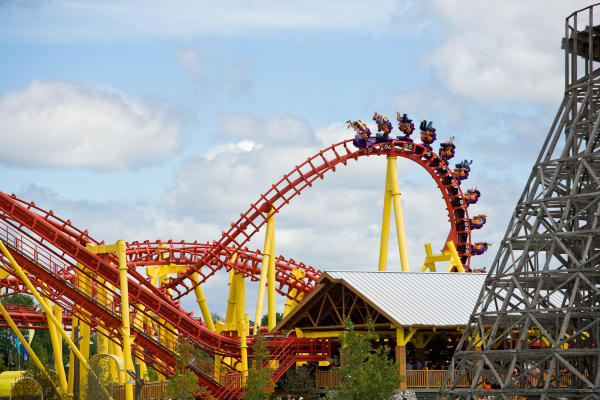 Brave the Shivering Timbers roller coaster at Michigan's Adventure.
Michigan's largest amusement and water park is located in Muskegon, less than an hour's drive from Grand Rapids. Its 250-acres are filled with all the usual amusement and water park fun including thrilling rides and deliciously cold slushies. In addition to the Shivering Timbers, thrill-seekers will want to ride the Thunderhawk and Wolverine Wildcat rides. Parents won't want to miss the Lakeside Beer Garden!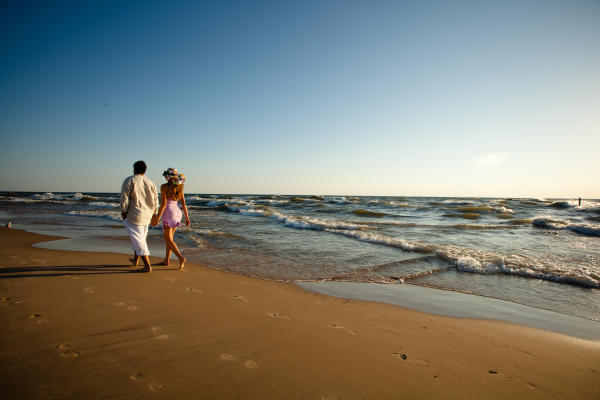 Revel in the great outdoors by the Big Lake.  
With South Haven, Saugatuck, Holland, Grand Haven, Muskegon, Whitehall, Silver Lake's sand dunes and campground, and Pentwater all within an hour or so from Grand Rapids, you've got lots of options for where to fish, boat, camp, and spend leisurely days in the sand this summer. If you're not camping, make an effort this summer to visit at least two Lake Michigan beaches you've never been to before and check out the local activities, shops, and restaurants.
Catch a Ball Game. 
Spending an evening with the West Michigan Whitecaps is like a throwback to simpler times. Families can reserve seats or lounge on blankets while they cheer on the hometown baseball team. Of course the ballpark serves peanuts, popcorn, and hot dogs, but they also offer a gluten free menu that includes BBQ pork or chicken. If the soccer pitch is more your thing, grab tickets for a Grand Rapids Football Club (GRFC) game at Houseman Field and cheer on West Michigan's nascent minor league soccer team.  You can also applaud the athletes at the Meijer State Games of Michigan events—and perhaps consider participating in the future. And from July 14 – 19, golf enthusiasts can catch the Meijer LPGA Classic at Blythefield Country Club.
Couples
Watch the sunset from the top of a sand dune.
Up the romance factor by taking your date to see the sunset from the top of a sand dune. The lakeshore has tons of parks to choose from: Tunnel Park in Holland and Meinert Park in Montague, are both good bets for an amazing view. If you prefer to romance your sweetheart by gazing at a cityscape, grab his or her hand and head to Look-Out Park in Grand Rapids.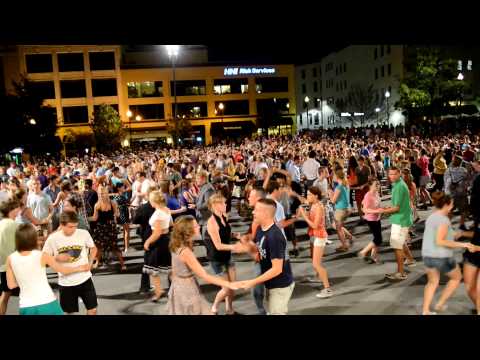 Swing dance at Rosa Parks or Ah-Nab-Awen Park.
Grab your dancing shoes and join the crowds of kids, couples and families swing dancing on Tuesday night from 7PM – 9:30PM. Some nights take place at Rosa Parks, some nights the dance is at Ah-Nab-Awen Park, and on a couple of evenings you can swing away at the Blue Bridge Dance.
On six different nights this summer, you and your sweetheart can relax and enjoy a movie outdoors at Ah-Nab-Awen Park. Pre-movie entertainment begins between 6PM-7PM and the movies begin at dusk. This year's scheduled flicks are:
June 3: Wizard of Oz
June 17: Men in Black
July 8: A League of Their Own
July 22: The Mask of Zorro
August 5: Edward Scissorhands
August 19: Double Feature: Voter's Choice & Ferris Beuller's Day Off
Movies in the Park is also a great event for families (if it's not too late for your kids).
Get an Up-Do and Fancy Dress (or Tuxedo).
Swanky and sexy, the black-tie Mad Men Cocktail Party on June 18 is great opportunity for some fun couple time. Dance the night away to steamy jazz music while you sip your favorite martini. (If you prefer not to don a tux, you can also wear "vintage 1960's sophistication.") Click here for tickets.; 21+ only.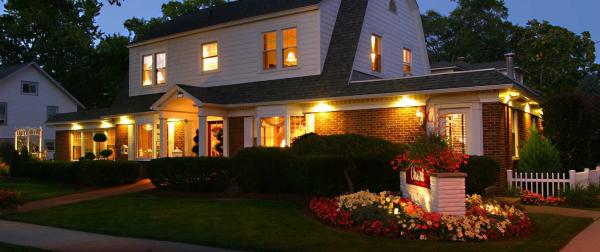 Book a Romantic Getaway Right Here in Grand Rapids.
Nothing says romance like a couples getaway. Clear your calendar for a night and head to one of beautifully themed rooms at the Prairieside Suites Luxury Bed & Breakfast, the JW Marriott, the Amway Grand Plaza, or your favorite local hotel or B&B.
Beer Lovers & Foodies
Join the revelry at Founders Fest.
This June 18 street-side celebration features Founder's beer, a variety of local food trucks, and an excellent lineup of musical acts. (3PM-11PM) The taplist at the event will include Founders favorites as well as a few surprise beers. Tickets are $30-$35 per person and include 2 beer/beverage tickets! For adults 21+ only.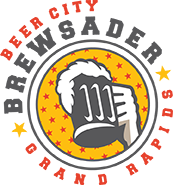 Get Beer City Passports and become Grand Rapids Brewsaders.
A great summer date often includes a great summer beer. Take your date to check out what the local breweries have on tap this summer and earn yourselves our exclusive Brewsaders t-shirts. Details here.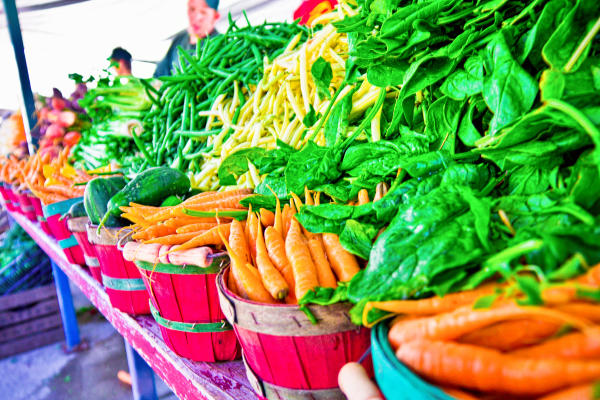 Get Fresh (Food) at the Farmer's Market.
Ripe tomatoes, fresh basil, corn on the cob…whatever farm fresh food you're craving, Grand Rapids and the surrounding towns have a Farmer's Market for you. The Downtown Market and Fulton Street Market are two of the biggies, but click here for a list of farmer's markets all around town. Spend a leisurely morning or afternoon at the market and then spend the evening cooking a farm-fresh dinner.
Eat, drink, and make merry at a Festival.
Love music, food booths, and dancing? Don't miss this year's Festival of the Arts, June 3-5, in downtown Grand Rapids. But don't think it's the only festival in town. Throughout the summer you can also check out the Greater Grand Rapids Pride Festival, June 17 – 19, Grand Haven Coast Guard Festival, July 29 – August 7, and GRandJazzFest, August 20-21.
Anyone
Segway tours include instructions (whew!) and allow you to experience the sights and sounds of downtown in a new way. You can rent a Segway for 30, 60 or 90 minutes ($50, $75, and $100 per person, respectively) and make your way around town, past the Calder, the 6th Street Dam, the Fish Ladder, and wherever your Segway takes you.
Raise a glass to the symphony on the ski hill.
Make summertime memories with friends and family at the Grand Rapids Symphony's Picnic Pops series at Cannonsburg Ski Hill. Bring your chairs, blanket and a picnic basket filled with goodies, then relax and toast warm weather in Michigan as the symphony's beautiful music fills the air. Jazz in the Park (at Ah Nab Awen) and concerts at the beautiful and acoustically-awesome outdoor venue at Meijer Gardens are worth a trip, too.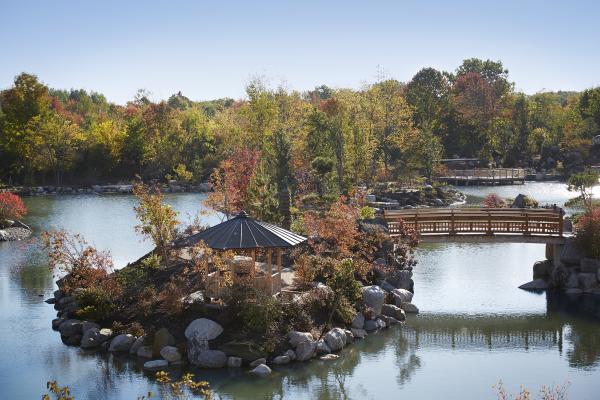 From the Lena Meijer Children's Garden to the American Horse to the Michigan's farm garden to the new 8-acre Japanese Garden, no summer in Grand Rapids is complete without a visit to this scenic horticulture and sculpture park. Spend a day—or more—delighting your senses as you walk around the myriad gardens and sculptures.
Twice a month from April through October, the Veen Observatory in Lowell is open to the public, as long as the skies are clear. On the second and fourth Saturdays of the month, for a nominal fee ($3 for Adults, $2 5-17 years, and free for kids 5 and under), you can tour the observatory and peek at the stars through their powerful telescopes.
Originally installed in 1977, the Motu Viget tire swing broke in 2013. Now it's back and better than before: the new cables were stress-tested at 30,000 pounds! Swing by and jump on the 12-ton structure—the tire swing itself is 7-feet wide. You'll find the behemoth on the lawn behind the Gerald R. Ford Federal Building, along Michigan Street between Monroe and Ottawa avenues, near Calder Plaza.