Summer festivals in West Michigan are the perfect way to enjoy your favorite things or discover something new. From June through September, Grand Rapids offers many affordable, family-friendly opportunities to celebrate art, music, food, drinks, and culture.
Grab your calendar and book some weekend festival fun: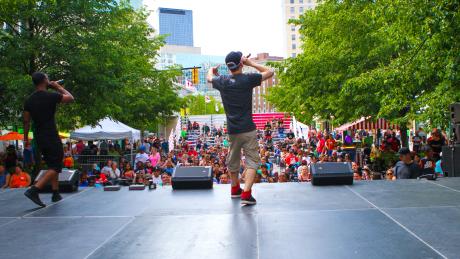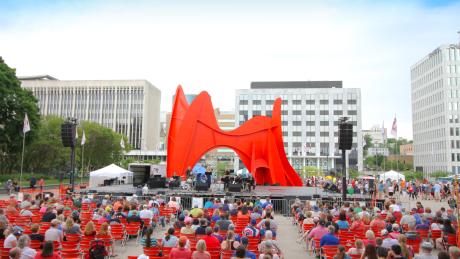 Find live performances throughout downtown Grand Rapids during the festival.
Photo Credit: Experience Grand Rapids
---
Festival of the Arts
Downtown Grand Rapids
June 7 – 9, 2019
Noon - 10 PM
Festival of the Arts celebrates five decades of Grand Rapids' culture this year with the 50th anniversary of the long-standing three-day festival. This free kick-off to summer celebrates all areas of the arts including dance, music, literature and media, visual arts, and design throughout most of downtown Grand Rapids.
With several stages of continuous performances, a large art exhibition featuring some of the best artists in West Michigan, and activities for children and adults to enjoy, there is truly something for everyone.
Three Fires Traditional Pow Wow
Riverside Park
June 8 - 9, 2019
1 PM - 9 PM
This year marks the 40th annual homecoming of the Three Fires Traditional Pow Wow at Riverside Park. This free, public event is a celebration of three prominent Native American tribes in West Michigan: Ojibwe, Ottawa, and Potawatomi.
Both days will feature Native American food, music, dance, crafts, and more. No alcohol or pets are allowed, but service dogs are welcome.
Dragon Dance Performance at Asian Pacific Festival in Grand Rapids
Photo Credit: Regina Grover for Experience Grand Rapids
---
Grand Rapids Asian-Pacific Festival
Rosa Parks Circle
June 14 - 16, 2019
10:30 AM - 10 PM
For the third year in a row, the free, family-friendly Grand Rapids Asian-Pacific Festival celebrates all things Asian-Pacific, including its food, drinks, and performances in Rosa Parks Circle.
Experience a variety of cultural performances - both traditional and modern, a fashion show, and food vendors serving dishes from many Asian countries. Children are sure to enjoy sidewalk drawing and paper dragon making along with the rest of the family!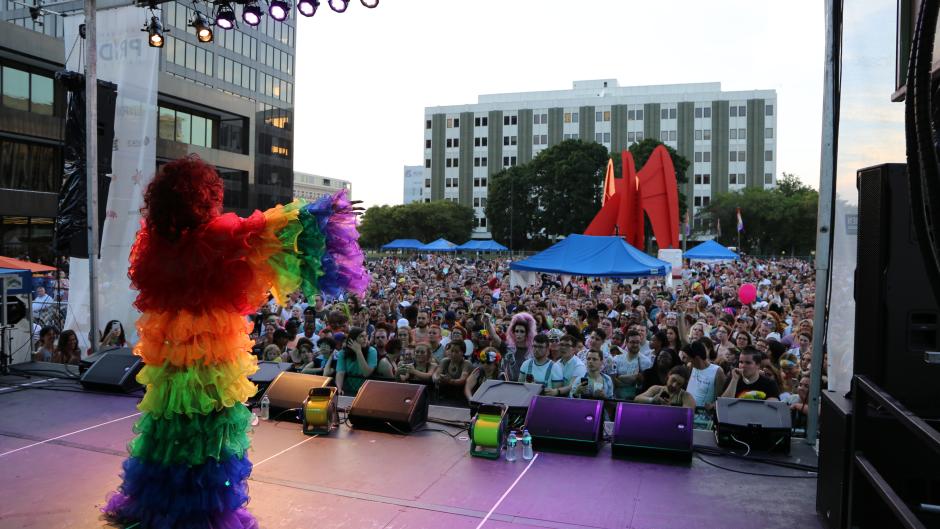 Grand Rapids Pride Festival's theme for 2019 is "Proud to Be."
Photo Credit: Pride Festival. Performer: Batty Davis, 2018. Photographer: Eric Zuniga
---
Grand Rapids Pride Festival
Calder Plaza
June 15, 2019
Noon - 10 PM
The Grand Rapids Pride Festival 2019 theme is "Proud to Be" and will highlight the diverse communities that make up the LGBTQ community. The Pride Festival takes place Saturday, June 15, at Calder Plaza from noon to 10 PM.
2019 promises to be the Pride Festival's biggest year yet, with activities for attendees of all ages. Guests can expect games, community programming, spectacular drag shows, and plenty of other entertainment!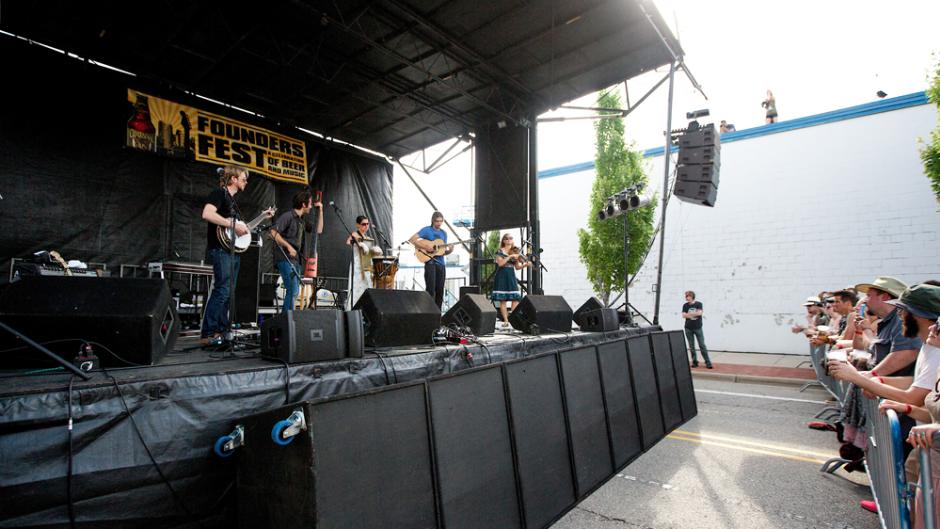 Band playing on stage during Founders Fest.
Photo Credit: Terry Johnston
---
Founders Fest 2019
Founders Brewing Company
June 22, 2019
3 - 11 PM
The 12th Annual Founders Fest is a must-attend event for craft beer enthusiasts and music lovers alike. The day will feature six musical acts, including Grammy Award-nominated Macy Gray, a variety of food vendors, and of course, Founders Brewing Company's beer.
Purchase your tickets in advance through the Facebook event page or at the door for this outdoor event. Must be 21 to attend.
Grand River Water Festival
Riverside Park
June 22-23, 2019
Noon - 9 PM
The 2019 Grand River Water Festival celebrates its 10th anniversary with a two-day festival, including a Grand Dragon Boat Race on Sunday in addition to a lineup of artists and speakers.
The free event is filled with fun, food, and music as well as education on environmental issues related to water quality. Bring your family and friends to Riverside Park to learn more about environmental organizations and how you can get involved and volunteer.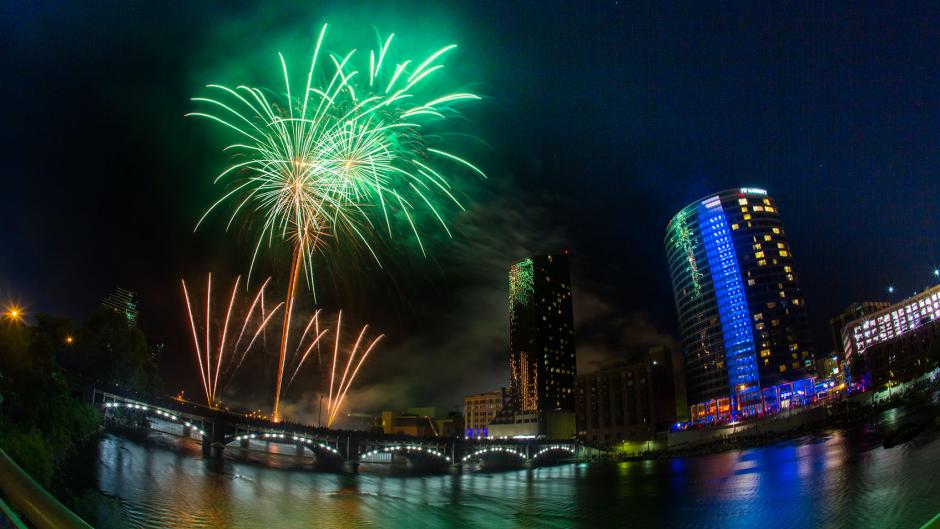 Celebrate Independence Day with the whole family at Ah-Nab-Awen Park during the Amway Family Fireworks.
Photo Credit: Experience Grand Rapids
---
Amway Family Fireworks
Ah-Nab-Awen Park
July 6, 2019
5 PM
The Amway Family Fireworks event kicks off at 5 PM on Saturday, July 6 at Ah-Nab-Awen Park near the Gerald R. Ford Presidential Museum in downtown Grand Rapids. Throughout the evening there will be family-fun activities, games, food, vendors, and live bands leading up to the main event at 10:30 PM.
If you have youngsters, be sure to visit the Amway Family Zone between 5 - 8 PM with fun stuff for the kids, including arts and crafts and yard games. Amway Family Fireworks is free and open to the public.
Picnic in the Park
Wilcox Park
July 18, 2019
4 - 9 PM
Picnic in the Park is a free, family-fun event that takes place on Thursday, July 18, from 4 to 9 PM at Wilcox Park in Grand Rapids. It features a hot air balloon walk, live music, food, kid-friendly activities, and more! Be sure to visit the event's website for updates on time and more information on the activities.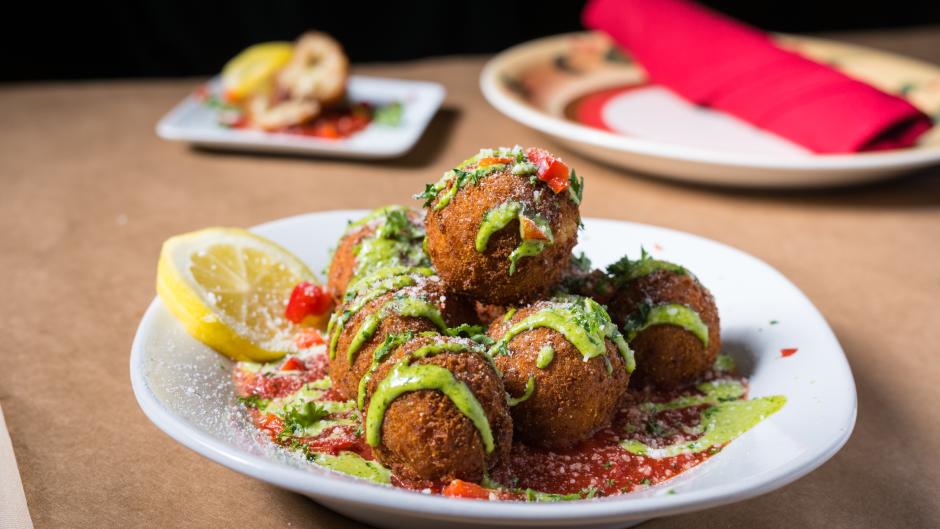 Restaurants like Amore create new, unique meal options specifically for Restaurant Week GR.
Photo Credit: Experience Grand Rapids
---
Restaurant Week GR
Grand Rapids
August 7- 18, 2019
Restaurant Week GR celebrates the incredible food scene in Grand Rapids, which was recently named Michigan's Best Food City by Thrillist. Over 70 local restaurants will feature special menu items just for Restaurant Week GR.
$1 from each Restaurant Week GR menu item sold will be donated to culinary students through an endowed scholarship fund at the Grand Rapids Community College Secchia Institute for Culinary Education.
Grand Rapids Hispanic Festival
Calder Plaza
August 9 – 11, 2019
The Grand Rapids Hispanic Festival is a free, three-day celebration of all the Hispanic cultures represented throughout West Michigan. The whole family can enjoy live entertainment, kid activities, dancing, food, and beverages.
The large Mercadito (market) at Calder Plaza will offer Hispanic food, clothing, and other items for guests.
A Glimpse of Africa
Rosa Parks Circle
August 10, 2019
The first-ever A Glimpse of Africa festival will feature fashion, art, food, dance, and music of Africa's diverse cultures and nations. Get ready to enjoy authentic food from countries included Ethiopia, Kenya, Cameroon, Eritrea and more, then dance the calories off with entertainment and interactive dances. The event is free to attend, and a portion of the proceeds will benefit the Refugee Education Center.
Grand Rapids Yassou! Greek Cultural Festival
Holy Trinity Greek Orthodox Church
August 16 – 18, 2019
Friday: 3 - 10 PM; Saturday: 11 AM - 10 PM; Sunday: Noon - 4 PM
The Grand Rapids Yassou! Greek Cultural Festival is a free, two-day celebration of Greek heritage with an assortment of authentic Greek food, drinks, shopping, and entertainment. There will also be live music and dancing for the entire family.
Come and enjoy all this festival has to offer Friday, August 16 from 3 ‑ 10 PM, Saturday, August 17 from 11 AM ‑ 10 PM and Sunday, August 28 from noon ‑ 4 PM at Holy Trinity Greek Orthodox Church.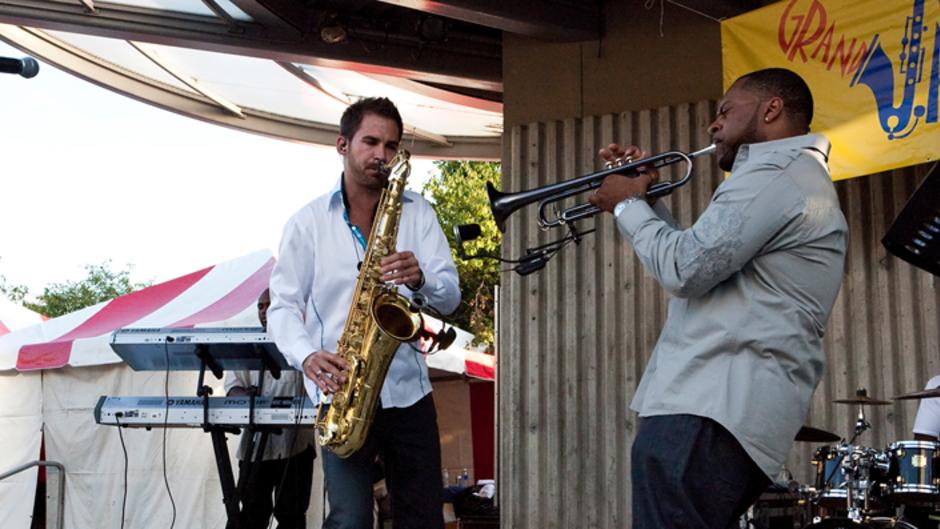 Enjoy plenty of performances during the eighth-annual Grand Rapids Jazz Fest at Rosa Parks Circle.
Photo Credit: Experience Grand Rapids
---
GRandJazzFest
Rosa Parks Circle
August 17 – 18, 2019
Saturday at Noon; Sunday 1 PM
GRandJazzFest returns to the heart of downtown Grand Rapids from August 17-18 at Rosa Parks Circle. As West Michigan's only free jazz festival, GRandJazzFes hosts up-and-coming performers along with headliners you know and love.
The eighth-annual event starts at noon on Saturday, August 17 and continues through 7 PM on Sunday, August 18. Grab your family, friends, some chairs, and enjoy!
Polish Festival
Rosa Parks Circle
August 23 – 25, 2019
The free, three-day Polish Festival returns for its 40th year in 2019 for a celebration of Polish culture. This includes cooking demonstrations, polkas, Polish dance, and more.
Children's activities are held on Saturday, August 24, and a Polish food and beer tent is open throughout the festival in Rosa Parks Circle.
Guest can expect to enjoy the spectacular food, large Polish marketplace, and of course, the local polish hall festivities.
Grand Valley American Indian Lodge Pow Wow
September 7-8, 2019
Riverside Park
The annual Grand Valley American Indian Lodge Pow Wow takes place at Riverside Park and showcases Native American music and dancing, food, crafts, and cultures.
All Native American organizations and tribal groups are invited to participate, as well as the general public. Craft booths open at 10 AM and close at dark on Saturday, and 4 PM on Sunday.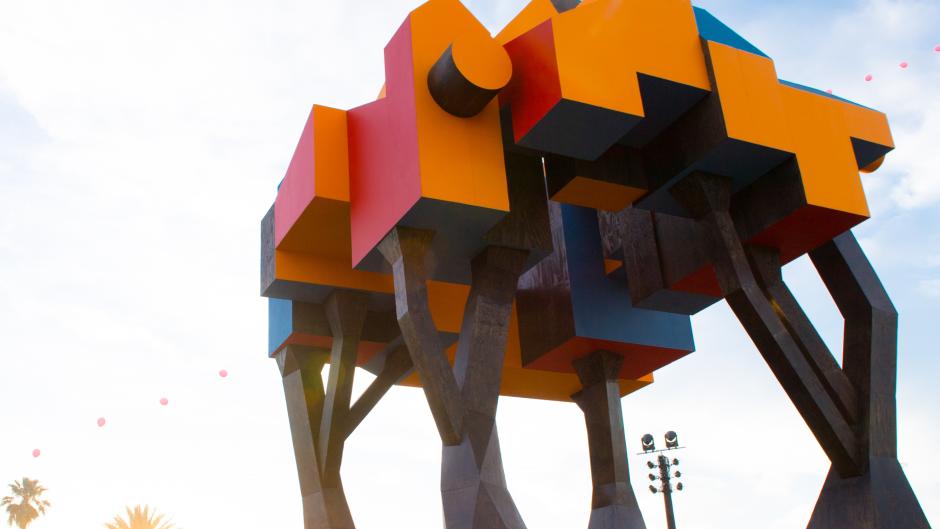 Olalekan Jeyifous is one of six artists creating large-scale works of art for Project 1. This is his piece, "Crown Ether."
Photo Credit: Andrew Jorgenson, courtesy of Olalekan Jeyifous
---
Project 1 by ArtPrize®
Grand Rapids
September 7 – October 27, 2019
Project 1 by ArtPrize will feature temporary public artworks by five international, national, and local artists installed in multiple outdoor sites throughout Grand Rapids.
The artists will create multifaceted installations, urban interventions, and community-oriented projects that will be installed throughout Grand Rapids. Making the event even more unique is that all exhibits explore the lines that unite and divide a city, and what it means to belong.
For seven weeks, special events, volunteer opportunities, educational programs, and performances will inspire and entertain all who visit Grand Rapids. For more information, visit the Project 1 page to stay up to date with all event announcements.
Mexican Heritage Association Fiesta Mexicana
Calder Plaza
September 13-15, 2019
Fiesta Mexicana is an annual free event in Calder Plaza that celebrates Mexican culture and heritage in West Michigan. The Mexican Heritage Association seeks to promote the wellbeing of Hispanic residents in the Metro Grand Rapids area and raise awareness about its music, art, culture, and history.
Stay tuned for more details about Fiesta Mexicana on the Mexican Heritage Association's Facebook page.
For a full listing of Grand Rapids activities check out the digital Visitors Guide for the whole family to peruse and plan.
Don't miss a post!
Sign-up for the Insider Experience blog.