From our blue skies, plentiful hiking and biking trails, and beautiful beaches, West Michigan's summer season begs us to embrace the outdoors.
Add outdoor music concerts to the list and you won't want summer in West Michigan to end. 
Here's a guide to a few of the many musical events happening in Grand Rapids' great outdoors this summer.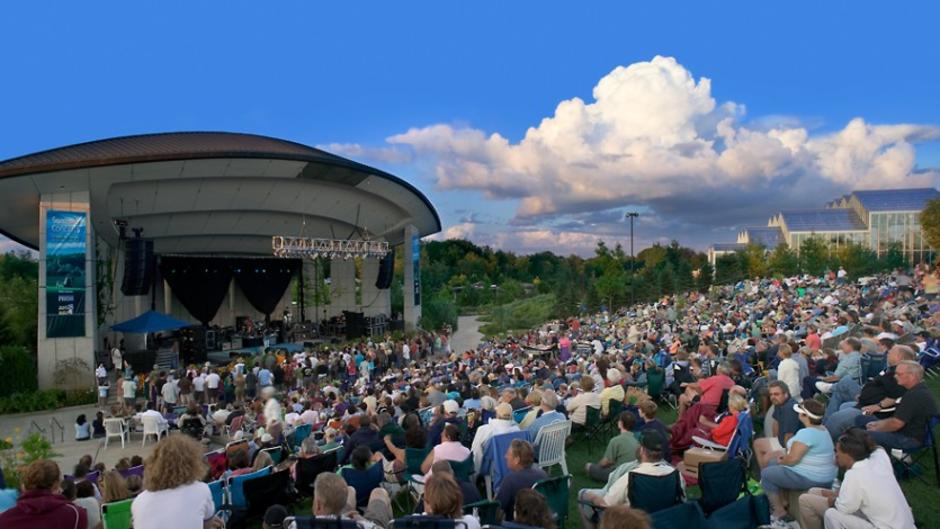 Insider Tip: Fifth Third Bank Summer Concert Series will be held rain or shine! Bring your ponchos and small umbrellas if there's a high probability of rain.
Photo Credit: William J. Hebert
---
Fifth Third Bank Summer Concerts at Meijer Gardens
Attending a concert at Frederik Meijer Gardens & Sculpture Park is like being invited to an intimate musical event in a setting so beautiful you could get married there. With a capacity of about 1,900, fantastic acoustics, and a terraced lawn, every seat is a good one. Not to mention, concertgoers can bring food and drinks into the venue (but, food and drinks are also available for purchase within the venue).
The lineup for Fifth Third Bank Summer Concert at Meijer Gardens is always spectacular and this year is no different. Tickets for this venue are hot and tend to sell out quickly, so order your tickets as soon as possible.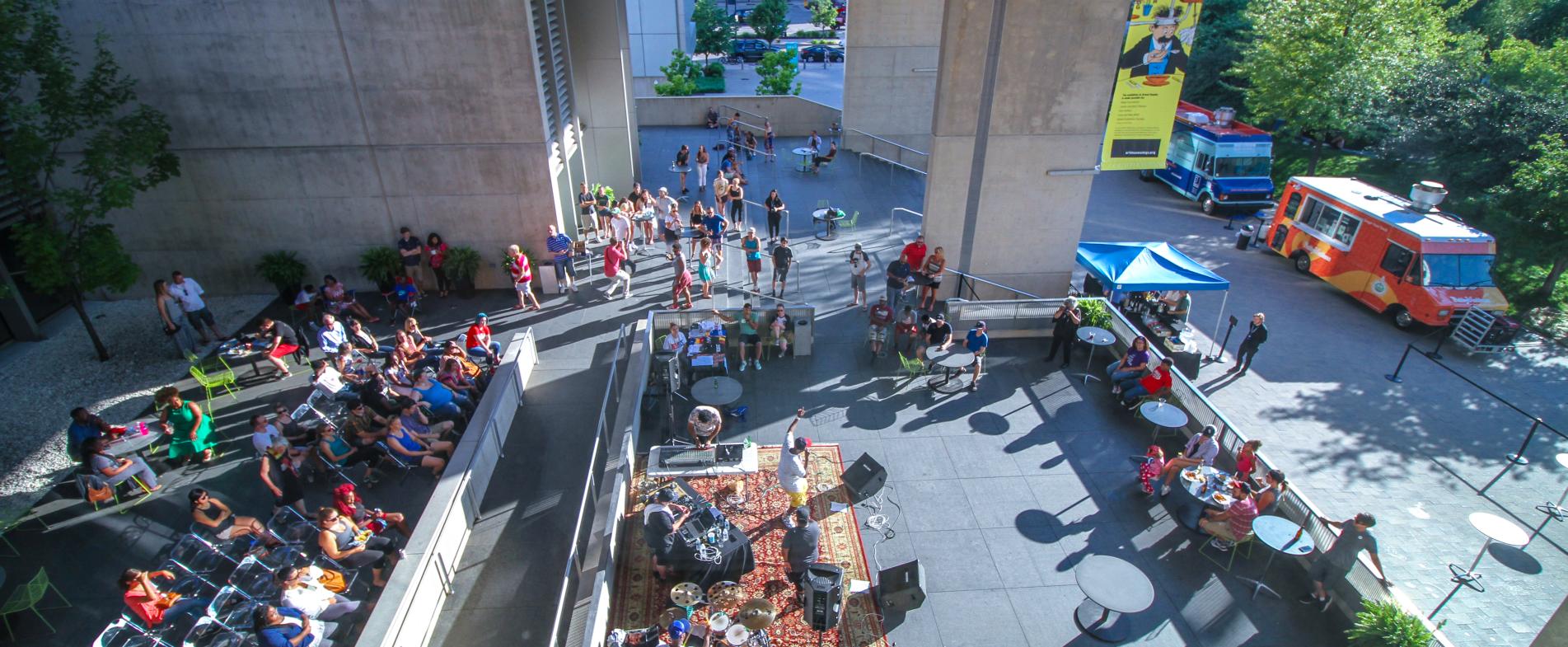 Located in the heart of Grand Rapids near Rosa Parks Circle, GRAM on the Green is held on the Grand Rapids Public Museum's Terrace.
Photo Credit: Experience Grand Rapids
GRAM on the Green
What could be better than a free outdoor concert on a beautiful summer night in Grand Rapids?
Grab your friends, family, or a date and head downtown to Grand Rapids Art Museum (GRAM), located adjacent to Rosa Parks Circle, and enjoy their ninth season of GRAM on the Green. Each of the six performances takes place on a Thursday night and features live music, dancing, food trucks and a cash bar. All performances are held on the Museum Terrace.
Better yet, the GRAM is open late for Meijer Free Thursday Nights! Enjoy the concert and then enjoy the art for a perfect summer evening.
The GRAM on the Green 2019 summer lineup will be announced soon.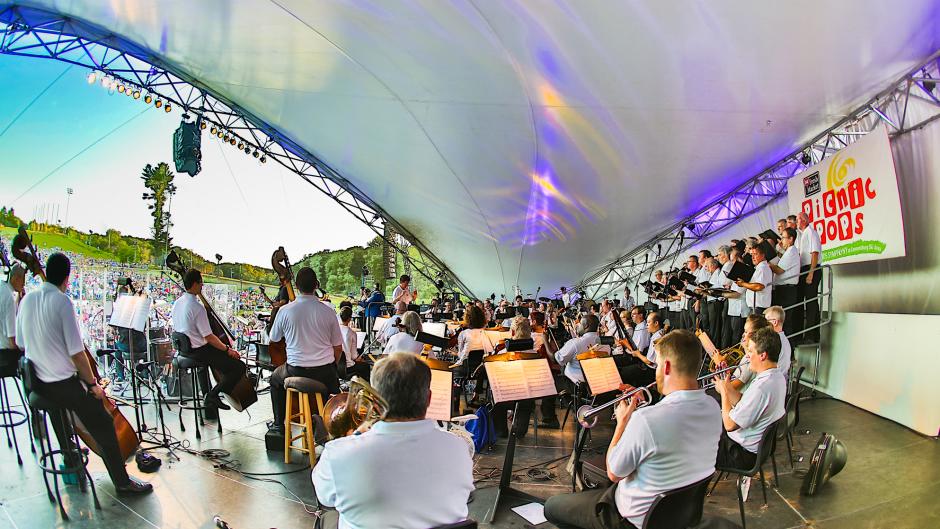 Insider Tip: Purchase 10 or more tickets to a Grand Rapids Symphony Picnic Pops performance and receive a discount!
Photo Credit: Experience Grand Rapids
---
Grand Rapids Symphony Picnic Pops
It's a treat to hear the Grand Rapids Symphony play anytime of year, but there's something especially wonderful about listening to the strings, woodwinds, brass, and percussion while relaxing on a grassy hill.
If you've never been to Cannonsburg Ski Area for the summer Picnic Pops concert series, you won't want to miss another year. With five performances to choose from, you're sure to find one you'll love. Picnic Pops is all about enjoying the music and the fresh air in a family-fun environment.
Grand Rapids Symphony Picnic Pops tickets are available for individual performances or in packages.
Pro tip: Bring a blanket, chairs, and a basket filled with goodies to enjoy this concert series!
B93's Birthday Bash at Fifth Third Ballpark
For the first time since its inception, B93.7FM's country music festival, B93 Birthday Bash, will take place at Fifth Third Ballpark.
Get your country music groove on at the new venue -- which seats 7,500 -- and gives everyone a great view and lots of concession choices.
The popular summer concert will take place on June 8, with gates opening at noon and music going until about 10 PM. The evening will wrap up with a spectacular fireworks display.
This year's headliners are Rascal Flatts, Devin Dawson, Gary Allan, Morgan Evans, and Tyler Rich. Check the B93 website for more B93 Birthday Bash ticket info and concert updates.
97LAV Village Motorsports Summertime Blues
Another fantastic summer concert series is the free Summertime Blues series by 97LAV-FM, which typically runs mid-June to mid-August. Held outdoors at the DeltaPlex, this concert series also includes free parking. As a bonus, if the weather isn't cooperating and it's raining, the event will be moved inside the DeltaPlex.
Check the DeltaPlex website for this year's lineup and concert updates.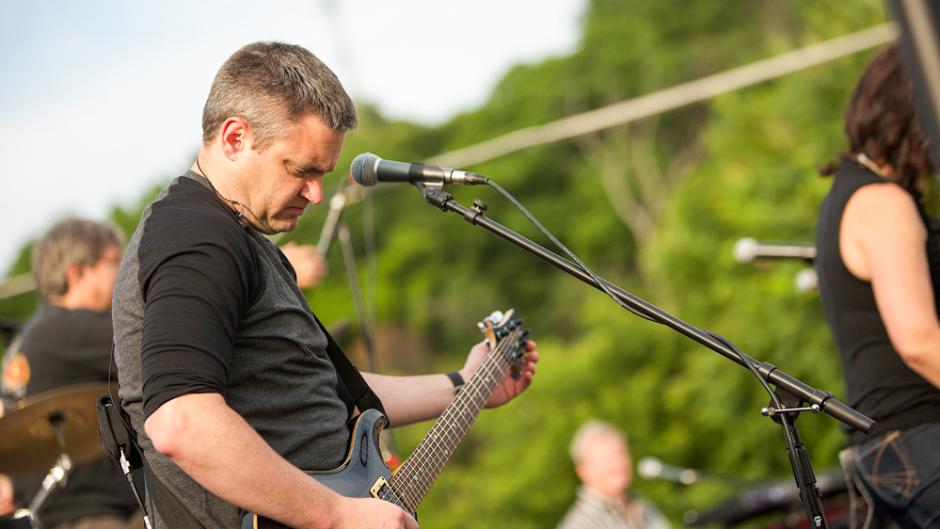 Note: Live performers will not be available at the Garage Bar & Grill Block Party on Fourth of July.
Photo Credit: Experience Grand Rapids
---
Garage Bar & Grill Block Parties
Michigan's beautiful summer nights deserve to be celebrated, even mid-week! Join the fun at Garage Bar & Grill Block Parties every Wednesday night beginning June 12 and running for nine consecutive weeks through August 8. For just a $3 cover charge, you get to see great local acts and enjoy the fun atmosphere of Garage Bar & Grill.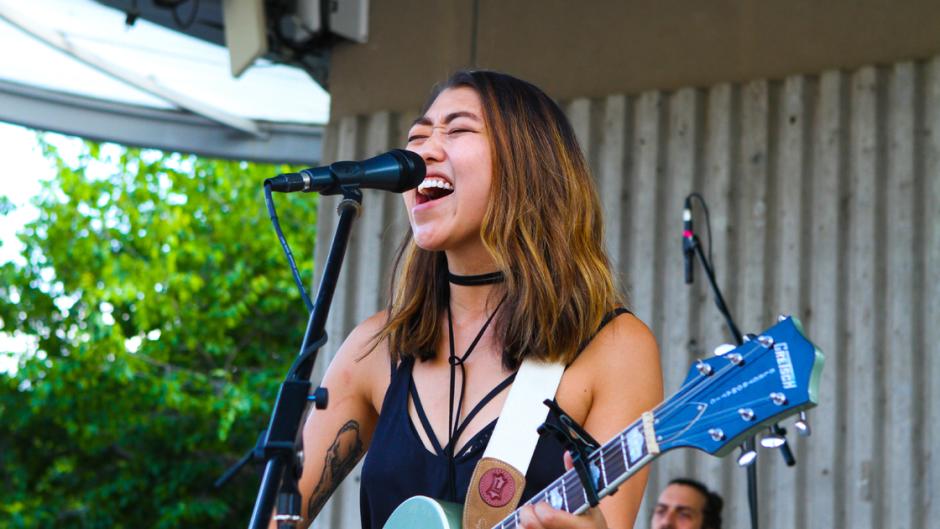 The Crane Wives (shown here at Rosa Parks Circle) play the Kentwood Summer Concert Series on July 26.
Photo Credit: Experience Grand Rapids
---
Kentwood Summer Concert Series
Just outside of Grand Rapids, lies the neighboring city of Kentwood. Beginning at 7 PM on various Thursday nights throughout the summer, the City of Kentwood is hosting free outdoor concerts at Kentwood City Hall. Guests are encouraged to bring lawn chairs, food, and drinks, to enjoy a summer evening full of entertainment. Food trucks will also be available on-site to purchase food and drinks.
This year's lineup for the Kentwood Summer Concert Series includes:
June 20 at 7 PM feat. That Beatles Thing
June 27 at 7 PM feat. Blue Soul Express 
July 18 at 7 PM feat. Hannah Rose and the GravesTones
July 25 at 7 PM feat. The Crane Wives 
August 1 at 7 PM feat. Brena
August 8 at 7 PM feat. Melaphobix 
A Few More…
Concerts on the Green takes place every Thursday in June at Veteran's Memorial Park in Hudsonville. Bring a lawn chair or blanket and enjoy the free tunes from 7 to 8:30 PM.
Breakaway Music Festival takes place right in Belknap Park and will feature both national and local artists on two stages August 23-24. Visit the Breakaway Grand Rapids' website for concert updates and ticket info.
GRandJazzFest is a free two-day concert featuring 10 jazz performers. Join the fun this year August 17-18 at Rosa Parks Circle.
Lowell Showboat Sizzlin' Summer Concerts take place on the Riverwalk Plaza every Thursday night from June 13-August 22. They're free and family-friendly.
Cowpie Music Festival lasts for three days, from August 8-10 at Shagbark Farm in Caledonia. The lineup features over 20 musical acts, including national, regional, and local bands. Camping is allowed and families are welcome—kids 12 and under are free with a ticket-holding adult.
Looking for even more music? You'll find lots of info on concerts and venues on Experience Grand Rapids' Music in Grand Rapids page.
Don't miss a post!
Sign-up for the Insider Experience blog.