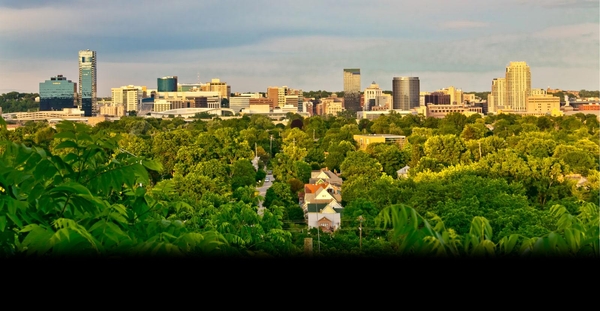 As a mom and an enthusiastic Grand Rapids resident, I wasn't surprised last week when Forbes magazine ranked Grand Rapids the best place to raise a family in the United States. But several of the factors that make Grand Rapids a great place for to raise kids make it a great place to visit, too. Here are a few:
Reasonable Cost of Living: Grand Rapids low cost of living for residents means a less expensive vacation for you.
Start your stay at a 4-star hotel for less than $200 a night. Both the JW Marriott and Amway Grand Plaza are beautiful hotels located in the heart of the city that often offer rates under $200 a night. If you'd like bigger savings, you can score a room at a Hampton Inn (or similar level hotel) near the airport for under $100 per night, and you'll be a short 15-minute drive from downtown.
When you're ready to check out the city, you'll be impressed by the collection at the Grand Rapids Art Museum, and even more impressed by the $8 (adult) admission price. Admission to museums in larger cities can run $20 or more per person, but that doesn't mean the GRAM lacks substance. Noteworthy past exhibits included works by Andy Warhol, American Art from the Phillips collection (Homer, OKeefe, et al), and Diana Celebration. If you visit the GRAM more than once a year, and frequent museums in other cities, you can buy a membership to save even more ($50 individual $65 family). The GRAM participates in a reciprocal program with museums around North America, which means your membership card admits you to lots of different museums. Click here for more information. In addition to the GRAM, there are a number of other cultural attractions you wont want to miss while you're in town. Check out what's happening at the Grand Rapids Ballet, Civic Theatre, the Children's Museum, and the Grand Rapids Opera. For even more options, and potential savings, look into the visitors Culture Pass; their website provides links to current events and discounts.
If all those art activities leave you hungry, you won't find a shortage of affordable, delicious fare in Grand Rapids. Restaurants like Leo's, San Chez, and Bistro Bella Vita give you big city atmosphere, flavor, and service at a reasonable price. If you're looking for something fancier or more casual, Grand Rapids offers that, too.
Fast Commutes: If you're used to driving in Washington D.C. or Chicago during rush hour, you'll find driving an entirely different--and more pleasurable--experience in Grand Rapids. Drivers here spend almost 3/4 less time waiting in traffic during their commute every year than drivers in those two bigger cities. What does that mean for you? For starters, it means less hassle. As you approach, or leave, Grand Rapids you won't have to worry about sitting on the highway for an hour or more at a stretch. But more importantly, less commuting traffic for us means more freedom for you. When my family travels to Washington D.C. for example, we make sure that we're not on the Beltline between 6:00am 9:00am or 4:00pm 7:00pm. We make similar accommodations when we travel to Chicago. We love both of those cities but we don't love the restrictions the traffic time limits put on our day. In Grand Rapids, visitors are free to plan their day according to their wishes. If you happen to be on the road during rush hour, you'll go a little slower but you wont experience the kinds of delays that ruin your well-laid vacation plans.
Low Crime: With a crime rate below the national average, you can feel good about exploring the diverse neighborhoods that surround Grand Rapids--because, here, downtown is only a part of the big picture. After you've spent some time seeing what downtown has to offer, head a little beyond the city center to see the unique places that make Grand Rapids tick. Here are 4 places loved by locals, in neighborhoods perfect for a morning or afternoon stroll.