Grand Rapids has a national reputation for beer, but that's not the only beverage in town to sip on. For those who prefer wine, Grand Rapids offers a wide range of places to indulge in delicious grape goodness.
Whether you're looking for a bottle of an Old-World (European) burgundy or a rich chardonnay, there are plenty of options to explore in town. And, if you're into Michigan wines, which mimic cooler-temperature wines from places like Germany, there are quite a few places to explore as well.
Generally, a wine bar is thought of as a bar that offers more than 20 wines by the glass and more than 100 wines by the bottle. While not all establishments on our list meet those precise requirements, these destinations have impressive wine lists, a great atmosphere, and scrumptious bites to eat.
These nine wine bars in town serve up a variety of experiences – from intimate, cozy spaces to upscale, trendy locales – which all feature an abundance of new wines to discover.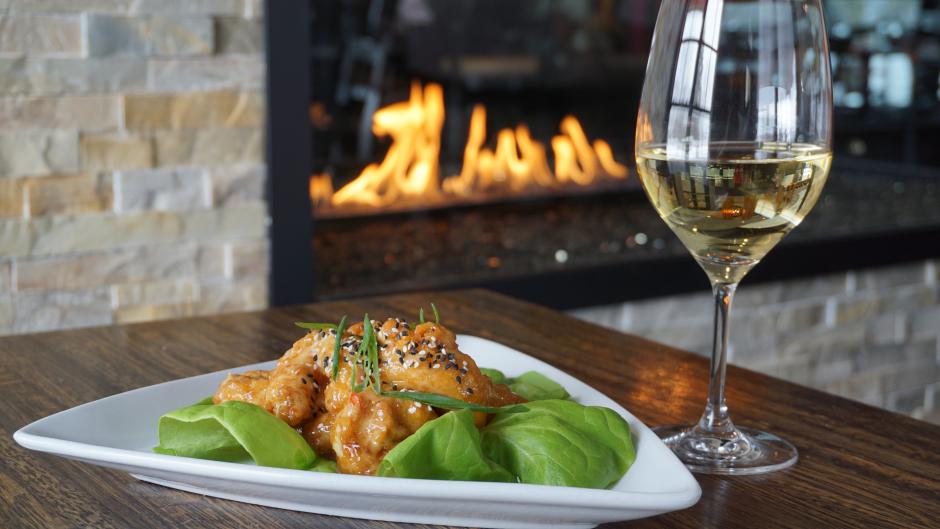 Many wine bars in Grand Rapids have full food menus to pair with their unique wine selections.
Photo Credit: Experience Grand Rapids
---
Reserve
201 Monroe Ave. NW, Grand Rapids, MI 49503
Reserve pours more than 100 varieties, featuring a wide range of California and Old-World wines, including single pours and bottles. Its wine menu also highlights natural and organic options for people seeking low-intervention wines, which are typically more organic and have fewer additives.
If you're looking to enjoy food with your wine, Reserve's lunch and dinner menus feature a wide range of fare, from burgers to pasta.
Reservations are recommended. If you're visiting for a special occasion, you can reserve The Vault, a private dining space which houses an original bank vault now used to store Reserve's best, most exclusive wines.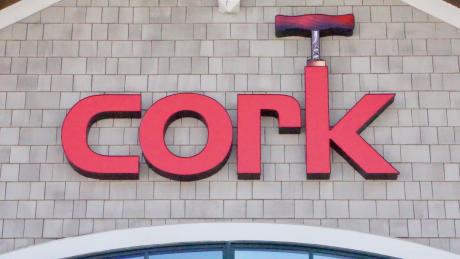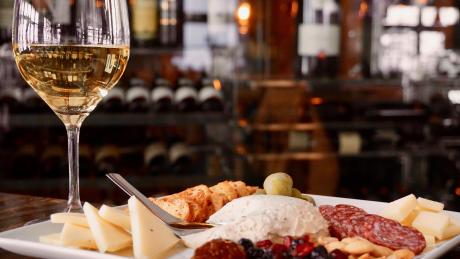 Choose from more than 180 wines and a full food menu at Cork Wine & Grille
Photo Credit: Experience Grand Rapids
---
Cork Wine & Grille
5500 Cascade Rd. SE, Grand Rapids, MI 49546
Cork Wine & Grille, located at the Watermark Country Club, is open to the general public and is a must-visit for wine lovers. Cork certainly lives up to its name, offering more than 180 wines to choose from, by the bottle or in a glass.
Cork's menu features plenty of California wines, as well as European, Oregon, and Michigan wines. Cork offers a modern bistro ambiance and has a fabulous patio to enjoy during the warmer months.
The Kitchen by Wolfgang Puck
187 Monroe Ave. NW, Grand Rapids, MI 49503
The Kitchen by Wolfgang Puck at the Amway Grand Plaza, Curio Collection by Hilton offers a smaller, curated wine list to accompany its globally-inspired dining menu. You'll even be able to try wines from the celebrity chef's vineyard, in addition to nearly 30 other varieties.
The Kitchen by Wolfgang Puck offers European-style wines, with a few California and Australian wines included for good measure. All are available by the bottle or the glass.
For larger groups, you can reserve one of The Kitchen's private rooms on the lower level.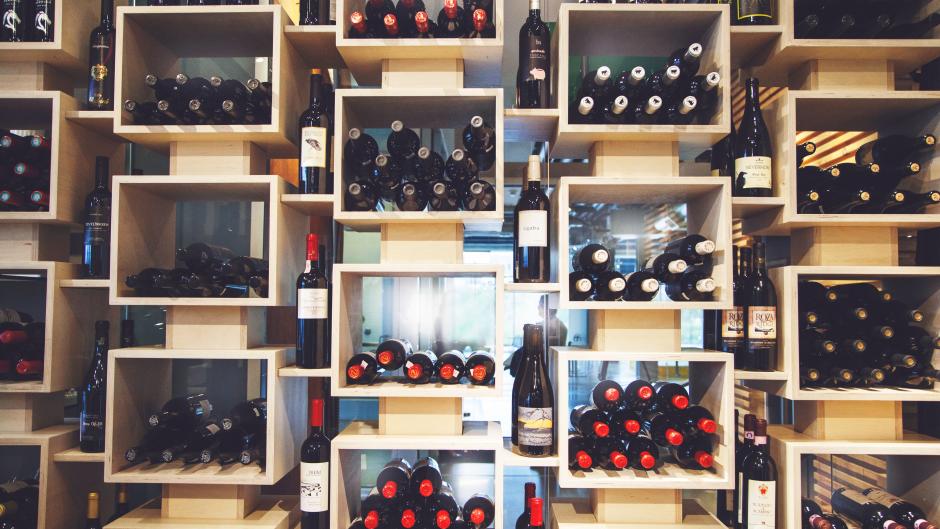 Aperitivo is the perfect place to complete your shopping at the Downtown Market.
Photo Credit: Experience Grand Rapids
---
Aperitivo
435 Ionia Ave. SW, Grand Rapids, MI 49503
Visit Aperitivo at the Grand Rapids Downtown Market for an evening of cheese, charcuterie, and vino. Aperitivo's wine list ranges from $10-$14 for a glass, or under $40 for a bottle.
If you can't find what you're looking for, guests can purchase a bottle from the restaurant's retail shelves for an extra corkage fee of $15.
One interesting aspect of Aperitivo's list is the option to add rhubarb or grapefruit bitters, or pok pok som (a Chinese celery drinking vinegar) to your glass of bubbles for an extra $1.
Be sure to experience one of Aperitivo's cheese, charcuterie, beer, and wine classes! You can find more details on Aperitivo's events page.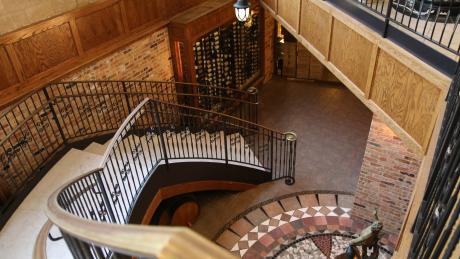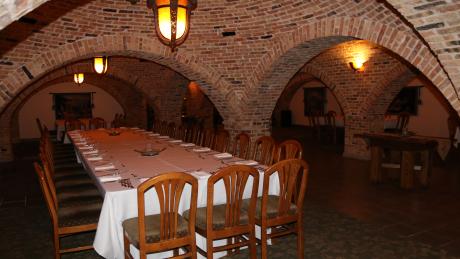 Noto's Old World Italian Dining offers wine flights to help you decide from a list of 1,200 Italian wines
Photo Credit: Experience Grand Rapids
---
Noto's Old World Italian Dining
6600 28th St. SE, Grand Rapids, MI 49546
Noto's Old World Italian Dining is a family-owned restaurant that's been serving up fine Italian dining since 1982. Its expansive list of 1,200 Italian wines (covering all 20 of the country's wine-producing regions) is worth a browse.
Not sure what to choose? Opt for a wine flight featuring three wines before you purchase a glass or bottle. The 28th Street location (Noto's recently opened another venture in Grand Haven) also features spaces for private parties and events.
Divani
15 Ionia Ave. SW Suite 130, Grand Rapids, MI 49503
Divani, located by the Van Andel Arena, is a good place to try something new. Its unique wine list covers most of the major wine regions.
The most interesting wines come only in bottles, with prices up to $180 a bottle, making Divani a great option for special occasions. If you're looking for a more casual visit, Divani also offers bottles starting at $34.
Since street parking is limited, head to the Ottawa-Fulton Parking Ramp – it's a close and easy place to park. If you're already downtown, consider taking the DASH (Downtown Area Shuttle), which is free to use.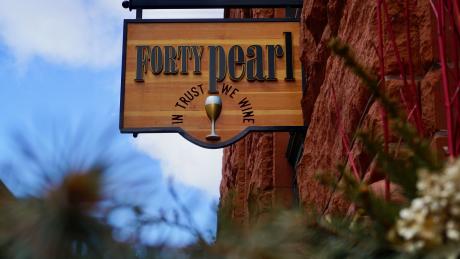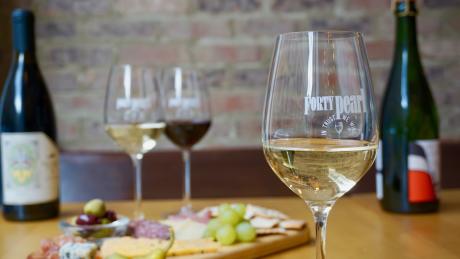 Besides offering a great tasting room, Forty Pearl also hosts wine and food education classes.
Photo Credit: Experience Grand Rapids
---
Forty Pearl
40 Pearl St. NE, Grand Rapids, MI 49503
Opened by Brengman Brothers, prominent producers of Michigan wine, Forty Pearl is one of the few true tasting rooms in downtown Grand Rapids. The tasting room features wines from Brengman Brothers, Bonobo Winery, Bel Lago Vineyards & Winery, and Grand Traverse Distillery. Forty Pearl offers a variety of food options that are catered by Notos to pair with your wine.  
You can join Forty Pearl's wine club loyalty program to receive friendly perks. Once loyalty members buy 12 bottles of wine a year, they receive 15 percent off on all purchases, discounts on event tickets, and exclusive member-only wines.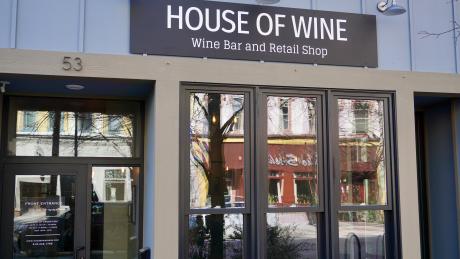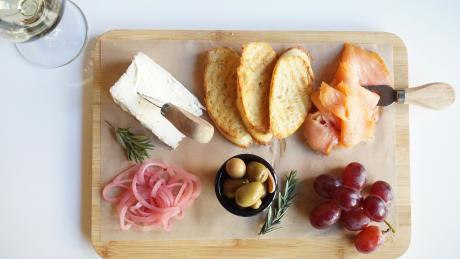 At House of Wine, you can build your own charcuterie board to pair with your wine.
Photo Credit: Experience Grand Rapids
---
House of Wine
53 Monroe Center St., Grand Rapids, MI 49503
House of Wine offers more than 70 wines available by taste, glass, or bottle. Plus, there are 250 bottles of wine to choose from in the retail shop.
Pair your wine with House of Wine's food menu, which features build-your-own charcuterie boards, cheese (sourced from Grand Rapids' local cheese shop, The Cheese Lady), and relax in its comfy lounge area.
House of Wine also hosts a series of wine education events, if you're looking to expand your wine knowledge.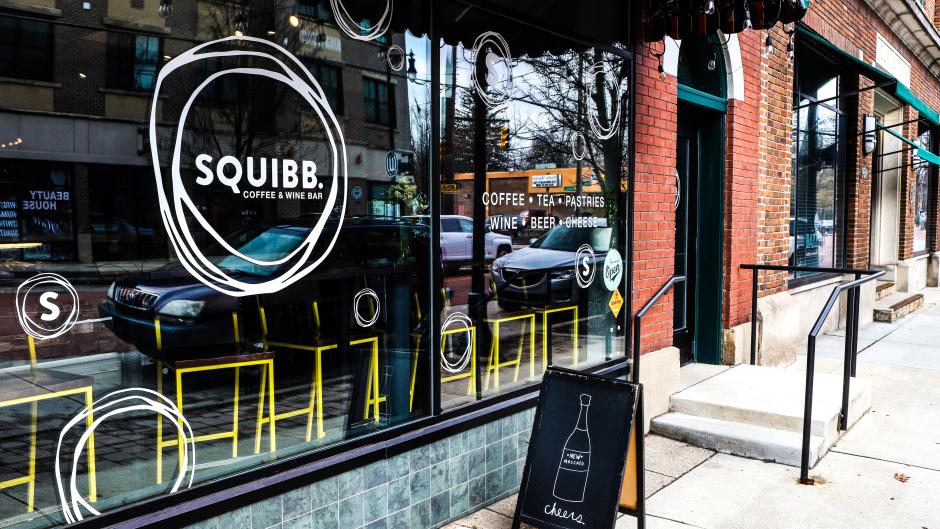 Get your fill of coffee, tea, wine, cheese, and charcuterie at Squibb Coffee and Wine Bar.
Photo Credit: Experience Grand Rapids
---
Squibb Coffee & Wine Bar
955 Wealthy St. SE, Grand Rapids, MI 49506
Coffee and wine come together at Squibb Coffee and Wine Bar, located on Wealthy Street. The bar offers three whites, four reds, and two sparkling options (available by glass or bottle) to choose from, all of which are made in the European and South American regions.
Pair your wine with something on Squibb's food menu, which includes toasts, cheese and charcuterie, and dips. Try this spot for happy hour or a weekend catch-up with friends.
Have you been to any of these wine bars? Drop us a comment below and let us know which are your favorites. Saluti!
Never Miss a Post!
Subscribe to the Insider Experience Blog.