More than 400 hearty winter adventurers will test their mettle and wits this weekend when they gather in the woods outside of Grand Rapids to compete in the 5th annual Michigan Adventure Race Winter Edition - the largest winter adventure race in the U.S.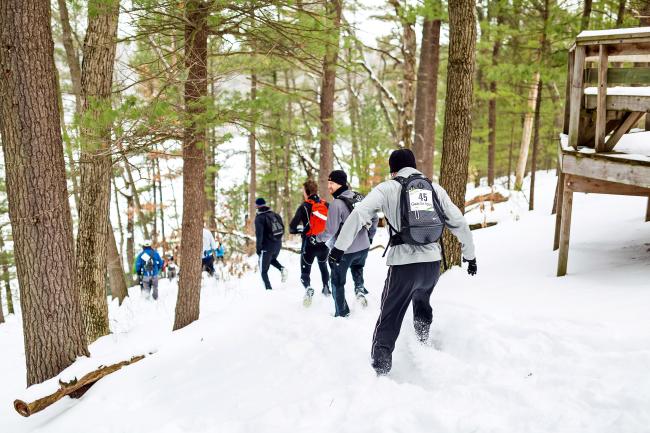 Racers run, snowshoe and bike in deep snow. Photo: Jamie Geysbeek Photography.
"It's us against the elements; we don't race against the clock," declares 44-year-old, Kent Snoeyink, a retired Standale school teacher who will team up with his 16-year-old daughter, Hannah, and compete for a third time. "It's fun thing to check off on my bucket list - and it's a thrill to compete with Hannah. I've run marathons and mud runs. Marathons are boring. This has a lot of variety."
That variety – running, snowshoeing, fat-tire cycling and navigating the 6-mile route by map and compass - is drawing the race's largest crowd yet, according to organizer, Mark VanTongeren.
The Biggest Race
"We get a good mix of people, from 10- to 60 years old," notes VanTongeren, owner of Michigan Adventure Racing. "Last year we had 350 people and more than 100 had never done an adventure race. There aren't many winter adventure races in the country and this is the largest in the U.S."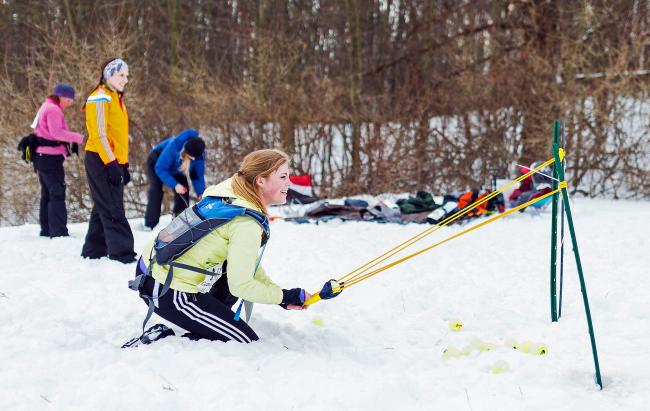 Different challenges on the 6-mile course. Photo: Jamie Geysbeek Photography.
Winter Edition competitors will start from Camp Roger, 8356 Belding Rd NE in Rockford, and fan out along the hilly, wooded course trying to find two dozen hidden check-points and six physical and intellectual challenges.  To be a "finisher" requires finding just one of the checkpoints, but the non-cash prizes go to those who find the most and do it the fastest - all without the aid of GPS devices.
Map and Compass
"Adventure racing is about using a map and compass," VanTongeren, explains. "In the real world, phone batteries die and don't work. It's important to learn how to use a map and compass."
The idea of leaving a GPS in the car and navigating as early explorers might have can seem daunting. VanTongeren said several contenders attended a special navigation skills clinic held in January.
"I had to learn how to use a compass and I am still not very good at it," Snoeyink said. "If you are in first place and there is snow on the ground, it (navigating) can be tough. But, if you are way behind (and can see everyone's tracks) it's quite easy."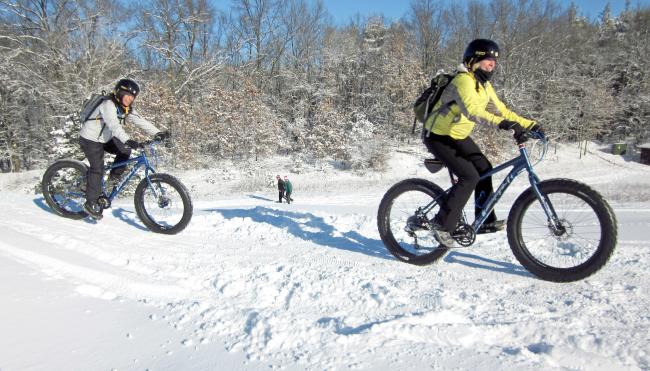 Winter cycling can be a challenge. Photo: Jamie Geysbeek Photography. 
Charitable Giving
Proceeds from the event will be donated to Camp Roger's Scholarship Fund which provides financial assistance to less-fortunate families so their children can attend the camp. VanTongeren said charity is an important part of Michigan Adventure Racing events.
"We're a for profit race (business) and like to have a charity partner," VanTongeren said. "We set up a charity challenge at each race and each team can give $5. Those who do, get a hint about how to do the challenge. Last year we gave the camp $1,267. The competitors gave $639 and we gave the rest."
Matt Zwiep, Camp Roger's director of operations, said every dollar helps. The Christian youth camp attempts to raise $70,000 to $80,000 annually for scholarships..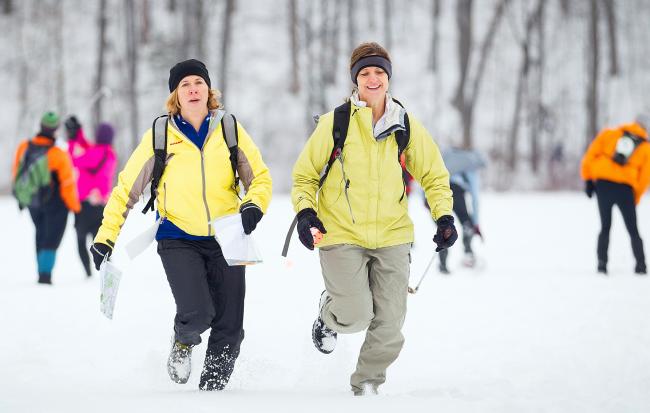 On the run looking for the next checkpoint. Photo: Jamie Geysbeek Photography.
Michigan Adventure Race, Winter Edition is one of several races planned in 2016. Michigan Adventure Racing also stages an October Art Prize Edition in Grand Rapids, a fall Sleeping Bear Edition at Glen Arbor in Sleeping Bear Dunes National Lakeshore, and an Epic Edition at Ludington State Park in May. The latter two can be grueling, offering 5-hour and 10-hour races.
Keeping up
Snoeyink anticipates having no problems at the upcoming event. Both he and his daughter are physically active. Hannah Snoeyink runs cross-country for Grandville High School.
"It used to be that she had to keep up with me, but lately I've had to run and train to keep up with her," Snoeyink said. "We're both competitive and want to get as many checkpoints as possible. Most go to win, but we just do it for fun."