Get ready for three days of fun in downtown Grand Rapids: the 46th annual Festival of the Arts starts at noon on Friday, June 5 and runs through Sunday, June 7. Streets downtown will be shut down so you can enjoy free arts and entertainment for the entire weekend while you tempt your taste buds with treats from dozens of food booths.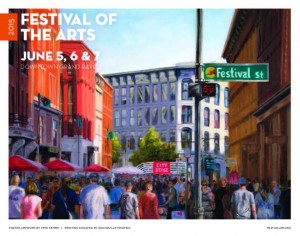 Festival of the Arts began in 1970, inspired by Alexander Calders La Grande Vitesse, which was installed the previous year. Calder also created the original Festival sun logo, which Festival of the Arts still uses today. Two stages and a few food booths on Calder Plaza comprised that first three-day community arts celebration. Festival of the Arts now attracts nearly half a million visitors each year.
Food Booths Delicious food abounds at Festival, with over 25 food booths, so bring your appetite! This year, newcomers are serving up Ugandan/Indian dishes like Chicken and Veggie Chapati (Families Through Adoption booth); Polish specialties like polito (a polish burrito) and golumpki (St. Isadores Benevolent Aid Society); Egyptian falafels and cotton candy (St. Mary and St. Mina Coptic Orthodox Church booth); and American chicken pesto, chicken fajita and veggie wraps (Juvenile Diabetes Research Foundation booth).
See all of the food booths on your mobile phone: http://www.festivalgr.org/m.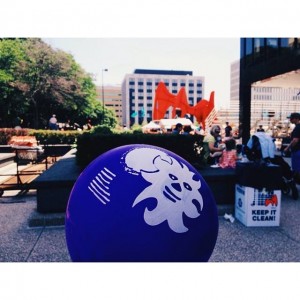 Entertainment In addition to serving up food from around the globe, Festival features talent galore. With 5 outdoor and 2 indoor stages, you'll experience everything from music and dance to theatre and storytelling.
The outdoor stages will showcase several genres of music, so whether you favor country, jazz, rhythm and blues, pop, or alternative, you'll find it at Festival. Fans of award-winning songwriter Ralston Bowles will be happy to hear he's returning this year, and he'll be joined by lots of fresh faces.
Some of that new talent will be playing in the two indoor venues, the GRAM and UICA. Their music will serve as a backdrop to the Festival artwork on display. The GRAM will have more traditional indoor classical music groups and soloist, while the UICA, which is the Regional Arts venue, will have more folk, acoustic, and singer songwriters. There will be lots of engaging performers in these more intimate settings, where you can make the art your priority, says Barbara Witham McCargar, M.M., Chair, Music Department, Aquinas College who serves as one of five co-chairs of the Festival Indoor Classical Music at the GRAM and Indoor Music at UICA.
A few of the performers you can expect at the indoor venues:
At the GRAM
The West Michigan Flute Associations Flute Orchestra. They have a huge, beautiful, gorgeous sound, says McCargar.
The Grand Rapids Symphonic Band Chamber Ensemble.
Madelaine Lane. "She's a gifted soprano," says McCargar, "with a big, amazing, operatic voice." Her accompanist is Nicholas Palmer, the Music Director at the Cathedral of St Andrew downtown." (You can hear her at the GRAM at 12:30, 5/5.)
The performers and art will be in beautiful Cook Auditorium, which boasts excellent acoustics. "The walls become an important part of that sound," says McCargar. "They help reverberate the music."
At the UICA
Kyle Thompson. In addition to playing his guitar, hell also feature several of his students from the Guitar Studio of Kyle Thompson. You can hear them on Sunday, 6/7, from 1:45 3:15.
Scott Sisson will also be back this year but just on the Wednesday prior to Festival (6/3). Head down a couple of days early to hear him--he'll be playing for the opening of the Regional Art Exhibition.
"If you don't make it over to the UICA, you'll really miss out," says McCargar. "They'll have great art and great music. Its worth the walk!"
McCargar says most of the indoor acts give commentary on their music. "I like a performance more when I feel like I know the performer and I think thats what you get in both of these venues," she says.
Click here to see the full schedule for entertainment, which will be posted soon.
Art The Festival Regional Art Exhibition at the Urban Institute for Contemporary Arts (UICA) is free during Festival weekend. Regularly, admission is $5. The exhibition opens on June 3 and runs through July 26 (free anytime for UICA members and kids under 5.)
In addition, you'll also be able to explore the Youth Art Exhibit at the GRAM, which displays and celebrates artwork by local students.
The Art Tents on Calder Plaza are the place to go if you're looking to add something new and fantastic to your own art collection.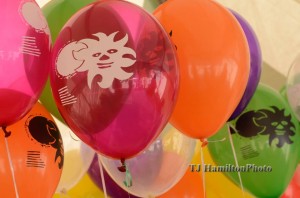 Activities When you're ready to show your creative side, Festival offers plenty of activities so you can roll up your sleeves and participate in the fun. Yoga enthusiasts can bring their mats and start Saturday morning off with a little warrior 2, led by instructors from Seva Yoga. (10AM - 11:30AM, 5/6, on theWest Side of the County Building.)
Children will love the Mad Hatter on Wege Plaza, in front of the GRAM, where they can design hats and decorate them with all sorts of fun times, like flowers, buttons and stickers.
Kids of all ages can join the fun at Chalk the Walk--create your very own sidewalk art with chalk. You'll find supplies on the Federal Building Lawn.
Check here for the Festival of the Arts Visitors Guide and for updates on the weekends schedule. You can also stay in the loop by liking them on Facebook and following them on Twitter. We'll see you there!