Grand Rapids is alive…with the sounds of music! From outdoor concerts to establishments known for bringing in killer bands, we have your roundup of where to hear the best beats in GR.
H.O.M.E. located on the first floor of The B.O.B. hosts live music Wednesday through Saturday from live bands to open mic night, someone is always grooving. The House of Music & Entertainment (H.O.M.E.) features a rustic and casual environment providing the perfect atmosphere for American musical genres. On Thursday afternoons from 12 - 1, H.O.M.E also hosts the live radio show, GR Live. Here, guests can eat lunch while listening to a live broadcast of local musicians on 88.1 WYCE. 
If you are looking for something a little more rock 'n roll, check out The Pyramid Scheme located in the Heartside neighborhood. Self-noted as a place for artists, musicians and localists of Grand Rapids, The Pyramid Scheme features live bands with general admission seating along with an arcade including throwback pinballs games in the front bar.
Billy's Lounge, a local legend in Eastown, originally built a name for itself in the Blues community but has branched out to other genres including pop/rock and burlesque performances. Just down the street, Mulligan's Pub is another live music destination in an intimate setting. And who can talk about Grand Rapids music without mentioning The Intersection?  From Iron Maiden and Prince tribute bands to metal-core bands and everything in between, The Intersection has been a live music destination for over 40 years.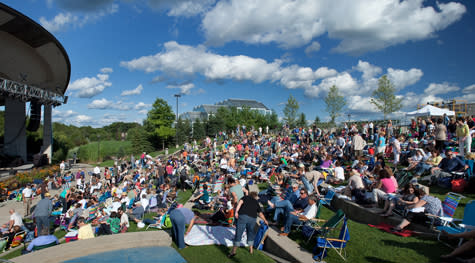 Meijer Garden Summer Concert Series
Feel like enjoying some music outside? Summer concerts at Meijer Gardens are enjoyed by all under the stars with not a bad seat in the house. Bring a picnic to truly relax and enjoy. Back for its 5th year, the GRandJazzFest brings free jazz to downtown Grand Rapids August 20 and 21. This family-friendly event at Rosa Parks Circle features headlining act Cindy Bradley this year among other notable musicians. If you like to move with the music, check out the swing dancing every Tuesday during the summer also at Rosa Parks Circle. Don't know how to swing dance? Not a problem! The Grand Rapids Original Swing Society offers lessons from 7:00-7:30 and dancing goes until 10.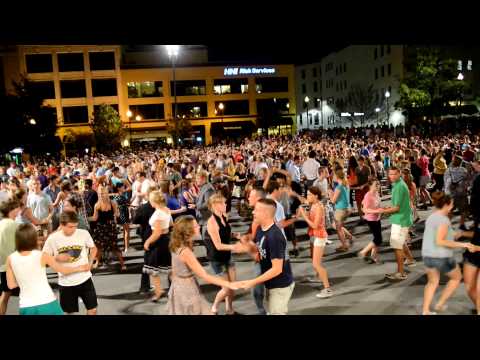 Swing Dancing at Rosa Parks Circle
And who can forget the amazing festivals throughout the summer in Grand Rapids? Mark your calendar for the 13th annual Local First Street Party Saturday, June 4 outside Bistro Bella Vita featuring a wide variety of Michigan musicians and local food.  Founders Fest returns June 18 with performers from 3:00 to 11:00 pm right in front of the brewery bringing together two GR favorites-music and craft beer.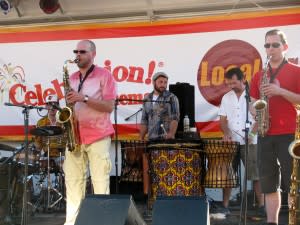 Local First Street Party
These are just a few of the summer sounds available this summer in Grand Rapids. So grab a lawn chair and a friend and your groove on in Grand Rapids!