Former food truck entrepreneur and guest blogger Molly Clauhs shares the story behind one of Downtown Market Grand Rapids' newest tenants, Grocer's Daughter Chocolates.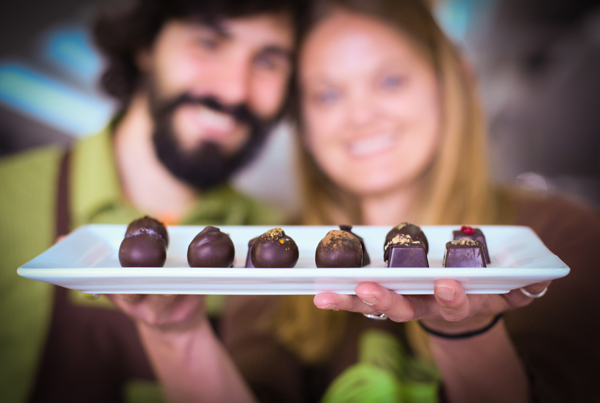 I met the owners of Grocer's Daughter Chocolate, Jody Dotson and DC Hayden, in February. We called them up, told them about the Downtown Market, and suggested they open a second location of their charming Empire, Michigan based chocolate shop. Timing was right as ownership was transitioning and the team recognized Grand Rapids as a market they'd like to enter. It didn't hurt that a talented, young chocolatier on staff was itching to move to our dynamic little city.
When we met, Jody & DC told us about the cacao they import and the connection they have to the growers in Latin America, Africa, and Indonesia that grow their product. They described their commitment to fair trade and putting money directly in the growers pockets. Then they had to run off so Jody could catch a flight from Grand Rapids to Ecuador to guide a group of curious foodies around chocolate-land.
Jody has led over 25 tours of chocolate and coffee growing regions. She is a fierce supporter of human rights combining work to sustain farmers and communities in these tropical locations while creating a beautiful, high quality product for her customers. Her bean to bar passion and expertise was cultivated in the bean to cup industry.
She was on the cutting edge of the new coffee culture we see throughout Michigan and opened Higher Grounds Coffee in 2002, located at The Village at Grand Traverse Commons. Higher Grounds joined Cooperative Coffees, a buying group of coffee shops around the United States that pooled their funds to buy large orders of coffee beans direct from the farmers. Jody led the organization as the Chair of the Board and is a leader in the movement to see fair trade as more than a misused buzzword.
For Jody it's about justice, but its also about really delicious truffles. Mimi Wheeler, Jody's good friend and business confidant, created Grocer's Daughter Chocolate in 2004. She'd been a social worker for over twenty years but felt drawn to have a small food business, rooted in direct trade. Fast forward ten years, Mimi was looking to retire and Jody was looking to deepen her roots in
Traverse City and work on another small business with powerful potential to impact farmers overseas.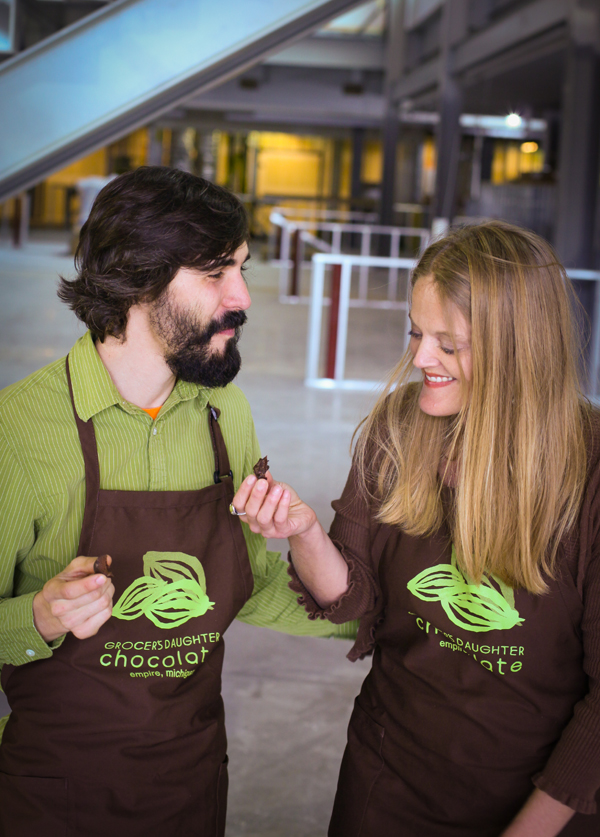 Jody & DC of Grocer's Daughter Chocolates
Jody's business partner and significant other, DC Hayden, also a friend of Mimi's, is a videographer and photographer and he was looking for a venue for his creativity. Jody explained to me that a unique skill set and small town home base means you either create your own work or you move to a big city. Jody and DC absolutely love living in Michigan, so Grocer's Daughter Chocolate is their way to stay Up North while growing their family owned business that creates inspired job opportunities, better lives for farmers in chocolate growing regions, and a gorgeous line of products.
Grocer's Daughter values relationships with growers and also with their local suppliers and small business partners who produce the spirits, fruits, teas, spices, nuts, herbs, and honeys that flavor their chocolates. Grocer's Daughter is committed to educating and pleasing the customers who sustain their good work. In a few short months they'll be here in Grand Rapids. You'll be able to visit their chocolate shop and taste a few truffles (my favorites: Berry Caramel, Lavender & Whisky), knowing it's an important indulgence.
To hold you over until Grocer's Daughter Chocolate opens at the new Downtown Market Grand Rapids, here's a recipe featuring a creative and savory way to use chocolate, compliments of a collaborative effort by Mimi and Jody. Enjoy!
Guest Blogger Molly Clauhs grew up in Pennsylvania, studied Hotel Administration at Cornell University in Upstate New York, and then moved to Michigan to plant some roots, open a food truck, and get involved in the burgeoning food movement. She currently coordinates the leasing process for the Downtown Market Grand Rapids, where she works with small food businesses affording her an inside look at the foodie Mecca opening Summer 2013.
The Downtown Market features an outdoor farmers market, teaching kitchens, rooftop greenhouses, banquet and meeting space, full-service restaurants, office space, and a market hall featuring 24 permanent, year round food businesses to offer a main street shopping experience. Molly's blog series introduces you to the businesses that will be making the Downtown Market home and coming together to create an unparalleled destination for shopping and dining.
Photos of Grocer's Daughter Chocolates courtesy of David Tilley, Downtown Market GR