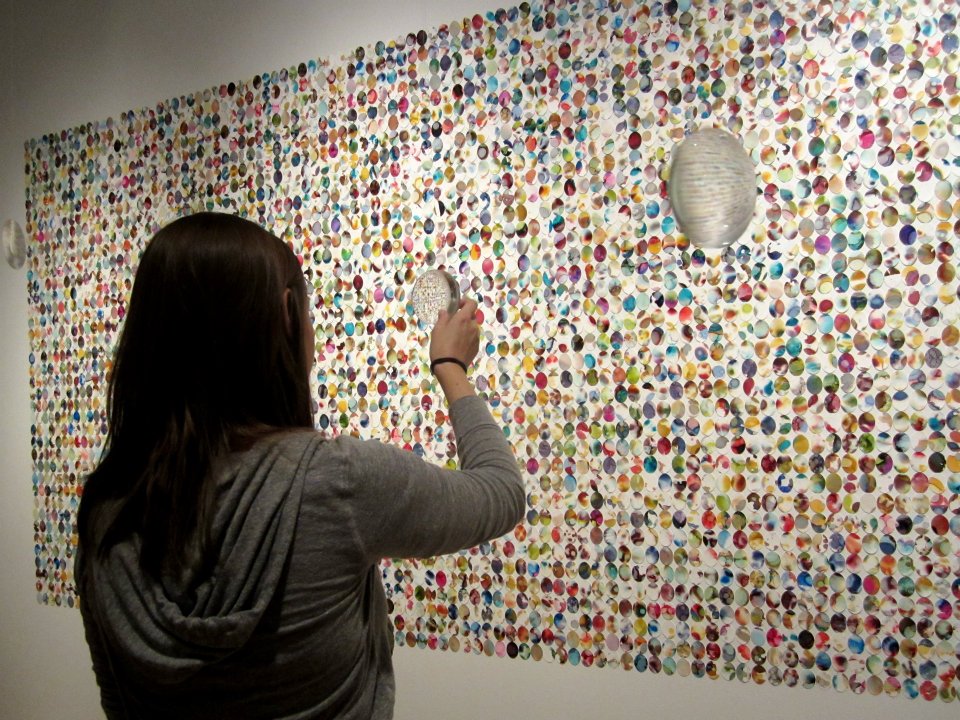 ArtPrize 2012 entrant Katie Swanson checks out Mesmer Eyes...A Requiem by Kathy Goodell at ArtPrize 2011
Today we're so excited to welcome a guest post from Katie Swanson, a Grand Rapids fan and ArtPrize 2012 entrant!
I visited Grand Rapids for the first time last October, to attend ArtPrize 2011. At the time, I was a senior studying Marketing at Purdue University in West Lafayette, IN. My three roommates and I decided to take a road trip there for the weekend to visit a friend who had invited us to come check out all the festivities. I've been an avid fan and creator of art my whole life, so I was definitely curious and excited to see what ArtPrize was all about. Little did I know I was about to be blown away by the splendor of Grand Rapids!
When our group arrived downtown and into the heart of ArtPrize, I was stunned. I'd been to museums, small art fairs, seen artists give talks in galleries, and participated in workshops. But I had never experienced anything on the scale of ArtPrize or the kind of synergies between artists, venues, and the public that were present that weekend. Everywhere I looked, I was in the presence of art and surrounded by others eager to look at it (and even better) talk about it. Friends, families, strangers, artists, business owners- everyone seemed to be buzzing amongst each other. There was this palpable sense of community, and everyone had a voice.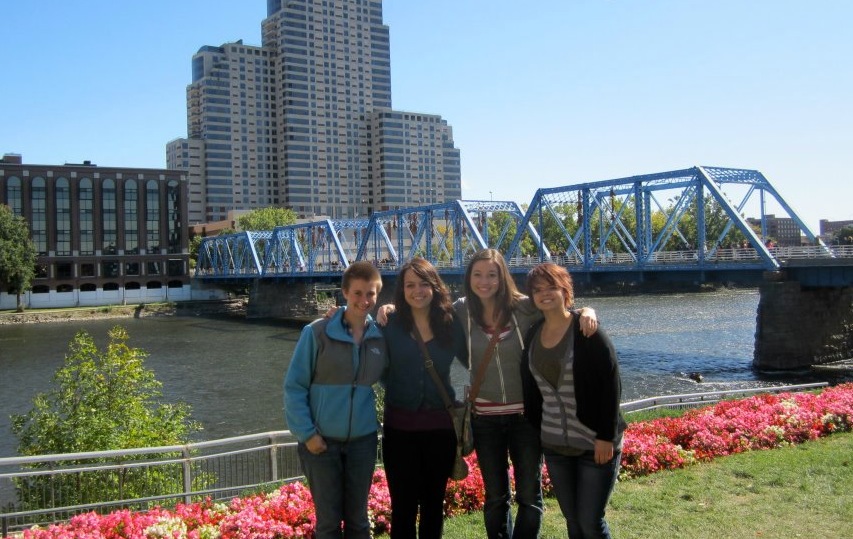 I felt overwhelmed in the best possible way.
Not only did I get to see some truly amazing displays of talent and creativity, but I had the chance to explore many different parts of the city as well. Grand Rapids won me over, to say the very least. I could go on and on.
At the end of the weekend, it was difficult to leave knowing that ArtPrize would continue to go on while my fun adventure was over. When I returned back to Indiana, I think (ok, I KNOW) I talked anybody and everybody's ear off about ArtPrize and how cool I thought Grand Rapids was. I wore all my newly purchased ArtPrize apparel. I compulsively checked Twitter and the ArtPrize app for updates and looked at pictures of pieces I hadn't been able to see. I started reading blogs and signing up for newsletters, too- if this city hosts ArtPrize, how many other cool things are going on during the rest of the year?! (A lot, it turns out).
A couple weeks later, it was time to start a new project in my drawing class, and I immediately knew what I wanted to do. I gathered up promotional materials handed out by artists, snipped apart the folded up maps I had saved, and printed out some of my favorite photos from the weekend. I spread all of this out on my bedroom floor and started piecing together what would become a collage that represented all of the experiences from that ArtPrize weekend that I was still carrying around with me. It became a blend of what I had seen, from specific pieces of artwork, to the clouds in the sky, to local places I'd eaten. From there, I drew an enlarged replica of the collage, and tediously brought it to life with my cherished colored pencil set.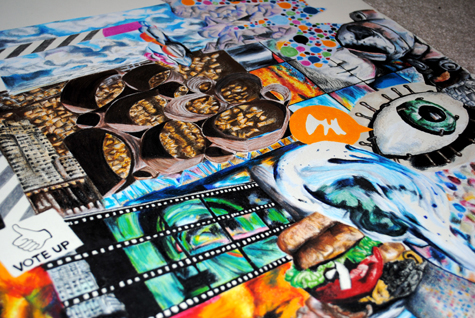 When I finished, I had a drawing that was extraordinarily personal to me, but ultimately celebrated both ArtPrize and the city of Grand Rapids. Wildly colorful, slightly chaotic, a juxtaposition of textures; all in an attempt to convey the kind of exhilarating feeling that overcame me during my visit.
I've visited GR since that trip, and have been delighted to find that I feel a connection to the city even without ArtPrize going on. ArtPrize introduced me to GR, but it still holds its own as a cool city, and a place that I want to be. I decided that Grand Rapids was where I wanted to relocate to just as soon as I was able.
When the time came, months later, I made the decision to enter this particular drawing into ArtPrize 2012, not really knowing what kind of response to expect and honestly, hoping that the registration deposit wouldn't be all for nothing. A couple days later, I reached an agreement with HopCat to display my piece, and I was THRILLED. I was going to be a part of ArtPrize! I couldn't believe that something I had made was going to be seen by thousands of people, let alone in such a cool venue that I had the pleasure of eating at during my initial first visit.
In just a few weeks, I'll be back in the city, ready to embrace and celebrate ArtPrize again. I cant wait to experience it as an artist this time around. I'm truly humbled to be a part of this years ArtPrize and honored to be able to give a little bit back to GR. My ArtPrize experience has come full-circle: from a visitor to a participating artist, all in a place that I hope to soon call my home.
Thanks for sharing, Katie! Be sure to check out Katie's piece, "Nostalgic Exuberance", and the other ArtPrize 2012 entries.
Do you have a story about Grand Rapids that you'd love to share with our blog readers? Send an email to blog@experiencegr.com and put "Guest Post" in the subject line. You just might get to see your story right here!