Regular Experience Grand Rapids blog readers know we love food, beer, wine, and fun with friends. When I say "we," I certainly mean the resident team of bloggers, but I'm also talking about Grand Rapidians. We're constantly celebrating our city, and one of the best places to do that is at the table. It's the best time of the year for farmers markets and gardeners (holy summer squash!), which means locavore chefs are smiling, too. So whether you're a West Michigan resident or planning a visit (welcome!), its time to warm a restaurant seat because Restaurant Week Grand Rapids (RWGR) is upon us.
Let's start with the need-to-know. RWGR 2014 happens Wednesday, August 13 to Sunday, August 24. Sixty restaurants offer three-course tasting menus featuring their culinary teams skills and the West Michigan harvest. It's an invitation to leave your oven off and gather at a local restaurant to soak up the waning summer.
Three-course menus are $28 per person, though you'll find two for $28 at several restaurants: Lindo Mexico, Rezervoir Lounge, Fajita Republic and Osta's Lebanese Cuisine. Check out Fajita Republic's DIY guacamole - fresh Haas avocados with a selection of toppings (spiced pepitas, pico de gallo, bacon, chiles, oh my!) that you can mix until your heart's content.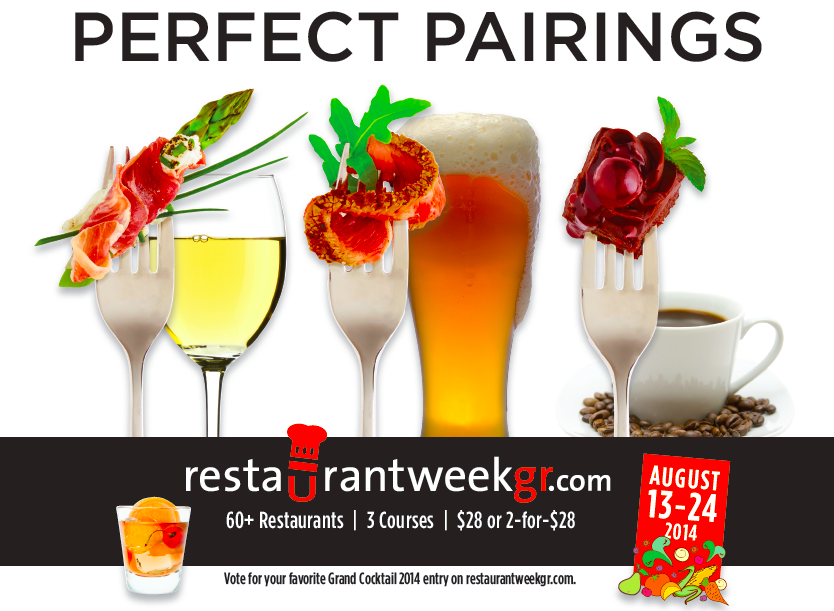 This year's theme is Perfect Pairings. GR's reputation as Beer City USA is well established with fifteen craft breweries and more popping up all the time. The Great Lakes' ability to insulate coastal farmland, keeping it cool in summer and preventing a bitter freeze in winter, means Michigan has a climate for wine production, and fortunately many local producers are creating delicious wines. Distilleries are popping up around the state, with creative spirits growing in popularity. To celebrate Michigan's status as a beverage-producing triple threat - not to mention all the carefully roasted and brewed coffees - RWGR's theme emphasizes the art of pairing food and drink.
CitySen is featuring a Southern-Style American menu, from Fried Green Tomatoes, to Chicken and Waffles, to Pecan Pie. Try the Baby Back Ribs braised in Bells Oberon paired with a pint of Oberon mixed with Founders Rubaeus, a good complement to the fruity house-made BBQ sauce. Bar Divani has an eclectic, flavor-forward-menu that offers an appetizer, salad, and entree - try starting with the Pulled Pork Rangoons with Sesame Chili Sauce, paired with a glass of Noel Bougrier Vouvray.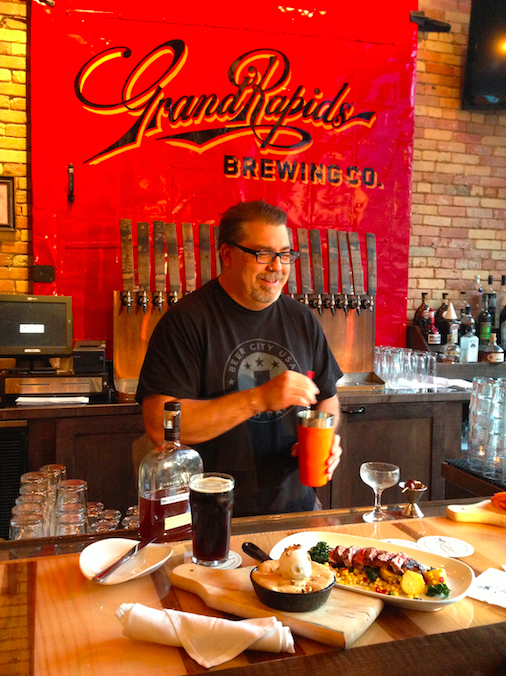 In addition to pairing food and drink, chefs are cooking with locally made beverages, too. At Grand Rapids Brewing Company, you can enjoy Michigan's only certified organic brewery and chef-inspired, gourmet cuisine. The Brewers Flan on GRBC's RWGR menu is a chocolate stout custard with cocoa nibs, salted caramel and mint, no doubt delicious with some stout in your glass, too. The Rubeaus Cheesecake at Licaris is quite decadent, too, with Amoretti cookie crust and a suggested pairing of Ferris Coffee Nicaraguan brew or Atwater's Decadent Chocolate Stout. At Amore Trattoria you can nosh on a chocolate truffle rolled in pop rocks, while sipping house made chocolate cello.
Beyond the tantalizing food choices, RWGR is an annual dining highlight because of the bustling atmosphere and feeling of culinary-inspired revelry. It gets better yet! One dollar from each meal goes towards a scholarship fund at the Secchia Institute for Culinary Education at Grand Rapids Community College. Since 2010, RWGR participating restaurants have donated almost $75,000 to the fund. That's something to cheer about.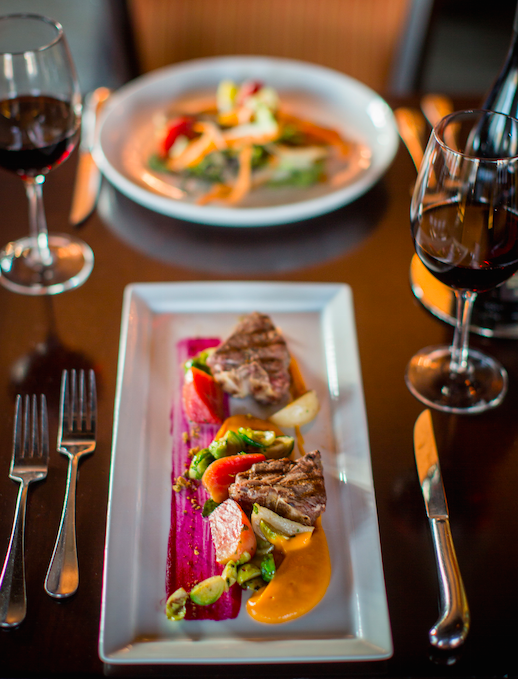 Restaurant Week dining at Grove.
Take advantage of an opportunity to visit a spot that might normally be out of your price range, a newly opened restaurant, or a place you've never been. Invite your friends and enjoy wonderful food, a bustling city, a walkable downtown with many dining choices, and al fresco dining options to make the most of the beautiful summer nights ahead. You can do it all during Restaurant Week GR 2014!