Want to celebrate Halloween all month long? That's entirely possible with the large variety of events going on this October in Grand Rapids. We've broken down the events by activity and age range so you can find events just for adults, or events aimed at kids that everyone can enjoy together!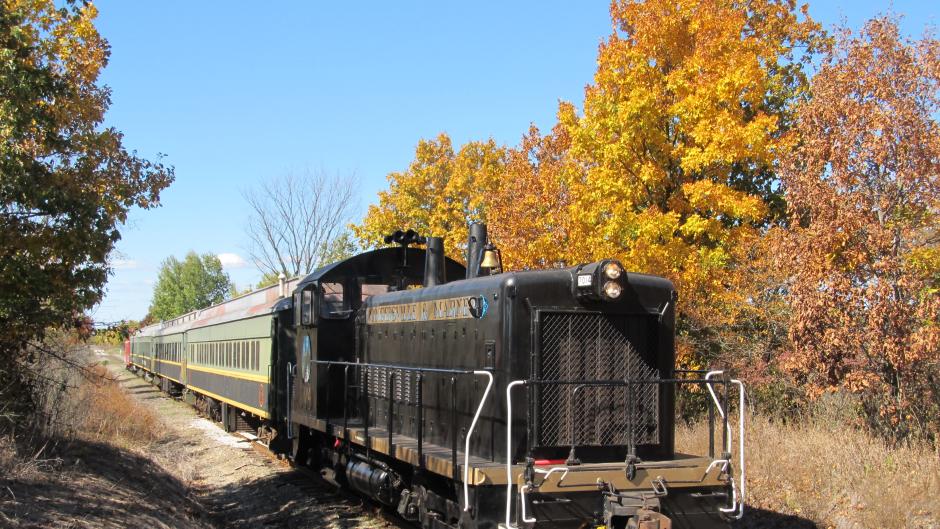 Ride the Coopersville Pumpkin Train for a day full of fall festivities! After the train ride, children can pick out a pumpkin to take home.
Photo Credit: Coopersville & Marne Railway
---
Be Entertained
Kid-Friendly! – Famous Pumpkin Train Ride
Select Saturdays and Sundays in October
All aboard the Coopersville and Marne Railway for the annual Famous Pumpkin Train Ride! During your trip, the Grand Pumpkin, Scarecrow, and Little Crow will entertain you with wacky songs and dancing as you travel from Coopersville to Marne and back. 
Afterward, children can go pick out the perfect, locally-grown pumpkin from the railway's pumpkin patch. Adult tickets are $20, senior tickets are $19, and tickets for kids ages two – 12 are $18. Tickets are free for children under the age of two. Each children's ticket also comes with a free pumpkin! You can make reservations ahead of time to skip the lines, but walk-ups are more than welcome. 
Kid-Friendly! – Día de Los Muertos 
October 30 - November 3
Celebrate Día De Los Muertos with your family at the Grand Rapids Public Library's main branch. Día De Los Muertos, which translates to Day of the Dead, is a Mexican holiday that honors family and friends who have passed away. To find out more about this holiday, visit this National Geographic article. At the library, you can come view altars made by community members, which were created to honor deceased loved ones. The event is free and open to the public.
Meanwhile Film Series
Various Tuesdays in October
The Wealthy Theater in the Uptown neighborhood is getting into the spirit by hosting a few Halloween-inspired films during their Meanwhile Film Series in October. The Meanwhile Film series is a partnership between the theater and the Meanwhile Bar, which are located just a couple blocks apart. Before seeing the film, consider visiting the Meanwhile Bar for a beverage!
Tuesday, October 22 - Sleepaway Camp
Tuesday, October 29 - Texas Chainsaw Massacre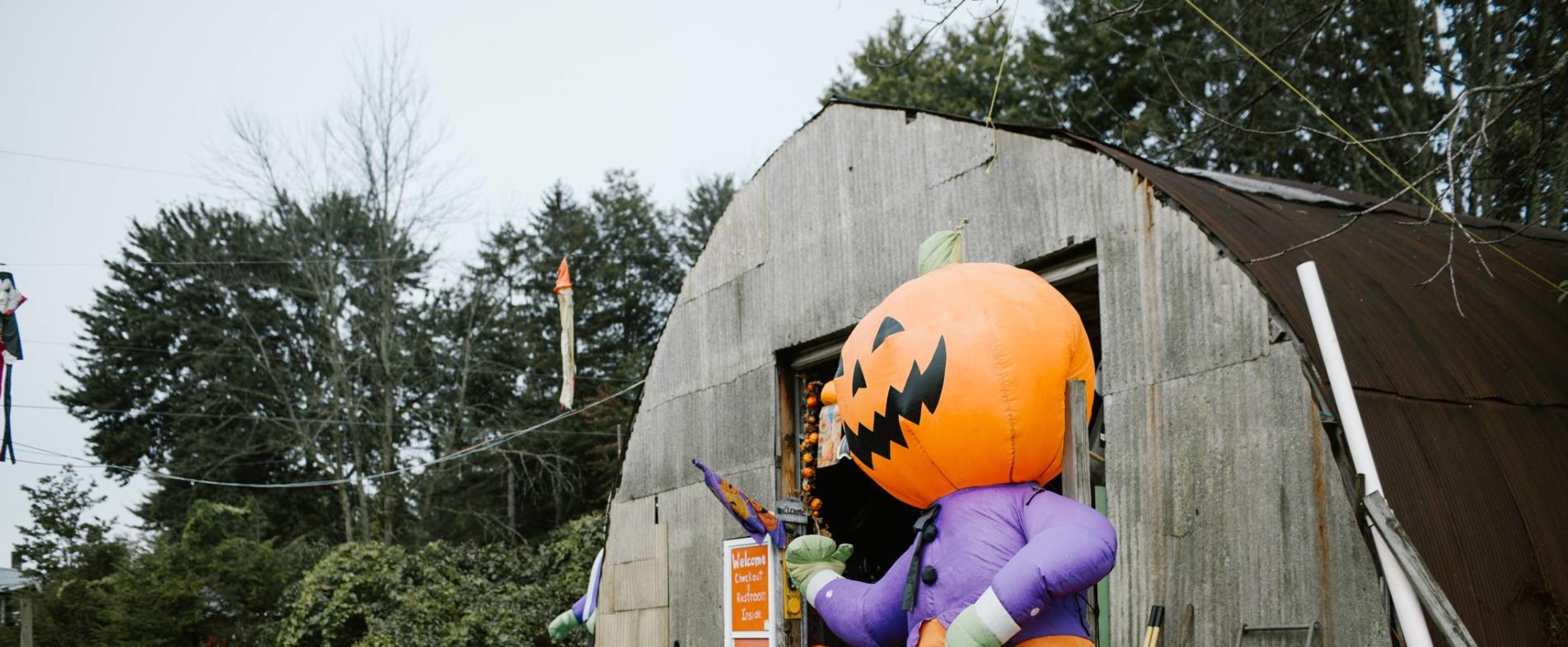 The 20-minute Spooky Woods Hayride at Bethke Farms is a great way to find family friendly frights.
Photo Credit: Bethke Farms
Have a Scare
Kid-Friendly! - Spooky Woods Hayride
September 23 - October 30
Little ones looking for a good, friendly "scare" will enjoy the Spooky Woods Hayride at Bethke Farms. The hayride winds through a 20-acre pumpkin patch, past fun cutouts of familiar Halloween characters, and through an area called the "Spooky Woods." 
After the hayride ends, kids can return to the pumpkin patch to pick out a pumpkin for a Jack-O-Lantern. The Spooky Woods Hayride is $3 per person and free for infants under one year old.
Kid-Friendly! - Trunk or Treat and Kid's Haunt
Saturday, October 26
While The Haunt in Grand Rapids is typically too frightening for the younger crowd, this year the venue is hosting an event just for them. The Trunk or Treat and Kid's Haunt event on October 26 is the typical Haunt experience, but "with all the lights turned up and the scares turned down."
There will also be trick or treating for the kids as they go through the kid-friendly version of the haunted house. The event runs from 2 - 5 PM. Tickets cost $10 at the door.
The Haunt
Thursday - Sunday Evenings in October
For about 18 years, The Haunt has been one of the scariest and most well-known haunted houses in the West Michigan area, and just last year it was voted one of the top "must-see" haunted attractions in Michigan. 
The Haunt's 50,000 square feet bring you five haunted areas to navigate, each with a different terrifying story about the upbringing of Tinkles the Clown. There are 144 rooms for you to make it through with 100 actors trying to scare visitors silly. Ticket prices and hours vary depending on the day.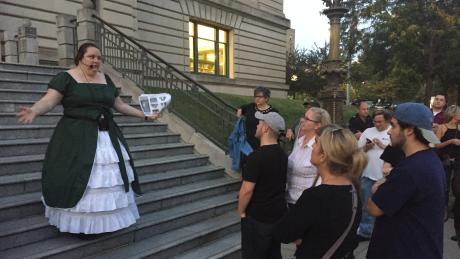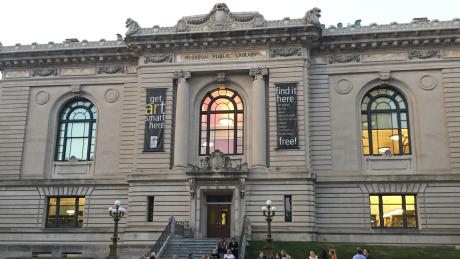 Due to its popularity, it is recommended that you pre-register for Ghosts of Grand Rapids Tours.
Photo Credit: Experience Grand Rapids
---
Ghosts of Grand Rapids Tours
Fridays and Saturdays in October (Offered year-round)
Did you know that Grand Rapids has a bit of a ghostly past? Learn more about it on the Ghosts of Grand Rapids Tours by Paranormal Grand Rapids. 
There are two haunted walking tours available. They cover just over a mile and take about two hours to complete. The first tour goes through the West Side of Grand Rapids, sharing the spooky history of the AT&T building, Pantlind Hotel, and the Ashton Building. 
The second tour takes you to the East side of town and shares the tale of the ghost of the Women's City Club, a grisly murder at the former Wellington Flats, and the tragic history of the Browning Hotel. Tickets cost $15.
Macabre: Ghosts of Paddock
Thursday, October 31
On Halloween night, a 19th-century mansion in the East Hills neighborhood of Grand Rapids will come alive with the Ghosts of Paddock. The multi-room show takes guests through all three floors in Paddock Place as they follow the story of twins Max and Abigail Tuttle. Guests will roam the mansion and experience paranormal activity, seances, mad scientists, Tarot card readings, ghosts, and more. More than 30 actors and musicians come together to create this hypnotic and immersive Halloween experience. Tickets cost $25.
Get Active
Kid-Friendly! - Alger Heights Halloween 5K and 10K
Saturday, October 26
The annual Alger Heights Halloween 5K and 10K is a family tradition for many runners in Grand Rapids. Most participate in their Halloween costumes, making it quite a spectacle for all involved. 
In addition to a 5K and 10K distance, there's also a Kids Fun Run for even the smallest athletes. Registration costs $35 for the 5K, $45 for the 10K, and is free for children taking on the Kids Fun Run. Sign up as soon as possible to guarantee a race shirt.
Scary Walking Tours
Wednesdays in October
Every Wednesday in October you can experience a new scary walking route with Grand Rapids Running Tours. On each 1.5-hour-long tour, the host shares spooky history relative to the area you're exploring. 
This year the routes feature the haunted areas of Heritage Hill, the Fulton Street Graveyard where the city's original settlers are buried, stories of the saints and spirits of Aquinas College, and a tour of the most haunted areas in downtown Grand Rapids. Each tour costs $20 per person and requires pre-registration.
Zombie Dash 5K
Saturday, October 19 at 6:45 PM
Can you survive the viral outbreak? Then try your luck at the Zombie Dash 5K. The race is a 3.1-mile loop that takes you through the streets of Grand Rapids, all while dodging zombies who are trying to take away your three life strips. 
Registration costs $46 and includes a T-shirt, finishers cup, and finish line refreshments. If you're not a fan of being chased, you can always sign up to be a zombie. All zombies can register for free and get a t-shirt in the process.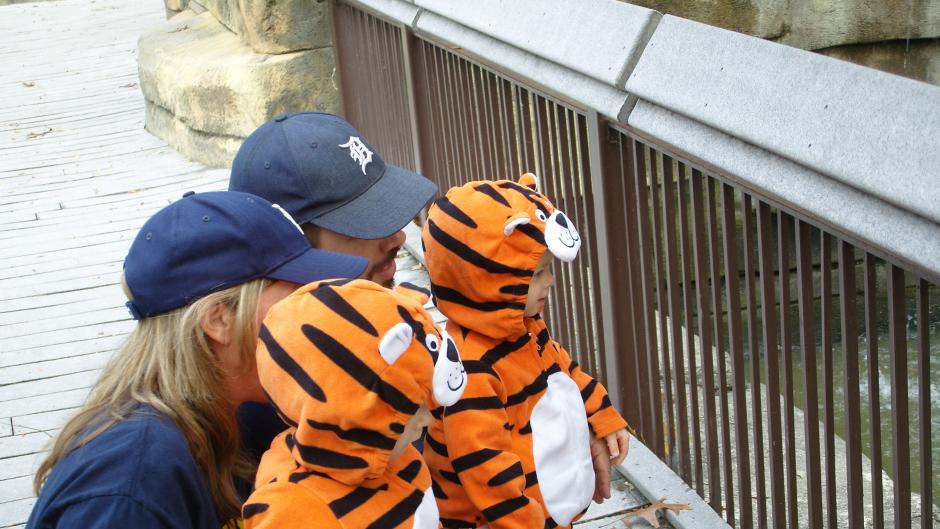 Experience trick-or-treating with the animals, and the whole family, at Zoo Goes Boo at the John Ball Zoo.
Photo Credit: John Ball Zoo
---
Get Dressed Up
Kid-Friendly! – Zoo Goes Boo
Select days in October
At John Ball Zoo, kids can go trick-or-treating among the animals. The annual Zoo Goes Boo event includes treats, animal encounters, entertainment, games, and more. All the animals at the zoo get their own treats too.
Everyone who attends is encouraged to wear their Halloween costume. Don't forget to bring a bag along if you plan on trick-or-treating through the zoo. Admission costs $12 for adults and $10 for children, and it's free for zoo members and children one and under.
Kid-Friendly! – Hallowee-Ones at the Frederik Meijer Gardens & Sculpture Park
Friday, October 25, 10 AM - Noon
At the Frederik Meijer Gardens & Sculpture Park, you can get creative with your child's Halloween costume this year. The Hallowee-Ones event encourages even the youngest of attendees to dress up as something they can find in the Children's Garden, such as a flower, bug, or even a tree. 
All little ones are invited to participate in the costume parades that take place at 10:15 AM and again at 11:15 AM. The event also includes friendly Halloween-themed stories, and it's all free with admission to the park.
A Nightmare on Bridge Street
Sunday, October 27
If a Halloween themed brunch sounds intriguing, you'll definitely be interested in A Nightmare on Bridge Street, hosted by New Holland Brewing - The Knickerbocker. The Drag Brunch show features a performance by the Brunchettes, food, drinks, and more. Everyone who attends is invited to dress up in their Halloween best for the costume contest. Tickets are $35 and include the cover charge, meal, and the show. The event is for adults ages 18 and up.
Want to see even more Halloween fun available in Grand Rapids? Check out the Experience Grand Rapids Halloween page for more ideas.
Never miss a post!
Subscribe to the Insider Experience blog.