Everything is a little different these days due to the COVID-19 pandemic, but that doesn't mean Halloween fun is canceled. With restrictions and safety protocols in place, Halloween events are still happening. We've broken down the events by activity and age range, making it easy to find events that work for you.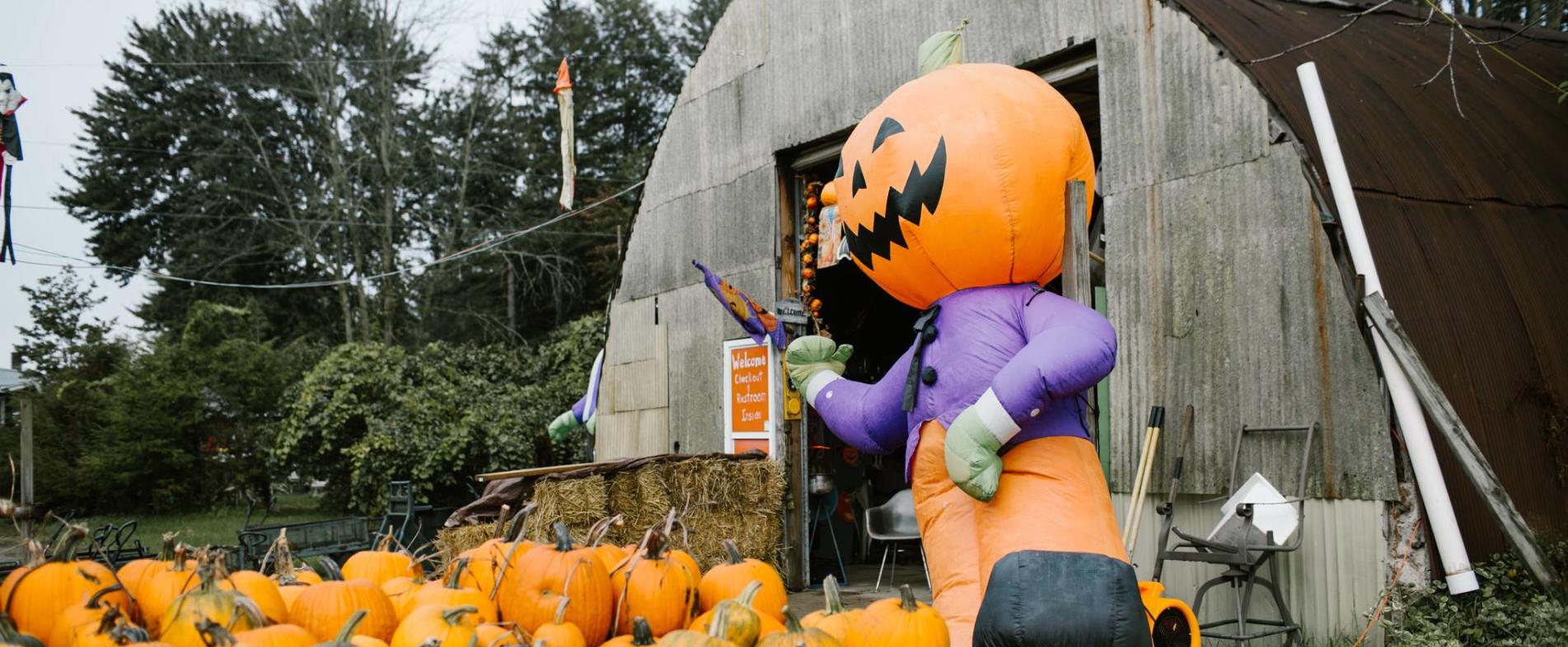 The Spooky Woods at Bethke Farms are a great way to find family friendly frights.
Photo Credit: Bethke Farms
Have a Scare
Kid-Friendly! - Spooky Woods
September 23 - October 30
Little ones looking for a good, friendly "scare" will enjoy the Spooky Woods at Bethke Farms. Families can walk the 20-acre pumpkin patch, past fun cutouts of familiar Halloween characters, and through an area called the "Spooky Woods." There is no cost to walk the patch!
Once you're done with your walk, you can then search for the perfect pumpkin to bring home. Costs vary by size of the pumpkin. There's also a two-acre corn maze to explore if you're still looking for another fun activity. The maze is $5 per person with children five and under free. 
All visitors, five years and older, are asked to wear a face mask.  
Kid-Friendly! - Trunk or Treat and Kid's Haunt
Saturday, October 25
While The Haunt in Grand Rapids is typically too frightening for the younger crowd, there is a kid's only event just for them. The Trunk or Treat and Kid's Haunt event on October 25 is the typical Haunt experience, but "with all the lights turned up and the scares turned down." There will be trick or treating for the kids as they go through the kid-friendly version of the haunted house. 
The event runs from noon - 5 PM. Tickets cost $10 and they must be purchased online. Children three and under are free. All guests must have a temperature check before entering the facilities and a mask must be worn at all times.
The Haunt
Friday through Sunday evenings in October (Additional evenings added the week leading up to Halloween)
For 20 years now The Haunt has been one of the scariest and most well-known haunted houses in the West Michigan area. This year the scares are back, but with a few extra safety precautions. Those include purchasing tickets online, facial coverings at all times, temperature checks, and limited capacity.
The Haunt's 50,000 square feet includes five haunted areas to navigate, each with a different terrifying story such as the Queen of Vampires, the Ice King, and more. Ticket prices and hours vary depending on the day. Since capacity is limited, book your tickets as soon as possible online.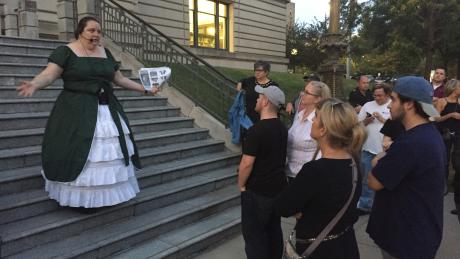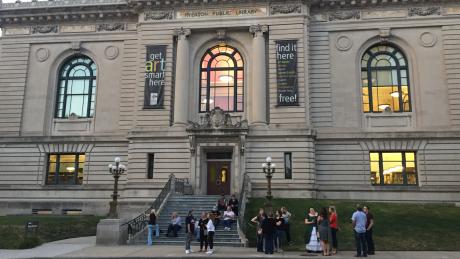 Due to its popularity, it is recommended that you pre-register for Ghosts of Grand Rapids Tours.
Photo Credit: Experience Grand Rapids
---
Get Active
Grand Rapids Running Tours
Available upon request
Caroline Cook of Grand Rapids Running Tours has a number of Halloween themed running tours available this month. There are also walking tours as well! Seasonal favorites include Fulton Street Graveyard, Grand Rapids' Most Haunted, Heritage Hill Hauntings, and more. Each tour is between 60 and 90 minutes long, and during that time Caroline will make frequent stops to share spooky local lore.
All health-related guidelines will be followed during the tour including social distancing and masks. To set your tour up and for pricing for your group, contact Caroline Cook.
Ghosts of Grand Rapids Tours
Friday, October 23; Friday, October 30; and Saturday, October 31
Learn about Grand Rapids' ghostly past during a ghost tour with Paranormal Grand Rapids. The Ghosts of Grand Rapids Tour is a walking tour that begins and ends at the Grand Rapids Public Library and includes a guide dressed to portray a member of the city's past. 
The haunted walking tour covers just over a mile and takes about two hours to complete. On the tour, you'll learn about the haunted pasts of the AT&T building, Pantlind Hotel, and the Ashton Building. Tickets cost $15 and must be purchased ahead of time online.
Ghosts Around Grand Rapids
Saturday, October 24 and Saturday, October 31 
Want another ghost tour option? Tours Around Michigan is also offering Ghosts Around Grand Rapids. The 90-minute walking tour is filled with stories of paranormal events around town. The tours are available on October 24 and 31 at 4 PM. The October 31 tour is even a family friendly version of the ghost tour! Tickets are $25 per person and must be purchased online. If you'd like a spooky tour on a different day/time, please check their website.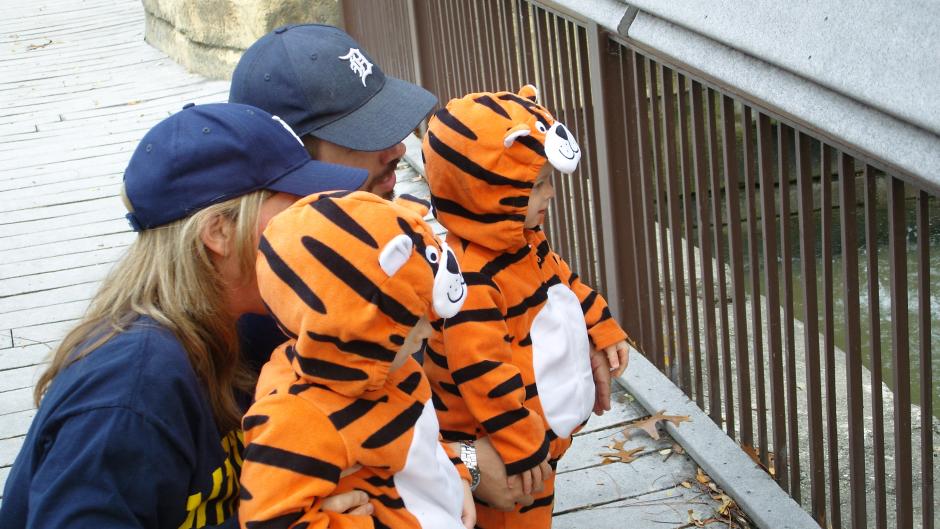 Experience trick-or-treating with the animals, and the whole family, at Zoo Goes Boo at the John Ball Zoo.
Photo Credit: John Ball Zoo
---
Get Dressed Up
Kid-Friendly! – Zoo Goes Boo
Select days in October
Despite a few COVID-19 related changes, the John Ball Zoo will once again transform into a Halloween destination. Traditionally, the annual Zoo Goes Boo event involves treat stations, but this year, there will be a treat trail. The decorated booths will be socially distanced from one another and will allow for one-way traffic flow.
Everyone who attends is encouraged to wear their Halloween costume. However, masks are required for anyone ages five and over, even when outside if social distancing is not possible. Admission costs $13 for adults and $11 for children three to 11 and seniors over 62. It's free for zoo members and children one and under. John Ball Zoo will have limited capacity and date-specific timed entries, so it is recommended you purchase your tickets online.
Another fun experience to mention that takes place at the zoo this month is IllumiZoo - A Glenlore Tale. It's a nighttime journey families can go on as lights, colors, and sounds bring a magical tale to life. The one-mile journey through the zoo takes 45 to 60 minutes to complete. More details, including cost, can be found at the event's website.
Kid-Friendly! – Hallowee-Ones at Frederik Meijer Gardens & Sculpture Park
Friday, October 25, 10 AM - Noon
At Frederik Meijer Gardens & Sculpture Park, you can get creative with your child's Halloween costume this year. The Hallowee-Ones event encourages even the youngest of attendees to dress up as something they can find in the Children's Garden, such as a flower, bug, or even a tree. 
The event includes friendly Halloween-themed stories and a Halloween-themed hunt. The event is free with admission to the park. Right now the Frederik Meijer Gardens has new entrance procedures due to the COVID-19 pandemic. All guests are asked to maintain proper physical distancing while in the gardens and guests five and older must wear a mask when in enclosed spaces.
Kid-Friendly! – Blandford Halloween Hunt
Friday, October 30 and Saturday, October 31; 10 AM - 3 PM
This year Blandford Nature Center in Grand Rapids is hosting a Halloween-themed scavenger hunt the weekend of Halloween. To participate in the hunt, you'll use a map with clues that will lead you around the trails of the nature center. As you solve the clues, you'll learn some spooky facts and creepy tales about Michigan nature. Once you've solved all the mysteries, you can turn in your completed map for a prize.
Costumes are encouraged for this spooky scavenger hunt. The event is from 10 AM to 3 PM, but you can start your hunt whenever so long as you complete everything by 3. Cost is $10 per child if you're a non-member and only $7 for children that are members. It's $3 for adult chaperones. Masks are only required inside the Visitor Center and are optional for outdoors.
Do Something Out of the Ordinary
Kid-Friendly! – Great Lakes Glow Golf
Tuesday - Thursday, 3 PM - 10 PM and Friday - Sunday, 11 AM - 11 PM
If it's been a while since you've done mini-golf, why not play a round - Halloween style! For the spooky season, Great Lakes Glow Golf has Ghoul Night every night, now through November, 8. It's 18 holes of blacklight minigolf played amongst a Halloween wonderland. There is no gore or horror, making it family friendly. The price is $12.50 for adults and children over five. Children four and under play free with parent admission. Admission also includes 20 arcade games set on free play.
Great Lakes Glow Golf currently has an occupancy limit of 25% maximum occupancy as a response to the COVID-19 pandemic. All putters and balls are sanitized between use and masks are currently required when inside the building.
The Halloween Full Moon-Costume Kayak Float
October 31, 9:30 PM - 12 AM
Celebrate October's Blood Moon with a kayak float down the Muskegon River. The event, put on by Guy's Ultimate Kayak Service, starts at 9:30 PM with a bonfire and costume contest. Then at 10:30, the kayaks launch for a 90-minute float down to the Veteran's Memorial Park. Once you're done, a transport vehicle will take you right back to your car.
Cost is $25 per person, but you get $5 off if you wear a costume. Price includes the kayak, paddle, life vest, and a glow stick! You are invited to wear a mask if you like.
Due to the ever-changing nature of the COVID-19 pandemic, dates, times, and events mentioned above are subject to change. For the latest on what is happening in Grand Rapids, check out the Experience Grand Rapids Travel Updates page.
Never miss a post!
Subscribe to the Insider Experience blog.