Want to celebrate Halloween all month long? That's entirely possible with the large variety of events going on this October in Grand Rapids. We've broken down the events by activity and age range so you can find events just for adults, or events for the whole family to enjoy!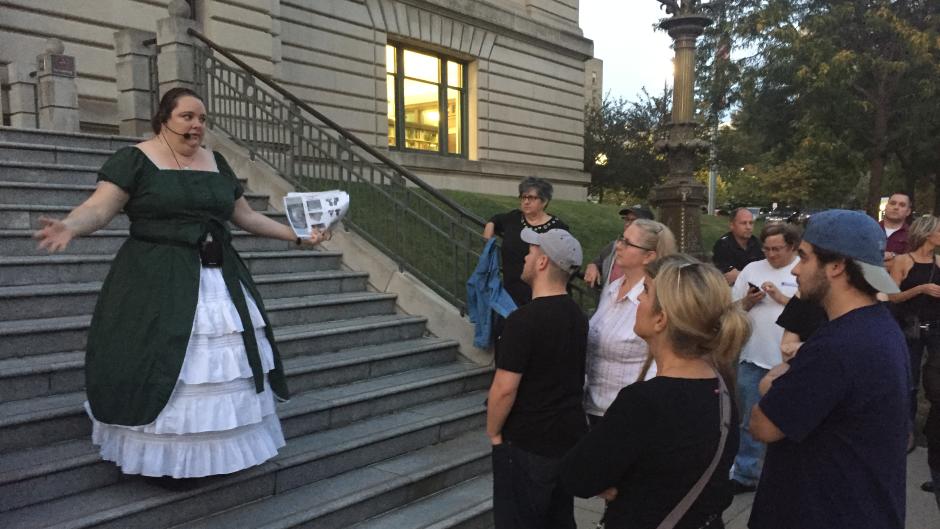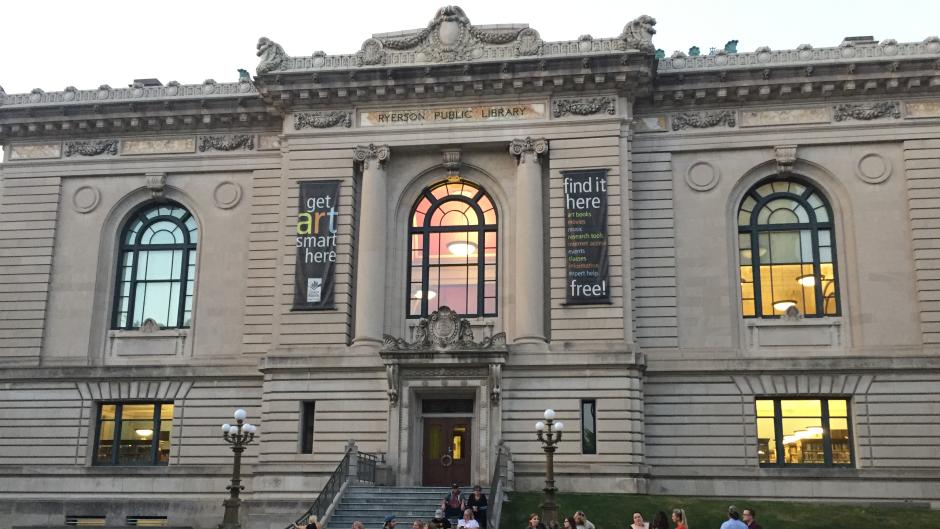 Due to its popularity, it's recommended that you pre-register for Ghosts of Grand Rapids Tours.
Photo Credit: Experience Grand Rapids
---
Take a Tour
Grand Rapids Running (and Walking) Tours
Available by appointment
New this year, Grand Rapids Running Tours is offering a fourth Halloween-inspired tour. In addition to the other themed running and walking tours (Grand Rapids Most Haunted, Saints and Spirits, and Fulton Street Graveyard), there is now a run called Heritage Hill Hauntings. Join running host Caroline Cook as she takes you around the stately homes of Heritage Hill while recounting some scary happenings from back in the day. Each tour is $20 and available upon appointment. Visit Grand Rapids Running Tours' website for a summary of each themed-tour offered.
Note: Tours are for both walkers and runners
Ghosts of Grand Rapids Tours
Fridays and Saturdays in October (Offered year round)
Learn about some spooky Grand Rapids history with a Ghosts of Grand Rapids Tour by Paranormal Michigan. The group has two different walking tours available.
The first tour follows some of Grand Rapids' most well-known eerie locations, including the AT&T building, Pantlind Hotel, and the Ashton Building. Not sure what those buildings are? You'll just have to take the tour to find out!
The second Ghosts of Grand Rapids Tour highlights the chilling story of someone who was boiled to death in a bathtub at the former Wellington Flats. Each tour is $10 for pre-registration, or $15 for walk-ups. Pre-registration is recommended.
Kid Friendly! – Crane Orchards Corn Maze
Mondays - Sundays in October
A good activity for both kids and adults is the corn maze at Crane Orchards  in Fennville. The 20-acre maze changes every year, so even if you did it previously, it's a whole new challenge this year. In addition to the maze, Crane Orchards offers other kid-friendly activities including u-pick apples, hay rides, and a ride on the cow train. The maze is $5 for children ages six to 10 years old, and $7 for children 11+ years old. Children five years old and under are free.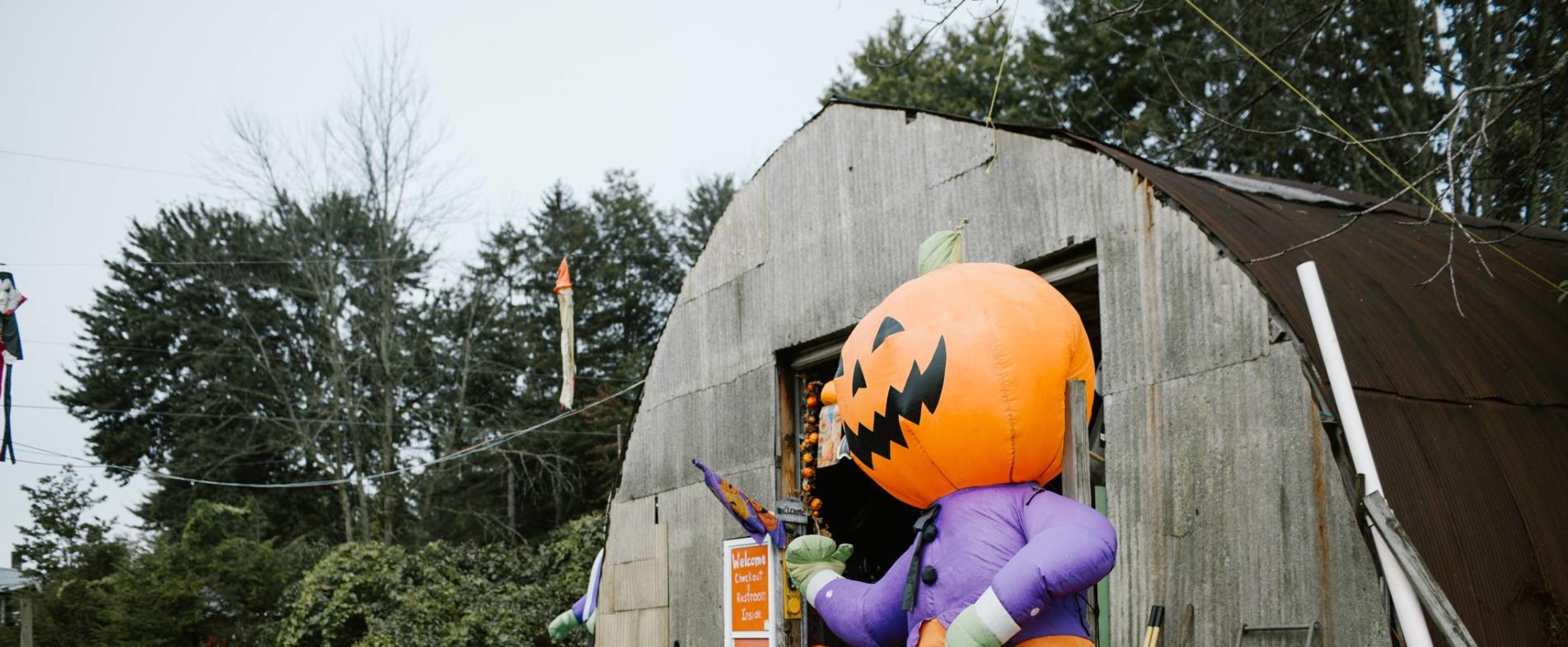 The 20-minute Spooky Woods Hayride at Bethke Farms features familiar Halloween cutouts, a 20-acre pumpkin patch, and an area called "Spooky Woods."
Photo Credit: Bethke Farms
Scare yourself silly
Witches of New Salem
Fridays and Saturdays in October
There are a few terrifying activities to choose from at the Witches of New Salem Haunted Attraction. If you're daring enough to try the Witch's Woods, you'll find you have not one, but two frightening trails to venture. The haunted woods are filled with ghouls and witches waiting to terrify you and your friends. If that doesn't interest you, there's also the Haunted New Salem Corn Maze. The purpose of the maze? To confuse you as you twist and turn your way toward the exit, all while being stalked by ghouls and monsters.
The final spooky adventure at the Witches of New Salem includes zombies – a lot of zombies. In Zombie Attack, you're armed with paintball guns to defend yourself from the hordes of zombies released from their cages. Activities are $20 each, and additional information such as start times and registration can be found at the Witches of New Salem Haunted Attraction website.
Moonlight Manor
Wednesday, October 31: 7 - 10 PM
The Moonlight Manor considers itself Grand Rapids' best kept haunted house secret. The attraction covers 1,700-square-feet and features scary detailed scenes such as Matilda's floating disembodied spirit, a horse drawn hearse carrying its latest victim, decrepit dead (and not so dead), and so much more. The people that put on Moonlight Manor say it is extremely scary and very dark inside, so children 10 and under are not permitted. The Moonlight Manor haunt is open one night only, October 31, from 7 - 10 PM. Donations are encouraged.
Kid Friendly! - Spooky Woods Hayride
September 23 - October 30
Monday to Thursday: 4 - 7 PM
Friday to Sunday: 10 AM - 7 PM
Know a child interested in a good Halloween "scare?" A great, kid-friendly alternative is the Spooky Woods Hayride. Together, you and your entire family can "brave" portions of Bethke Farms in Grand Haven. The 20-minute hayride features familiar Halloween cutouts, a 20-acre pumpkin patch, and an area called "Spooky Woods." Once you're done, be sure to pick up a few pumpkins to take home and carve into your own scary monsters! The Spooky Woods Hayride is $3 per person and free for infants under one year old.
Get Active
Zombie Dash 5K
Saturday, October 20 from 6:30 - 10 PM
Can you survive the viral outbreak? When you sign up for the Zombie Dash 5K you become a part of a small band of survivors that must make it to the quarantine area in order to survive. As you dash 3.1-miles to the finish, you must protect your three life strips as more than 300 zombies try to take them. Registration is $45 and includes a free shirt and medal. If running isn't your thing, you can always sign up for free to become a zombie!
Kid Friendly! - Run For Your Life 5K
Saturday, October 27
The Holland Free Health Clinic invites runners of all skill levels to run for their lives in the 9th annual 5K (3.1-miles) fundraising race. Walkers and runners in the Run for Your Life 5K are encouraged to wear their Halloween costumes as they travel through the streets of Holland. Prizes are given out to participants with the most creative costumes.
Kid Friendly! – Monster Mash Boo Bash
Wednesday, October 25 from 6 - 8:30 PM
Share your long-forgotten love of the roller rink with the kids in your life at Jumpin Jupiter Skate Center's Monster Mash Boo Bash in Muskegon. That's right – skate parties are back and this one is Halloween-themed! In addition to skating to "spooky" songs, there will be a candy crawl, and bounce house activity. Wear your favorite costume to get in for free, or pay a $3 if you choose not to wear a costume. Skate rentals are extra.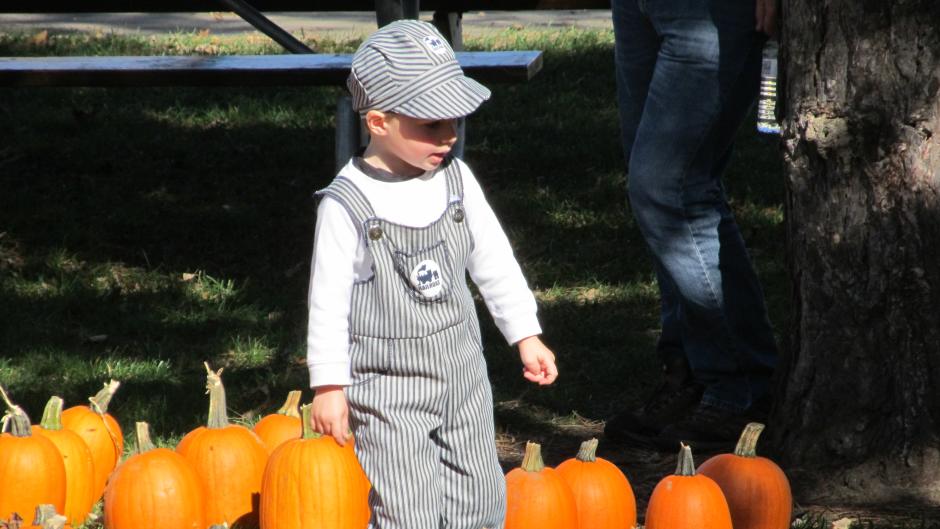 Pick up a pumpkin from one of the dozen u-pick farms in the Grand Rapids-area!
Photo Credit: Coopersville & Marne Railway
---
Pick a Pumpkin
Kid Friendly! – Kent Harvest Trails Pumpkin Patches
Looking to decorate or carve a pumpkin this year? Why not pick one up from a local farm! There are over a dozen different farms to choose from. Most of the pumpkin patches listed at the Kent Harvest Trails website are family-owned and include other fall activities like hayrides, corn mazes, petting zoos, apple cider tastings, and more. For a list of local favorites, check out our local's guide to U-Pick farms and orchards . Pricing varies per farm.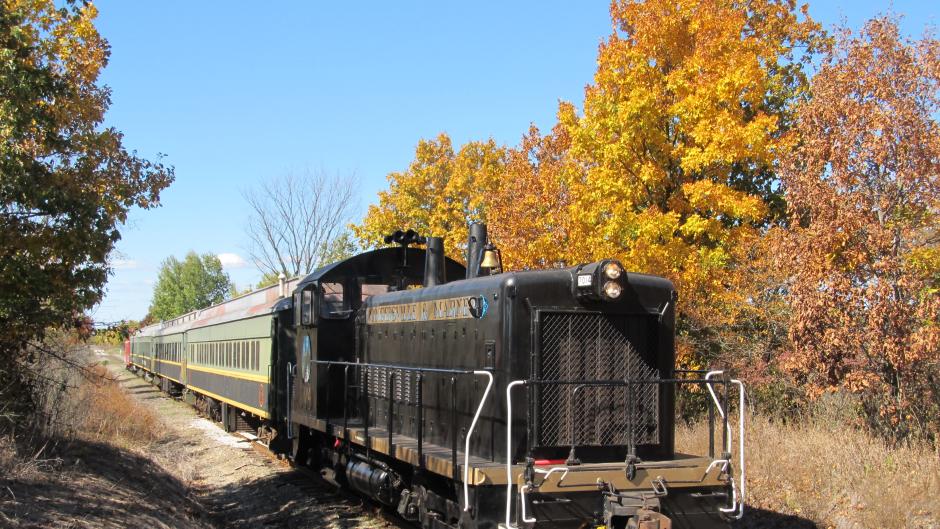 Ride the Coopersville Pumpkin Train for a day full of fall festivities! After the train ride, children can pick out a pumpkin to take home.
Photo Credit: Coopersville & Marne Railway
---
Be Entertained
Kid Friendly! – Día de Los Muertos – Family Day
Wednesday, October 31 - Sunday, November 4
Celebrate Día De Los Muertos with your family at the Grand Rapids Public Library's main branch. Día De Los Muertos, or Day of the Dead, is a Mexican holiday that honors loved ones who have passed away. You're invited to learn more about this special celebration while viewing altars created by local community members to honor their deceased friends and family. The event is free, but donations are encouraged to continue educational programs at the library.
Kid Friendly! – Famous Pumpkin Train Ride
Select Saturdays and Sundays in October
Hop on board the Famous Pumpkin Train at the Coopersville & Marne Railway this October. During the ride, you and your family will be entertained by a wacky cast of singing and dancing characters. Once you're done traveling from Coopersville to Marne and back, children can pick out a locally-grown pumpkin to take home. Tickets for children two to 12 years old are $17.50 and includes both the train ride and pumpkin from the patch. Kids two years old and under are free.
Kid Friendly! – Spooktacular!
Friday, October 26 - Sunday, October 28
Witness the Grand Rapids Ballet Junior Company's Spooktacular! performance for the whole family. The performance follows a young girl who wishes to go trick-or-treating with her older sister, and instead, goes on a spooky adventure to steal her candy. Don't forget to wear your costume to the performance, too. Guests can purchase tickets online, or by calling the Grand Rapids Ballet box office: (616) 454-4771 ext. 10.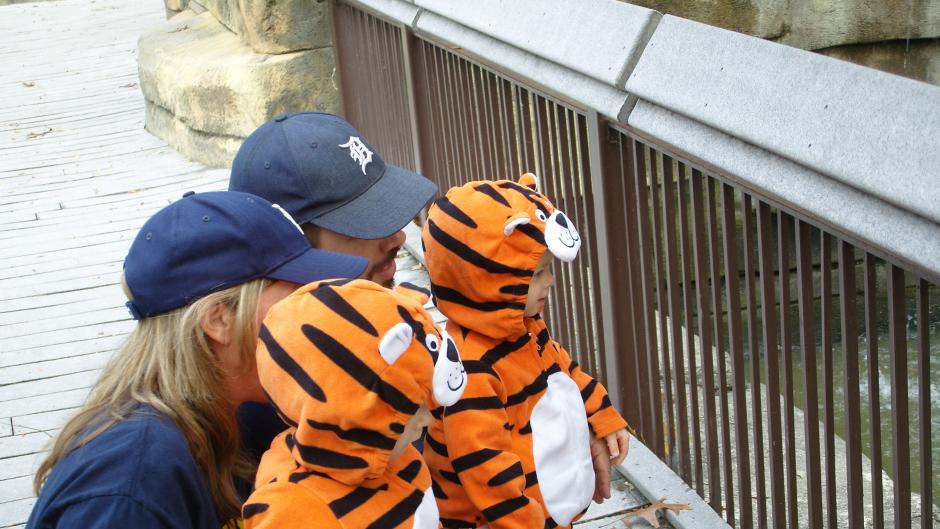 Experience trick-or-treating with the animals, and the whole family, at Zoo Goes Boo at the John Ball Zoo.
Photo Credit: John Ball Zoo
---
Costume Party
21+ event – Monster's Ball
Saturday, October 27 from 9 PM - 2 AM
Returning this year is the second annual Monster's Ball at 20 Monroe Live. This is a 21 and up party that's more an experience than anything else. The Monster's Ball is dubbed Grand Rapids' biggest Halloween party and features DJs and dancing, stilt walkers, aerialists, fire breathers, and fortune tellers – not to mention a pizza buffet at midnight. General admission starts at $20, and can be purchased on the event page.
Kid Friendly! – Zoo Goes Boo
Select days in October
The Zoo Goes Boo event at the John Ball Zoo is a family favorite for kids of all ages. Everyone that attends is invited to wear their favorite costume as they trick-or-treat amongst the animals. Humans won't be the only one enjoying treats though. The furry, feathery, and scaly inhabitants of the zoo get to nibble on their favorite snacks as well! Admission is $10 for adults, $9 for children, and free for zoo members. Kids one year old and under receive free admission.
Kid Friendly! – hOWLeen at Blandford
Thursday, October 25 from 6 - 8 PM
Come see the Blandford Nature Center come alive at night during hOWLween. This nighttime activity is the perfect way to watch nocturnal animals wake up and roam through the forest. Everyone who attends is invited to wear their Halloween costume, enjoy some treats, and do a creepy craft. The event is $8 for the public and $5 for members of the nature center. Pre-registration is encouraged.
Kid Friendly! – Hallowee-Ones at the Frederik Meijer Gardens & Sculpture Park
Friday, October 19 from 10 AM - Noon
There are no tricks or treats at the Hallowee-Ones party at the Frederik Meijer Gardens & Sculpture Park. Instead, it's all about the fun! The party features a costume parade, and a chance to listen to friendly Halloween stories. Little ones that attend are encouraged to dress in something that highlights the gardens, such as a flower, bug, or even a sculpture. The event is free with admission to the park.
Looking for even more Halloween fun? Check out the Experience Grand Rapids Halloween page for all things spooky in Grand Rapids.
Never miss a post!
Subscribe to the Insider Experience blog.