Grand Rapids is the perfect place to explore and enjoy year round, but the city especially shines during the holiday season.
We reached out to our social media followers to get their ideas on places in Grand Rapids to enjoy seasonal lights and decor. Whether you need help getting into the holiday spirit or not, check out these suggestions to plan a holiday adventure or two.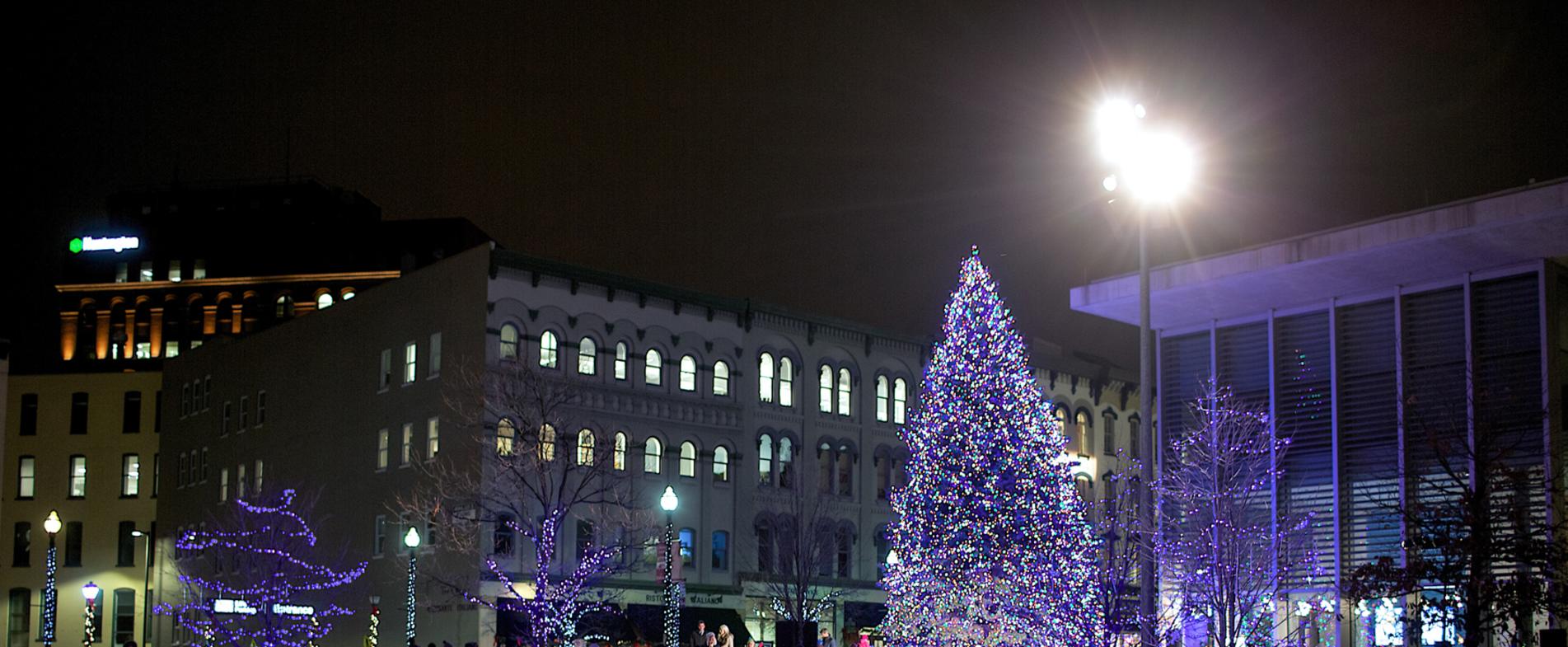 Enjoy the gorgeous holiday glow as you ice-skate at Rosa Parks Circle.
Photo Credit: Experience Grand Rapids
Rosa Parks Circle
The beautiful blue light display at Rosa Parks Circle is one of the most popular places to enjoy holiday lights in Grand Rapids according to our social media experts.
It's hard to miss the 38-foot Christmas tree decorated with over 45,000 lights overlooking the ice rink that emerges each year in the park. Enjoy the holiday lights while on the ice for only $1 for kids and $3 for adults, which includes the rental of ice skates.
Adding to the dazzling display are trees along the downtown city streets that are also decorated with thousands of lights.
After enjoying the lights and maybe a lap or two around the rink, grab a warm beverage from a nearby coffee shop to complete your night.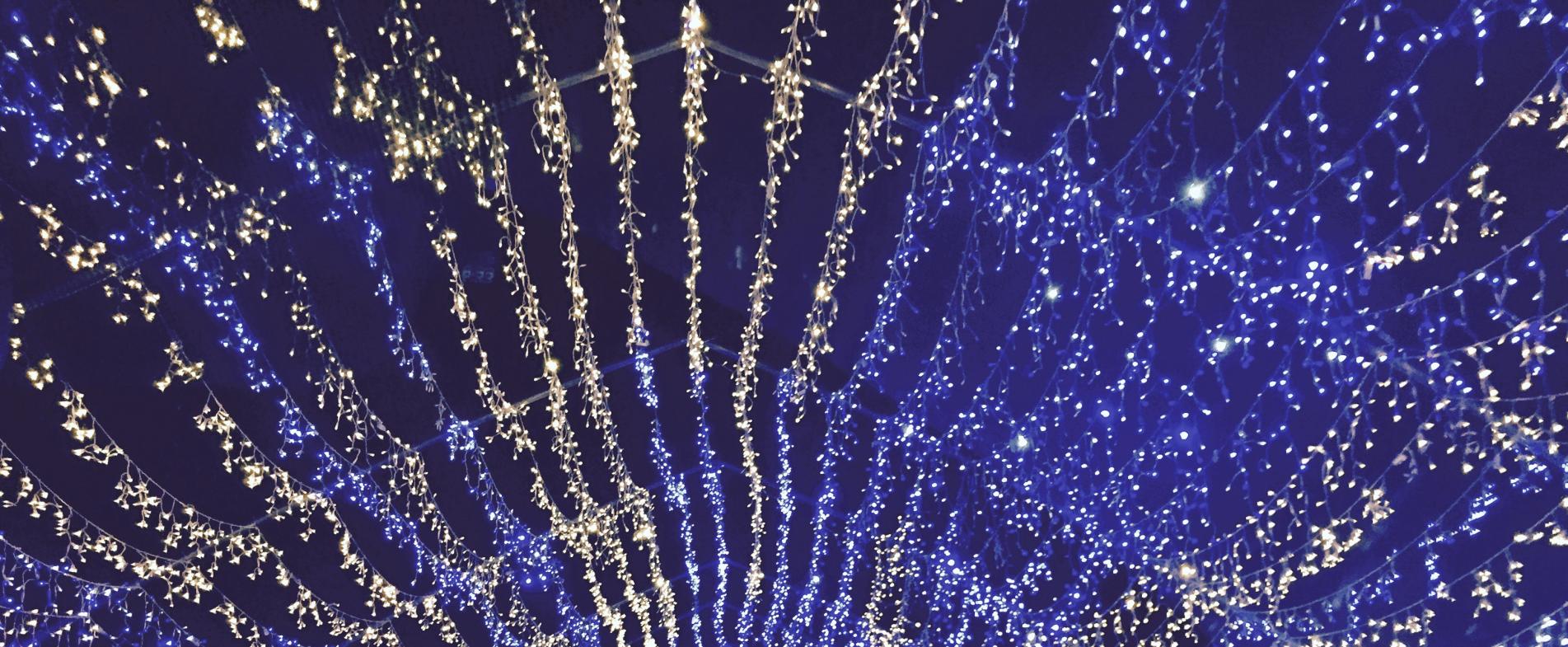 Fifth Third Ballpark's annual Christmas Lite Show is bigger and better than displays from previous years!
Photo Credit: Experience Grand Rapids
Fifth Third Ballpark
The holiday lights at Fifth Third Ballpark celebrates "21 Years of Cheer" this year with new events, more ways to experience the amazing display, and even more lights!
The Memory Lane Train is a light spectacle of its own and departs four times an evening from 5:30 to 9:30 PM every night until December 31, 2018. Make the most of the holiday season by visiting the light show on Christmas Eve, Christmas, and even New Years Eve.
Admission to the 21 Years of Cheer light show is $22 per car.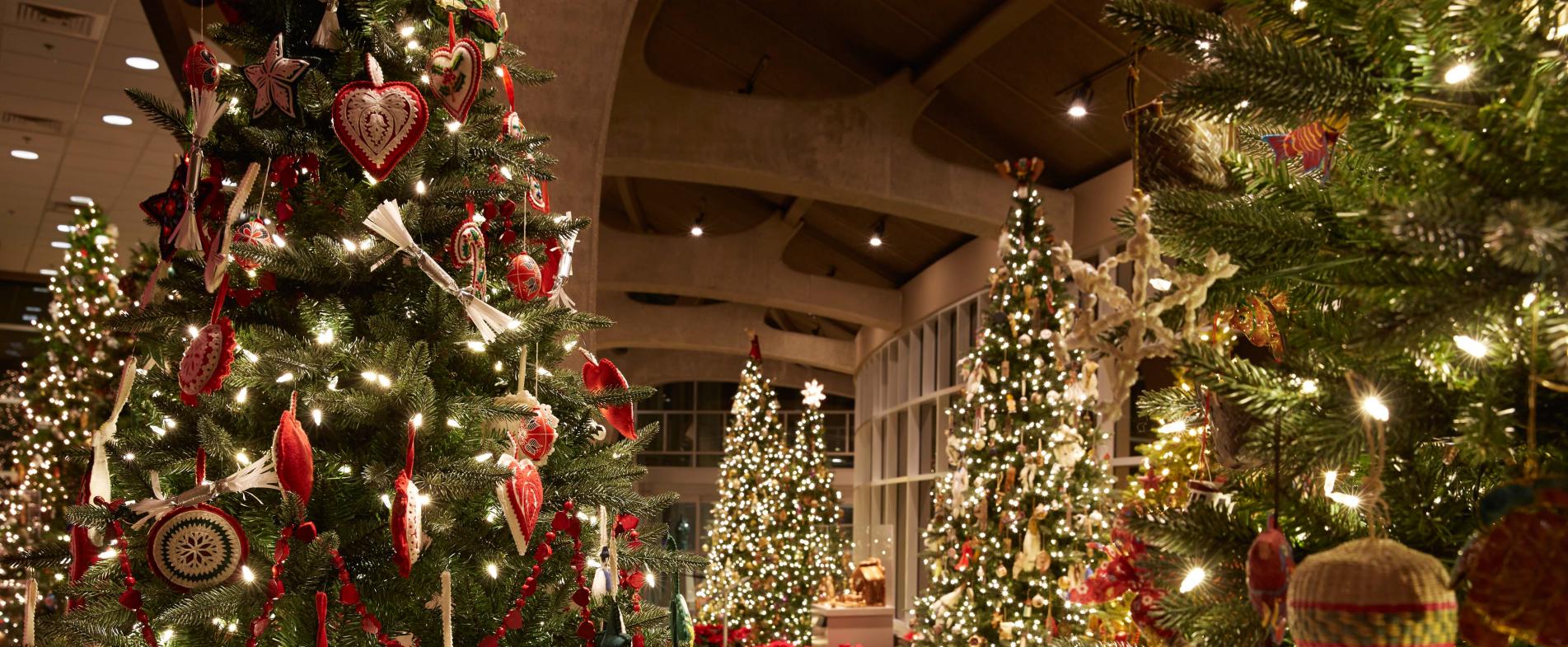 Christmas trees representing cultures around for the world on display a Frederik Meijer Gardens & Sculpture Parkt
Photo Credit: Frederik Meijer Gardens & Sculpture Park
Frederik Meijer Gardens & Sculpture Park
The 24th annual Christmas and Holiday Traditions Around the World display at Frederik Meijer Gardens & Sculpture Park runs through January 6, 2019 and features 42 Christmas and holiday trees with 300,000 lights. Through these exhibits, guests can learn more about the history of other holiday traditions while they stroll through decadent displays of poinsettias, orchids, and amaryllis'.
Frederik Meijer Gardens & Sculpture Park offers extended holiday hours December 17 to December 29 and is closed on Thanksgiving Day, Christmas Day, and New Year's Day.
Admission to Frederik Meijer Gardens & Sculpture Park is $14.50 for guests 14-64 years old, $11 for guests 65+, $7 for guests 5-13 years old, and $4 for guests 4 years old or younger.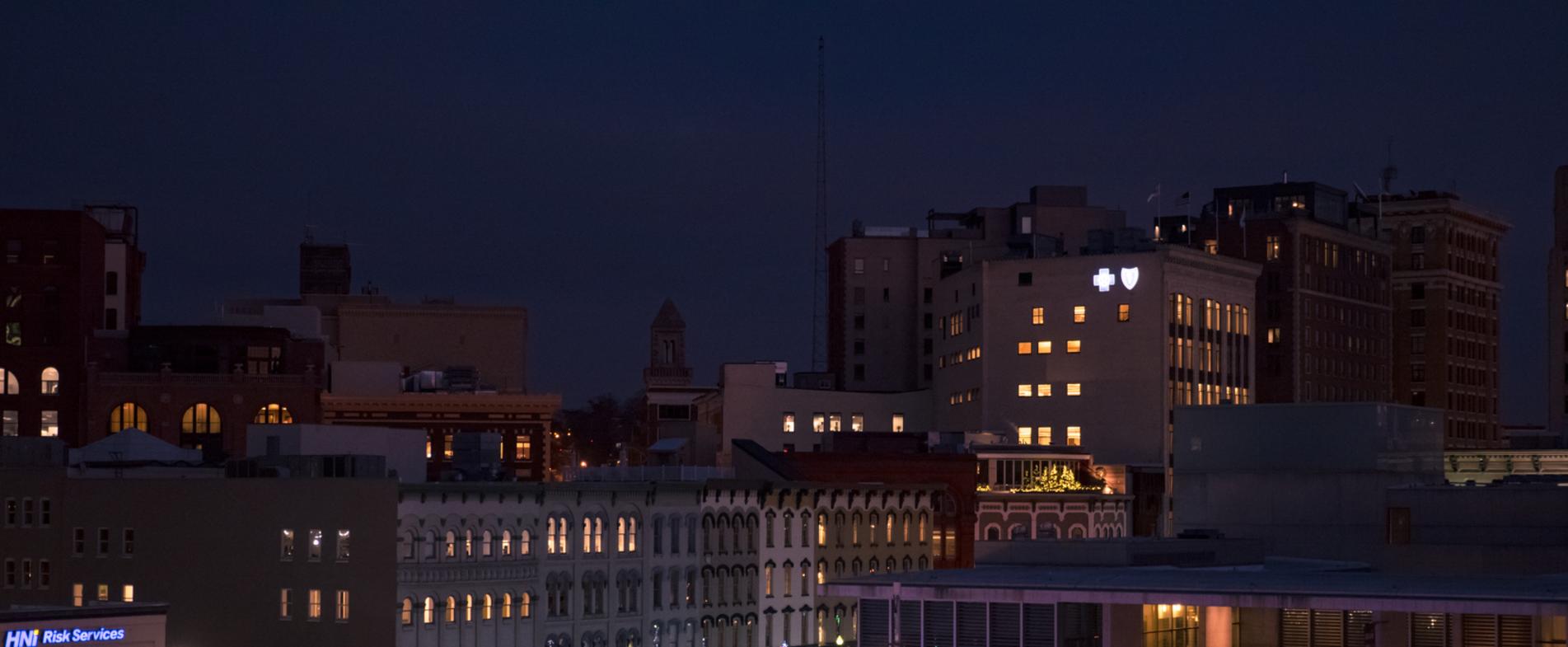 The BYOB Holiday Lights Trolley travels around Grand Rapids and neighboring towns to see the biggest holiday displays.
Photo Credit: Experience Grand Rapids
BYOB Holiday Lights Trolley
If you can't pick just one light location to visit, then the BYOB Holiday Lights Trolley might be the best option for you. This five-hour tour runs Wednesday to Saturday from December 1-29 and is available at varying times. Adults age 21+ can experience the Trolley tour for $65. Tickets can be purchased online.
The Trolley experience starts and ends at New Holland Brewing-The Knickerbocker, then drives through the Fifth Third Ballpark display, stops at Rosa Parks Circle, explores downtown Grand Rapids, and makes stops at the best residential light displays in Grand Rapids.
Trolley guests receive a gift bag and Santa hat with ticket purchase, plus cups are provided for the beverages you bring on board. Its recommended to purchase tickets in advance.
Tanger Outlet Mall
Enjoy the holiday display while shopping at the Tanger Outlet Mall. You'll feel like you're in the middle of a winter wonderland while strolling the heated sidewalks and warming up at the cozy fire pits underneath the beautifully decorated, larger than life Christmas tree.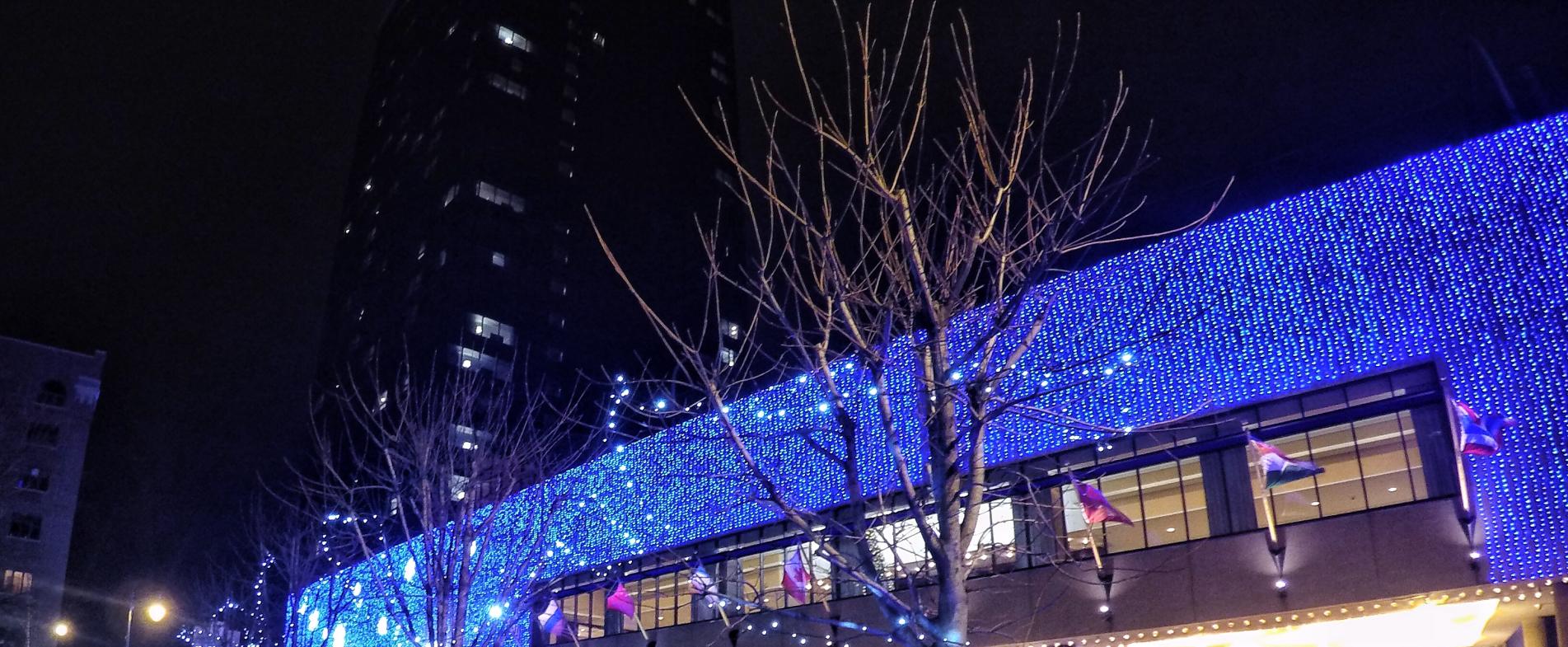 Plenty of downtown attractions celebrate the holidays with festive lights and displays.
Photo Credit: Melody VanderWeide
Surrounding Neighborhoods & Attractions
Instagram user lind_saybw recommends driving through East Grand Rapids' luminary-lined neighborhoods on Christmas Eve describing it as simple and elegant.
Many social media connoisseurs mentioned simply being in Grand Rapids:
Aliciaduron via Instagram enjoys walking around downtown after attending the Holiday Pops.
Debbie Long via Facebook said she likes the vintage downtown Christmas decorations brought back a few years ago, the candle in the Vets Park and the decorated light poles.
Coleee Williams via Instagram enjoys taking in the lights at Rosa Parks Circle, the Amway Grand Plaza, Van Andel Arena, and just about anywhere downtown. Don't forget to swing by the Monroe North area of Grand Rapids to check out the soon-to-be-opened ice skating rink at 555 Monroe St, NW.
So pick an evening or two, bundle up, and enjoy the winter weather and the beautiful lights that accompany this time of year.
If your favorite spot didn't make the list let us know in the comments so all can enjoy!
Never miss a post!
Subscribe to the Insider Experience blog.