The holidays are here, and I love getting out with my family of four and soaking up the season. Now that my children are four and nearly two, they are at a fun age to enjoy all the winter wonder that Grand Rapids and West Michigan offer. If you have younger children like me and are looking for fun holiday things to do with young kids, here are five festive ways to make memories with your family this holiday season!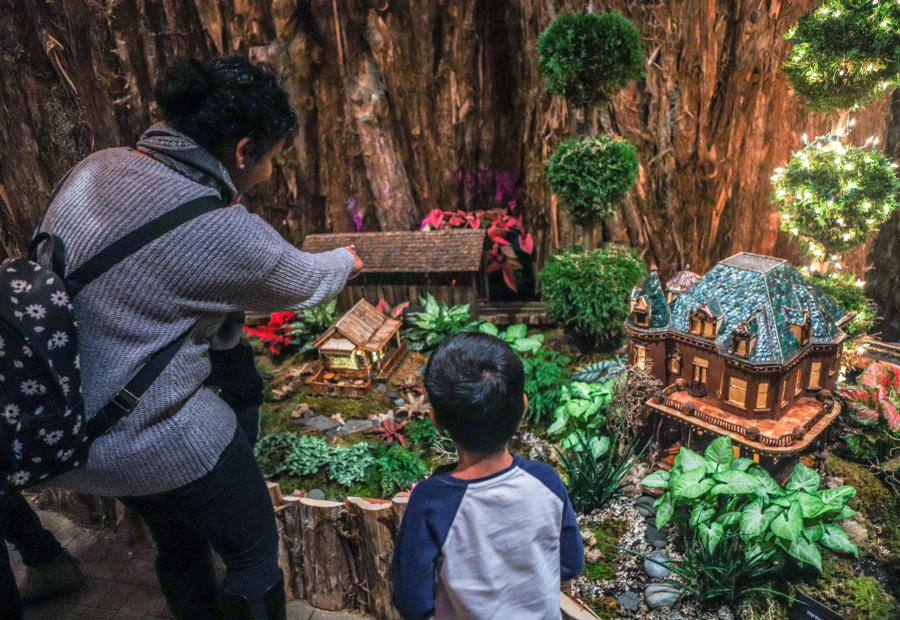 Colorful ornaments, train displays, and carolers are just a few of the ways Meijer Gardens is filled with holiday cheer.
Photo by Photography: Paul Jendrasiak
University of Michigan Health-West's Christmas & Holiday Traditions
Frederik Meijer Gardens & Sculpture Park
I was so excited to take my children to Meijer Gardens during the holidays for the first time. From the moment you walk in, prepare to be mesmerized by the newly renovated space. It's truly impressive. And that's even before you see the trees in the Christmas & Holiday Traditions display!
We took our time to savor the beautiful ornaments covering the tall trees from top to bottom. My children loved seeing the adorable mini houses, snowflakes, wrapped candies, and countless other ornate ornaments.
Experiencing this exhibit is a lesson in culture from around the world. There are trees from Germany, the Netherlands, and Ukraine, to name a few. I loved sharing our Indian heritage with the kids as we admired the beautiful Rangoli display. There are countless trees and descriptions in front of each so you can pause and learn more about cultures and traditions from countries around the world.
The lovely voices of traveling carolers also serenaded us as we explored the grounds. Perhaps my children's favorite part of the exhibit was the magical traveling train. We were all mesmerized waiting to see the train chug by overhead. This part of the gardens is filled with detailed replicas of famous Grand Rapids buildings, including the Meyer May House, Fountain Street Church, and LMCU Ballpark.
I loved getting down and pointing out all the details to my kids, who got to peek at them up close. The Meijer Gardens Christmas & Holiday Traditions exhibit is open through January 8, 2023. Don't miss your chance to experience the beauty and magic this season.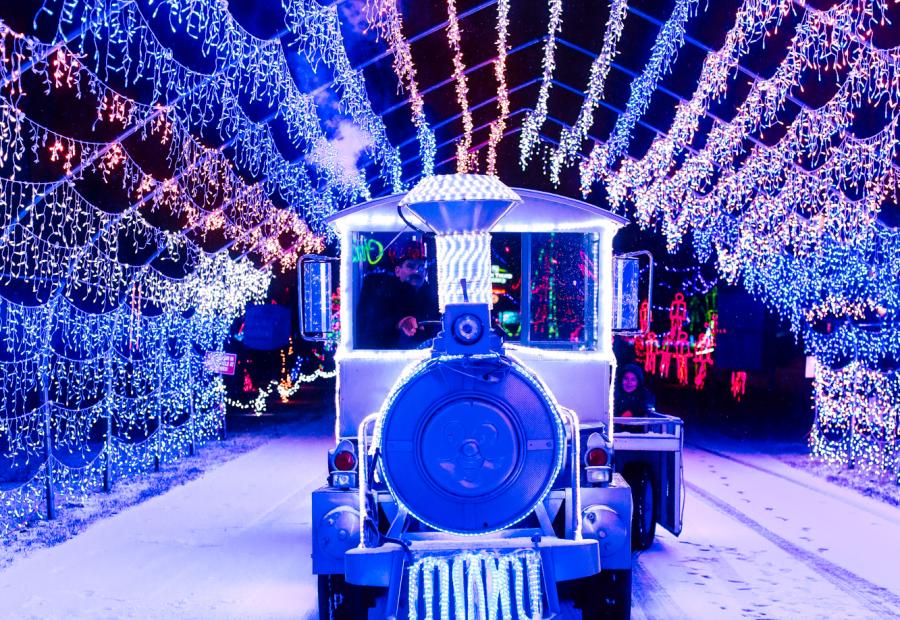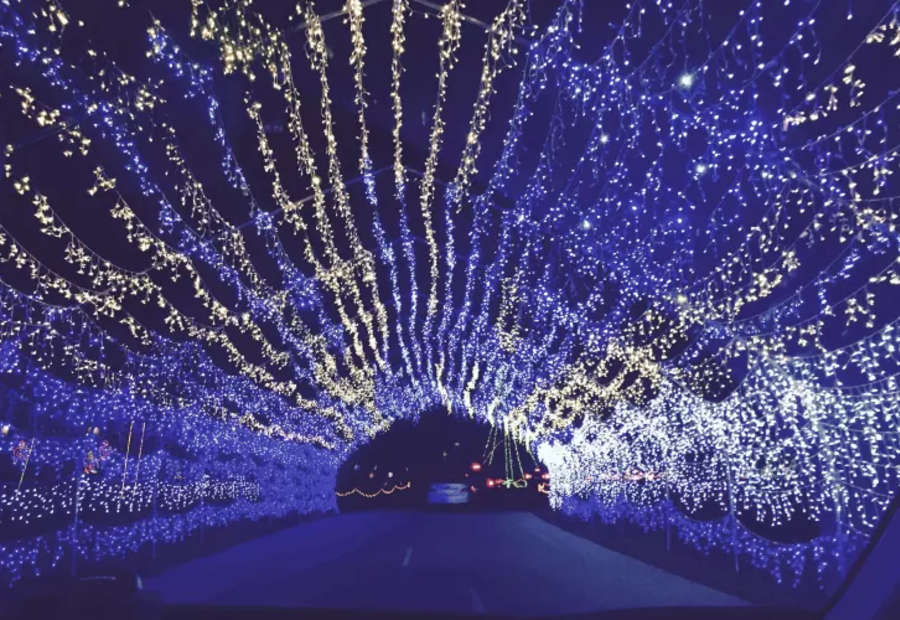 Get cozy and enjoy the brilliant light display at Christmas Lite Show from the comfort of your own car.
Photo by The Christmas Lite Show
Christmas Lite Show
LMCU Ballpark
My children love seeing the dazzling display of lights at the Christmas Lite Show at LMCU Ballpark. You can purchase tickets on-site or online in advance to save time. Admission is priced according to the size of your vehicle. Your ticket allows you access to the nearly two-mile drive featuring over two million lights. It is truly a spectacular holiday display. 
Enjoying the dancing light displays is even more enjoyable when you can experience the magic from the comfort of your warm car. 
Bonus tip: Put your children in their pajamas before you leave for the show. That way, when you return, you can take them straight to bed. Even better: bring hot chocolate for the drive. Consider visiting Mokaya on Wealthy Street a gourmet chocolatier that sells a variety of delectable sweets and beverages.
For those who want to experience the magic up close, you can also purchase a ticket to ride the Memory Lane Train.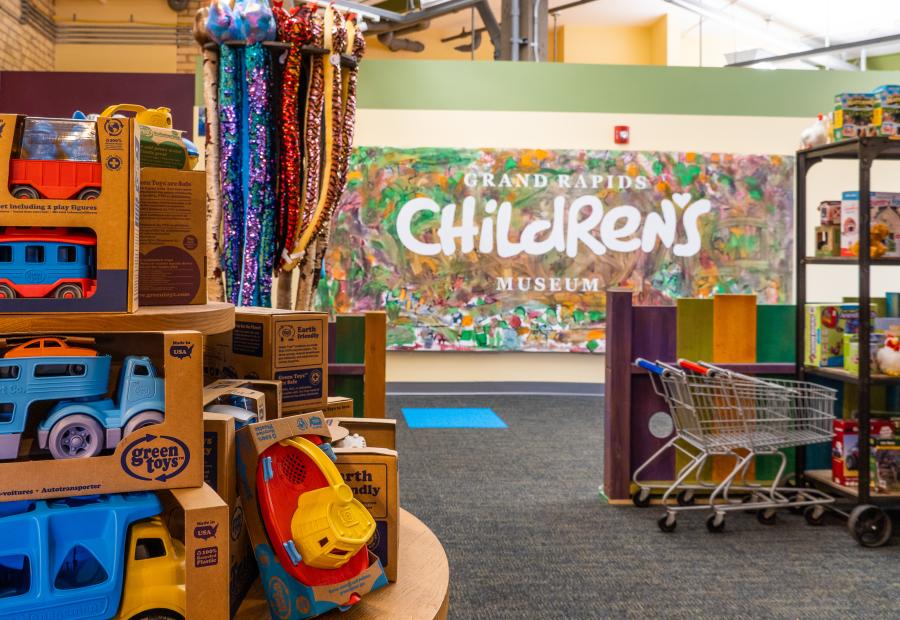 The Grand Rapids Children's Museum is a great place to bring little kids during the holidays and any time of year.
Photo by Experience Grand Rapids
GiftWorks!
Grand Rapids Children's Museum
The Grand Rapids Children's Museum is a wonderful place for families with littles year-round. It's especially fun to spend a couple of hours in the winter. 
This year, the Children's Museum is open for play from December 16-23 from 9 a.m. to 4 p.m. with a special GiftWorks program. Each day, the museum will offer a new handmade project to create, wrap and share with someone special. Over the week, families can make a trinket treasure box, decorate a wreath, create spice dough ornaments, make a bird feeder and create a shrinky dink keychain.  
The Children's Museum will also offer special activities and performers set for the week of December 26-30. There will even be a fun children's New Year's Early Eve celebration!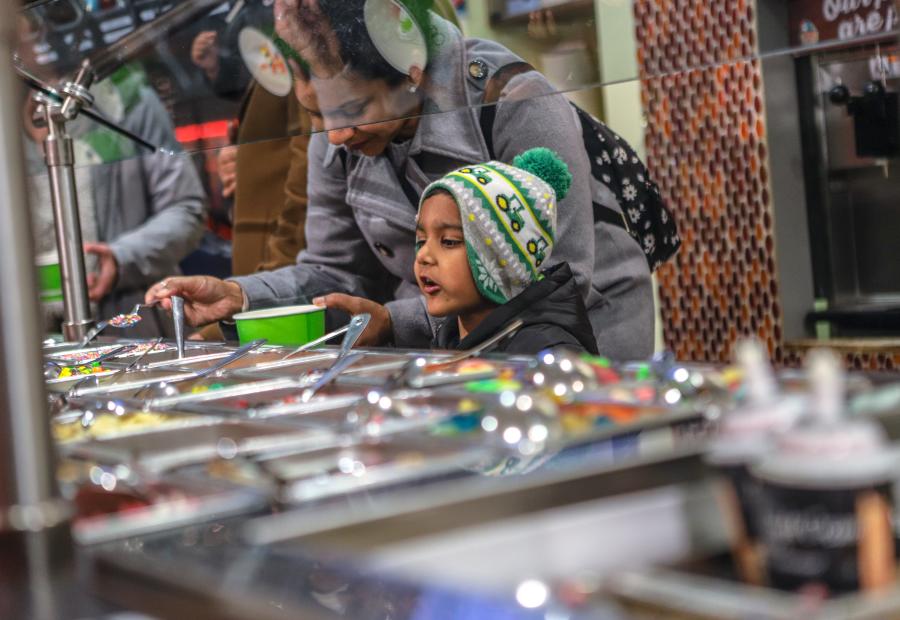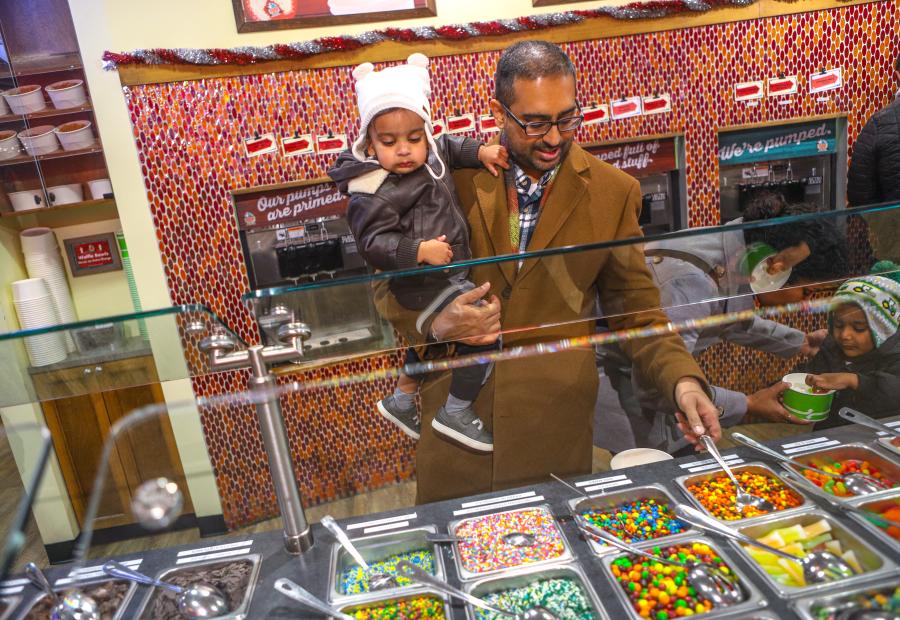 A stop for a sweet treat, like the Pump House, is a fun way to end your day of activities.
Photo by Paul Jendrasiak
Sweet Treats
The Pump House
After we visited Meijer Gardens, we made a quick trip to the Pump House for something sweet to end the night. It is the holidays after all!
My kids were thrilled to walk down the counter and marveled at all the toppings – from mini chocolate chips to gummy bears, candies and so much more. That's before we even grabbed our cups to fill with sweet, creamy frozen yogurt. I opted for ice cream and loved my scoop of peppermint and cookies and cream combined. My newly-minted four-year old topped his vanilla froyo with gummies and colorful sprinkles.
We all sat at a fun high-top table facing a mirror to enjoy our holiday treats. Yum. In addition to the Knapps Corner location, The Pump House has spots in downtown Grand Rapids, Grand Haven and Rockford.
Spread Joy by Giving Back
Toys for Tots Throughout West Michigan
There are many opportunities to give back this holiday season. While making happy holiday memories, you can also show your littles how to consider others and give a little back. As you enjoy the holiday lights and sights across Grand Rapids, stop into a local store and let each child pick out a present to donate to Toys for Tots. There are donation points throughout Kent County.
If you happen to be Downtown, you can bring donations to Homewood Suites by Hilton Grand Rapids or Ding Tea. Bot are located on Ottawa Avenue.
It's a beautiful way to show the next generation the importance of contributing to the community, whether you're a local like me or here for a visit.  
Whether you walk amongst the magical trees or see the lights while all nice and cozy, there is much to see, do and savor this holiday season in West Michigan. Take advantage and enjoy the spirit of the season.