When Rob Qualls created his first batch of beer last July, he says it was love at first brew. The 29-year-old Grand Rapids resident and co-founder of the fledgling Grand Rapids Homebrewers Club has since brewed about 25 five-gallon batches and has no plans to quit. "I'm completely enthralled by every facet of brewing," he says.
Qualls is far from alone. While Grand Rapids may have received its Beer City USA designation in 2012 due to the number of high-quality craft breweries dotting the city, a steadily-growing legion of home brewers are taking their passion for beer out of the brewpub and into their homes.
"The GR homebrewing scene is booming," says Qualls. "It seems that every day I have a new friend that is starting to homebrew, and the local brew store is becoming more and more packed every time I go there."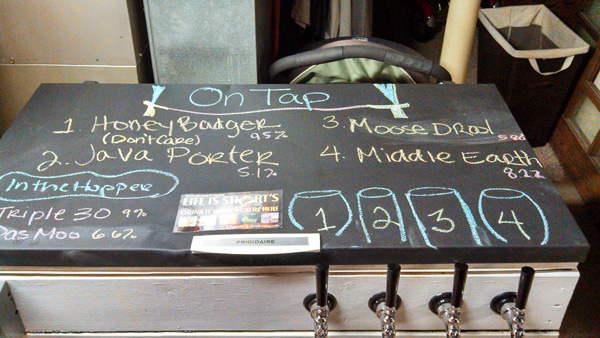 Rob Qualls' selection of beers on tap
It's important to note that home brewers and local breweries aren't in competition with each other, but rather, complement one another. "Most of the folks who open breweries were at one time homebrewers," points out Steve Siciliano, owner of Siciliano's Market.
Named 2013s Top Beer Grocery Retailer in the United States (ratebeer.com), Siciliano's provides one of the largest craft & imported beer selections in West Michigan, along with homebrewing supplies for enthusiastic hobbyists. "Homebrewers and breweries feed off each other: there's a wonderful synergy at work," says Siciliano.
photo: Siciliano's Market, Grand Rapids
Eric Fouch, President of the Prime Time Brewers Club, agrees. "The brew pubs around town are great supporters of the homebrewing community," he says. "There are so many great places [in Grand Rapids] to try different craft beers, and you can actually talk to the professional brewer about his or her recipe and how they made that beer. Most of the time you can get tips and advice on how to try to duplicate that great brew at home, right from the person who perfected it!"
Fouch says local breweries often organize events like pub crawls and brewing competitions specially for home brewers, and allow clubs to hold meetings in their brew pubs. "The cooperation and outreach is fantastic."
"Brewers just like good beer, so it's no surprise that you'll see them at Founders, Brewery Vivant, Hopcat, Harmony, and The Hideout - just to name a few - all the time," says Qualls. "People find a beer they really love and want to be able to produce it at home. Once you do that, you're hooked and brewing every weekend."
That's not to say home brewers only copy local breweries' recipes, however. "I'm trying to develop my own brewing identity, so that when people drink my beer they say, Wow, yes, this is definitely a Rob Qualls brew."
Whether you're interested in copying your local brewpub favorites or coming up with your own unique recipes, Grand Rapids is a great place to begin your homebrewing adventure.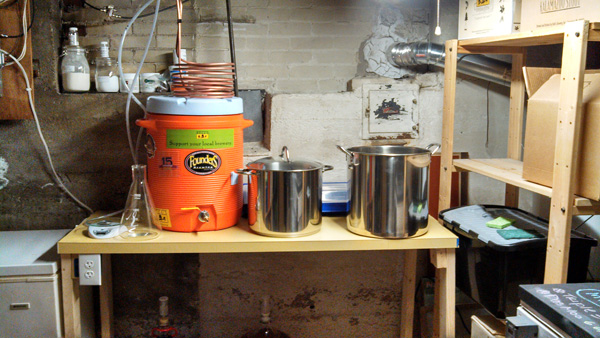 Rob Qualls' home brewing setup
Getting Started:
If you're ready to take the plunge and begin brewing at home, follow these tips from a few of Grand Rapids local home brewing pros:
Join a club: There is no substitute for sharing your homebrew with another homebrewer and comparing notes. "Anybody who wants to improve their brewing skills needs to join a club," says Eric Fouch.
Watch and Learn. "Watch somebody brew first just to get the feel of it," advises Qualls, who says he watched a lot of YouTube videos when he was first starting out. A homebrewing club is a great place to find somebody to apprentice under.
Read. Eric Fouch suggestsThe Complete Joy of Homebrewing, Homebrewers Companion, and the online Homebrew Digest.
Find a Homebrew Store. "One of my biggest pieces of advice to a beginner: develop a good relationship with your local homebrew store," says Qualls. "They should be your go-to for information. There's a lot of bad information on the Internet, so trust your local homebrew shop first." Siciliano's, B&B Liquors, O'Connors and Pauly's all get high marks from local brewers.
Keep it clean. "Any home brewer will tell you the most important aspect to brewing is sanitation," says Qualls. "I usually spend a couple hours cleaning up before and after to make sure all my equipment is germ free. One germ and an entire batch of beer is ruined."
Attend an Event. There's no shortage of events for home brewers in the Grand Rapids area. Check out these two:
The Big Brew on Calder.On May 4, 2013, Siciliano's Market will help celebrate National Homebrew Day by sponsoring an AHA-recognized Big Brew. Siciliano's will be donating supplies to make 48 all-grain batches of Beer City IPA. The event will be held at Calder Plaza and is open to the public.
The National Homebrewers Conference. This yearly event showcasing homebrewing and home brewers is held in a different location each year. In June 2014, between 3000 and 3500 home brewers will head to Grand Rapids for the four-day convention, which includes seminars, brewing, and socializing.
Can you help Grand Rapids retain our "Beer City" designation in 2013?
In 2012, Examiner.com named Grand Rapids Beer City USA- a huge honor for our city, establishing us as a leader in the brewing industry.This year we're determined to bring the title home again where it belongs! To help, we need YOU to vote- and encourage your friends to vote! - in this year's Beer City USA vote, May 6 - 10. Check back to cast your vote for Grand Rapids as Beer City, USA as soon as voting opens May 6!